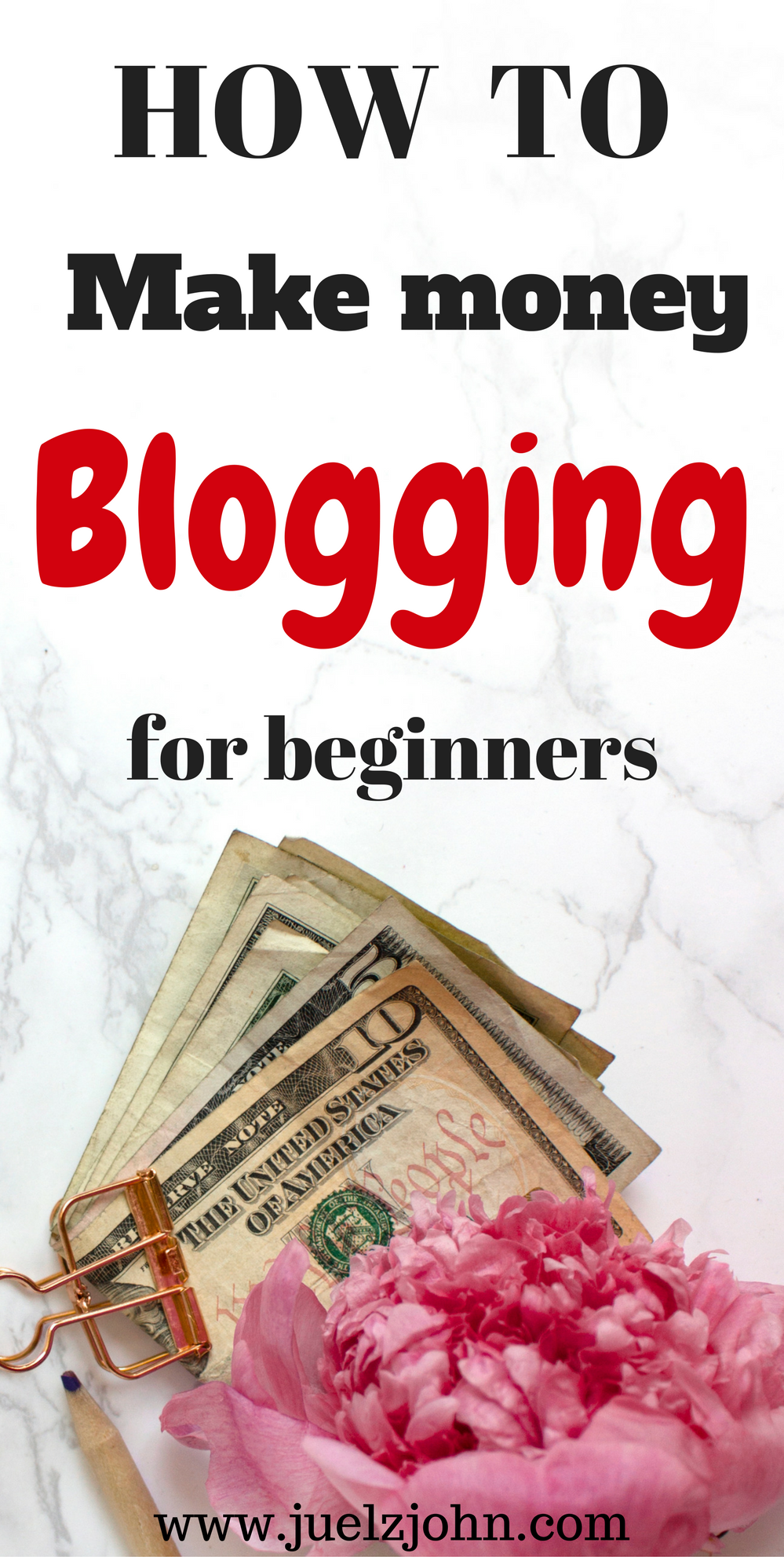 How to make money blogging is probably one of the most google topics on the internet. When you tell someone you are a blogger all they want to know after that is, how do bloggers make money?
Making money online is possible and in fact, so many bloggers are now blogging fulltime but you need to understand blogging is not a get rich scheme.
You don't have to blog full time to make money blogging even small blogs are doing it. These are bloggers who only blog part time since they have a day job and they don't have a team behind their blogs.
For you start making money off your blog you must be ready to work extremely hard. Patience and Persistent is key. You start by laying a strong foundation.
These 3 steps will set you on the right path.
Step one: Start a profitable blog
The first step to start a blog. The trick is to do it the right way. Starting a successful blog is easy and it doesn't cost an arm and a leg.
You have to make sure that you don't start on a free platform. With free site there are so many limitations such as
your content can disappear just like that with no warning and trying to retrieve the lost data is a mere headache
and there is no guarantee you will manage to get everything back. Monetizing on a free website is hard.
Check out my step by step tutorial on how to start a profitable blog
Step two: Write good blog posts
The next step is to start writing good blog posts. Your content needs to capture your reader attention. Craft clickable titles. Find out what your passion is and write about it.
Something that you can talk about for hours. Your posts need to be valuable to your readers. You need tofind out what you readers are struggling with and write a post on how to solve the problem.
Check out my post on how to write a good blog post that will attract reader's attention. The post will help you know what to include in a good blog post and much more.
Related post : How to write a good blog post that will attract readers attention.
Step 3: Drive massive traffic to your blog
Driving traffic to your blog is another step you need to think about if you want to make money blogging. From personal experience, the best way to drive massive to any blog is utilizing Pinterest and Facebook.
Before,all I used to do on Pinterest was look for cute cat pictures (am a cat lover) but once I realized that Pinterest is search engine just like google, that was a game changer.
I wrote a post on 30 ways to drive massive traffic to your blog, check it out and learn more strategies you can apply to your blog.
Related post : 30 ways to drive massive traffic to your blog
I love reading income reports and am always inspired by all sort of incomes. There are those making $100, $500 $1000, $ 5000, $10, 000, $ 20,000 and more per month.
For example:
Sareeta from flightandscarlet.com – $500

Maya from mayamaceka.com-$907 in October 2017

Eden from Mintnotion.com- $6,129 in March 2017

Suzi from startamomblog.com-$24,170 in

september

2017(My fav)

Sarah Titus from sarahtitus.com -$75,226.10 in July 2017
Just looking at these income reports can be intimidating but blogging is a journey earning any amount of  income
from blogging don't happen over night, it takes time.
You might be wondering how  do they do it.
Before you continue reading i highly recommend this post: 9 things to do before you monetize your blog
There are several ways you can make money blogging, below I have explained 5 of them.
Sponsored posts

Ads

Affiliate marketing

Products

Services
1.Sponsored posts
One of the most common ways you can make money blogging is through sponsored posts. Companies can either approach you or vice versa.
You can send them a pitch with your idea and clearly state how you intend to promote their product or brand and how they will benefit working with you.
Another way you can get sponsored posts is by going through influencer networks which act as middleman between you and the company. Some of my the networks include Tap influence, collectively, social fabric, izea, and pollinate.
You must remain true to yourself. Before accepting any sponsored posts you need to have your audience in mind. Always ask yourself how will this post help my audience? Don't be in it for the money only.
Honesty is key when it comes to sponsored posts make sure your audience is aware when you post one.
2.Advertising
This is where you simply sell ad space on your blog. Displaying ads on the blog is  another way through which bloggers make money blogging.
Some of the common placements is in between your posts, sidebar and banners above your post. I wouldn't say there is the best-recommended place what I suggest is do a little experiment and find out which place works well with your blog.
You want to make sure that the ads are visible to your readers since some advertising companies are pay per click while others pay per impression
Pay per click – every time a person clicks on an ad you get paid
Pay per impression– this is how many times the ad is seen. No one has to click on the ad for you to get paid.
For you to earn a decent income from your blog you need to boost your traffic.
More traffic=to more revenue.
With more page views it will be easy to negotiate with companies and you can even switch to better advertising companies such as Mediavine and AdThrive.
The best place to start is with Google AdSense or media.net which are similar.
A word of caution don't annoy your readers with so many ads. Having so many ads on your blog can be a distraction to your readers.
3.Affiliates
Affiliates are the biggest source of income for most bloggers. This is simply promoting somebody else's product or service on your blog.
Entails using a unique affiliate link and when it's successful you get a percentage of the sale.
New bloggers feel intimated by this but once you understand how affiliate marketing works then you stand to bring in passive income with just a little bit of work
For affiliate marketing to work, you need to promote products that you use and love.
Some of the ways you can go about it are:
Write a review about the product you want to promote.
Another way is to comparison. For example, you compare two products and highlight why you prefer one to another.
Write a tutorial post on how to use the product.
You can also put banners of the product on your blog.
Send out newsletters to your email list
Examples of affiliate programs that you can join are flex offers, sharesale, ShopStyle, reward style, amazon associates, and commission junction.
I love affiliate marketing because it doesn't require you to have a large number of pageviews unlike other monetizing methods as long as you have loyal audience you are good to go.
Another reason is the long-term passive income. You can still earn money from a post you made 6 months ago. The third reason is it works well for niche blogs.
I have a very detailed post on affiliate marketing that will give you all the tips and tricks you need to get started and actually master affiliate marketing.Check it out.
Related post:Easy Affiliate Marketing Tips For New Bloggers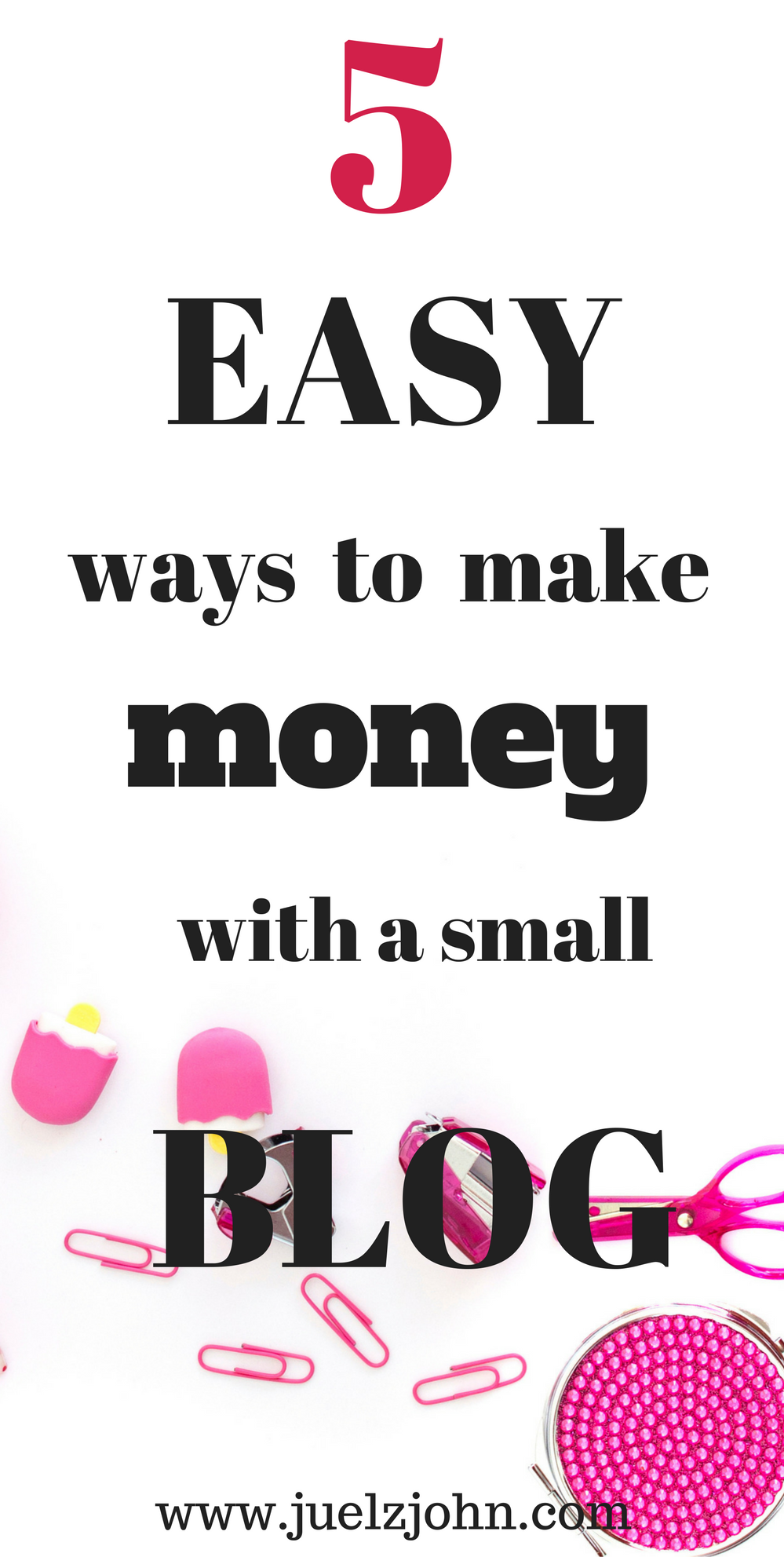 4.Make money blogging through having your own Products
Another way you can make money blogging is through creating your own products. Such as printables, eBooks, and eCourses.
Most of which are digital.This works so well since you have full control over your product. Through eBooks and courses many bloggers have been able to turn their blogs into businesses.
5.Services
Providing services is the easiest way to generate income through blogging.
You can offer services such as coaching, freelance writing, graphic designer and being a virtual assistant. For example, you can manage someone's else Pinterest or Instagram account.
Freelance writing is where you get paid to write for other blogs. One of the sites you can get writing gigs is upwork.
Conclusion
There you have it 5 main ways you can make money blogging. If you look at most bloggers you will notice that they combine more than one method.
You need to diversify your income, find out which methods do well on your blog then come up with a plan to perfect them.

You might also like
7 ways to stay motivated as a blogger
10 secrets to being a highly successful blogger
How to write an epic about me page
The ultimate guide to SEO your blog post
How have you been monetizing your blog? Which one of these methods works well for you?
Let me know in the comments below.

 
Save
Save
Save
Save
Save
Save
Save