Halloween is around the corner making this the best time to start planning on Halloween party ideas. Halloween is one of the most fun holidays that allows for so much creativity from Halloween makeup, costumes, decor to Halloween nail art. There are endless ways to add that Halloween vibe.
Today it's all about Halloween party ideas. These ideas are super affordable, easy to make and super creative. Halloween doesn't have to be so scary, you can still achieve that Halloween vibes without been overly creepy and below you will find easy Halloween ideas to do so. From cute to creepy, there is so much to choose from.
Creating that Halloween vibes is super easy. You can do so by adding things such as cobwebs, tiny spiders, googly eyes and bats.
Here are more Halloween posts to inspire you.
19 Simple and cheap DIY Halloween decorations for 2020
30 Easy Halloween nail art ideas to copy now
33 Simple sugar skull makeup looks for 2020( DIY Halloween makeup ideas)
19 Easy Halloween cupcakes you must try this year
15 Must try Halloween cookie recipes for 2020
Let's dive into these 15 easy Halloween party ideas for both kids and adults. They are a great way to impress your guests this year.
Halloween treats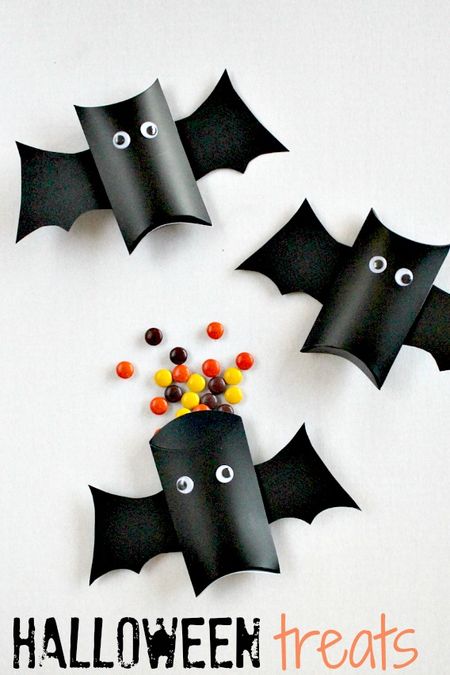 How cute are these treats pockets. One of the easiest Halloween party ideas to make and the best part you can do so with the kids. They are great Halloween crafts for kids and you can give them out as gifts as well. Fill it with candy or any other non candy treat. Source Tony staab
Easy witch's hat cupcakes
There is no better way to bring in those Halloween vibes than with these easy witch hat cupcakes. They are festive, easy to make and super fun. The cupcakes are fluffy and moist. You can be assured everyone will love them especially the kids. They will instantly add that fun Halloween spirit. Source the crafting foodie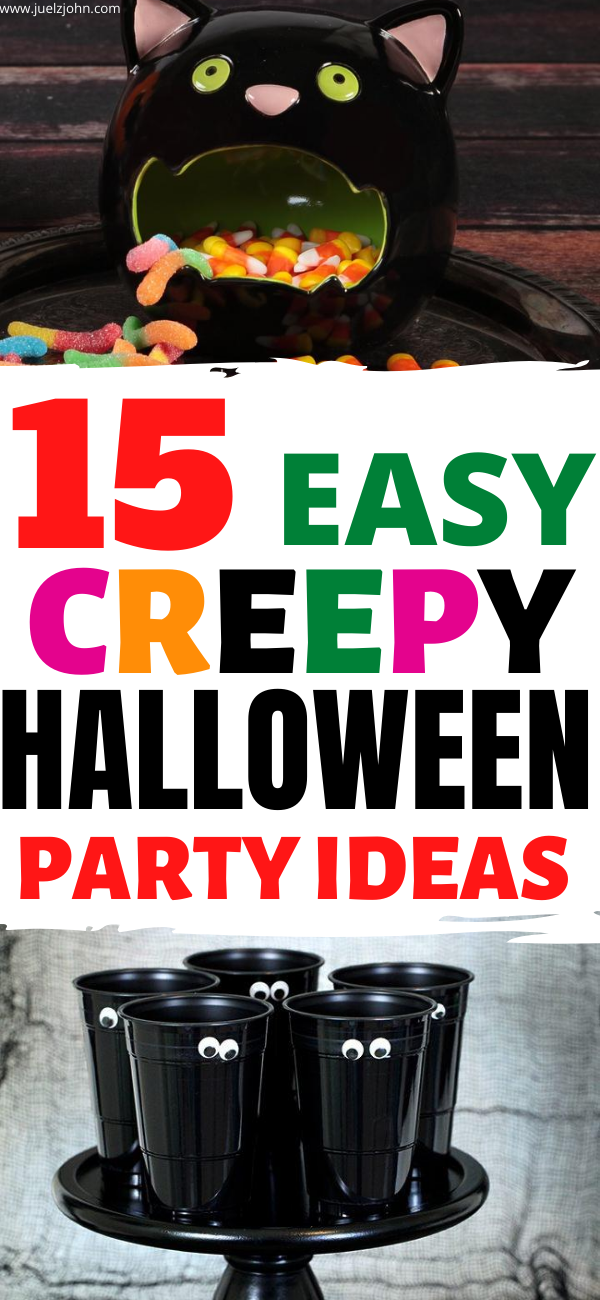 Eerie eyeball pretzel rods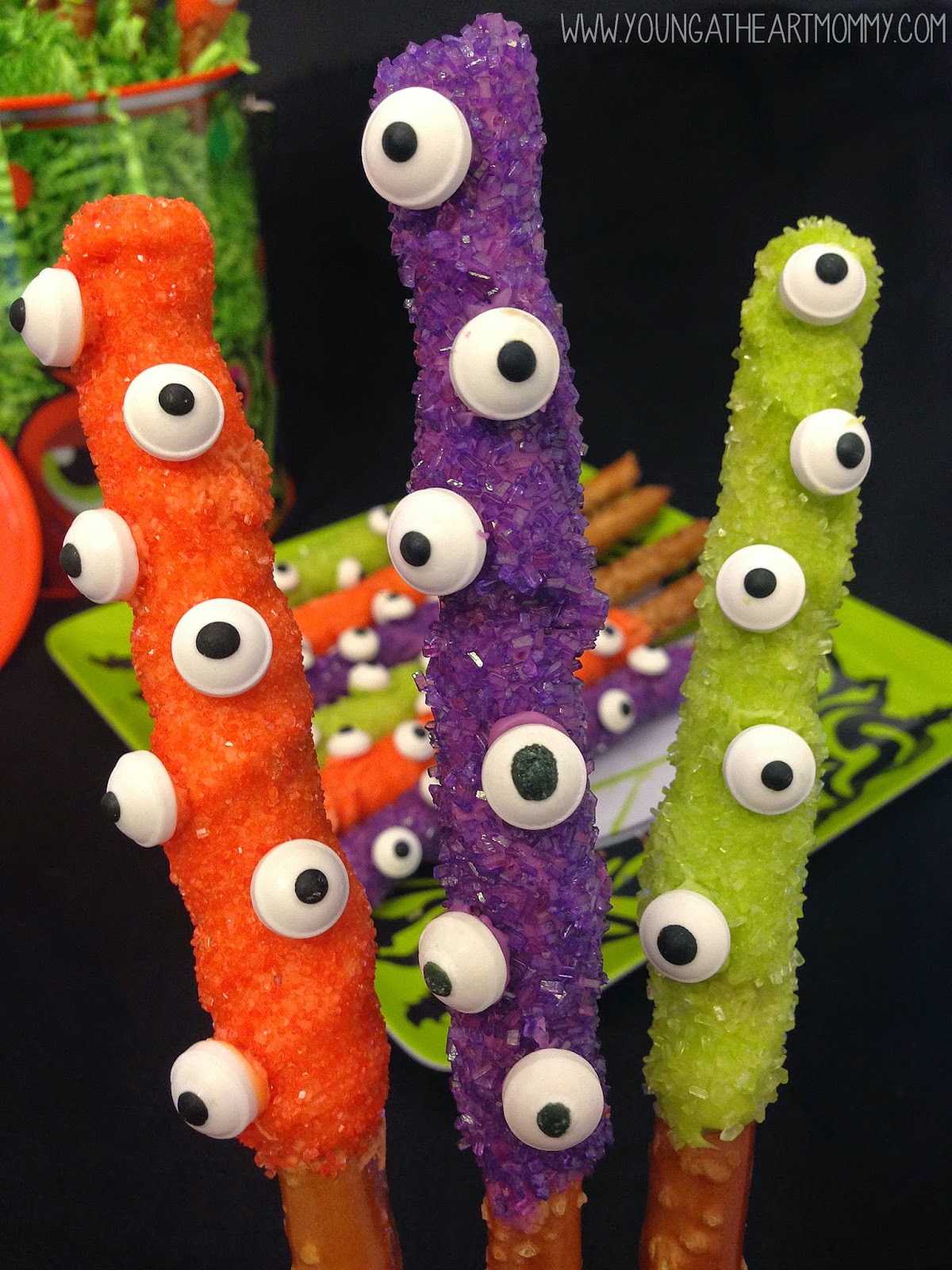 How spooky are these googly eyes. Every child will love and enjoy every bit of it. The perfect Halloween treats for kids. Source young at heart mommy
Sugar skull fruit pizza dessert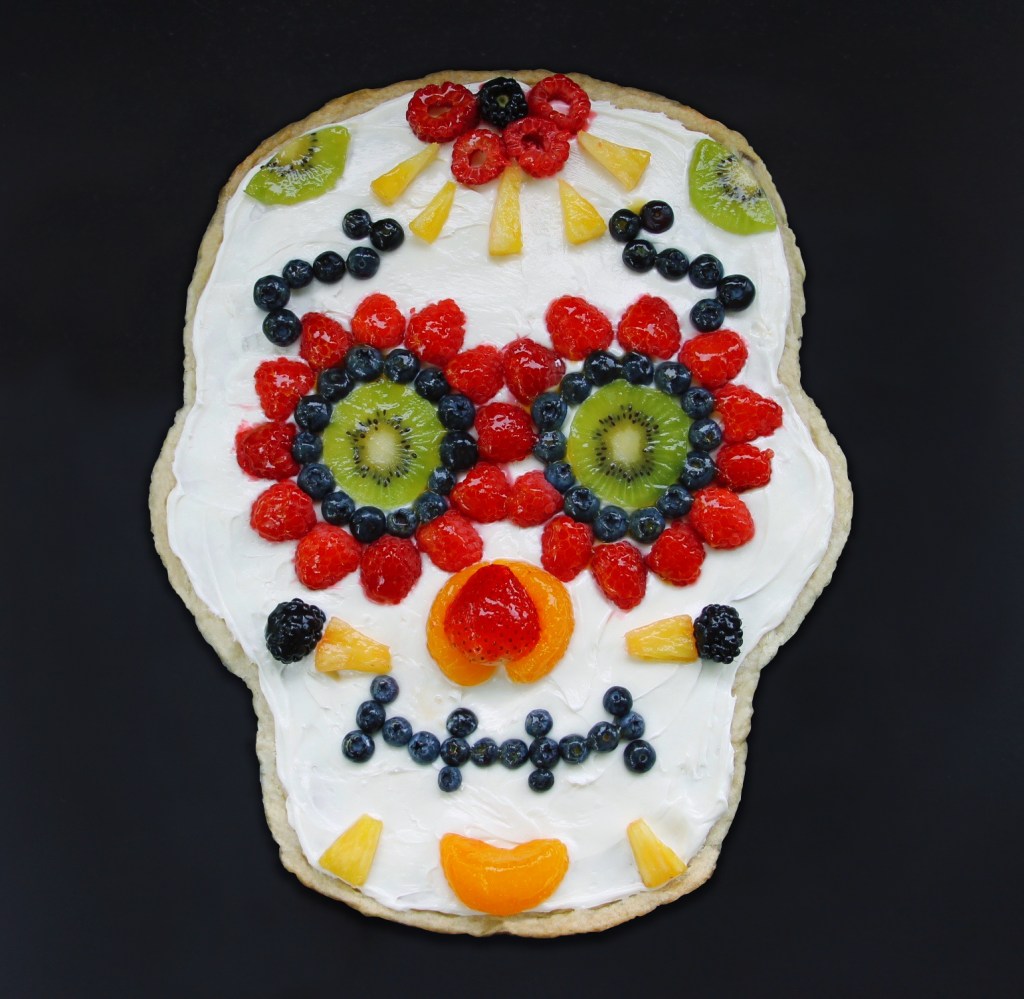 This is perfect for your Halloween party and it's a great way to enjoy healthy sweet treats. Super nutritious which makes it perfect for kids. It's loaded with fresh fruit and with a yogurt-based cream cheese frosting. The secret is to use fruits with different colors which will make it pop. This will help you to create a vibrant sugar skull design. It's a fun activity to involve the kids in and to be creative. Source growing up bilingual
Scaredy cat candy bowl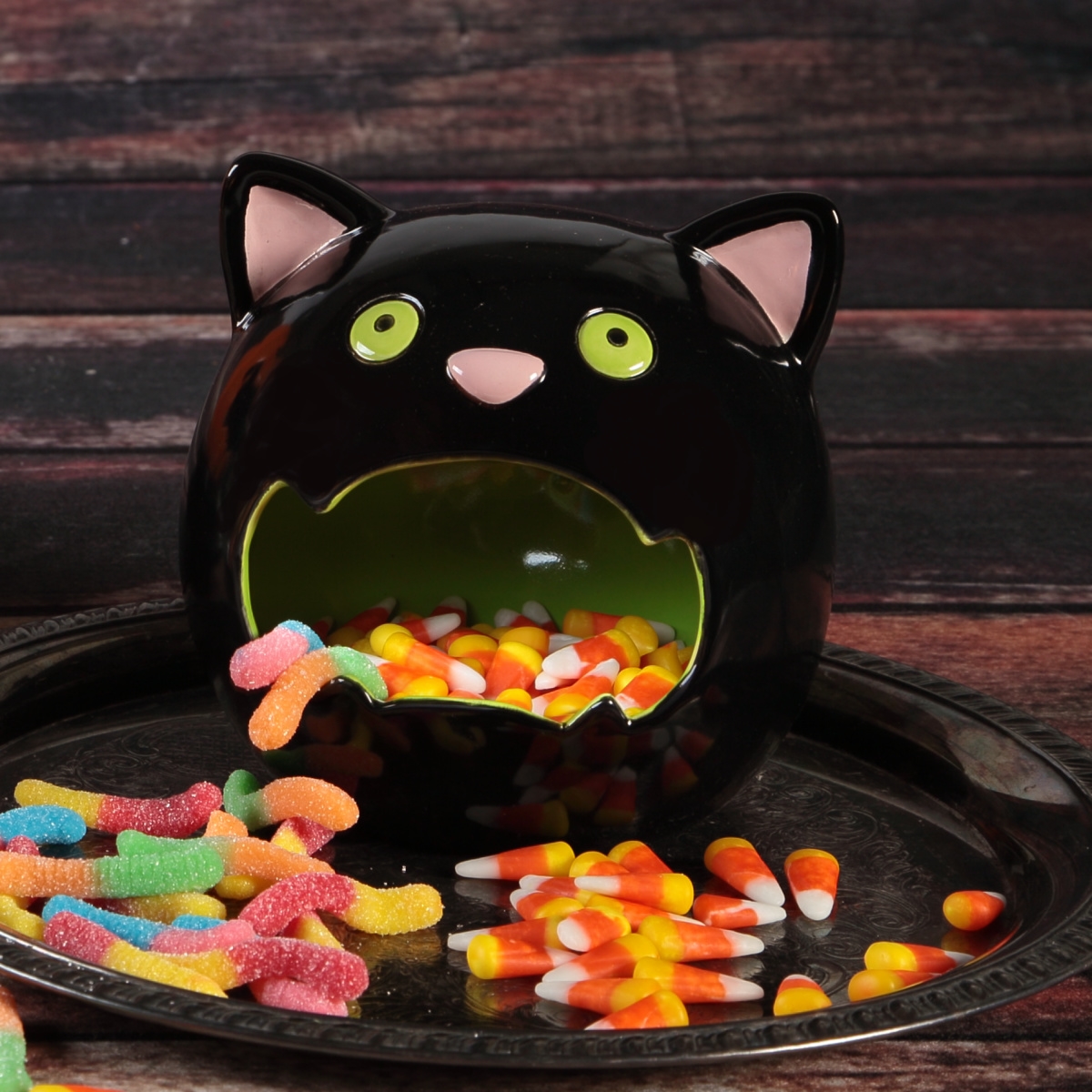 Spectacular, creative and creepy. One of the best Halloween party ideas that everyone will love especially the kids. So easy to recreate and you simply put in your favorite candy. We can't have trick or treat without a Halloween candy counter right? Source I love to create
Halloween candy jar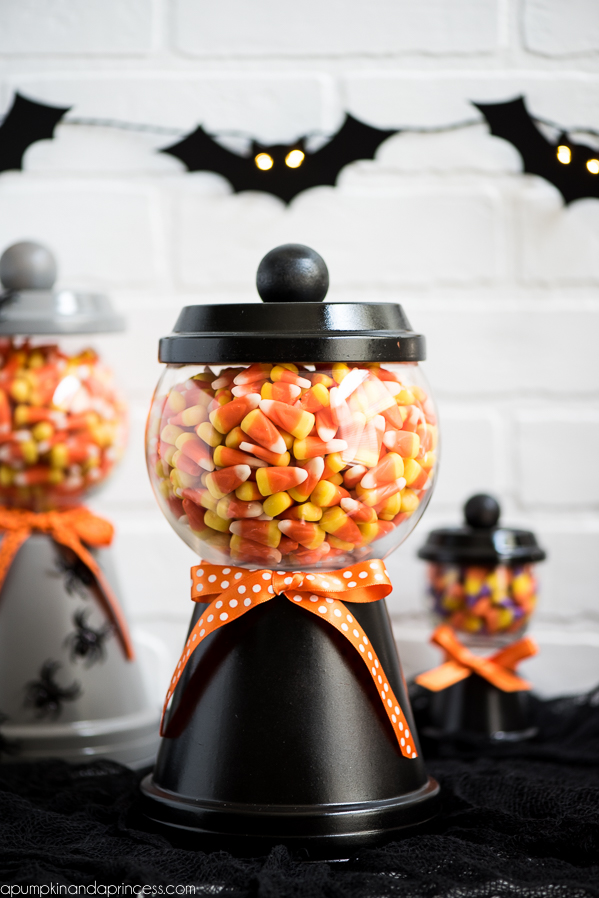 I can assure you kids will just hang around your dessert table with this there. What a great and perfect way to display your favorite Halloween treats. The glitter spooky spider stickers and the orange polka dots ribbon adds that Halloween vibe. If you want to be a little extra you can add bats and a few cobweb detail. Source a pumpkin and a princess
DIY Pumpkin dioroma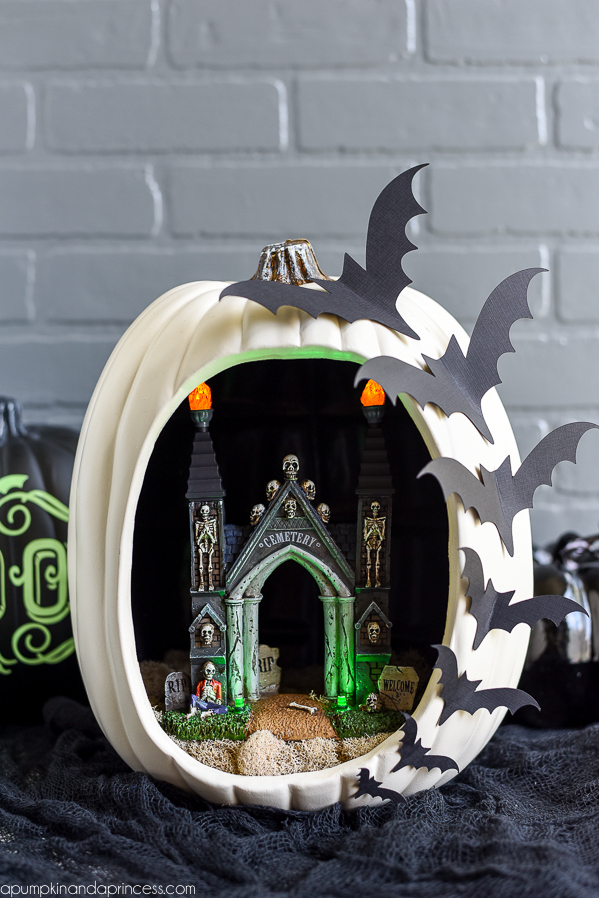 Simply spectacular. The graveyard gate and the flying bats are fantastic. Great as Halloween decor idea. To make this, you will need a large pumpkin, bats or any other Halloween themed decorations you want to add, black paint, hot glue, 1 inch thick Styrofoam block and moss. It looks complicated but you can get all the details from here
Halloween Oreo candy bark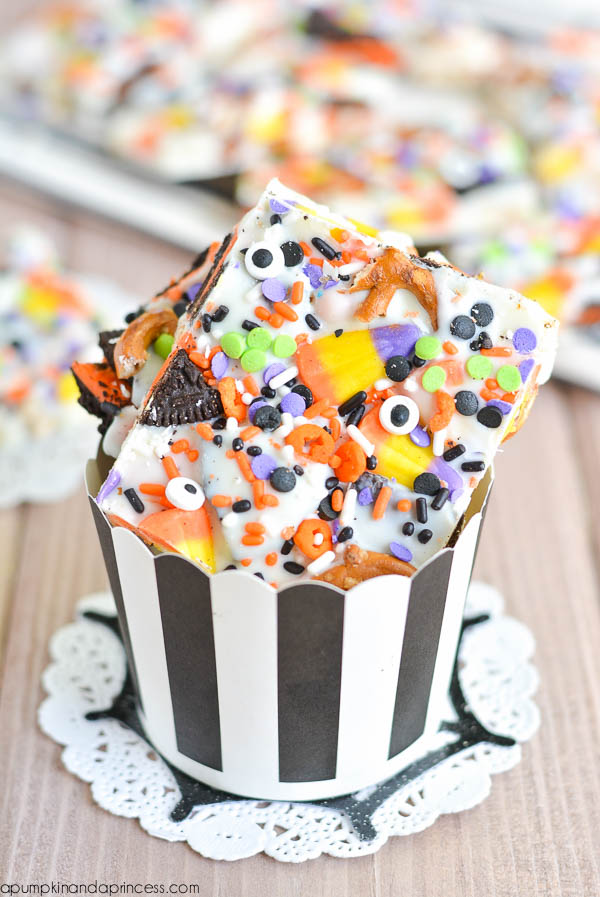 Wow, how good does this look? Sweet and salty Halloween Oreo candy bark made with pretzels, candy corn, edible monster eyes, and sprinkles. Halloween is all about fun and creativity and this party idea is no exception. This will brighten your Halloween dessert table. This candy bark should not miss from your party food table this year. It's made with sprinkles, pretzels to add a bit of salt to cut down the sweetness, mini edible eyes, and candy in fun orange, yellow and purple color. Source Here
Halloween vibes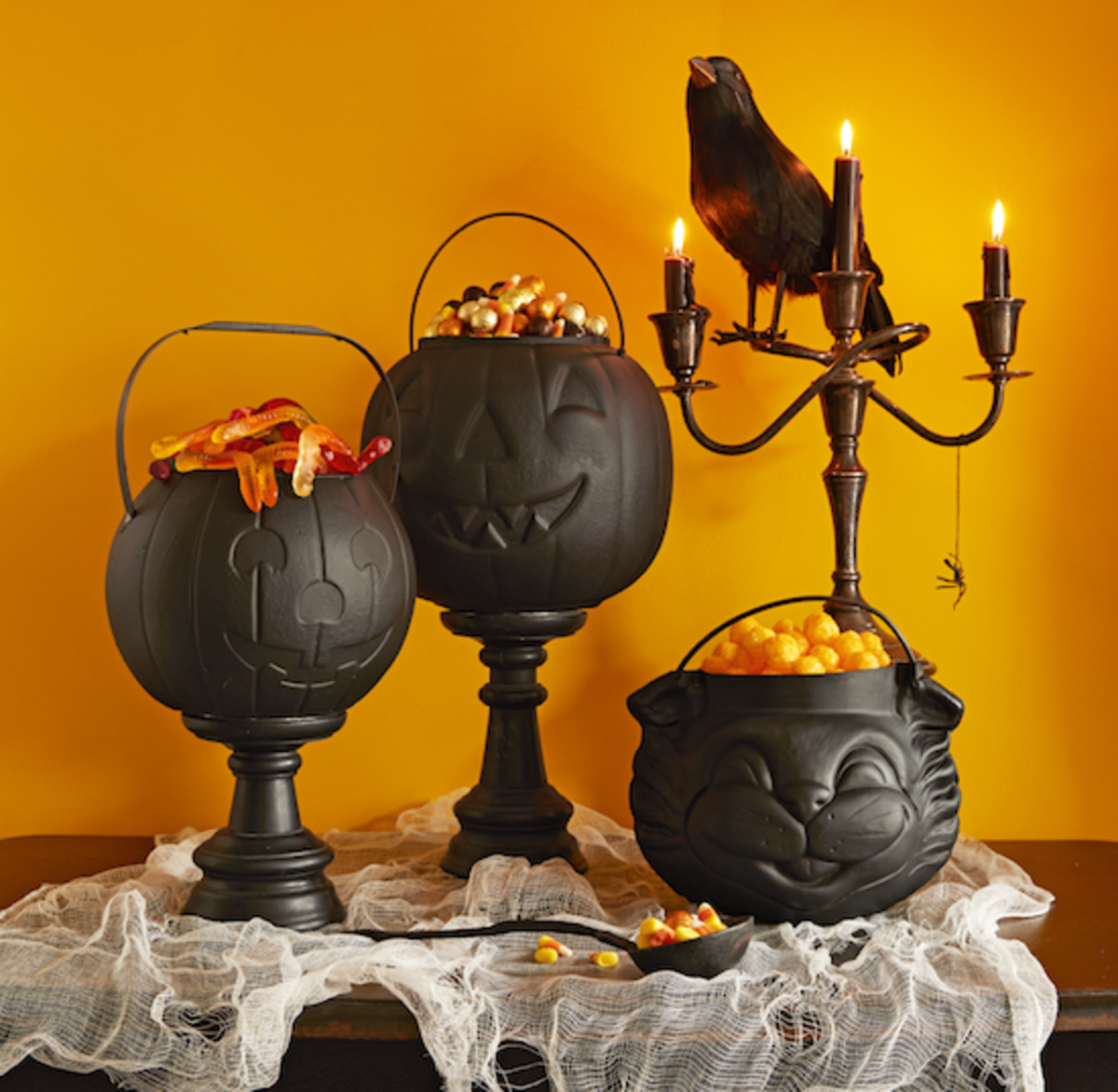 A perfect touch to add to your Halloween party. Source Rachaeraymag
Chilling Halloween party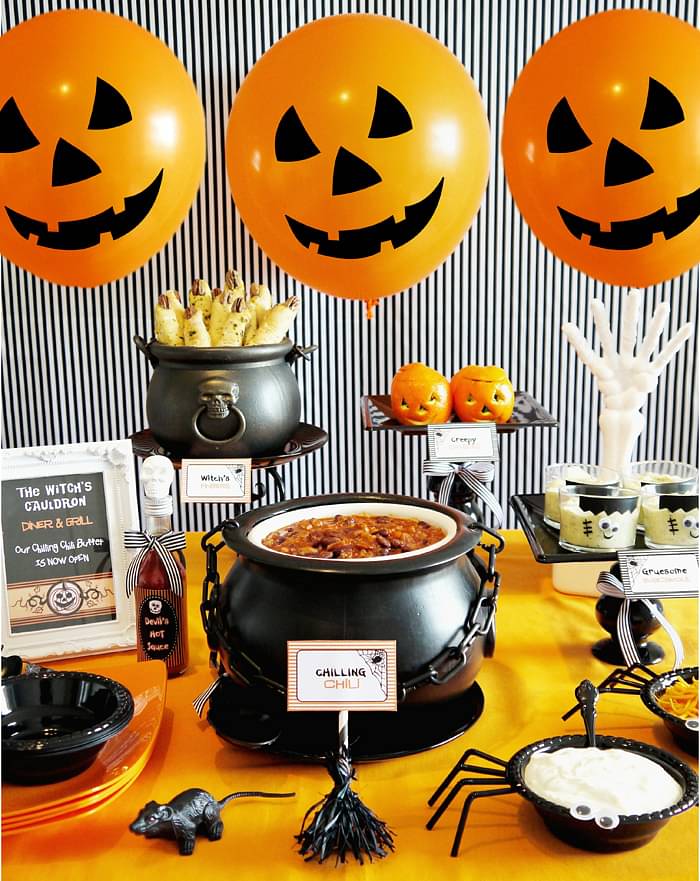 Spectacular. This set up is giving us all the Halloween vibes. It has everything you need for your party. Source here
Rotten deviled eggs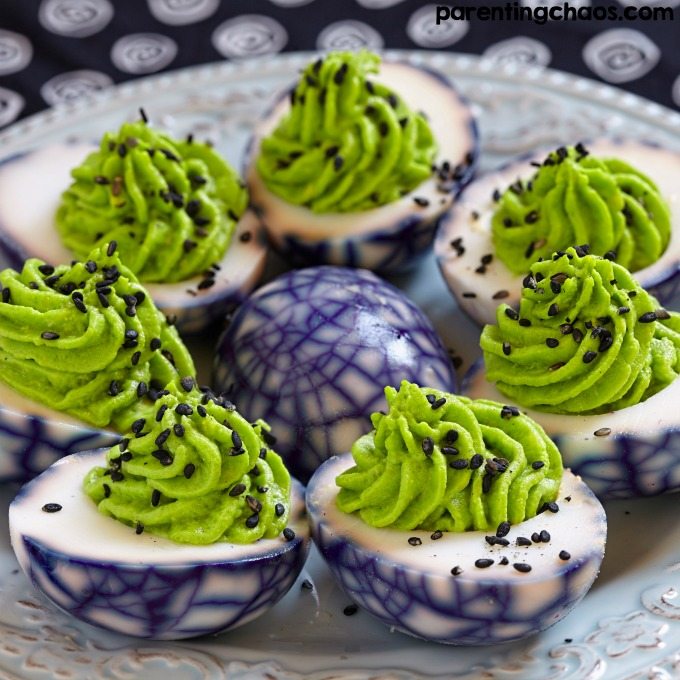 Are you hosting any Halloween party this year? These Halloween deviled eyes are perfect. The bonus is that they are a big hit with the kids. They are super easy to make and look great too. Source Parenting Chaos
Halloween monster apples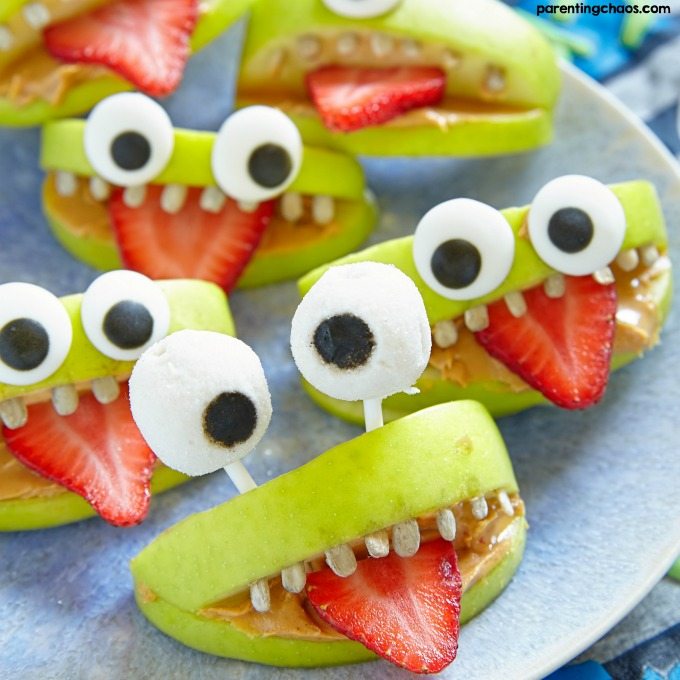 It can't get any creepy than this. A perfect show stopper. Halloween is all about fun and these monster apples are super fun and the kids will enjoy sticking the googly eyes. Healthy Halloween snacks ideal for the kids. Source Parenting chaos
Halloween swirl cream cheese brownies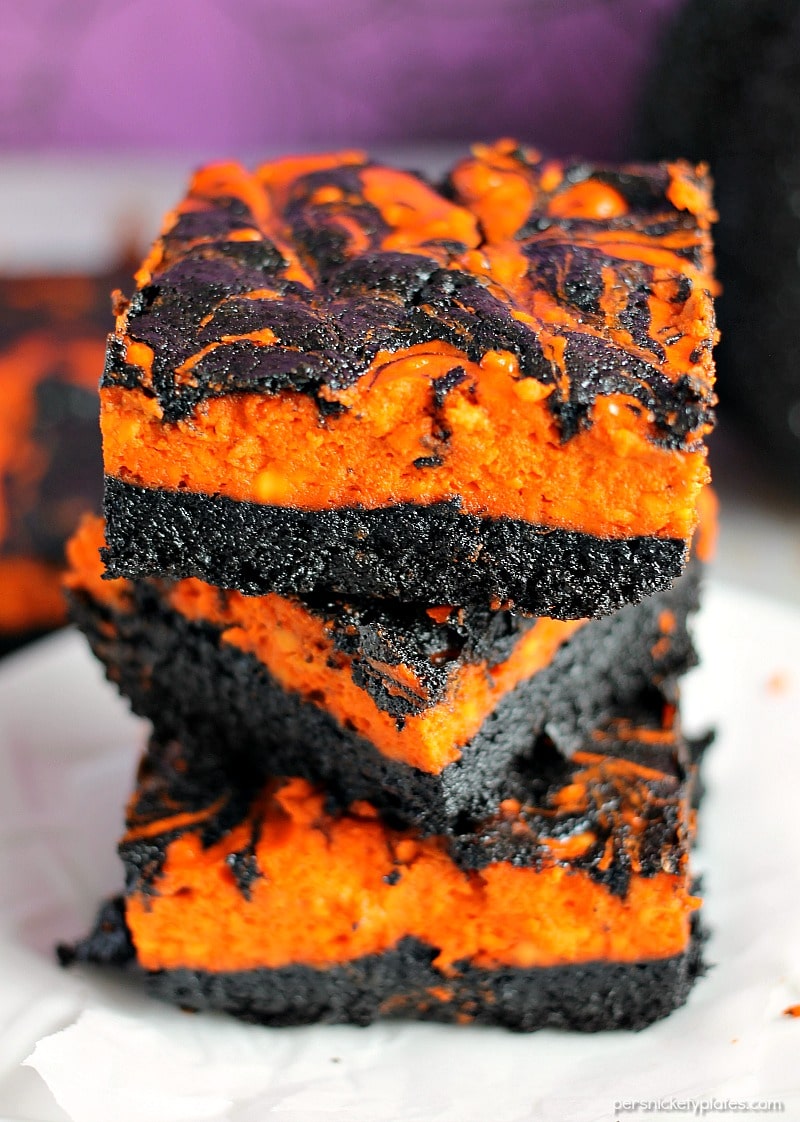 Simply divine. If you are looking for the perfect Halloween desserts, look no further. These swirl cream cheese brownies have a layer of rich, dark chocolate brownie topped with a layer of orange cheesecake then swirled together for a spooky treat. Spooky dessert that everyone will enjoy for Halloween. Source Here
Black cat pudding cups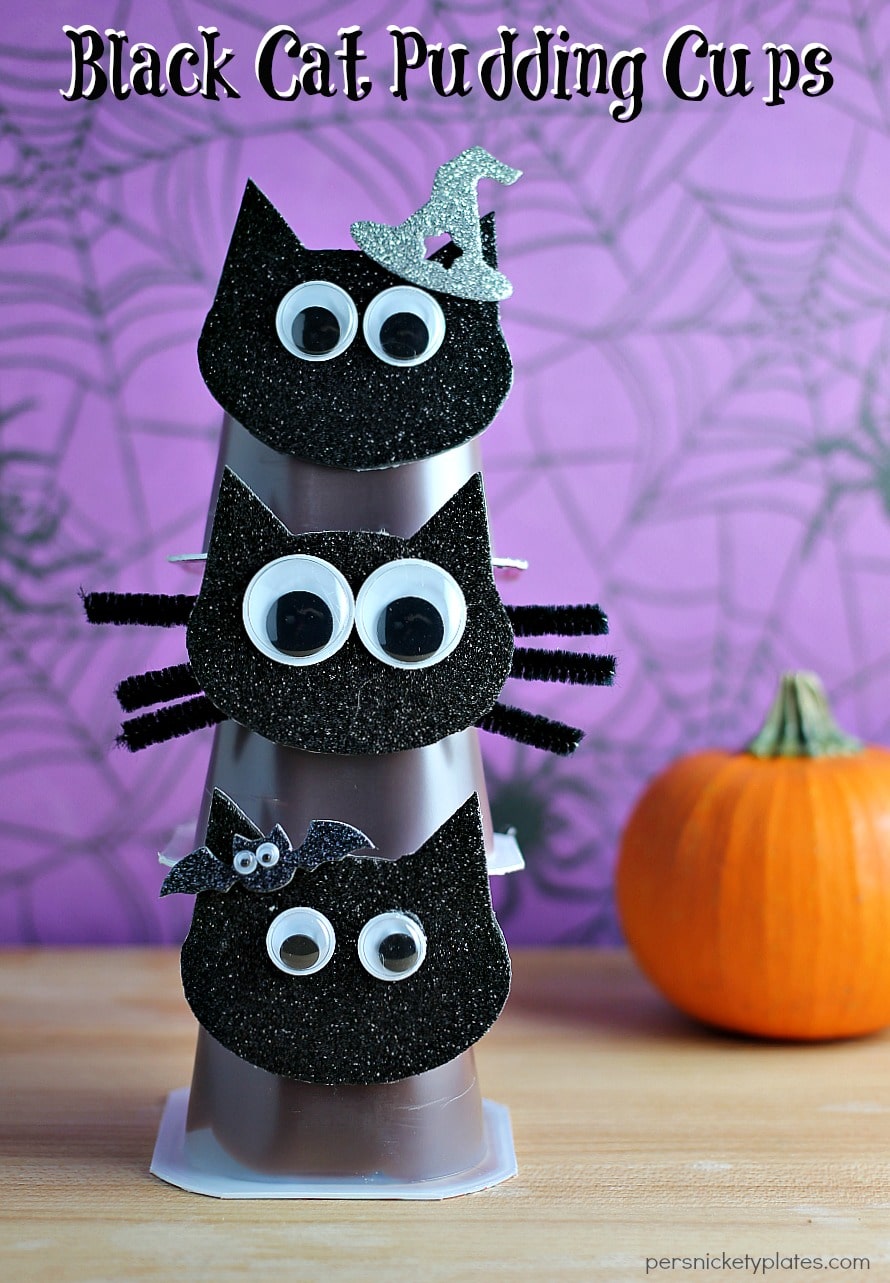 Am a big fan of Halloween ideas where kids can be involved. This is one that they will love. This is a fun and easy way to dress up Snack Pack Chocolate Pudding Cups for Halloween. Source Here
Halloween party ideas: Spooky cups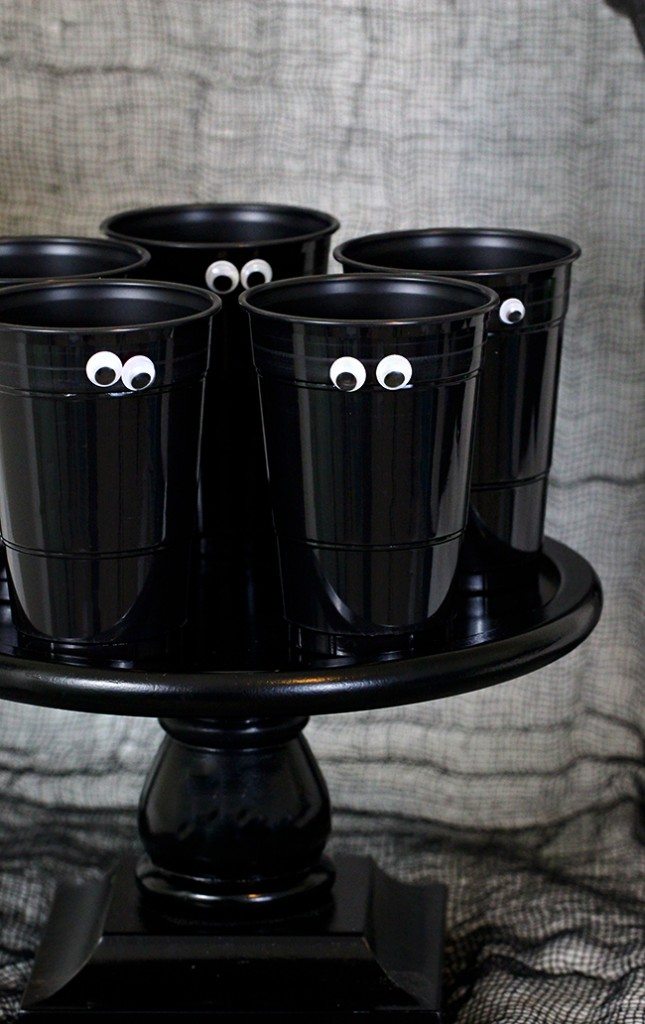 A fun easy way to turn normal cups to have that spooky feel. This has to be one of the easiest Halloween party ideas ever. All you have to do is to stick the googly eyes on the cups and you are done. Sometimes you don't have to do alot that to achieve that creepy feel. This idea is super creative and simple. Source Cutefetti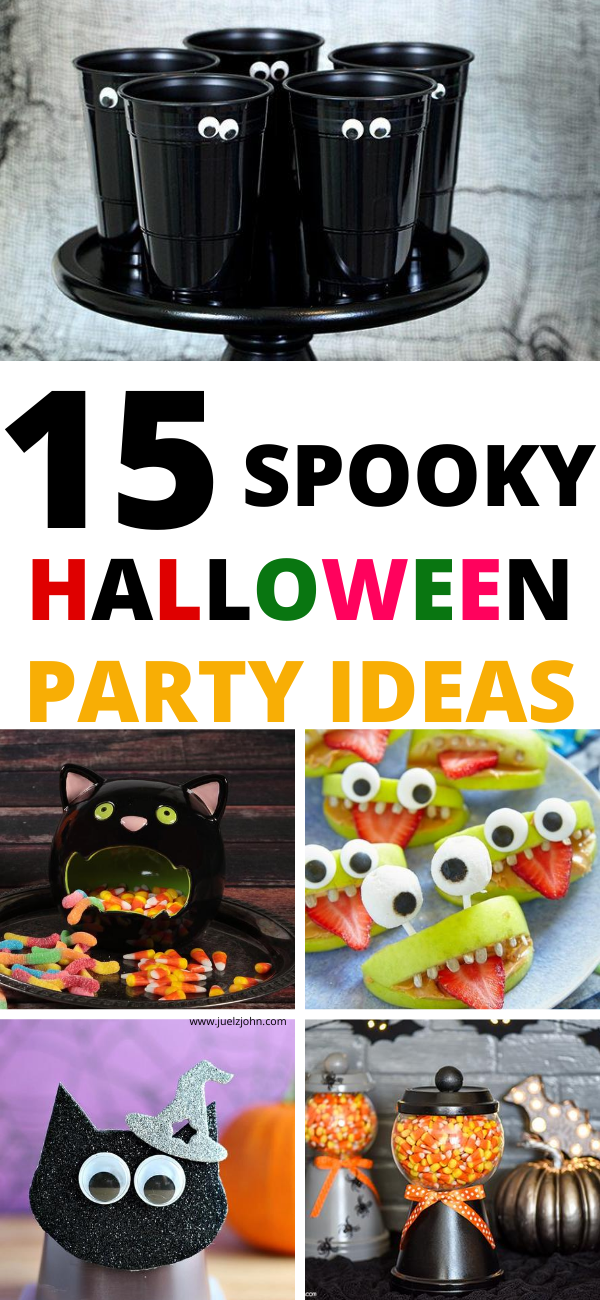 There you have it, 15 easy DIY Halloween party ideas to spice up your Halloween party this year.
Enjoy!