October is around the corner,which means one thing Halloween. It's time to think of all the preparation that this holiday deserve.The spooky and scary Halloween decorations, the sugar skull Halloween makeup,the costumes the list goes on and on .
Halloween nails are the perfect way to compliment your costume. These easy Halloween nail art ideas are quick to recreate whether you want to DIY it yourself or you want to take it to your nail artist. You will absolutely love the results.
Spooky spiders, skulls, cobwebs, bats, spooky moon, skeletons, coffins, scary faces, eyeballs and stars these are some of the details you will see in most easy Halloween nail art ideas.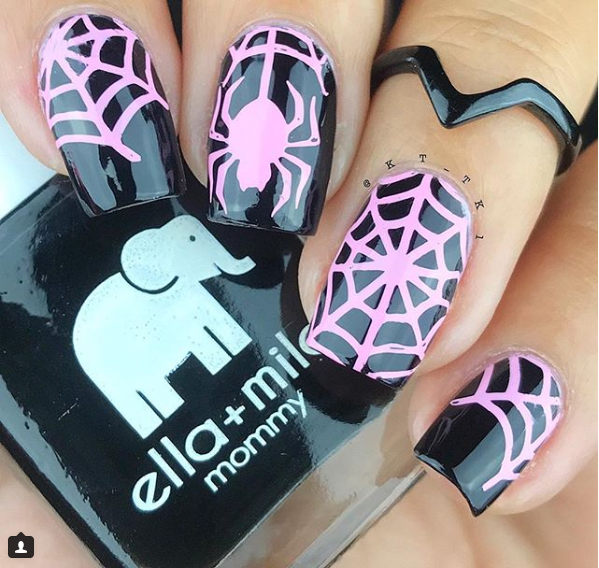 To recreate this design you need around my nails and pink stampling polish,light out and a stampling plate.Very easy to DIY .See the full details here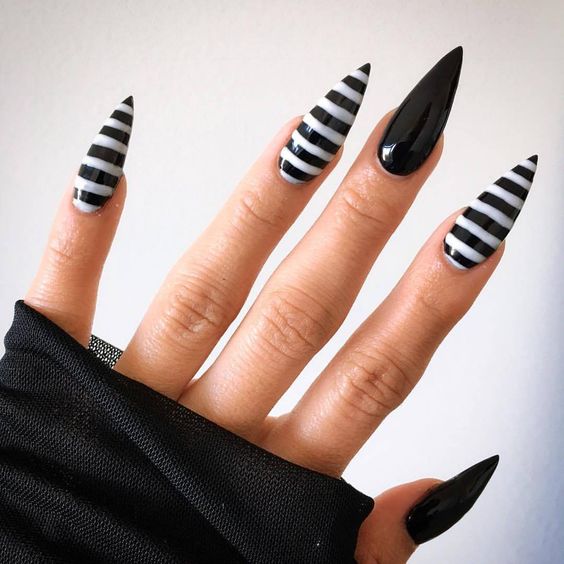 Simple and classic.This will for sure compliment your constume. As an everyday nail art this may be too much to some people but perfect if you don't want to go the extremes of adding spooky details such as bats,skulls and spider webs.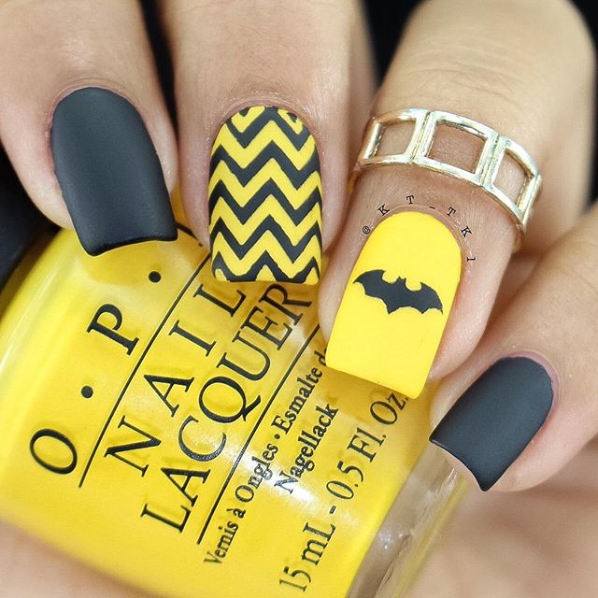 Batman nail art
There is nothing that screams Halloween than bats. Bats are spooky. Am obessed with these combo.The bright yellow makes the design to pop. Blends very well with the matte black colour. For this you need black and matte top coat and nail vinyls. Get the tutorial here.
Nails inspired by Jack Skellington
I love how spooky this look,it will definetly stand out.One of the easy halloween nail art ideas that you can recreate at home and in a few minutes.You need a tooth pick,light out,white and black acrylic paint.See more details here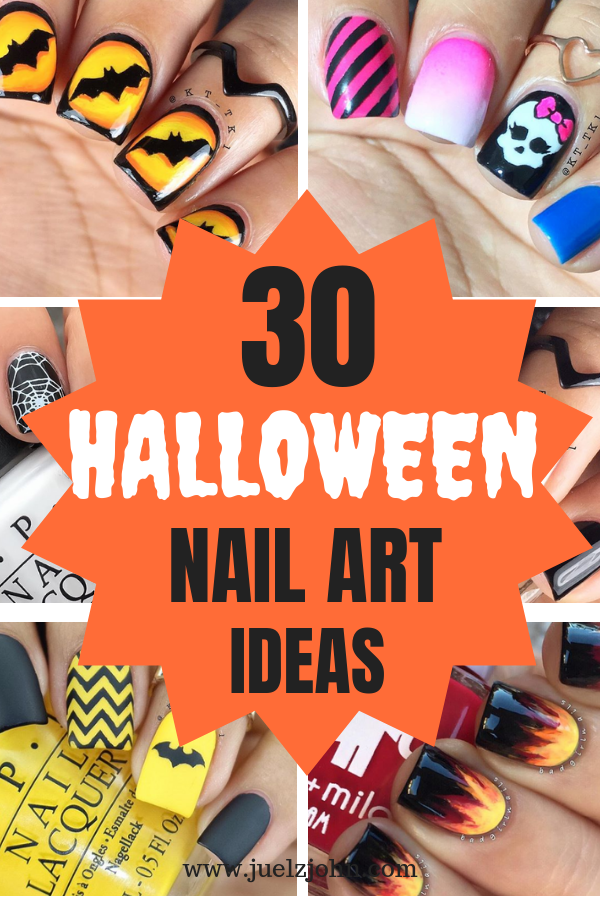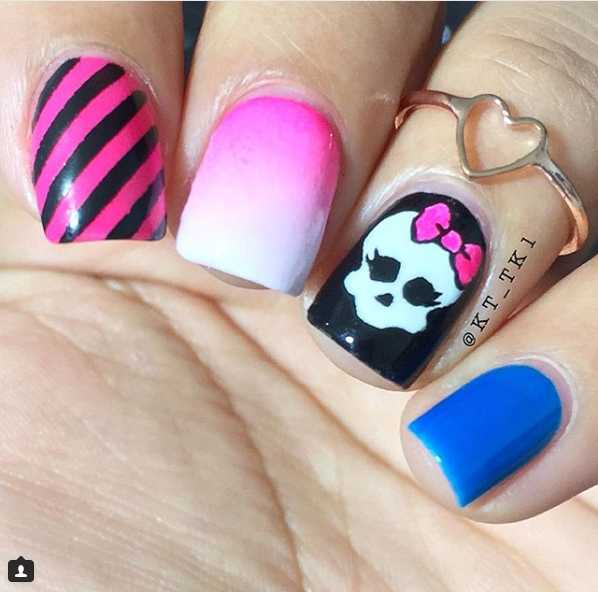 Monster high inspired nails
We can't talk of easy halloween nail art ideas without skulls popping up. Skulls are very popular when it comes to halloween decorations. For this you need stripes skinnies vinyls, acrylic paint and polish.See the tutorial here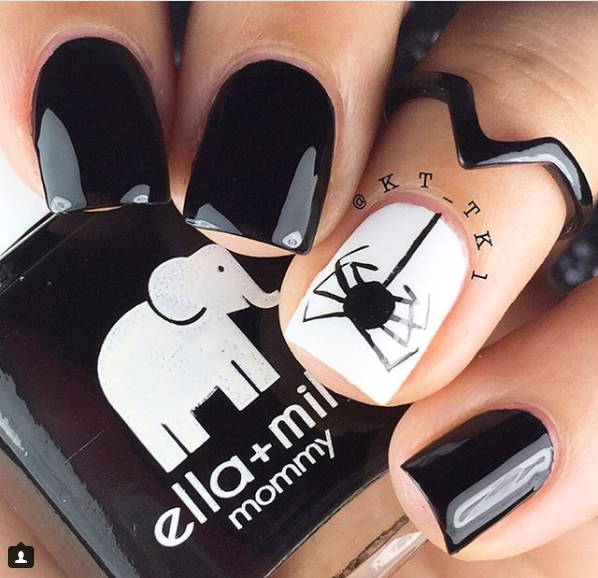 This is so cute right? To recreate this you need black acyrlic paint and lights out. If you want to keep it simple then this might be your go to nail art for halloween.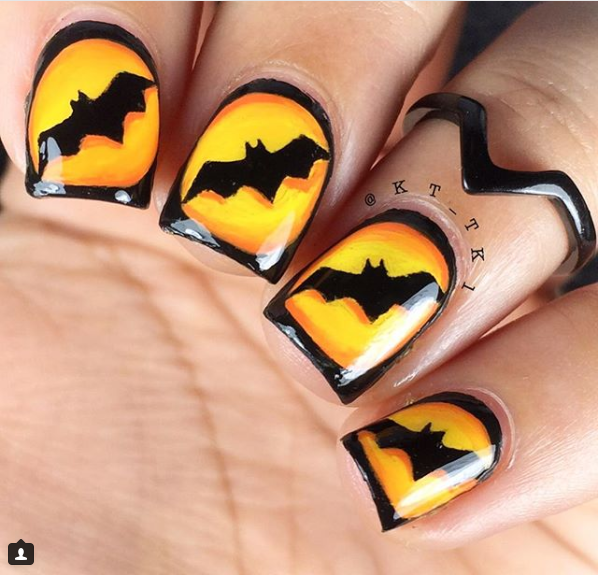 Bat inspired halloween nail art
You need bat vinyls,arcylic paint and polish. I love the yellow,it makes the bats really stand out.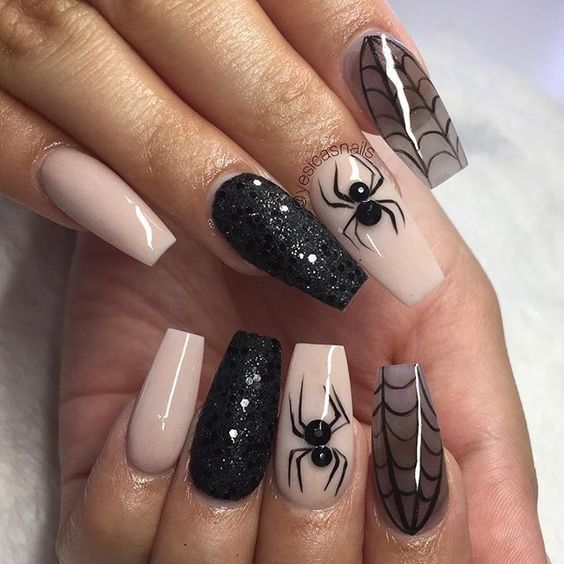 Spiders,cobwebs and glitter makes the perfect combination for any halloween nail art. Am obssesed with this one.Definetly not for the faint hearted.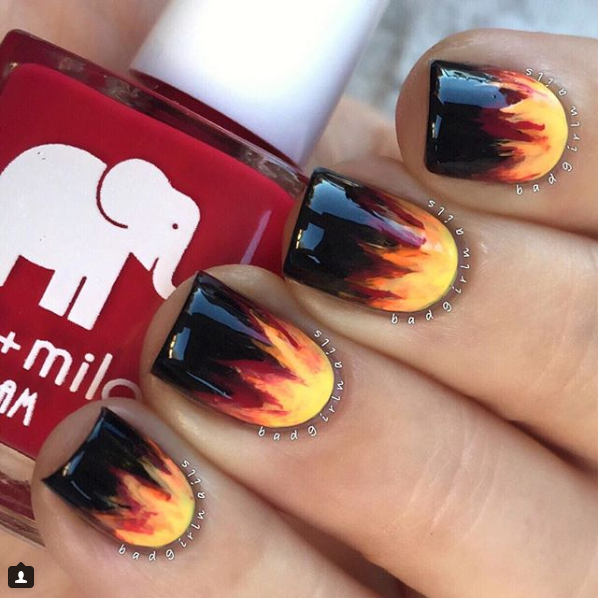 Girl on fire inspired nail art
The colour combo in this nail art blends so well together.Looks so wicked and spooky.The flame strokes makes it perfect for Halloween simply because they resemble blood.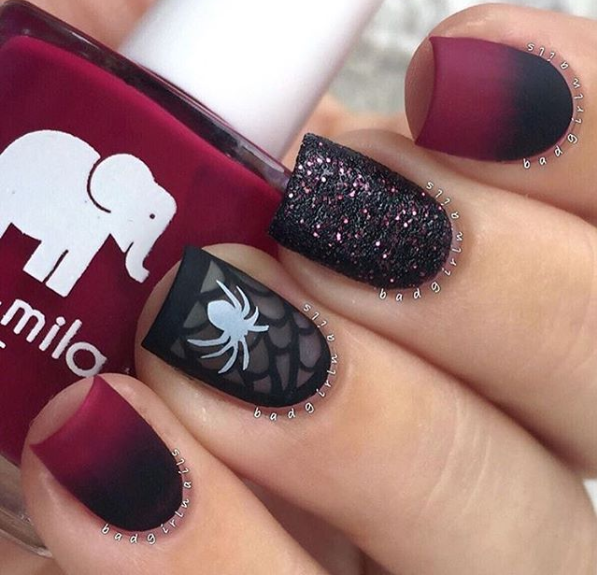 Products used textured glitter,matte top coat,burgundy and black polish.How beautiful is this combo?I love the touch of glitter on the nail art. Spiders and cobwebs together nothing can beat that for halloween.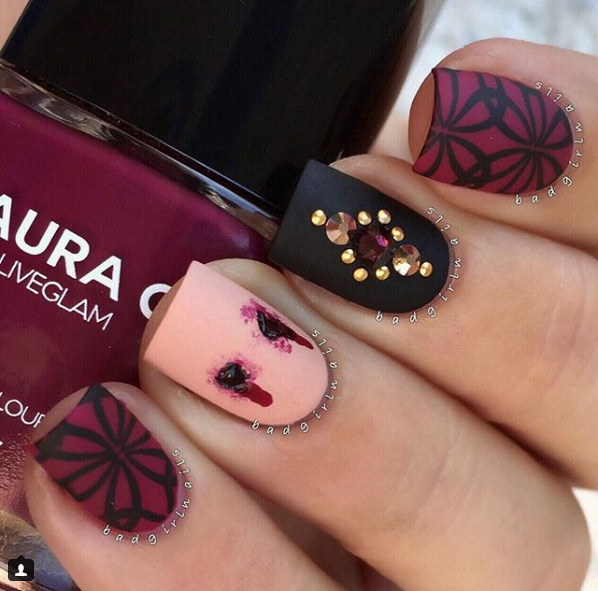 The two red blood drips is everything.You recreate these you will need matte topcoat,rhinestones,studs,stamps, burgundy,nude and black polish.The rhinestones and the studs makes it a bit fun and sexy.Perfect if you want to have a bit of vampy vibes. See the tutorial here.
Everything that has to do with halloween in one place.Spectacular.The cobwebs,the skull and bats in the same nail art design,it can't get better.Dark and dreary just what halloween is all about.See it here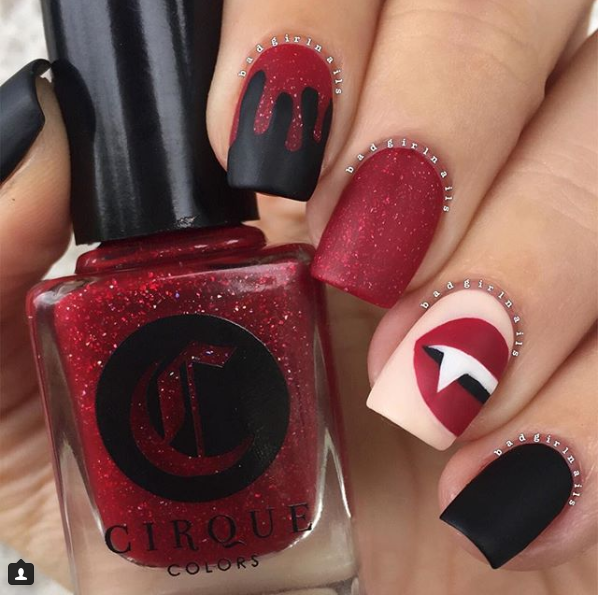 Simple,chic and a little bit spooky.For this you need red and pink polish,matte top coat and blood drop vinyls.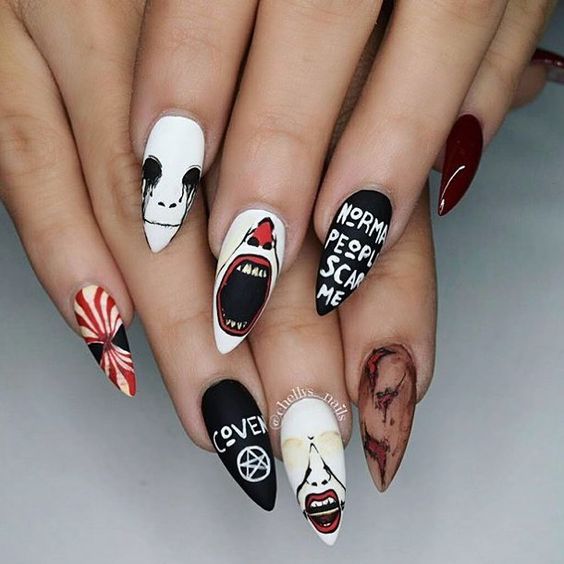 Definetly on the extreme side.These stiletto halloween nails are a boom.They are creepy,spooky,bloody everything that halloween has to offer.Don't you just love that caption,"Normal people scare me."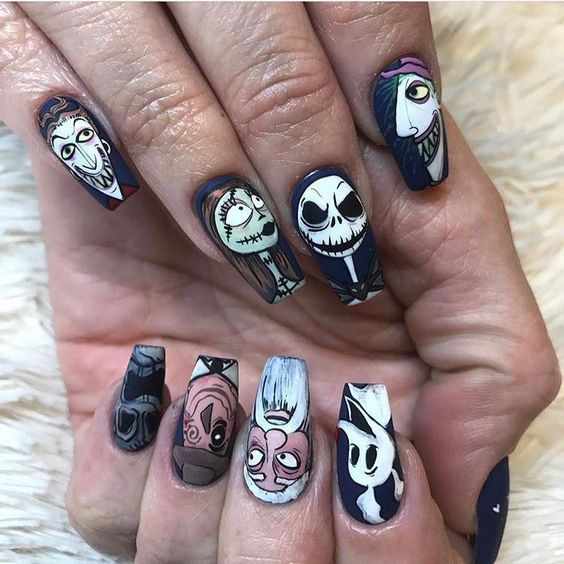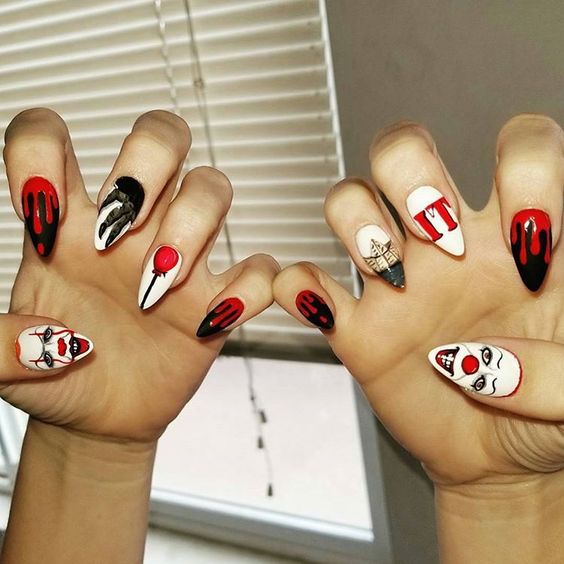 See this and ton of other easy halloween nail art ideas here.You will be spoilt for choice on which to recreate.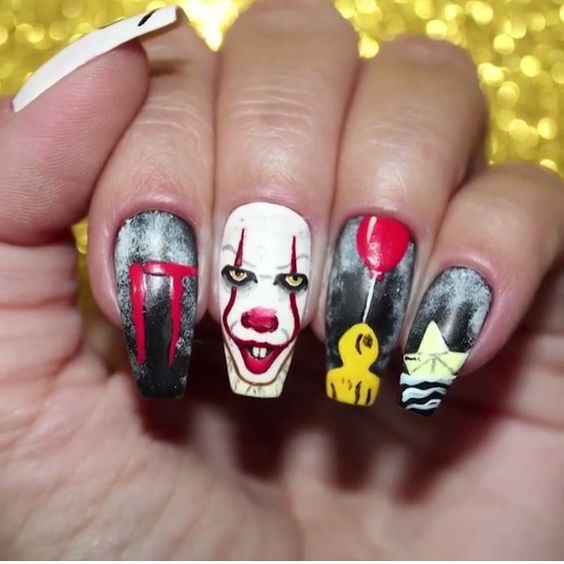 Halloween nail art doesn't have to be necessary so creepy, if that's not your vibe don't be scared to experiment. There is no restrictions to it. Just have fun. If your costume is in the extreme then you should keep your nail designs simple. You can also match with your costume. Simply do whatever you like and what makes you bring out that Halloween vibe in full swing.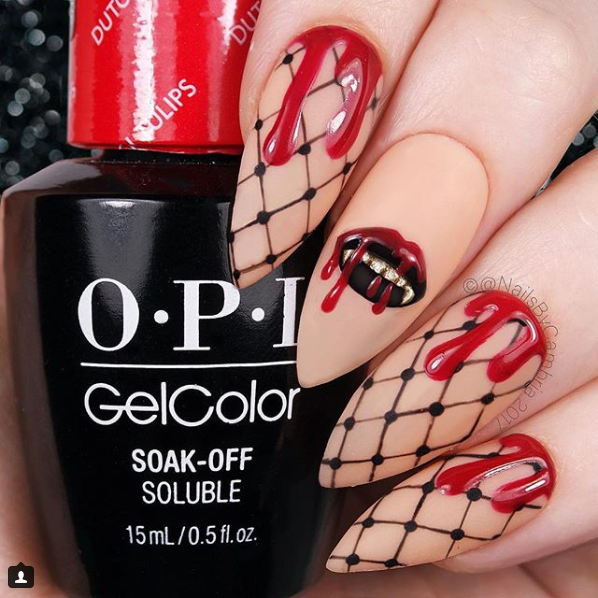 See this detailed tutorial on what you need and how to recreate this nail design.From the video it's easy than it looks.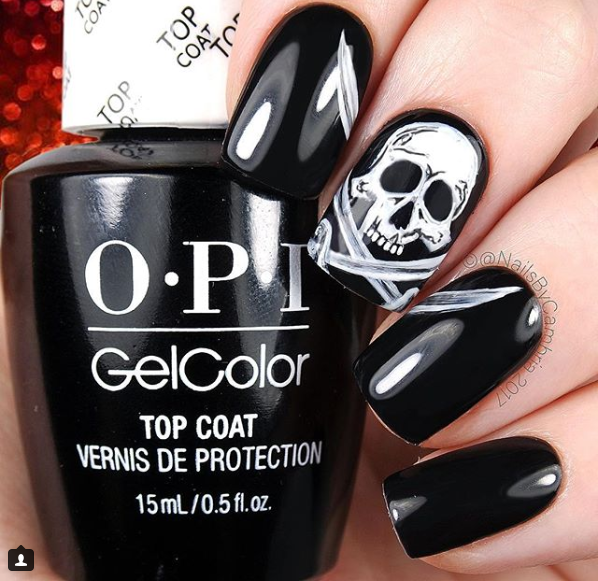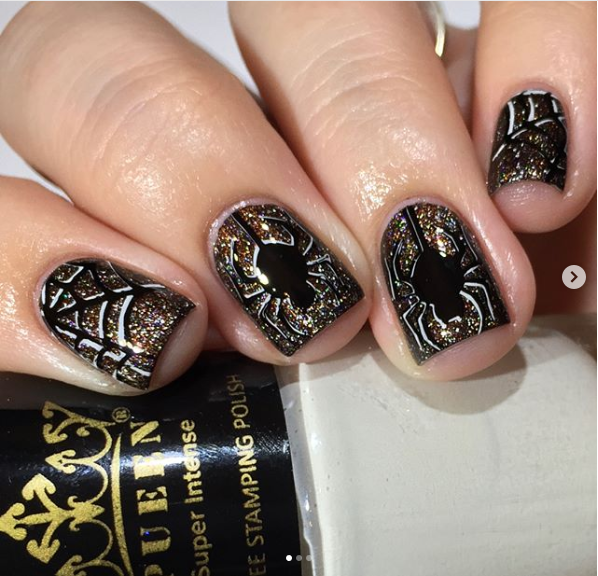 To recreate this you need a stamper,stampling plate and the image you want to use.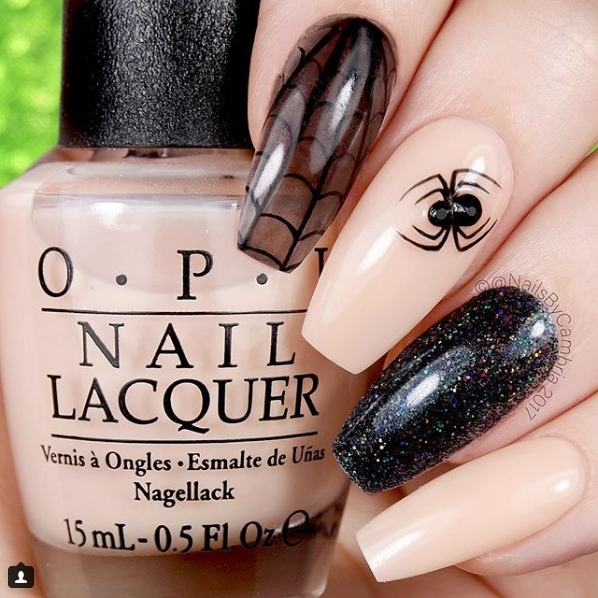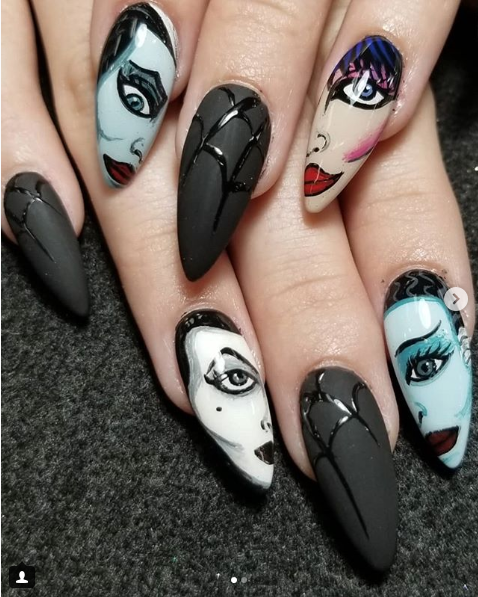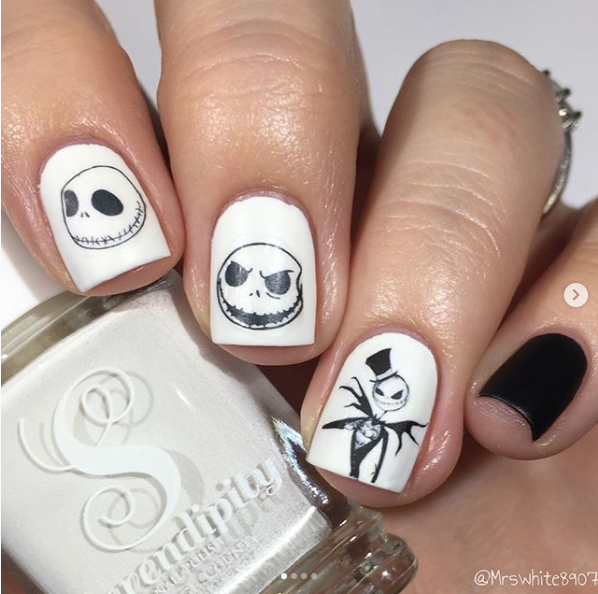 The ghost part is my favourite.You need Jack Skellington water decals,black and white polish and a matte topcoat.Super easy to make,in less than 3 minutes you are done.All you have to do is to cut out the water decals,soak them for 20 seconds then apply them on a dry base and finish with the matte topcoat for a smooth look.Full tutorial here.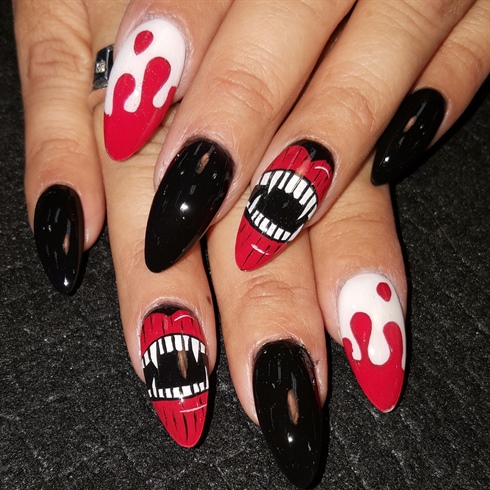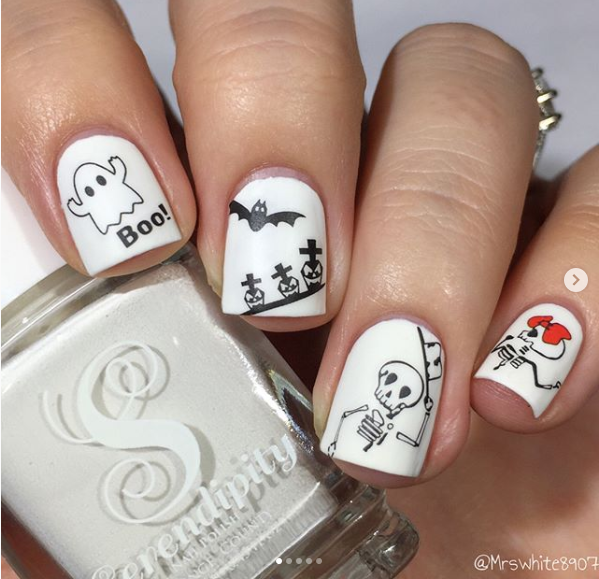 So beautiful.For this you need matte topcoat,Halloween mummy skeleton water decals and white polish.You can do this in less than 5 minutes.You will need to cut out the water decals soak them in water for 20 second then apply to a dry base.Apply a top coat for a smooth look. You are good to go.See the video tutorial here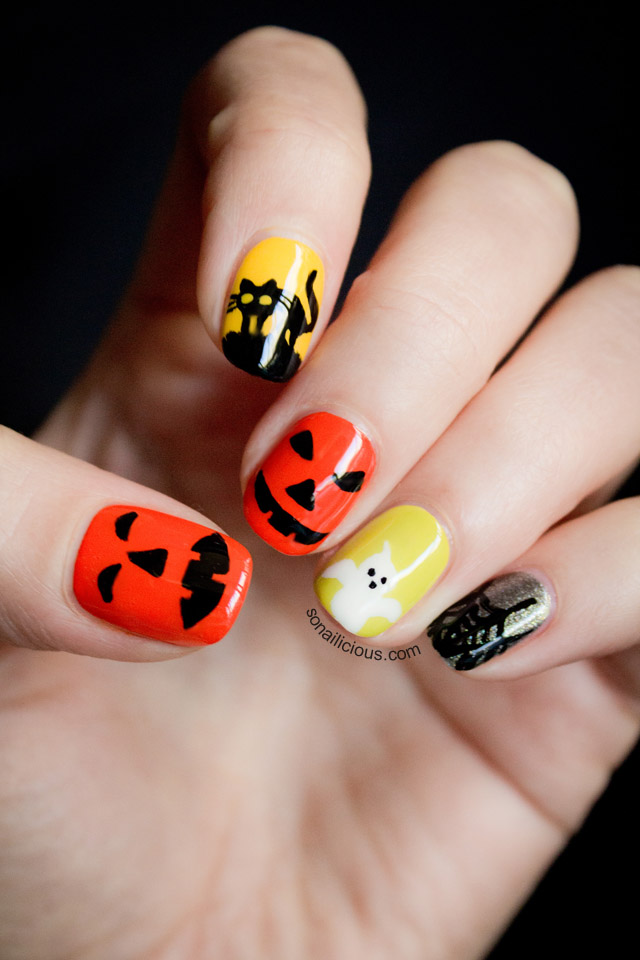 The halloween symbols are soadorable,especially the black cat.See the tutorial here.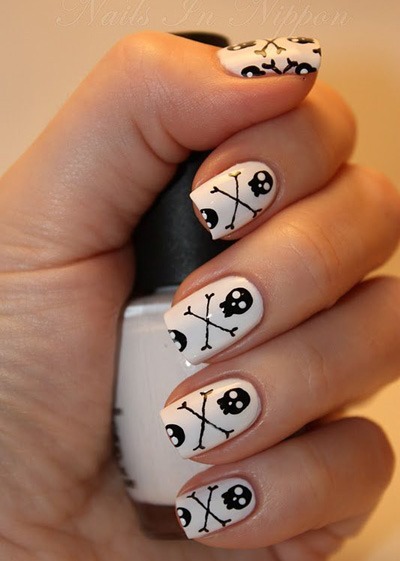 Perfect combination skulls and crossbones.This is so cute and on point.Check out Nails in Nippon for this tutorial and she has other numerous Halloween and fall nail art ideas.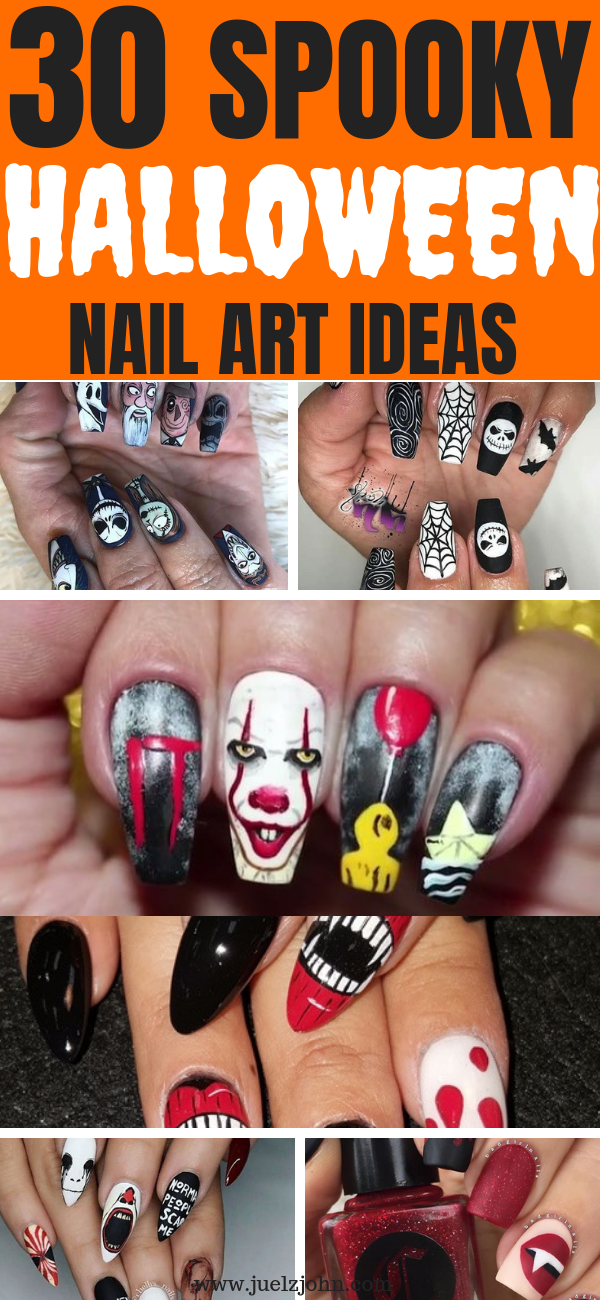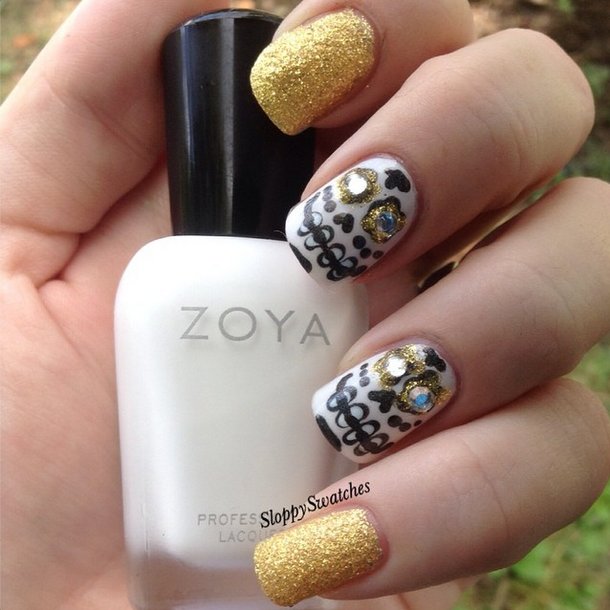 See more here
Source thedotculture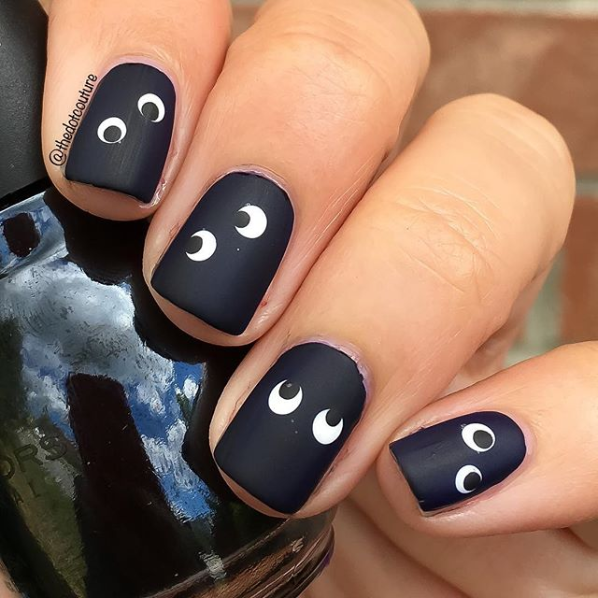 This is pretty easy to do.Have black as your base.Then make the white part of the eye using a dotting tool and let them dry.Do the same thing for black part of the eye.
Which of these 30 easy Halloween nail art ideas do you like the most? Will you be trying any of them come Halloween? Let me know in the comments!
You might also like:
36 fall outfits ideas for women
50 easy and cheap DIY home decor ideas