Halloween is one of the most fun and exciting holiday. The thrill that comes with Halloween is amazing and explainable.
Think of all the pumpkins, scary skeletons, spiders, nets, and bats. Can it get any spookier than that? Here are some fun and cheap DIY Halloween decorations to get you into that Halloween spirit and vibe.
I love these DIY projects because you can use what you already have in the house which make it super affordable and you end up saving money.
1. DIY Floating Witch hat Luminaries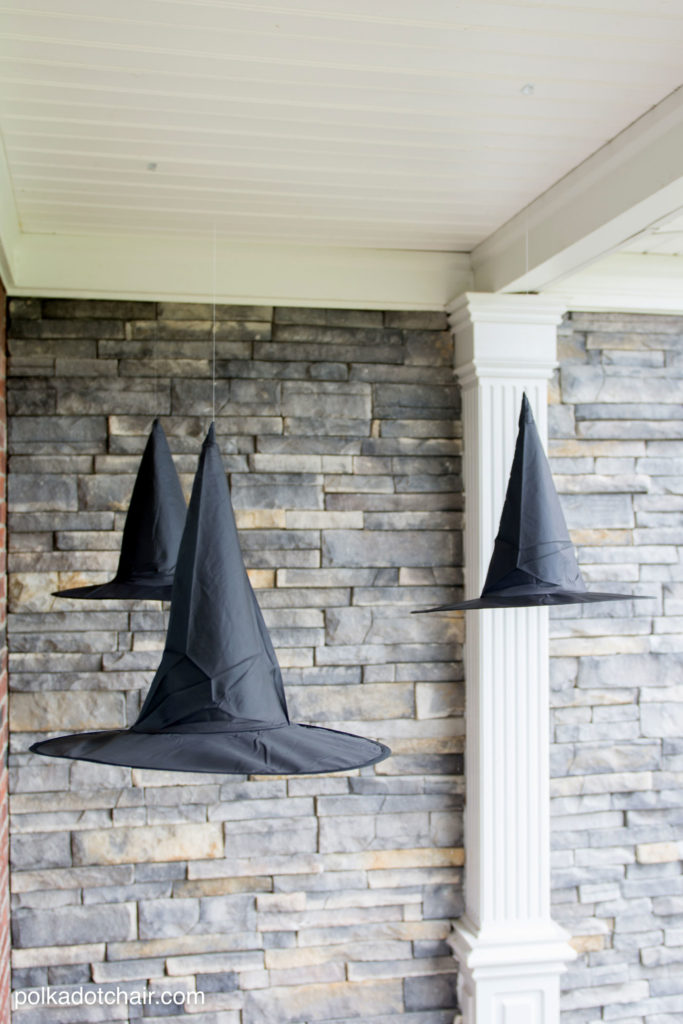 These floating witch hat luminaries are so beautiful and easy to make.Looking for a fun way to transform your porch or your balcony and give it that Halloween vibe, these will do the trick.
Aren't they spooky enough? The perfect way to welcome any trick or treaters. They instantly put that Halloween mood.
See more on how to make these hat luminaries on polkadotchair.com
2. Pumpkin patch wreath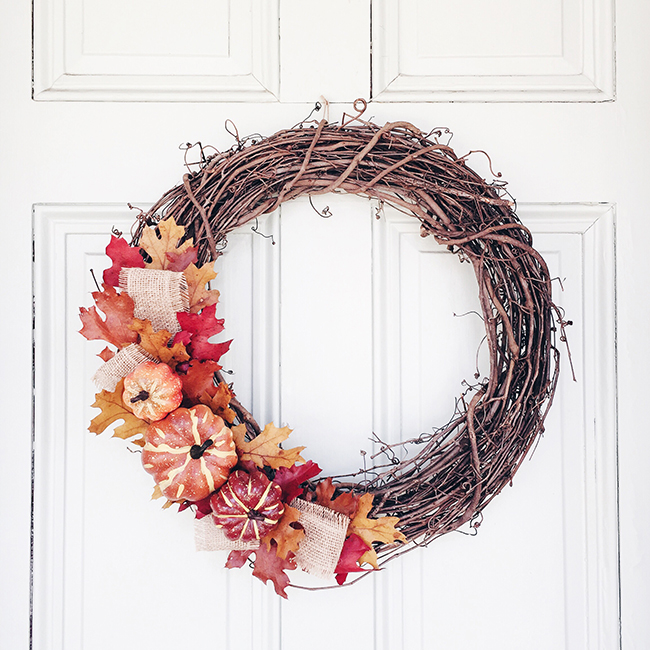 This has to be of of my favorite cheap DIY Halloween decorations. It's so easy to make, you can make it as simple as you want or even go all the way out.
For the pumpkin patch wreath, all you need is small faux pumpkins, scissors, faux leaves, grapevine wreath, hot glue gun and jute ribbons.
Check out caitlincawley.com for step by step on how to create it. She also has 2 more wretch ideas that are so beautiful and the good thing is that you can make them in under an hour.
3. Cheap DIY Halloween decorations : Spirit Jugs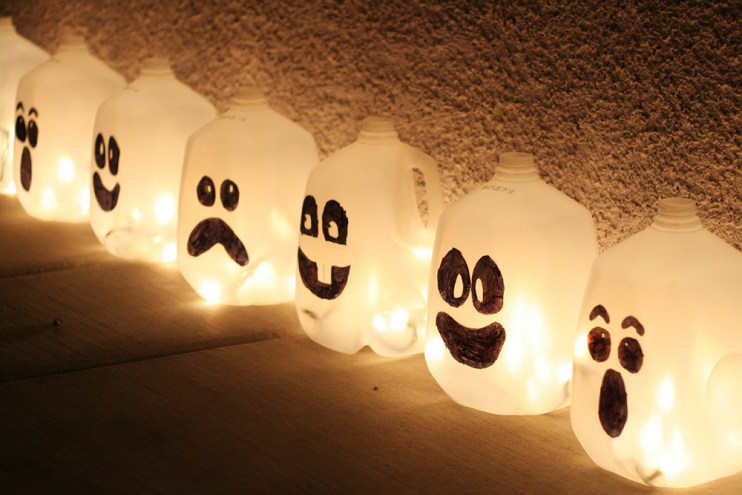 These are easy to recreate and the fun part is you can include your kids too. They can help you to draw the spooky faces on the jugs. These spirit jugs are inexpensive because for the jugs you can save your empty milk jugs instead of throwing them away.
Apart from the milk jugs (you can also improvise with other jugs), you need a pair of scissors, a black permanent marker, a knife and Christmas lights. You can place them on your front porch or on your walkway.
See more details of these DIY Spirit Jugs at eighteen25.com
4. Hanging Ghosts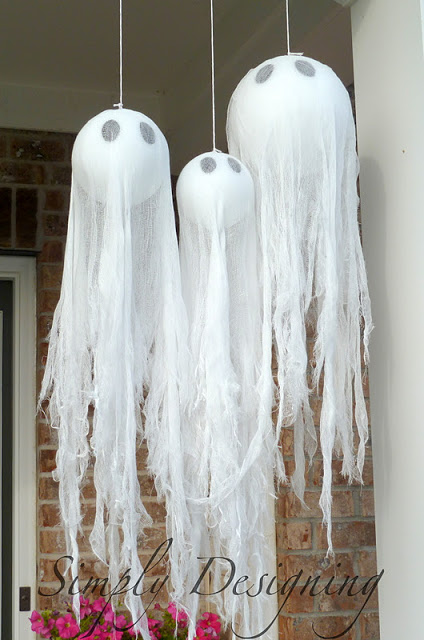 This I love. Just like what we see in those scary movies. They are also inexpensive to recreate. You will need a black marker, Styrofoam balls, cheesecloth, glue and hanging hooks.
These hanging ghost cheap DIY Halloween decorations are perfect for your entryway, your front balcony or if you have trees in your yard.
More details at simplydesigning.net
5. Plastic Pumpkin Arch Entry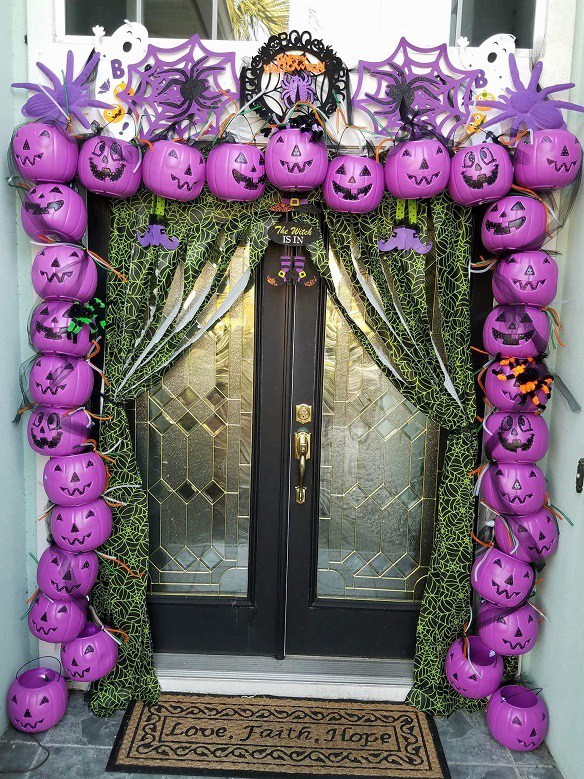 This one is so beautiful. It will instantly transform your entry by giving it that Halloween vibe. What more screams Halloween than a bunch of pumpkins stuck together?
For this DIY you will need plastic pumpkin pails (the amount depends on the size of your entry way) hooks and Christmas lights. You can go a step further and add any other Halloween theme decorations you want such as spider web curtains.
Read more about this plastic pumpkin arch entry at craftymorning
Related post: DIY makeup Halloween looks
6. Hanging foam bats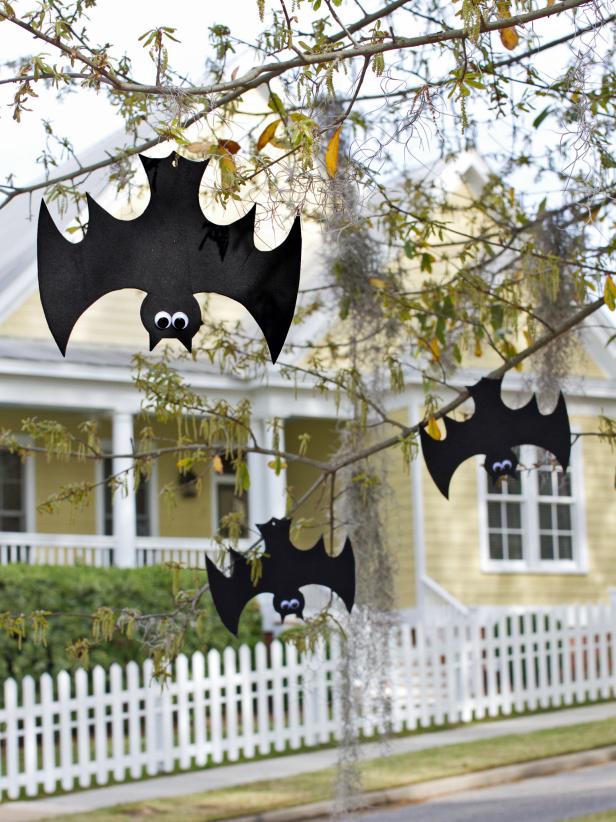 Another cheap DIY Halloween decoration that you will love. All you need to make this is googly eyes, fishing line, and black craft foam. This is one that kids will enjoy and it's perfect for your front yard.
Read more about these hanging foam bats at hgvt.com
7. DIY Spooky Dollar store Halloween Village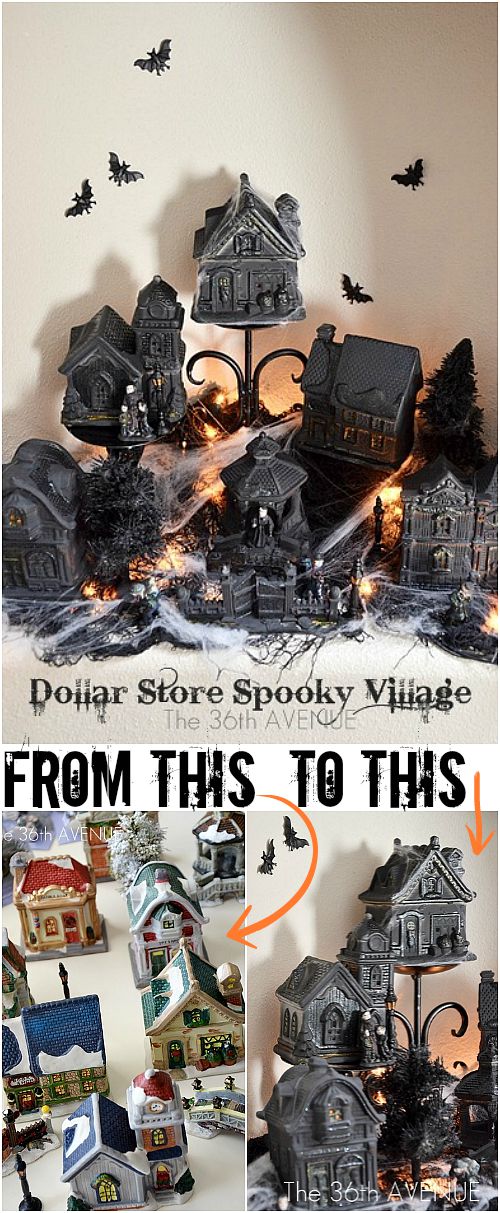 This is one that even the kids will love. It looks like those haunted villages from the movies.
Check out the full tutorial via The 36th Avenue
8. Homemade Little Bats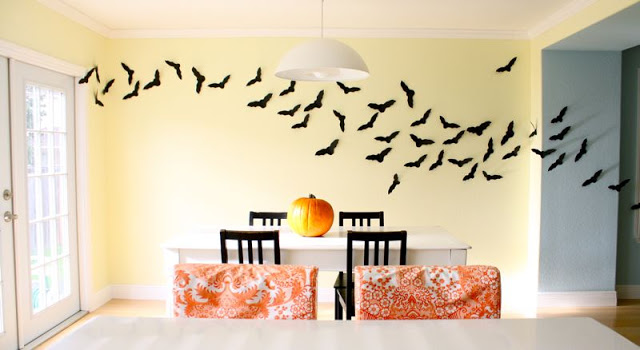 Do you find decorating for Halloween too much work? This is one of those Cheap Diy Halloween decorations that are easy to make and doesn't take so much time. Simple and serves the purpose very well. These homemade little bats are perfect for indoors.
Check out madeeveryday.com for the full tutorial.
9.Painted sugar skull as Cheap DIY Halloween Decorations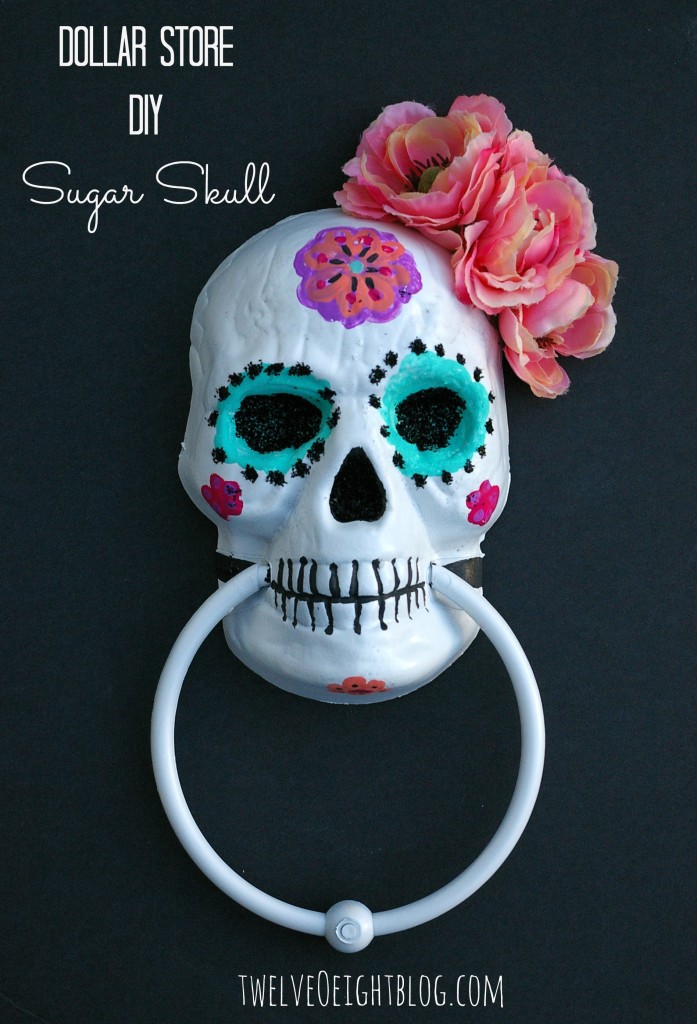 Another favorite one.We all know how big skulls are during Halloween. I love the simplicity, the touch of flowers which makes it so pretty, colorful and still manages to be a little spooky. Get the tutorial via twelveoeight.com
10. Wicked Witch Legs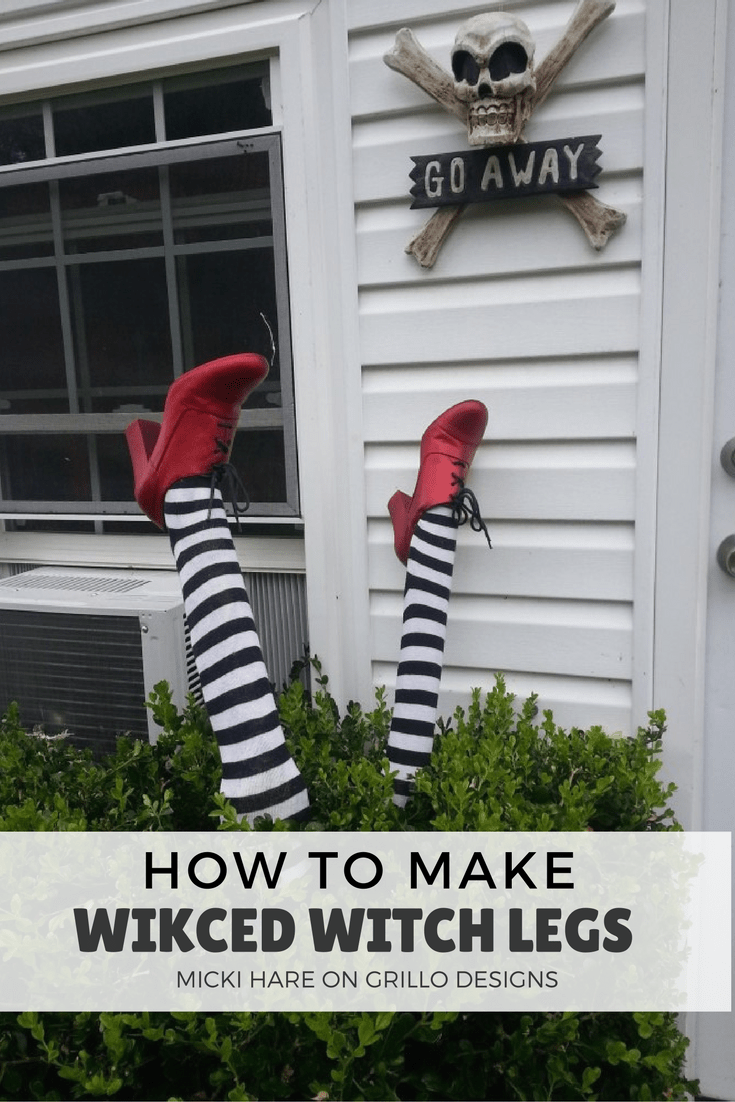 These are so creepy, spooky and super fun just what you need for Halloween.
Read more on how to make these wicked witch legs from grillodesigns.com
11. DIY Witches Brooms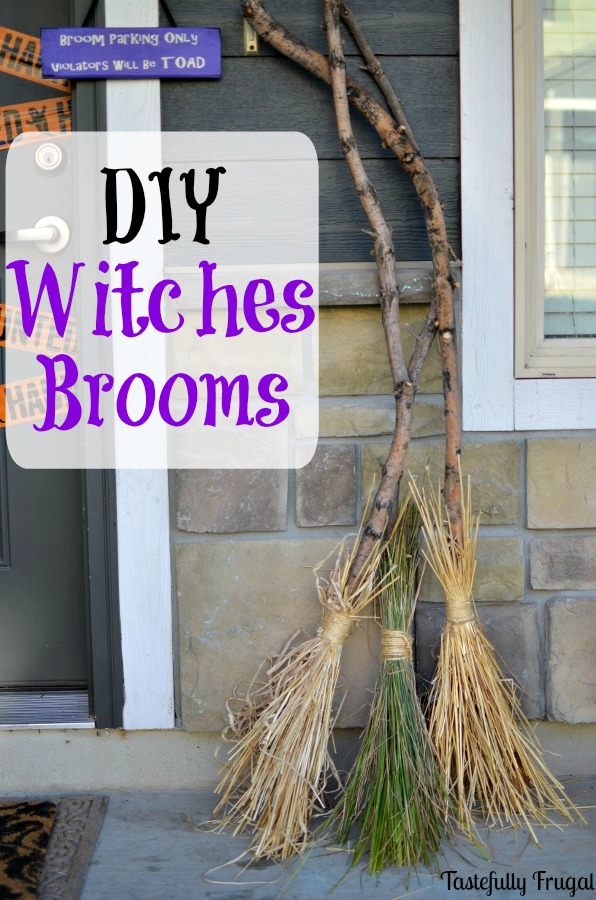 Witches brooms are a staple when it comes to Halloween decorations. These are extremely affordable.
You can make them from branches and dead grass. They are simple,pretty and perfect for your porch.
Check out Tastefullyfrugal.org for all the details.
12. Dried Apple Shrunken Heads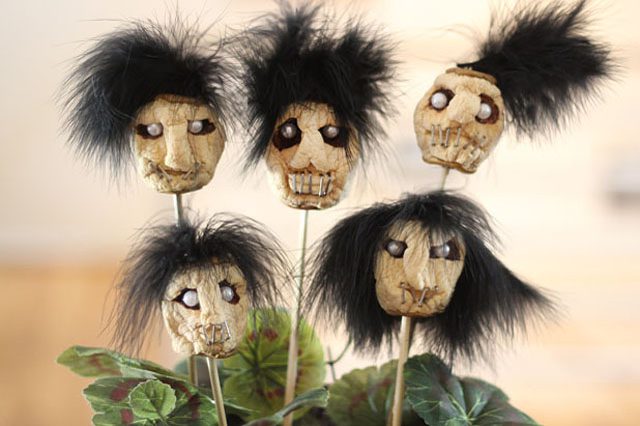 This has to be the spookiest cheap DIY Halloween decorations i have seen. Can you believe these heads are made from apples?
Get the full guide via ehow
13. Jack Skellington Halloween String Garland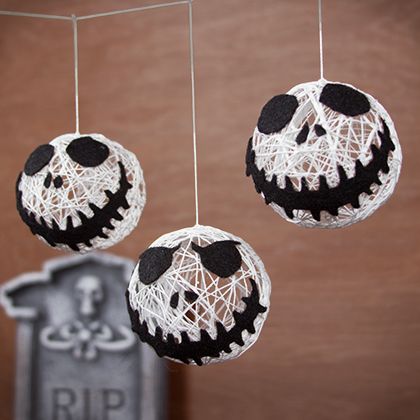 You can be able to recreate this awesome Halloween String Garland which is inspired by the king of Halloween town in one hour. Get the full tutorial via Family.Disney
14. Raven Wreath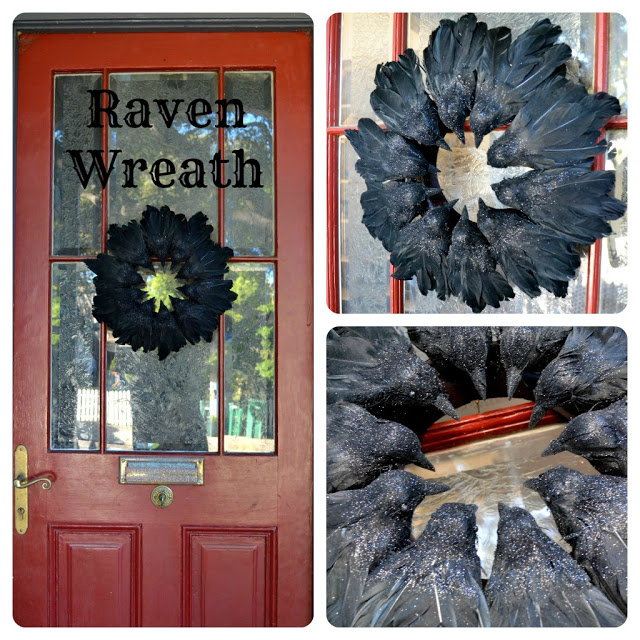 Am obsessed with this raven wreath. How cute is it? I love that it has an elegant and a creepy touch to it. Check out how to recreate this beautiful raven wreath at Rookno 17.
15. Bat bouquet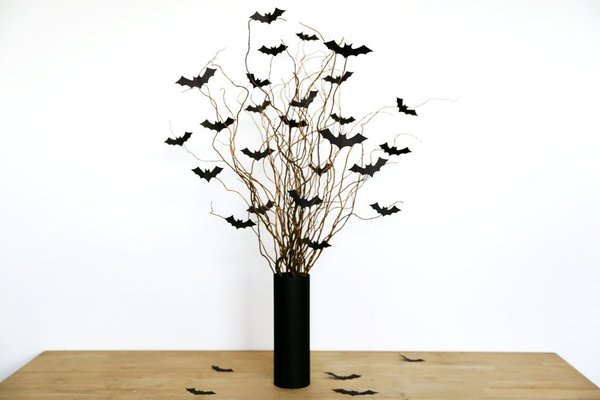 Bats are creepy whether it's Halloween or not. Now imagine a cloud of them. Bat bouquet they are simple to make and they will give you that creepy feeling that comes with Halloween.
Check out instructable.com for the step by step instructions.
16. DIY Black Cat O 'Lanterns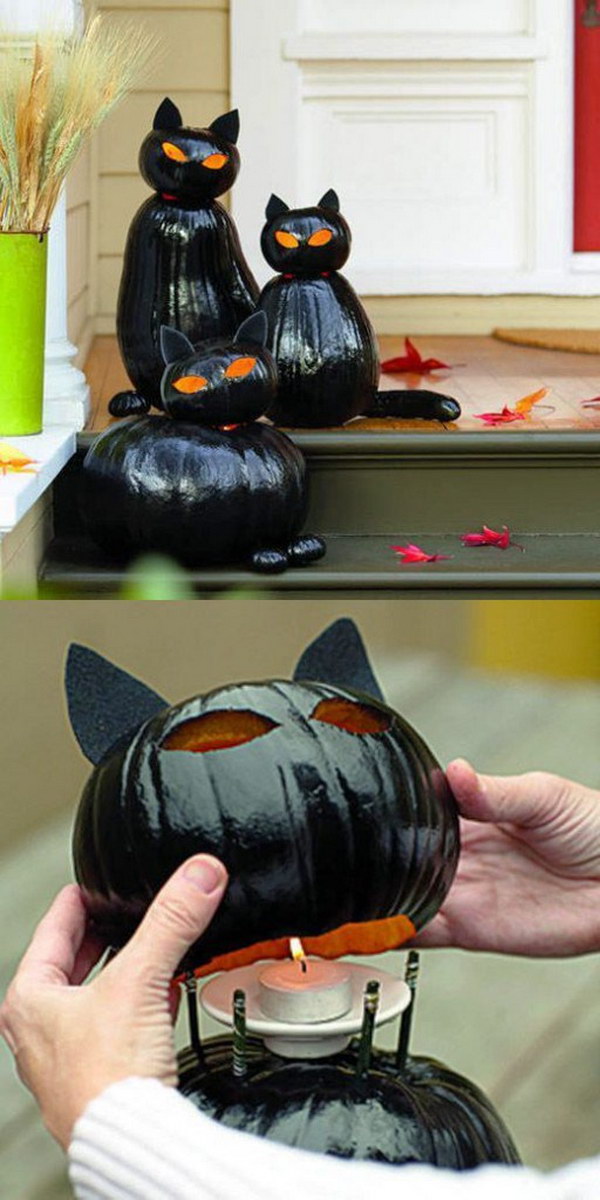 How adorable does this look? For this DIY project you will need a pumpkin preferably a tall one, so that you can be able to nail that elegant cat.Make sure it has a stable base to avoid it going wobbly wobbly. You also need a candle to give that Halloween glow.
See the full tutorial at sunset.
17. Zombie Siamese twin Dolls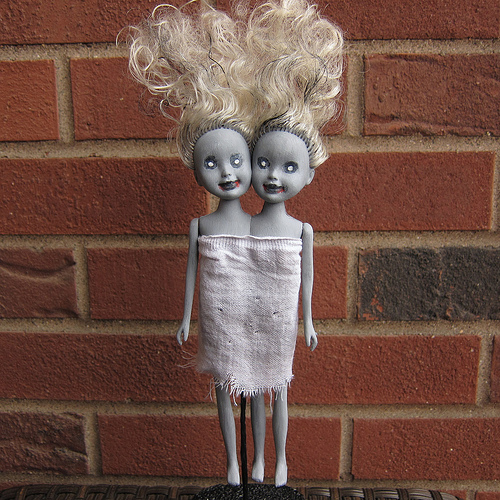 They are so creepy.Something you would see in those super scary movies.These creepy little thing are super easy to make.You need two plastic identical dolls,acrylic pants, scrap of fabric, Styrofoam and wrap stem floral.
Check out the full tutorial at justcraftyenough.com
18. DIY Halloween Candy Door Hanger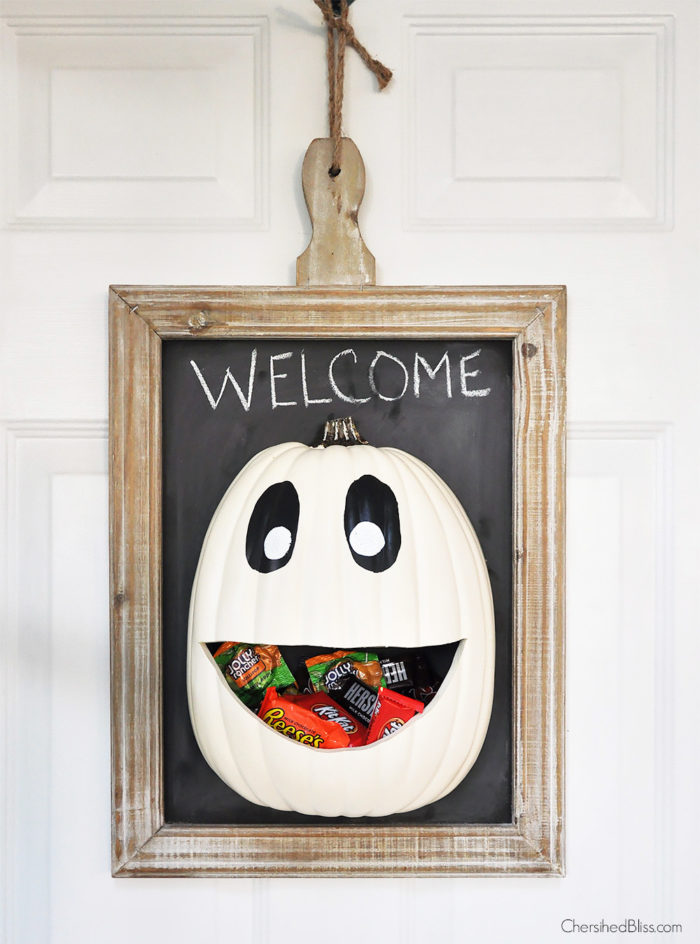 This is perfect to put on your door. A nice way to great and welcome any visitors you might have and a perfect way to hand out candy especially if you won't be indoors most of the time. It's super easy to make. You need a simple chalkboard, a faux half pumpkin and simple tools such as a knife to cut out the smiley part. See the full details at cherishedBliss.com
19. DIY Bloody Handprint Window Cling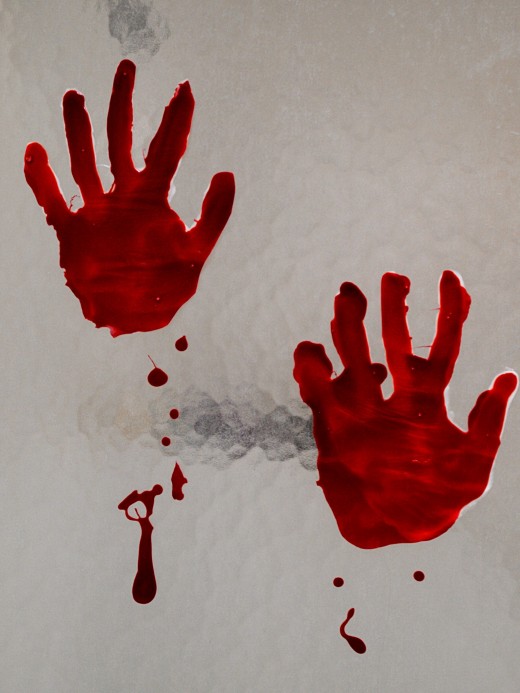 This is super affordable and easy to make. You can stick them on your windows, walls, floors pretty much everywhere. The good part is that they are reusable.
Check out the full tutorial via feltmagnet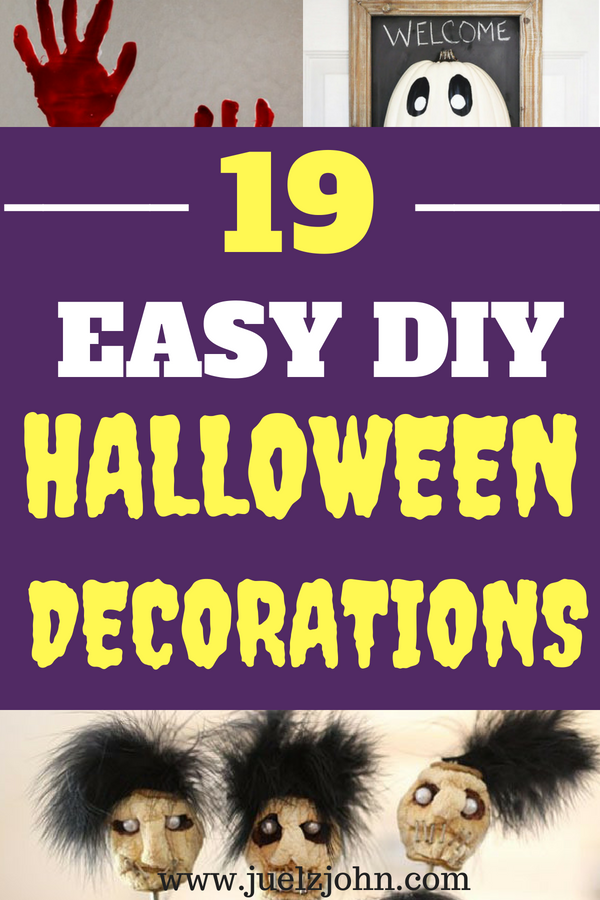 I hope you have enjoyed and gotten inspired by these 19 cheap DIY Halloween decoration. With these DIYs you can be able to give your home that Halloween spirits without spending so much money.
INTERESTED IN OTHER HALLOWEEN POST?
30 Easy Halloween nail art ideas to copy now
33 simple sugar skull makeup looks-2020 DIY Halloween makeup looks
15 Fun and easy Halloween party ideas to try this year
19 Easy Halloween cupcakes you must try this year
15 Must try Halloween cookie recipes for 2020