Halloween is almost here and if you love Halloween as we do, these Halloween cookie recipes will blow your mind. Apart from the trick or treat, desserts are the next big thing. Unforgettable scrumptious Halloween cookies.
What I love most about easy Halloween cookie is that they are super easy to make, spooky and fun. You can dress up any cookie recipe and turn it to a Halloween dessert simply by adding things such as candy eyeballs, Halloween sprinkles, spiders, cobwebs, Halloween M & M, and tiny bats. You can do this to a brownie or any cookie recipe.
From bat cookies, mummy cookies to witch hat cookies and monster cookies, there's something for everyone's taste. Homemade decorated Halloween cookies that will wow everyone.
(This post may contain affiliate links. Please read my full disclaimer for more information. As an Amazon Associate I earn from qualifying purchases)
Below are some cookie baking essentials.
Halloween is one of my favorite holidays, I have done roundup posts of my best Halloween decorations, 19 Delicious spooky Halloween cupcakes, 30 Easy Halloween nail art ideas , Halloween party ideas and 33 simple sugar skull makeup looks so check them too.
Halloween monster sprinkle cookies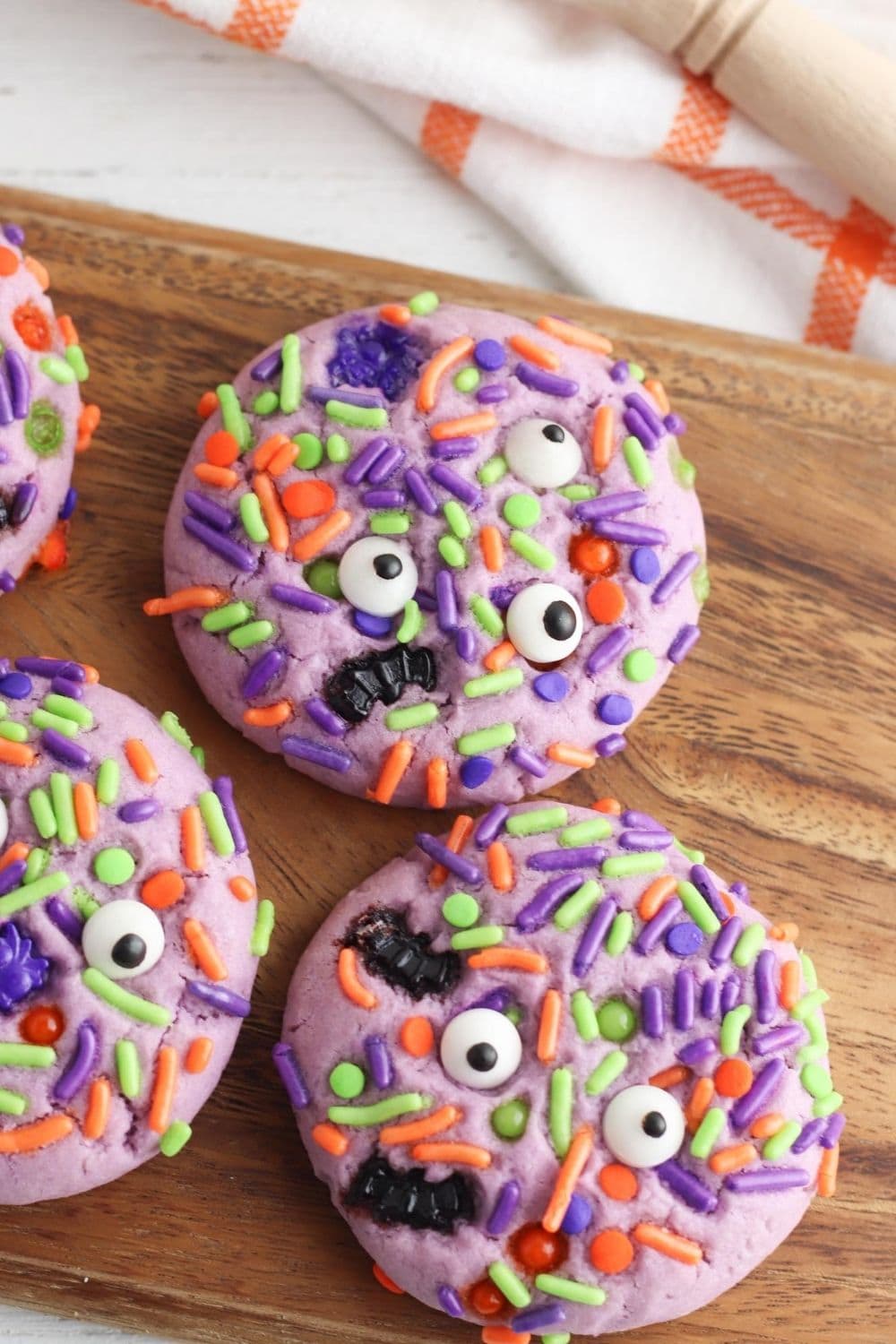 How spooky are those googly eyes? These Halloween cookies are a great way for you to involve the kids in decorating. Super easy and quick. You only need 30 minutes to prep and 10 minutes to bake. This will be great for your Halloween treats table or even for trick and treat. The multicolored sprinkles, googly eyes and the bats adds that creepy factor to the cookies. Source The farm girl gabs
Halloween cookies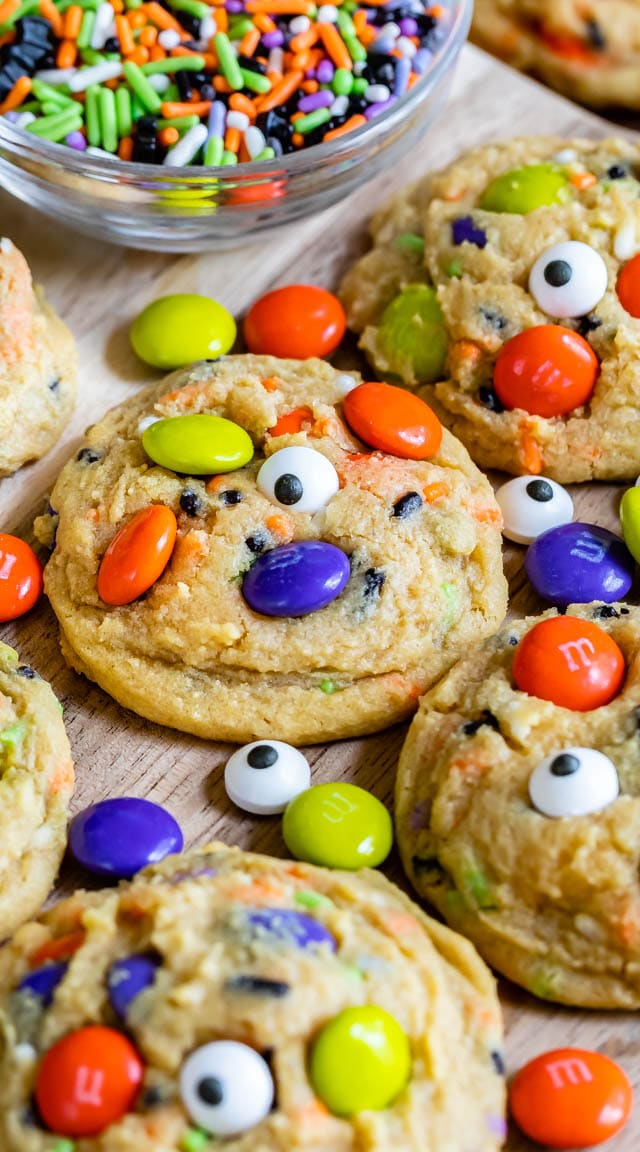 Chocolate chip cookies dressed up for Halloween. It can't get any better than that. They are an easy pudding cookie recipe with Halloween sprinkles and candy. These cookies are dressed with M & M, Halloween sprinkles and candy eyeballs to give them that Halloween vibe. You can make a big batch as they will remain good and soft for a few days. Source Crazy for crust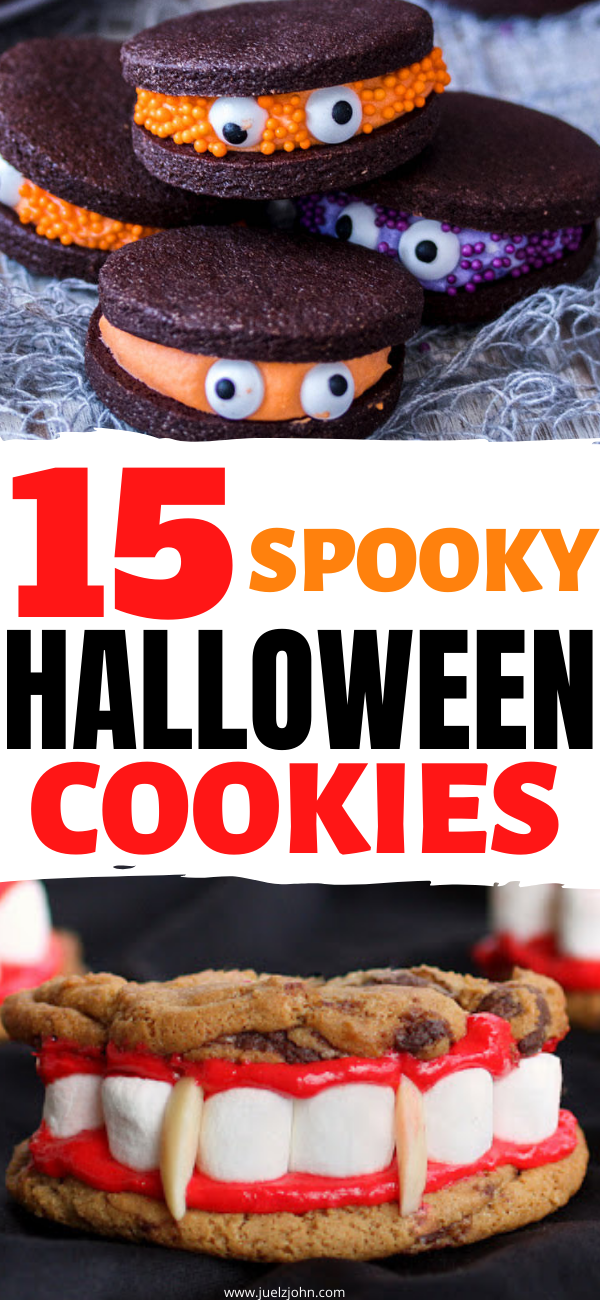 Gooey monster eye cookies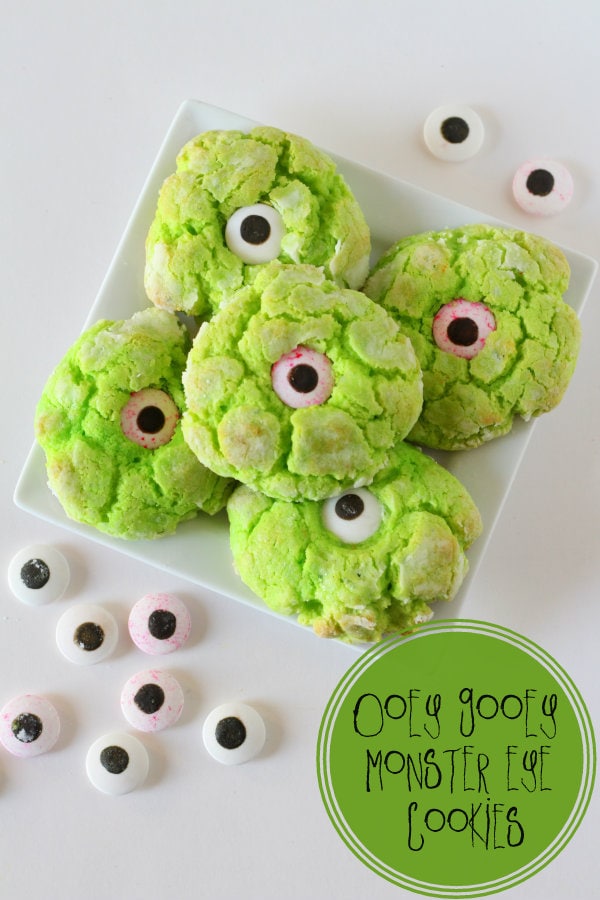 Simply spooky. They are so good, gooey and festive. These cookies are always a big hit and they will be gone even before you know it. The fun part about these cookies is that you can make them any color you prefer. Source Lilluna
Salted caramel stuffed chocolate cookies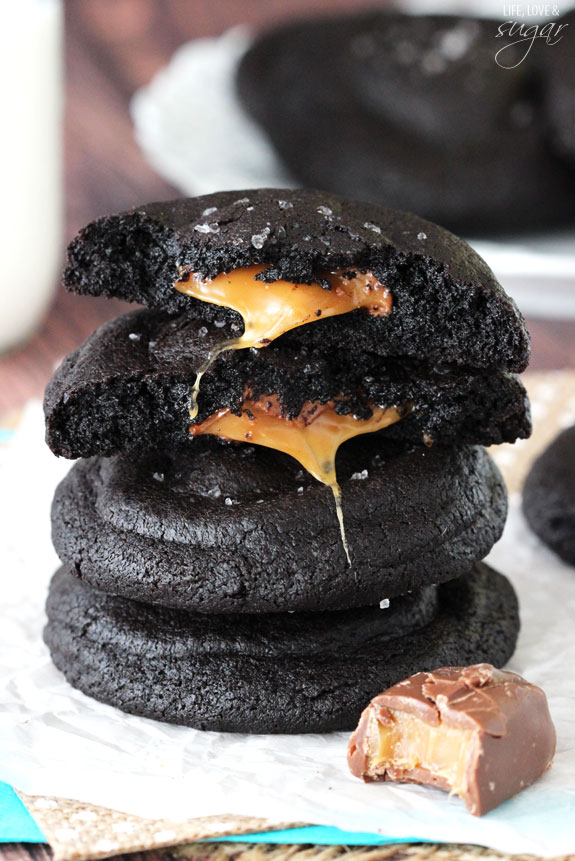 They are super easy to make, chewy, gooey and delicious. A dark chocolate cookie is stuffed with a Milky Way bar and sprinkled with sea salt. So delicious, you won't be able to stop at one. Source Life love and sugar
Poison apple sugar cookies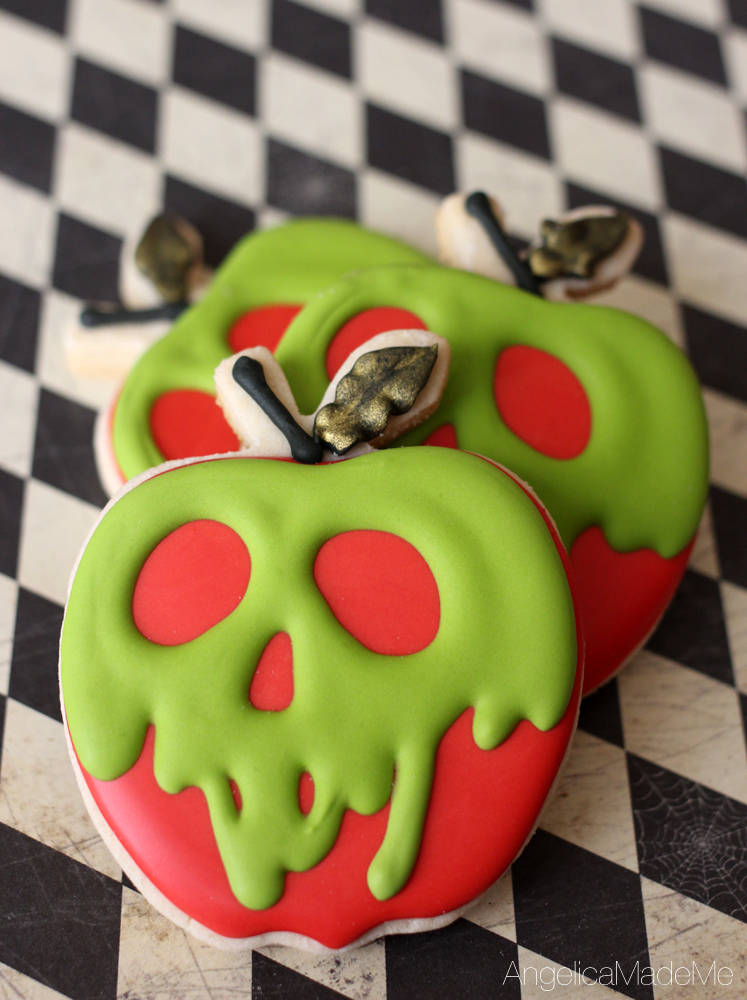 It can't get better than this. So beautiful and creepy at the same time. If you are looking for Halloween cookies to wow your family and friends, you have to try this recipe. Source angelica mademe
Chocolate monster Halloween cookies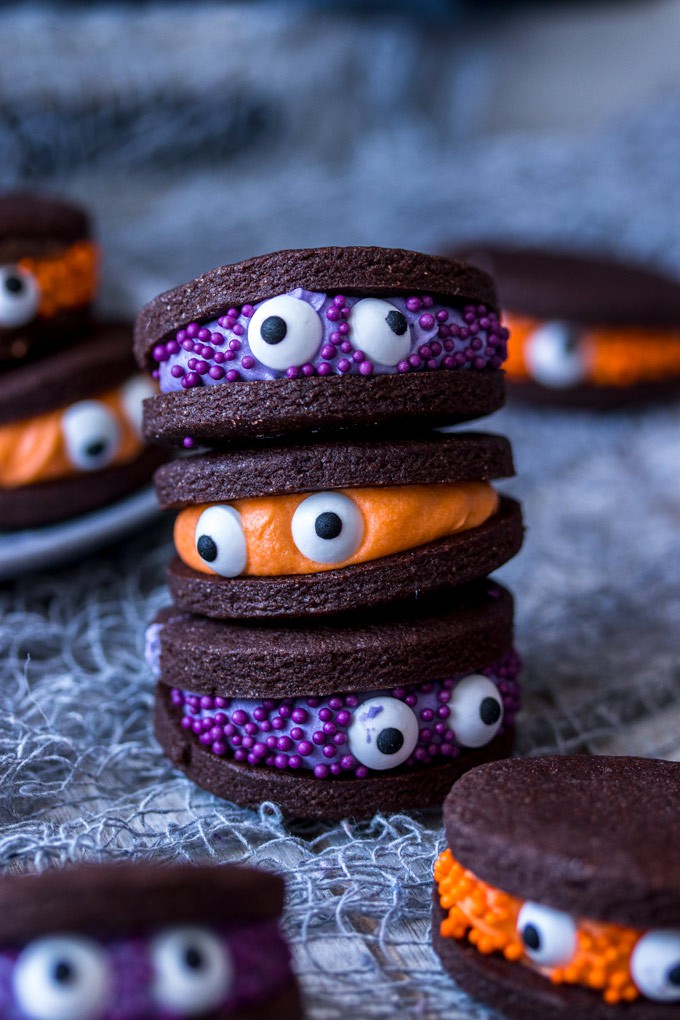 If you are on the hunt the Halloween cookies you are in for a treat. On the easiest Halloween cookie recipes that are so delicious and super delicious. Chocolate sandwich cookies with colored vanilla buttercream filling. The combination of purple and yellow is perfection. The candy eyes instantly transform these cookies giving off that Halloween vibe. Source Sugar salt magic
Hocus Hocus Halloween cookies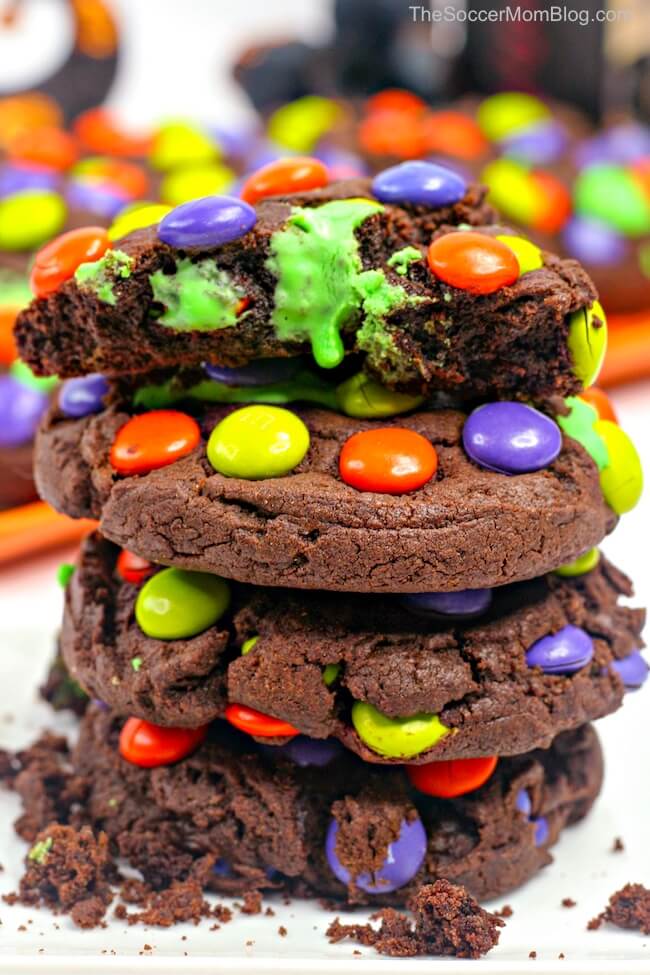 I just found one of my best Halloween cookie recipes. These cookies are inviting, right? They are filled with delicious green frosting which compliments the M & Ms so well. Source the soccer mom blog
Pinwheel Halloween sugar cookies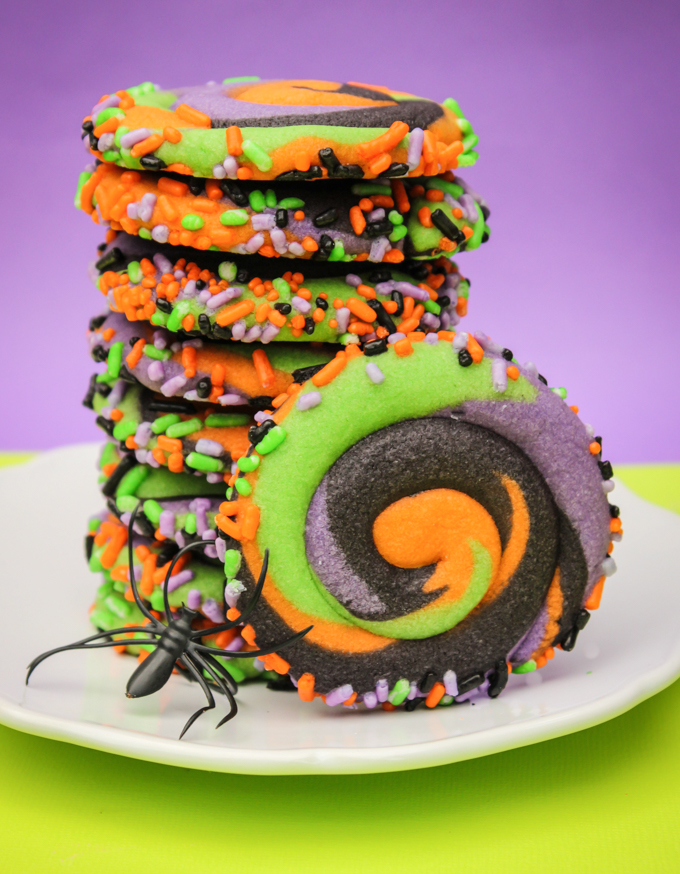 These cookies are so inviting. The colors are simply divine. Spooky, beautiful and so yummy. You can be sure these cookies will be gone even before you know it. Source The sprinkle factory
Dracula's ventures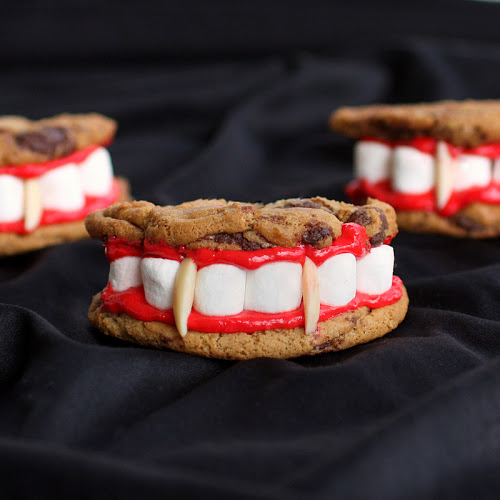 Halloween cookies of your dreams. These Dracula ventures are made from chocolate chip cookies, marshmallows, almond slice and a little red frosting. Not only do they look good but they taste amazing. So unique, you can be sure these cookies will be gone so fast. If you don't have so much time, you can buy an already made chocolate chip cookie dough which makes everything easy for you. Source the girl who ate everything
Candy corn sugar cookies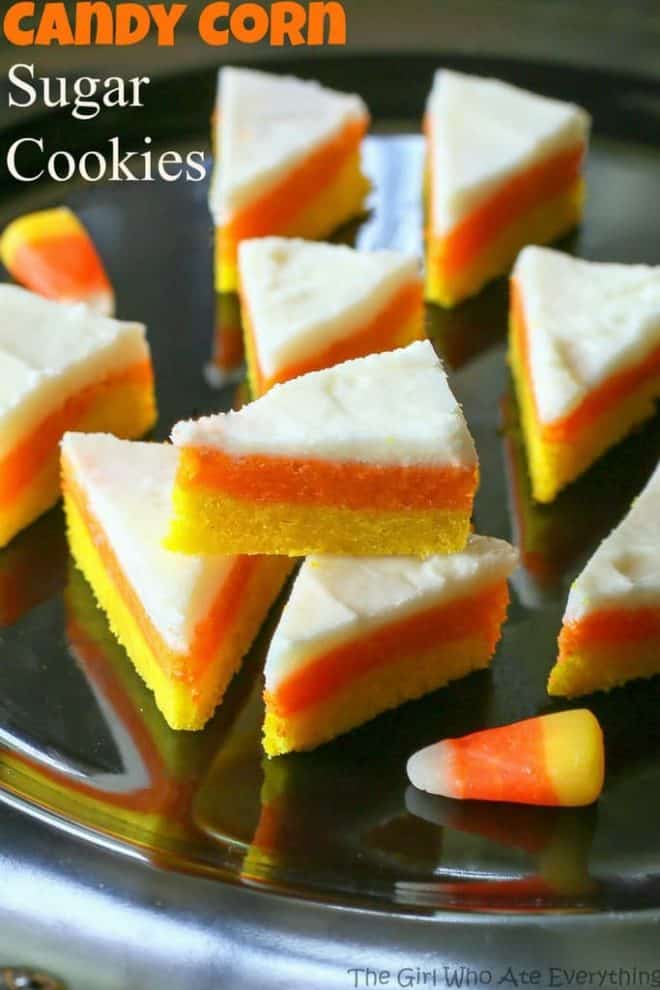 These candy corn cookies are to die for. Simply the perfect Halloween dessert. They are bite size and are topped with cream cheese frosting. Depending on your liking you can make them any shape and size. Source the girl who ate everything
Witch hat cookies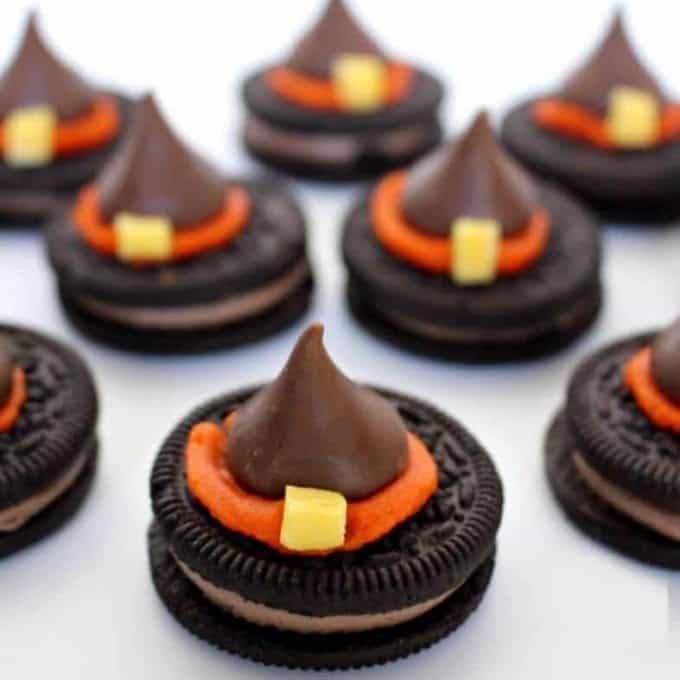 This is one of easiest Halloween cookie recipes you have to try this year. They are so heavenly, no bake and they will take less than 15 minutes. Bite size Halloween witch hat cookies that requires only Oreo Cookies, Hershey Kisses, Candy Melts and some icing. The kids will love and enjoy every bite. They made great Halloween treats for classroom parties. Source princess pinky girl
Halloween cookie recipes: Bat cookies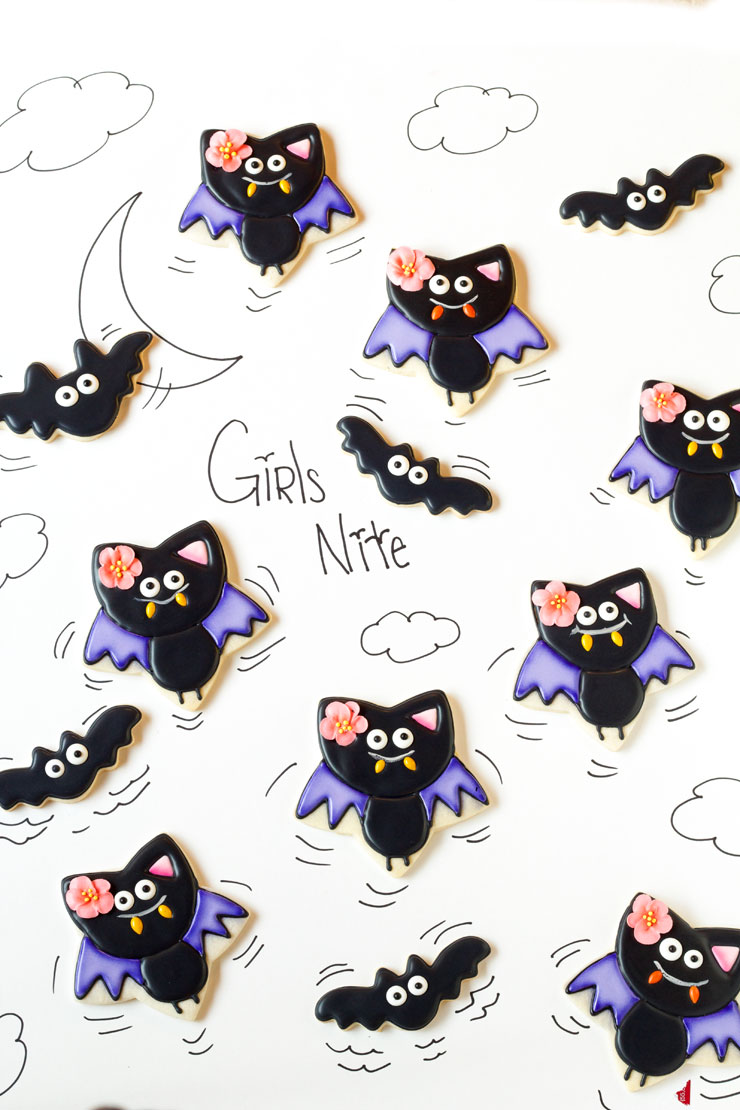 These are so beautiful, they look like cartoon characters. To make these cookies you will need to have star cookie cutter to the shape. I can't stop staring at how stunning they are. It's not as complicated as they look. Everyone will be drooling over them. Get all the step by step guide from the bear foot baker
Halloween Oreo cookie cats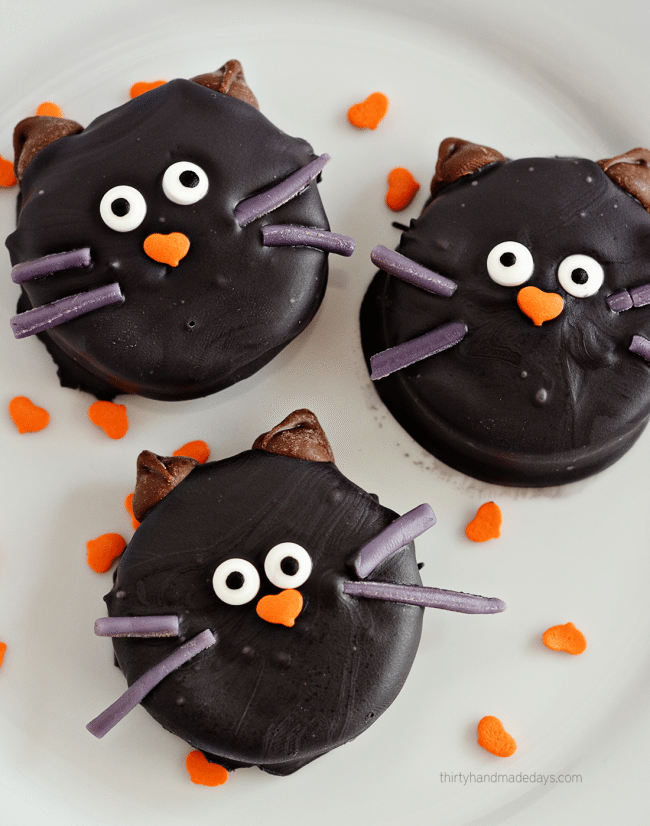 How about these cute cookies for Halloween? They will stun everyone. As a cat lover, am obsessed with these cookies. They are a great fun way to involve the kids. Source thirty handmade days
Halloween dipped Oreos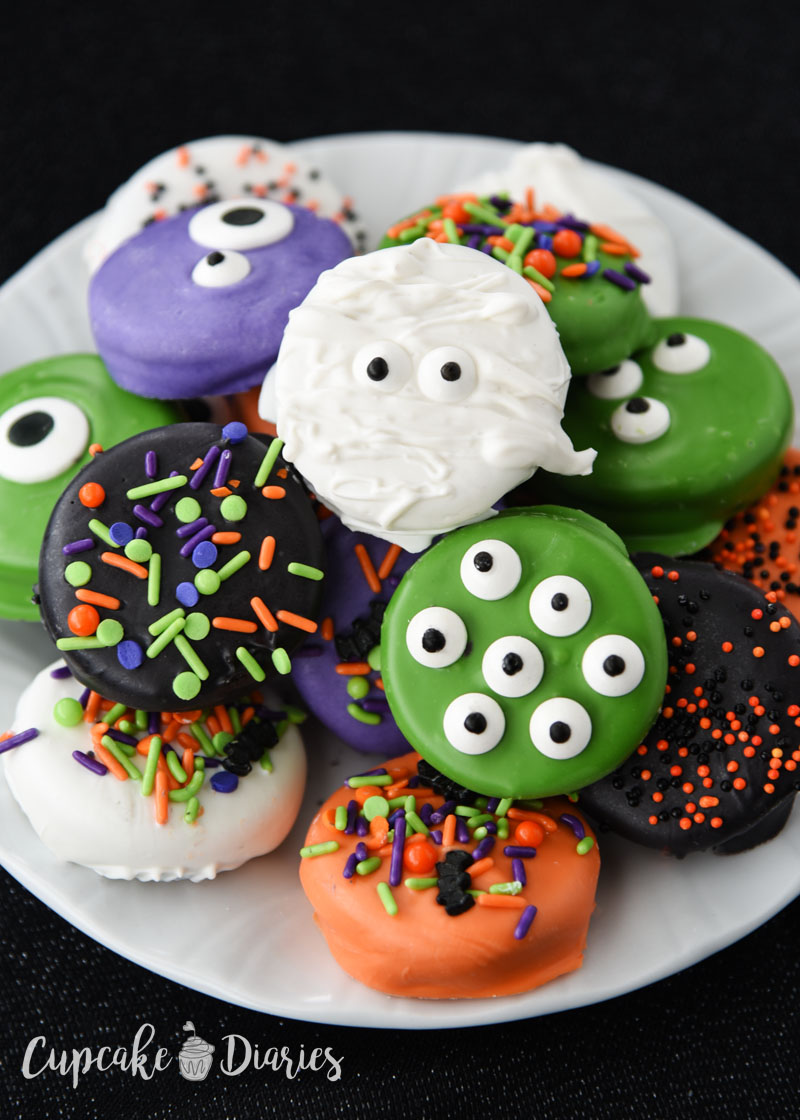 Spectacular. The bright colors makes the cookies fun and festive. Super easy to make and the best part is that you only need a few ingredients to make them. When it comes to decorations be creative as you can. You can make a big batch of them as they will still be good in about two weeks. Source cupcake diaries
Bubbling witch's cauldron brownies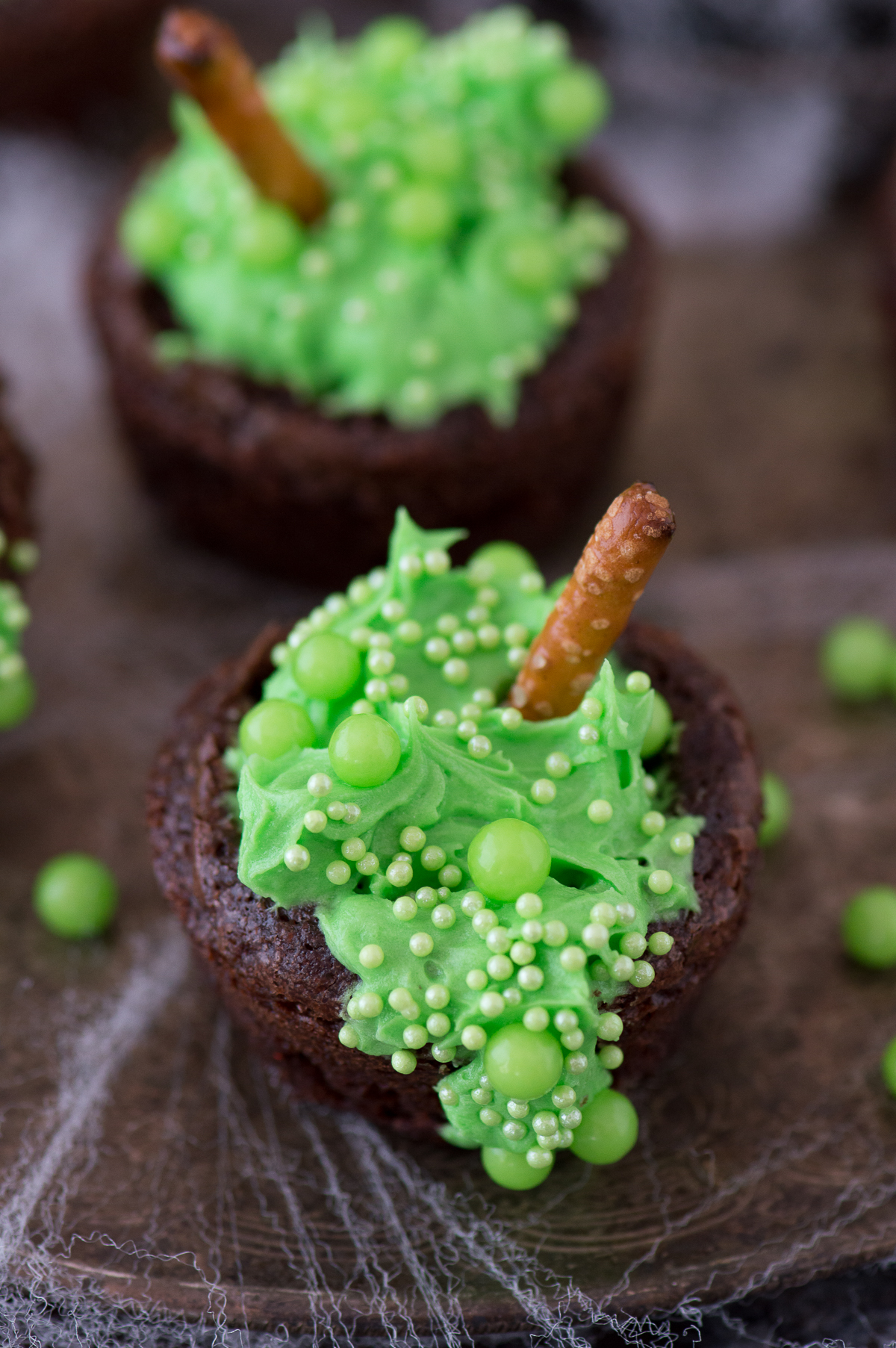 An easy Halloween treat that the kids can help with. Source the first year blog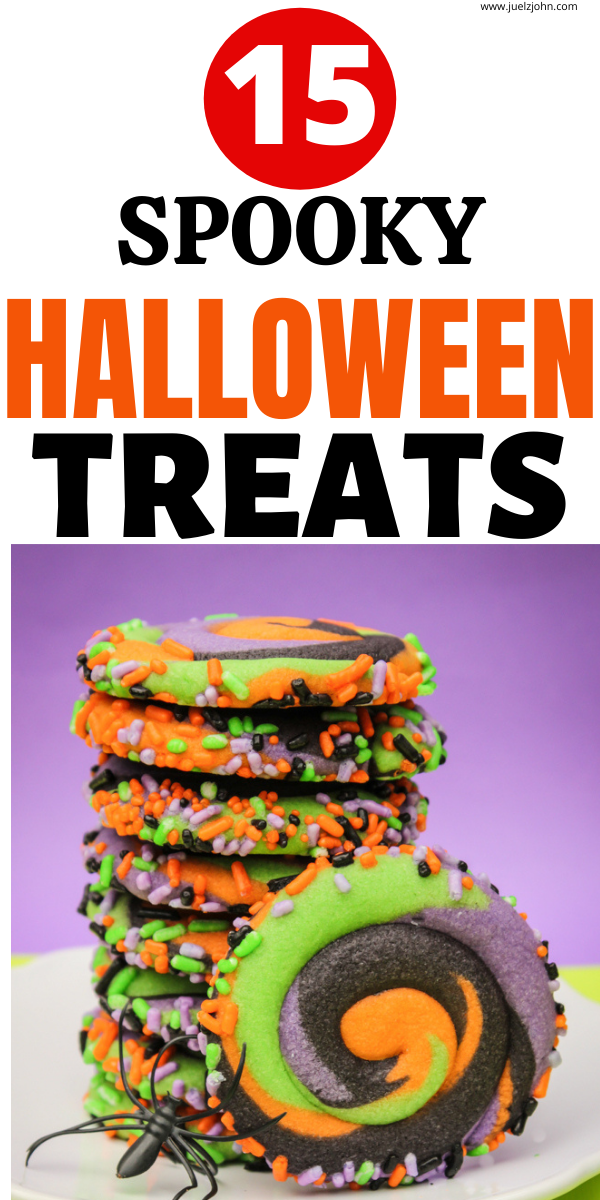 There is no better way to get into the spooky spirit than with these 15 delicious Halloween cookie recipes. The best part is that they are all edible. This is a great addition to your Halloween treat table on a budget-friendly price and a unique way.
HAPPY HALLOWEEN!