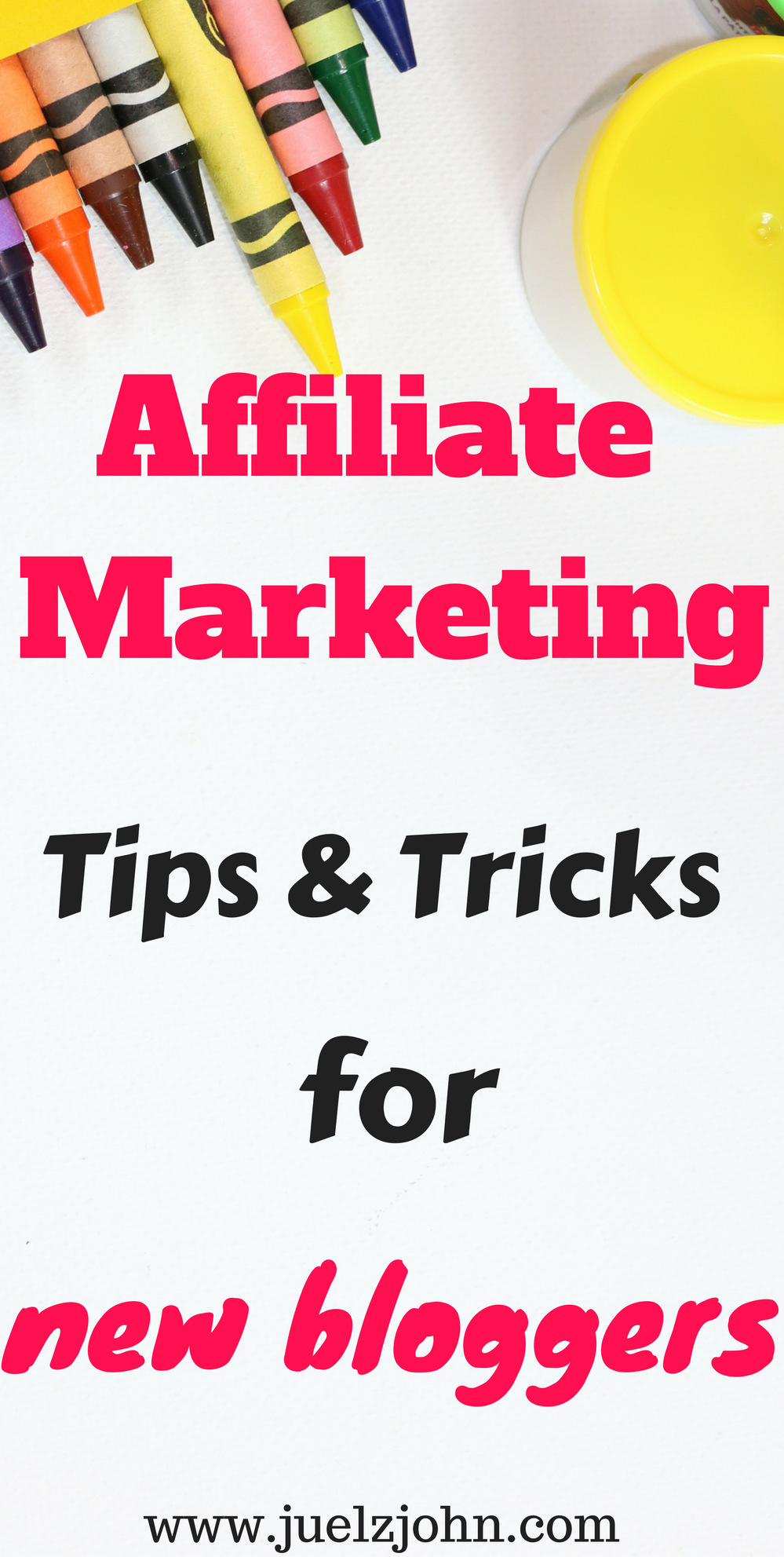 As discussed in one of my previous posts, there are 5 main ways to make money blogging at any level. Affiliate marketing and selling your own products are the most lucrative ways bloggers make money online. Today am sharing with you realistic and easy affiliate marketing tips for new bloggers.
Unlike with ads where you need thousands and thousands of pageviews to make a decent income, affiliate marketing doesn't depend on your traffic and yes it's the best way to make money even as a new blogger.
When I started blogging the term affiliate marketing seemed so huge and terrifying. I remember reading all sorts of income reports and most of the bloggers stated that their main source of income was through affiliate marketing.
I would ask myself so many questions like how do they do it?
---
If you haven't started a blog yet,check out my step by step tutorial guide.Where i show you how to start a successful blog in less than 30 minutes.
How to start a profitable blog in less than 30 minutes
As a bonus when you start a blog via any bluehost links in the post above I will send you a copy of my ebook The Beginner's whisper guide for free.
When I started I wished all the information in one place or even someone to walk with me for the first month at least, that's why I want to help you to start your blog with Confidence.
I will show you how to set up your blog professional, write your first post and one that attracts readers, how to drive traffic to your brand new blog, how to monetize and much more.
Once you have purchased your bluehost hosting email me [email protected] and I will send the book asap.
---
This post may contain affiliate links for products I love. If you make a purchase through one of these links, I will earn a commission at no extra cost to you. See more on my disclaimer page.
Related posts
5 ways to make money at any level
25+ most popular and high paying affliate programs you must join
After reading and seeing so many bloggers make money through affiliate marketing I became more intrigued and started doing my own research.
You might be thinking sales is not your thing. Well you don't need to be good in sales to make money with affiliate marketing all you need is to understand the basics and you will be set to go. The best part is that if done the right way you can make money on autopilot meaning you don't have to be online 24/7.
SO What Is Affiliate Marketing?
This is simply recommending someone else's product or service and earning a commission from any successful sale made using your unique link. The commission varies depending on the product or service you are promoting. The higher the % commission the more amount you stand to make.
The beauty of affiliate marketing is that it's less hectic you don't have to deal with things like shipping and customer service. Also, the fact that you don't have to create your own product to sell is a big bonus. You get to skip the whole process of creating a course or a product by promoting someone else's. If you ask me that's a big WIN.
How do you get started with Affiliate Marketing as new blogger
To get started and to be successful with affiliate marketing need to have an online platform. This could be Twitter, Facebook or even Pinterest but having a blog is what will bring you big time success because many months down the line people will still visit your posts and you all you have to do is update it often.
If you don't have a blog yet check out this post which will guide you step by step. Owning a self hosted blog is definetly one of the most important affiliate marketing tips for new bloggers.
The first step is Research and Brainstorming. Make yourself a cup of tea or coffee and take out your pen and a notebook. Think of products, services, tools, programs that you have purchased and they have given you positive results.
Something that you can confidently recommend to your audience. The key is, to be honest. The last thing you want is to take advantage of your reader's trust. The products should be related to your niche. For example, if I started promoting children books it would be extremely weird because that's not my niche.
You big intention should be to help your readers solve their problem. Pick something that will be of value to them. You should be solving their problems first rather than trying to make a sale. With that you will be successful with affiliate marketing.
This is the most important step because it will help you choose the right programs.
The second step is choose at least 3 programs to join. If you are just starting out joining so many can make you feel overwhelmed. Once you identify the programs you want to join, go on their website and you will see a form to fill.
If are struggling finding right affiliate programs this 500+ affiliate program masterlist is your ultimate answer. It has programs in almost all niches from pets, faith, blogging, personal finance, weddings to fitness. This list will save you hours and hours of research and you will use that time for other blogging stuff like content creation.
I love the spreedsheets that comes with the masterlist because they help me keep track of all the affiliate programs I have joined. This 500+ affiliate program master list will help you join affiliate programs that resonates with your audience.
How to make a sale.
Write a comparative post. This works well if you know your readers like multiple items and they are finding it hard to choose, you can write a detailed post comparing the items. Remember the key thing is, to be honest. This will make it easy for them to make a purchase and they will be confident about it.
Write a detailed tutorial post and if possible include pictures. This will help paint a clear picture in your audience's mind. You share a little bit of your experience with the product. Teach people how to use the product.
Place pictures linked to the product /service on the sidebar or in the footer. Just don't get carried away and end up cluttering your sidebar with banners. Include affiliate links to your pictures. Any pictures you upload on your posts and on Pinterest hit edit and add your affiliate link.
Utilize social media. Share your links on social media such as Facebook, Instagram, and Twitter.
Email list. One of the biggest mistakes that new bloggers make is ignoring email list. You need to start growing your list from day one. That is where the money is. It's true when they say 1 subscriber=$2.I use and love convertkit you can try them out .
Create a resource library on your blog. This is where you list all your favorite products/services. You can have a look at mine to see what I mean.
Write an honest review of the product or the service. Let your reviews have a personal touch to them. Share your story. How has it been since you started using the product? Has it been of any help to you? Cover such grounds.
You could also interview the owner of the book. She /he can get to tell your audience reasons for coming up with the product/service and how it will benefit you.
What's next after your post is up?

You need to promote your post. The more eyeballs see it the better. Drive traffic to your post and you will see results.
I recommend starting with Pinterest and Facebook. For Pinterest make at least 3 graphics and also make sure in your post you have pinnable images. Then pin them on different groups at different times.
On Facebook share your post on groups. What I love about Facebook is that if utilized correctly has the potential to drive massive traffic to your post. Keep an eye for promo threads, re-pins days, blog share posts such.
Check out this post on 30 different ways to drive massive traffic to your blog.
Affiliate marketing tips for new bloggers: Legalities

Every time you have used an affiliate link on your post make sure you have clearly disclosed it.
For example This post may contain affiliate links for products I love. If you make a purchase through one of these links, I will earn a commission at no extra cost to you. See more on my disclaimer page.

You should have a full disclaimer page on your blog. See mine Here to understand better.
Does my Niche determine if I will be successful with Affiliate Marketing?
A big No. Your niche doesn't determine your success with Affiliate marketing. You might be thinking only fashion bloggers are successful.
There are affiliate programs for all type of niches out there. Amazon would be the best place for you to start out. There are so many products you can promote from there just have your readers in mind.
Yeah, I know this is kinda a long post but I have barely scratched the surface because there is so much to cover when it comes to mastering affiliate marketing.
If you are serious about conquering and understanding the ins and out of affiliate marketing I found the best resource that will help you tremediously.The Affiliate Marketing Bundle
Do you want to make your first $1000 affiliate marketing?
Are you wondering why your affiliate links are not converting?
If yes, this is it. FROM ZERO TO HERO Affiliate Marketing Bundle. It's by Ana from The she approach blog, she is such an amazing blogger and I have interacted with via skype I can tell you she knows what she is talking about.
She will show you how to start making sales and implement affiliate marketing without coming off as salesy or too spammy. Don't we all hate when someone is trying to throw products down our throats?
From Zero To Superhero Affiliate Marketing Bundle is designed for bloggers who want to make money blogging
What is included in the course you ask?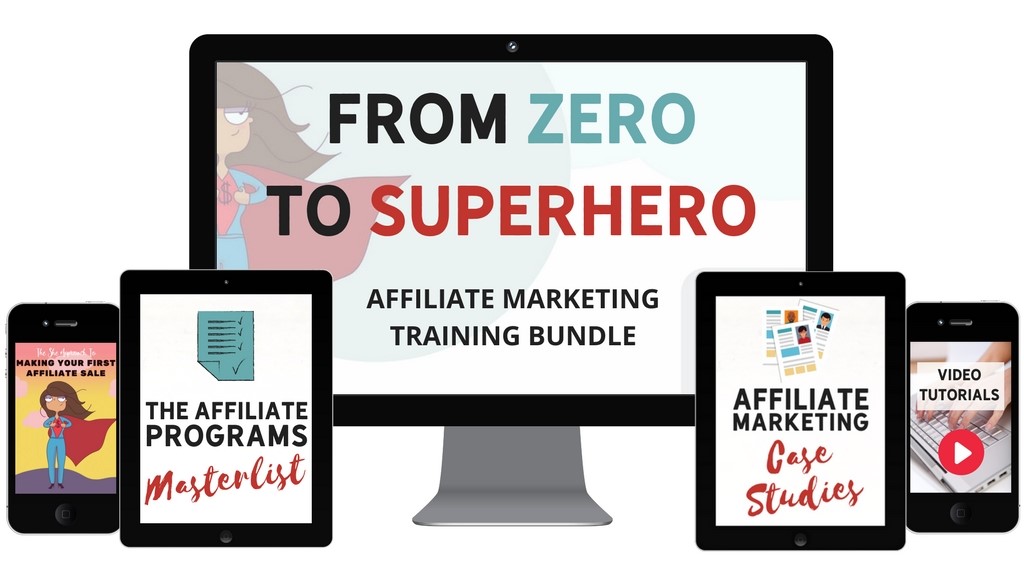 1.The She approach to Making Your first affiliate Sale –EBOOK
Introduction to Affiliate marketing
You get so much more affiliate marketing tips for new bloggers
How to drive traffic to them.
How to find and pick the right affiliate program for yourself and much more!
2. The Affiliates Master list
You get a list of 500+ handpicked affiliate programs you can join and a free tracking spreadsheet to help you organize your programs properly.
3. The Affiliate marketing case study
She shares her own story on how she made $1000 promoting a $25 product.She basically show you that with affliate marketing earning is limitless.
4. Quick Video tutorial
5. Private Facebook support group
This is a big bonus. You get a chance to interact with other bloggers who are after increasing their affiliate income. You can be assured you will get all the tips and trick you could probably need.
If you haven't made any made your first affiliate sale or you are making less than $100 in a month through affiliates, this bundle will help you skyrocket your earnings.
Personally, I like learning from the pros because it helps me to avoid making mistakes and it saves me a lot of time that I would have spent researching.
My question to you is, Do you want to spend months and months, hours upon hours researching about affiliate marketing or will you get the eBook, implement and get there faster? I will definitely choose the later.
Grab your copy of AFFILIATE MARKETING TRAINING BUNDLE and be on your way to mastering affiliate marketing.

You might also like
Free Blogging Email Course:Start a successful blog Today
7 Tricks to Crafting A Catchy Blog Post Title
9 things that'll make your blog launch a success
Ultimate guide to SEO your blog post
How to come up with a creative blog name that you won't regret
I hope that these affiliate marketing tips for new bloggers have been of help to you.
If you have a question feel free to leave it on the comments below.