Have you tried bullet journals yet? They have slowly become a thing now and they are perfect for anyone who craves and needs some order in their life. A bullet journal will keep you organized. Quite a big number of people are still confused about what bullet journals are, what they are used for and how to get started. Worry not, you are in the right place. A detailed article on how to start to a bullet journal for beginners.
Have you tried using a planner before without getting any success? If that's you a bullet journal may be your answer.
What is a bullet journal?
We are starting with the basics. A bullet journal is an analog, customizable organization system created by Ryder Carrol and it allows you to keep track of things in a convenient way. With bullet journaling, you will be able to fully customize everything inside your planning system unlike with other planners.
If you want to take the minimalist approach or get artistic you will only be limited by your imagination. It's 100% tailored to suit your needs. You can simply call it to build it yourself planner. You track what you have done, what you are doing and what you will do.
We all have so many daily tasks we need to remember and trying to keep off all that in our is mentality exhausting and impossible. That's where bullet journals comes in. They are easy to use and will make your life run so smoothly.
You can use a bullet journal for a variety of ways such as a dairy, a daily journal, to do list, notebook, scrapbook, sketchbook and many more ways.
It consists of three different parts.
The first part is the index and the key which occupies the first two pages and helps you to stay on top of things with what is where and how the journal works.
The second part is the logs. This could be daily, weekly or even monthly. See the details below.
The last part is the list. List of other things you want to keep track of. For example a list of movies you want to watch.
Why start a bullet journal?
It provides you with a perfect opportunity to get organized, productive and creative. It will also help you to stay on top of things.
According to Ryder, a Bullet Journal is meant "to help you track the past, organize the present, and plan for the future." Which means that it can help you can track every aspect of your life in one place. Awesome right?
Bullet journaling has been to a perfect way to relax and de-stress at the end of the day.
It will also help boost your productivity.
Just from those few benefits I have highlighted, so many people have seen positive results and no wonder they are now ditching the old planners and starting bullet journaling.
How to Start a bullet journal for beginners
The beauty of bullet journaling is that there are no set rules, there is so much flexibility you can easily alter the setup and design to suit you.
Step 1: Brainstorm
The first step on how to start a bullet journal for beginners is to brainstorm and come up with ideas. Find a scrap paper or an old notebook where you can come up with a rough plan on what to include in your bullet journal. If you are stuck at brainstorming, you can get inspiration from other bullet journals online especially on Pinterest. Seeing what other people have done will boost your creativity.
Note the different spreads or layout you might want to include in your bullet journal. This is the best opportunity for you to think of areas you want to improve in your life. Areas such as health, fitness, your spending, and habits you want to form or break.
This is the most important step because it will motivate you and make you feel more prepared to write your first bullet journal.
Step 2: Get Good Quality Supplies
Get yourself a good notebook that you like. Before purchasing one consider things like paper quality, size, and weight. If you already have a notebook that you would love to use that's ok, no need to buy a new one but if it's not numbered, number all the pages. The ideal bullet journal notebook should have dotted pages which makes drawing, lettering and writing easier.
This post may contain affiliate links. Please read my full disclaimer for more information.
1. Leuchtturm 1917 Medium Size Hardcover A5 Notebook
I highly recommend the Leuchtturm notebook which is one of the most popular for bullet journal.
A standard bullet journal notebook that comes in so many colors such as black, red, yellow, maroon, green and sky blue. It's ink proof paper and acid-free, has stickers for labeling and archiving, opens flat so you can easily write and draw at all angles, has 249 numbered pages and has blank table of content which means you can easily work on it.
2. Paper Mate InkJoy Gel Pens
These paper mate Inkjoy gel pens are perfect for bullet journaling. They dry 3x faster which means reduced smearing, colorful gel ink which brightens your writing, the smooth ink keeps the ideas flowing across the page and you get 8 jet black gel pens.
3. Pilot Frixion Retractable Pens
We are human and we often make mistakes. Mistakes will happen when you make the decision to start a bullet journal especially if you are a beginner. These retractable pens are a gem. They write like a gel pen and erase like a pencil. Leaves room for errors. Erase and rewrite repeatedly without damaging documents. The eraser is at the top of the pen tip, retractable by pressing clip down.
4. Fineliner color pens set
You get 24 vibrant colors which will make bullet journal so colorful and they are perfect for drawing lines & details, painting, writing, sketch, marker, signing, manga, animation, graphic, design, planner, math book, homework, bills, calendar, illustration, included artists fine-ink drawings and coloring small intricate patterns.
5. Washi tape
Use a washi tape to divide different events such as daily task or your daily goals. For these you get 10 rolls of rainbow washi tape. No residue meaning the tape won't damage your surfaces.
6. Ruler
You will need a ruler to draw lines in your journal. You get 4 pieces, they are long lasting and perfect for drawing straight edges.
Interested in more bullet journal posts?
15 Smart bullet journal ideas to simplify your life

Step 3: Let's start a bullet journal now.
Since you have gotten all the tools you need, it's time to start a bullet journal for beginners. Have you been able to brainstorm some ideas? Did you get some a few spreads for inspiration? It's time to open your bullet journal and designing your spreads. It's not as complicated as it sounds.
Create a Bullet Journal Index
If you have done any school thesis you are aware of the index page. Index pages help you to keep everything organized and in order. For your bullet journal, create an index on the first two pages. It will help you to easily find entries or get to a particular month faster.
In the future when you add new content on your journal, remember to write down the title of the page and the page number on the index page. Think of it as a table of contents which will show you clearly what your journal entails. To make your work easier make sure it's simple.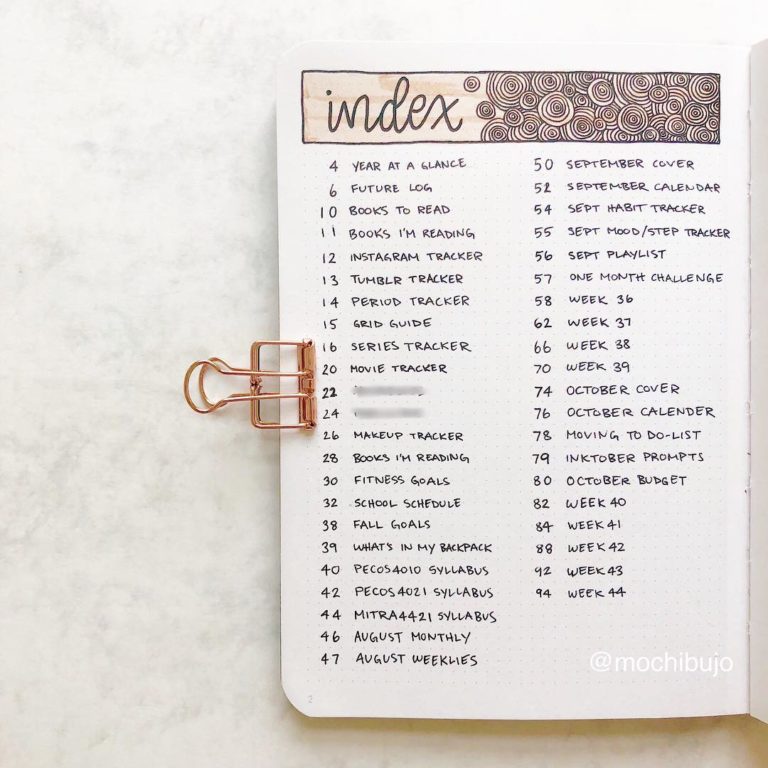 Picture source Mochibujo
Step 4: Create your key
Starting a bullet journal is super interesting. A key is a page in your journal where you keep track of all the symbols and icons you will be using in your bullet journal and their meanings. It will help you to easily understand and interpret the symbols.
If at the moment you don't have all the symbols at hand you can reserve a page and fill it later.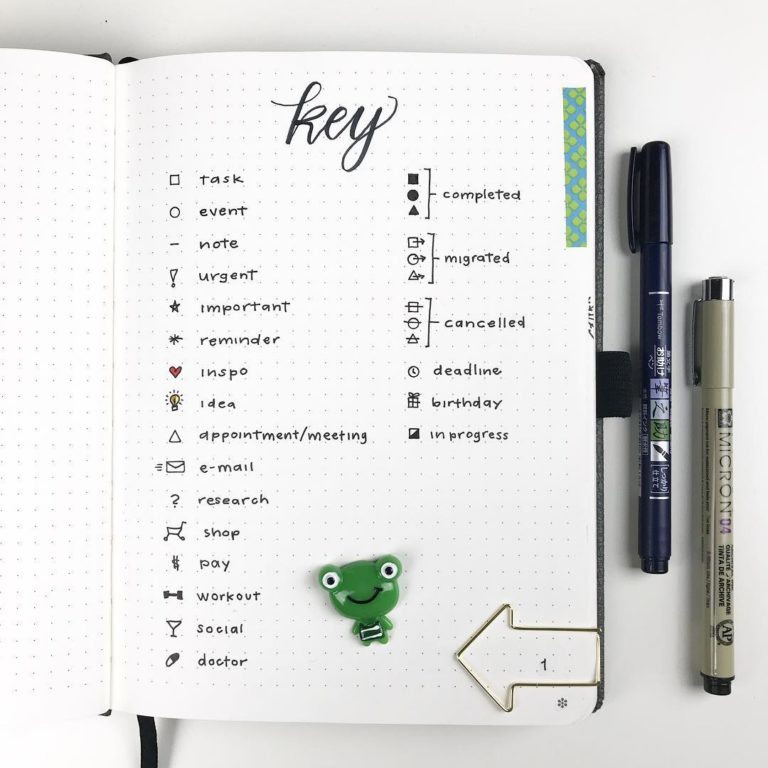 Image source Willawatercolors
There are 4 main logs that are the future, monthly, monthly and weekly.
Step 5: Create your future spreads
On the next few pages design your future logs which will help you track your tasks or appointments you have coming up in the next few months. Things such as birthdays, baby showers, community events, holidays and business meeting.
Your future spread doesn't have to be perfect, this is where those spreads you had gotten earlier for inspiration comes in handy.
Step 6: Create your monthly spread
This is simply a monthly calendar where you write all the things you want done in the course of the month. You list the things next to the dates that you want them done. This is something that is done at the beginning of each month.
A monthly spread will seriously keep you organized throughout the month. It works like a 'normal' or traditional calendar.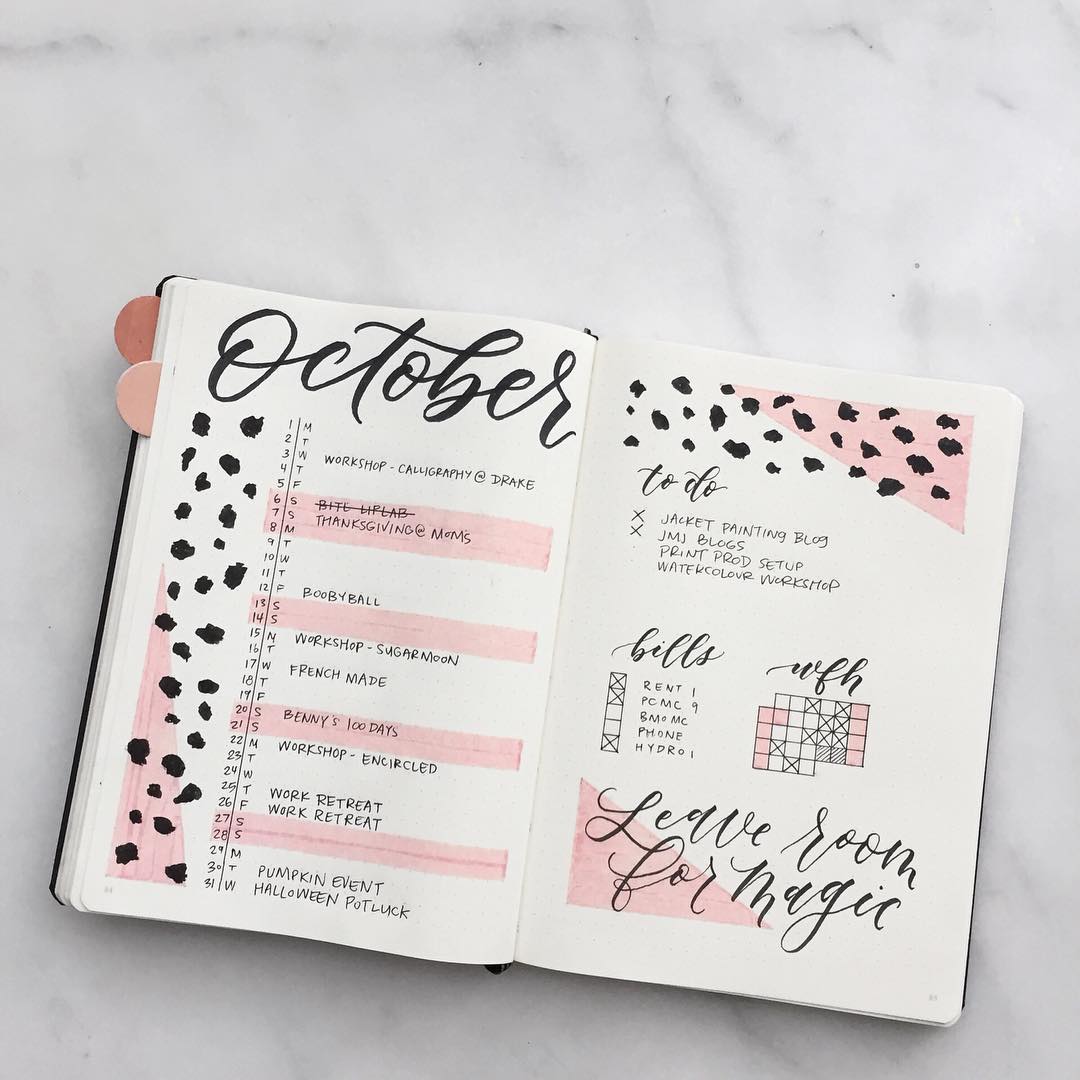 Image source Viacalligraphy
Step 7: Create a Weekly Spread
Weekly log is where you keep things more organized for the whole week. You will be able to see the important tasks for the week.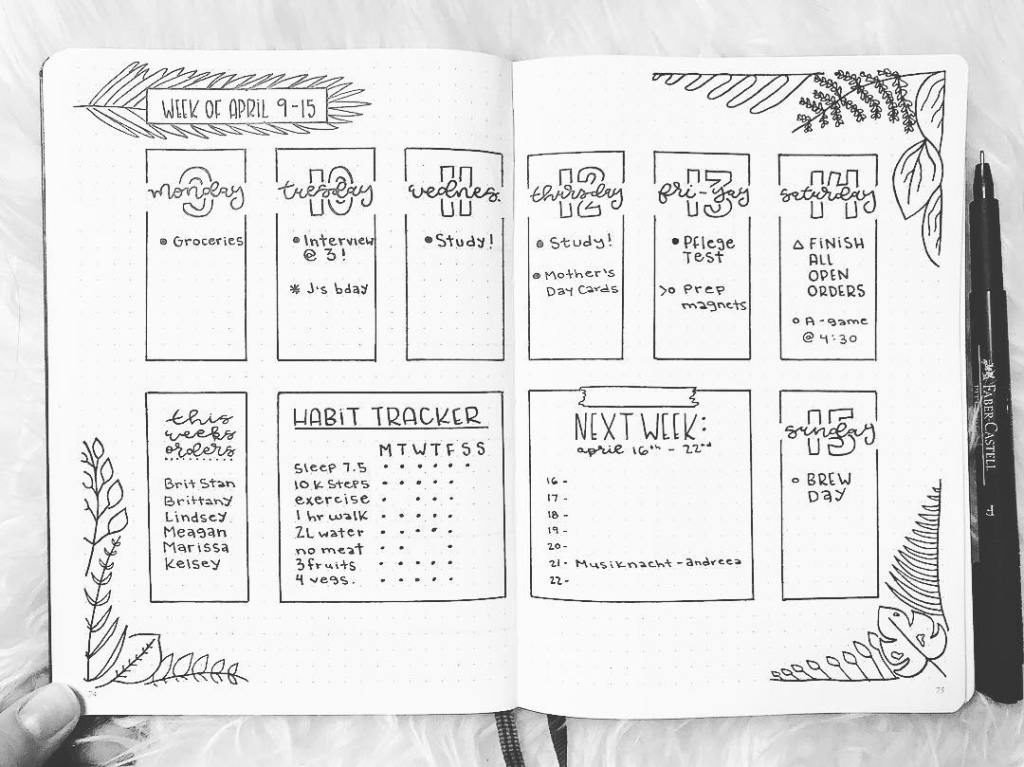 Image source Here
Step 8: Create your daily spread
For your daily spread, you simply plan and record all your tasks, events, ideas, appointments and notes as they occur throughout the course of the day.
At the end of the day, week or month review your list and identify things that you did and didn't complete. If a task is done cross it out. If it's still undone and you think it's important to move the task forward.
Those are the main spreads you can have in your bullet journal, but there are more ideas you can include. All this depends on what you consider to be important and useful to you. Here are more spread ideas you can add to your bullet journal.
Grocery list
Habit Tracker
Budget tracker
Seasonal to do list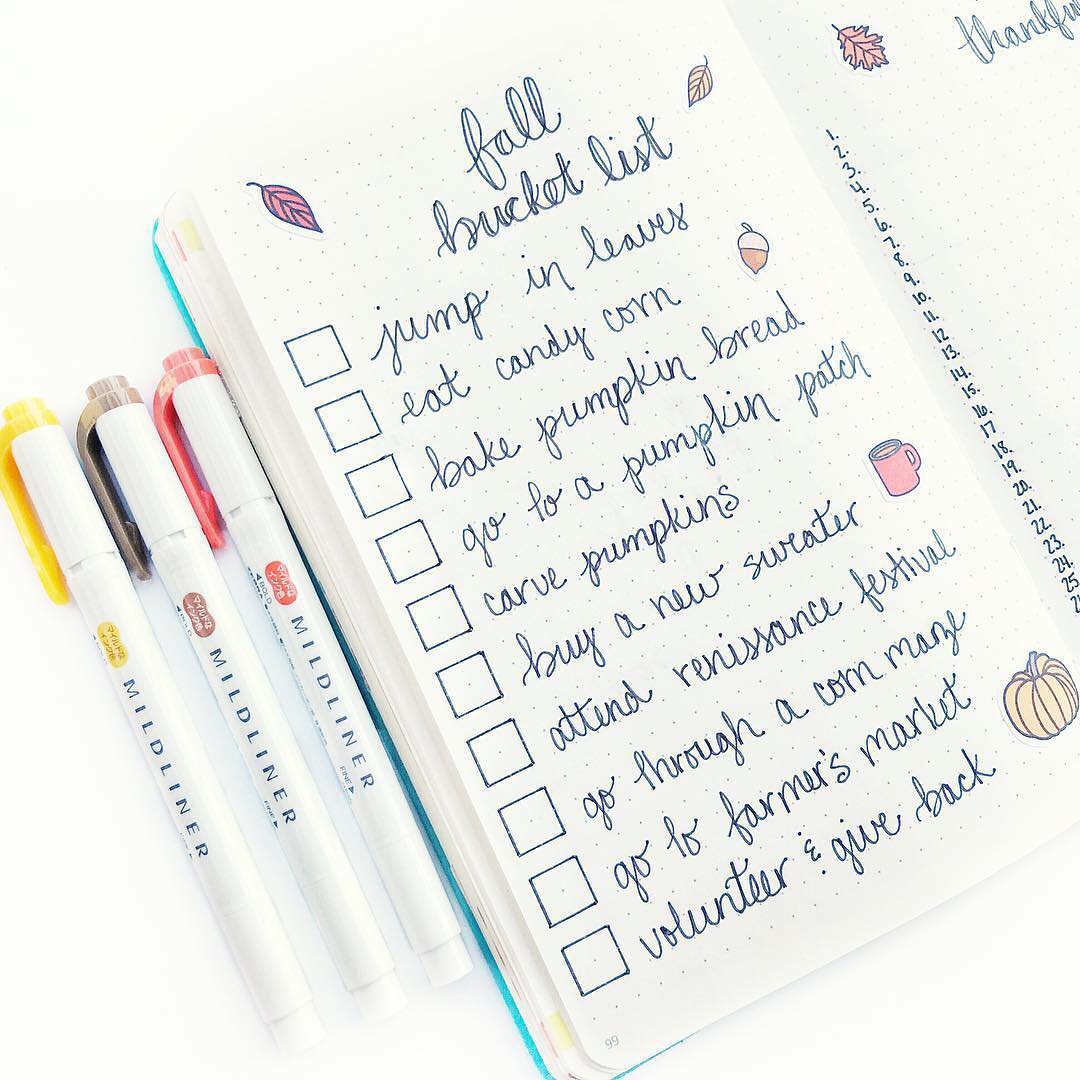 Image source bujoguruco
Gratitude Log
Workout tracker
Spending log
Mood tracker
Expense Tracker
Movies to watch
Holiday gift lists
Water intake
and much more.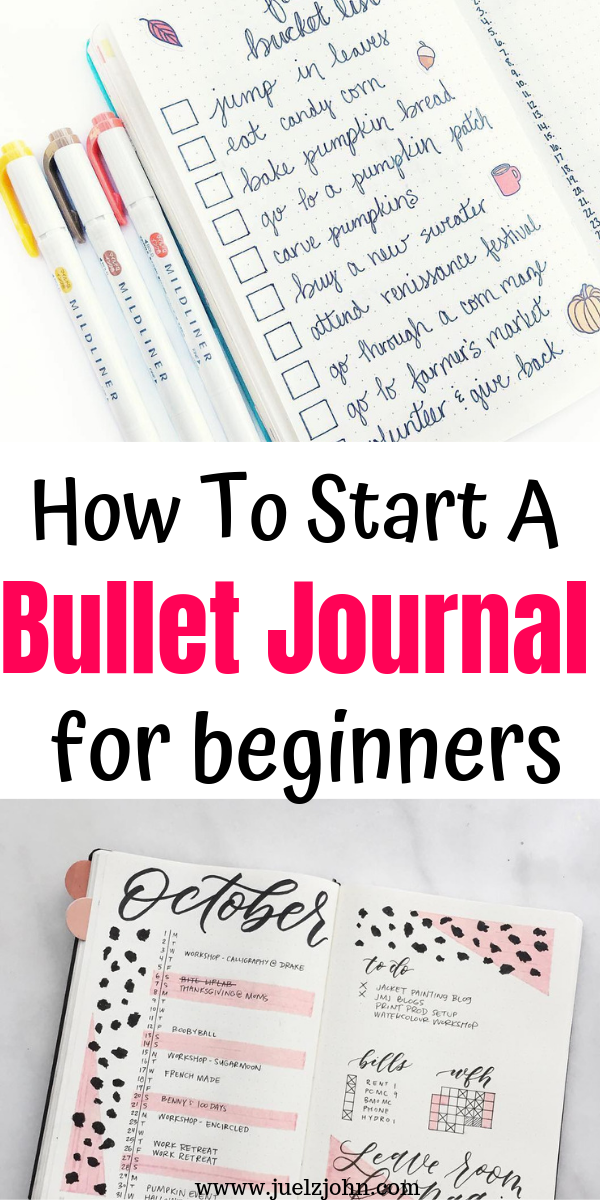 There you have, all the necessary steps you need to start a bullet journal for a beginner. It's time to do away with those long to do list and find something that actually works.
There are so many ways you can start a bullet journal, but the most important thing is to pick a key system that works perfectly for you and start recording things. Don't be stuck in trying to copy someone else's so much or even seeking perfection.