Have you jumped into the bullet journal wagon yet? Bullet journaling has become so popular over the years and so many people have fallen in love it. There are so many bullet journal ideas on the internet which cover different aspects such as money, self-care, hobbies, habits, travel, and house planning which makes it so easy for anyone who is just getting started.
If you are new to bullet journal, it is analog, customizable organization system created by Ryder Carrol and it allows you to keep track of things in a convenient way. With bullet journaling, you will be able to fully customize everything inside your planning system unlike with other planners.
It's a great way to boost your creativity, productivity, keep you motivated at work and tracks everything from to-do lists to expenses.
I have gone ahead and rounded up 15 amazing bullet journal ideas that anyone can use. You can tweak them a little and make them your own.
Want to become an organized mastermind? These bullet journal ideas will give you the inspiration you need.
(This post may contain affiliate links. Please read my full disclaimer for more information. As an Amazon Associate I earn from qualifying purchases)
To start a bullet journal you will need a few supplies such as:
1. Leuchtturm 1917 Medium Size Hardcover A5 Notebook
Leuchtturm notebook is the most popular and it's what most people use for bullet journalling.
It is a standard bullet journal notebook that comes in so many colors such as black, red, yellow, maroon, green and sky blue. It's ink proof paper and acid-free, has stickers for labeling and archiving, opens flat so you can easily write and draw at all angles, has 249 numbered pages and has blank table of content which means you can easily work on it.
2. Paper Mate InkJoy Gel Pens
These paper mate Inkjoy gel pens are perfect for bullet journaling. They dry 3x faster which means reduced smearing, colorful gel ink which brightens your writing, the smooth ink keeps the ideas flowing across the page and you get 8 jet black gel pens.
3. Pilot Frixion Retractable Pens
We are human and we often make mistakes. Mistakes will happen when you make the decision to start a bullet journal especially if you are a beginner. These retractable pens are a gem. They write like a gel pen and erase like a pencil. Leaves room for errors. Erase and rewrite repeatedly without damaging documents. The eraser is at the top of the pen tip, retractable by pressing clip down.
4. Fineliner color pens set
You get 24 vibrant colors which will make bullet journal so colorful and they are perfect for drawing lines & details, painting, writing, sketch, marker, signing, manga, animation, graphic, design, planner, math book, homework, bills, calendar, illustration, included artists fine-ink drawings and coloring small intricate patterns.
5. Washi tape
Use a washi tape to divide different events such as daily task or your daily goals. For these you get 10 rolls of rainbow washi tape. No residue meaning the tape won't damage your surfaces.
6. Ruler
You will need a ruler to draw lines in your journal. You get 4 pieces, they are long lasting and perfect for drawing straight edges.
15 Smart bullet journal ideas that'll make you more productive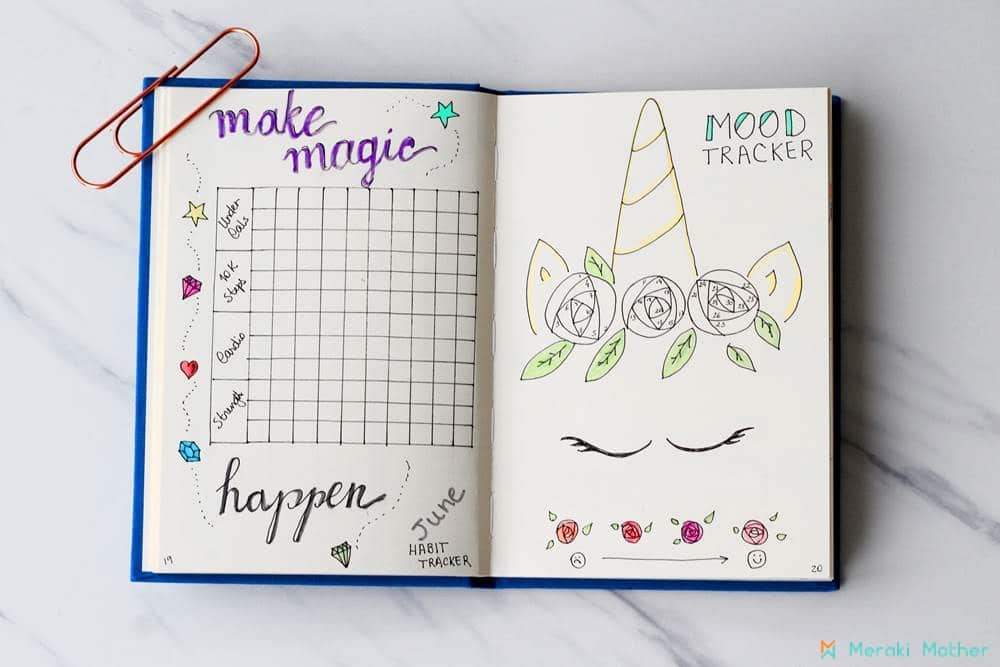 This unicorn bullet journal theme is from Meraki Mother and the focus goal behind it was on healthy lifestyle. If you are on the hunt for a bullet journal idea that will keep you accountable, motivated and help you track things like your daily calorie intake, steps, cardio, strength training this is it.
Bullet Journal Ideas: Habit Tracker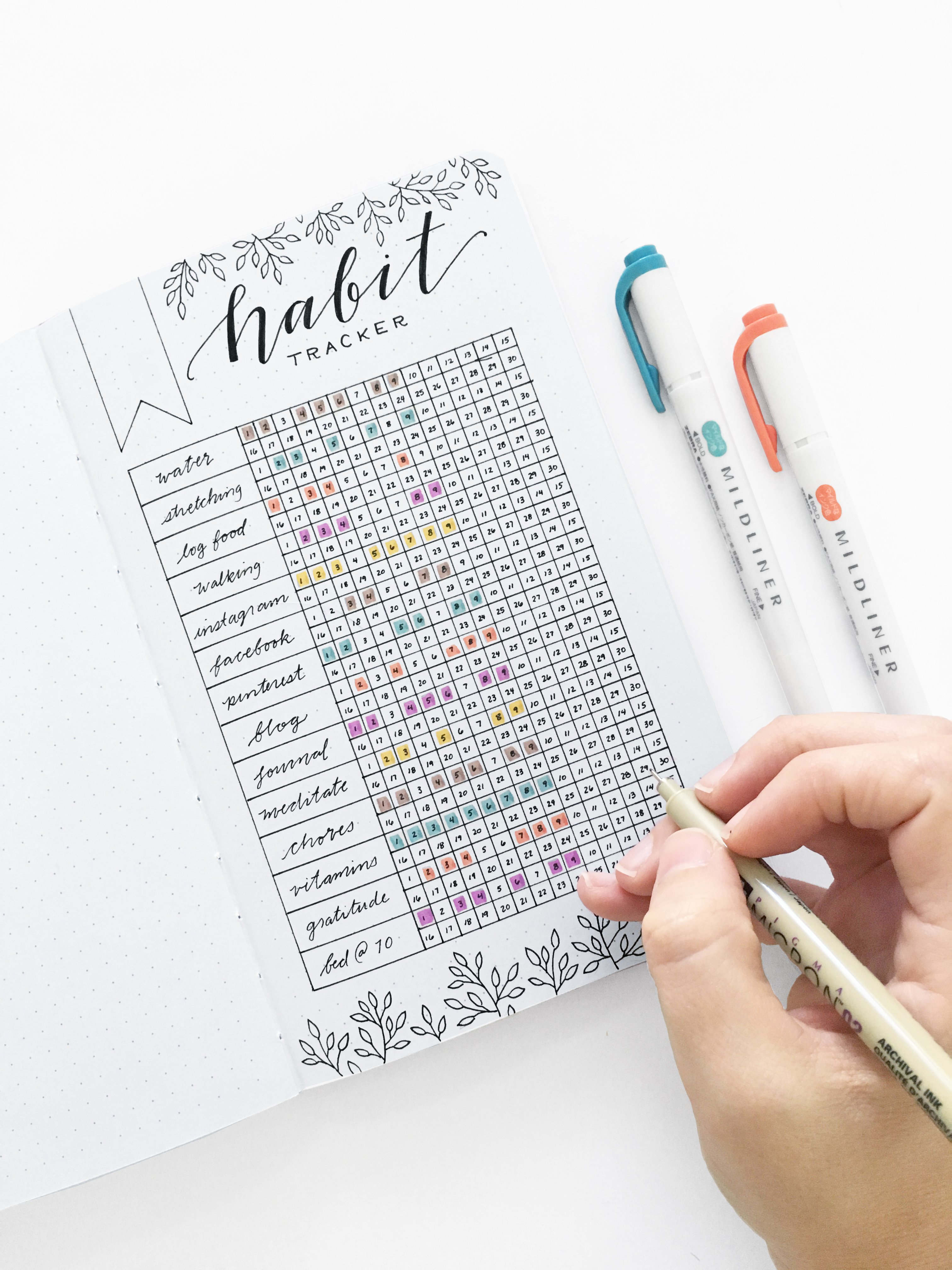 This habit tracker bullet journal is from Archer and Olive and I love how simple and creative it is. It will help you track your habits and form a routine.
Financial Planning Bullet Journal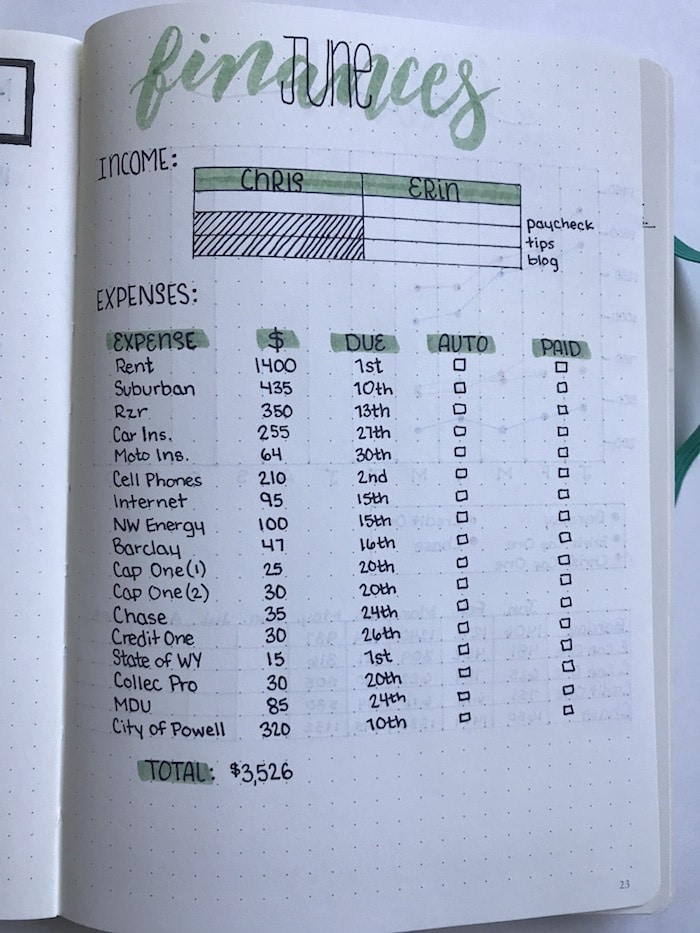 This is one of my best bullet journal ideas because it has inspired me to start my own money tracker journal. It is a perfect way to take control of your finances.
This amazing bullet journal idea is from The petite planner and it will help you track my monthly expenses, income, and spending habits.
Weekly journal spread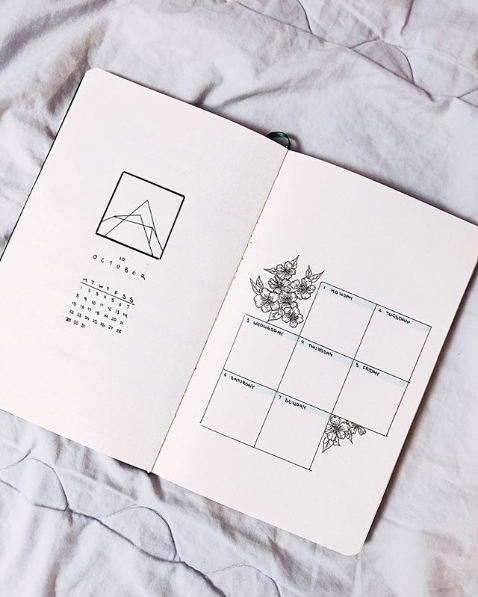 I love how simple this bujo is. It's perfect for any beginners and especially anyone who wants order and organization throughout the week. Sometimes simplicity is everything.
Source soymilk
Books & Movies journal layout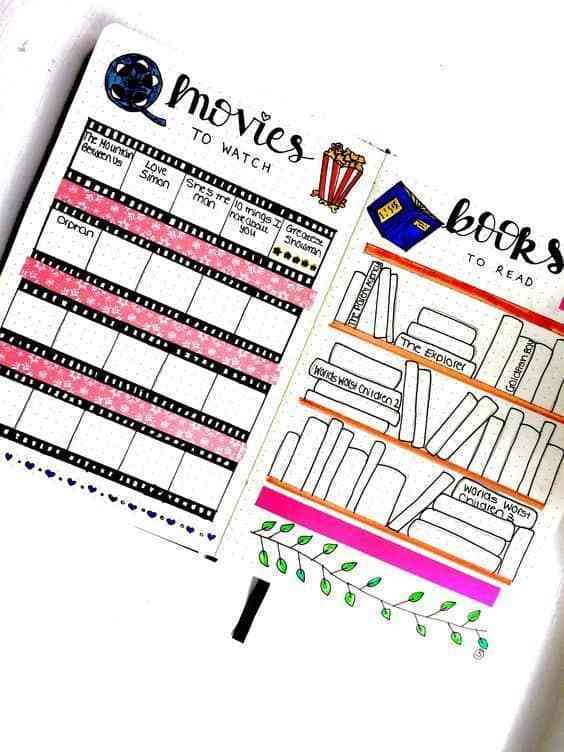 Do you love movies or reading books? This bullet journal idea is for you. It will help you track the movies you have and haven't watched and it's also a cool way to list the books you'd like to read later on. If you are good at drawing, you can add things such as a bookshelf, columns, or a floating shelf to beautify your book journal.
Source unknown
Interested to know about bullet journaling?
How to start a bullet journal: The ultimate guide for beginners
29 Bullet journal monthly cover ideas for every month of the year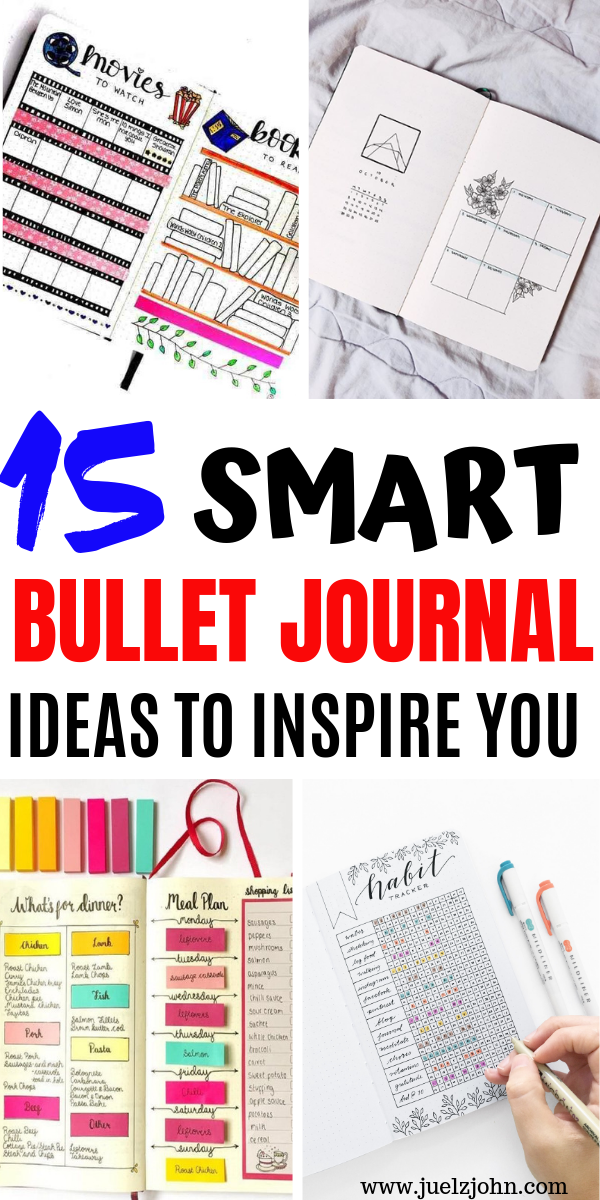 Bullet journal ideas: Mood Tracker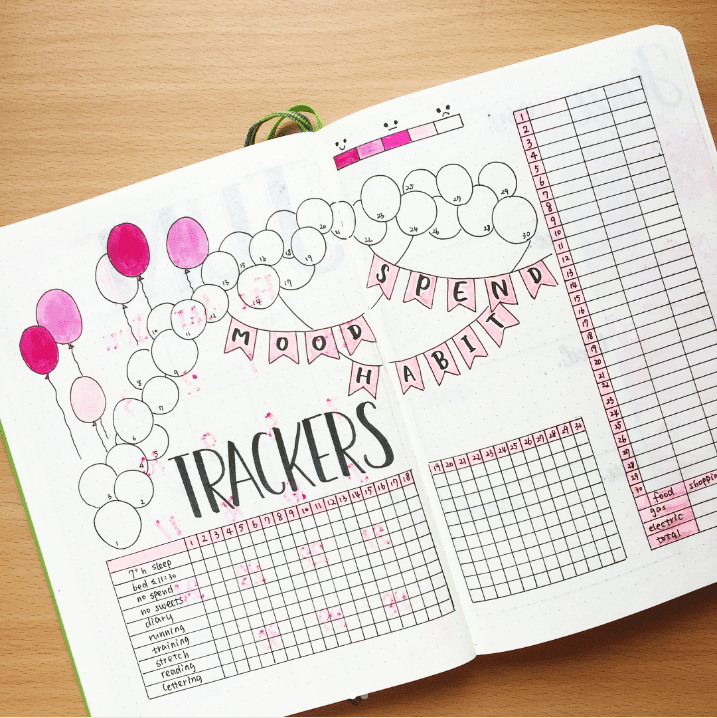 Another mood tracker bujo, the best part is that this combines mental health, spending and other habits.
Source here
Mood Tracker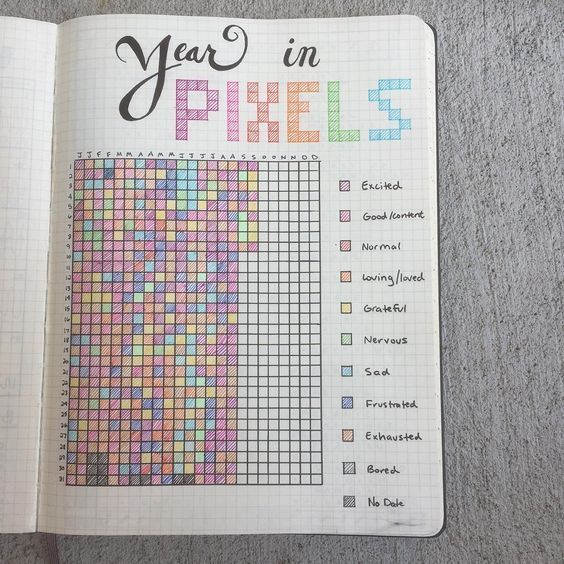 How amazing does this look. It might take a long time to recreate this because every mood needs a different color. Remember it doesn't need to be perfect you can make it your own. I love that it takes you through a whole year and is very visual.
Source Momsmallvictories
Goal setting bullet journal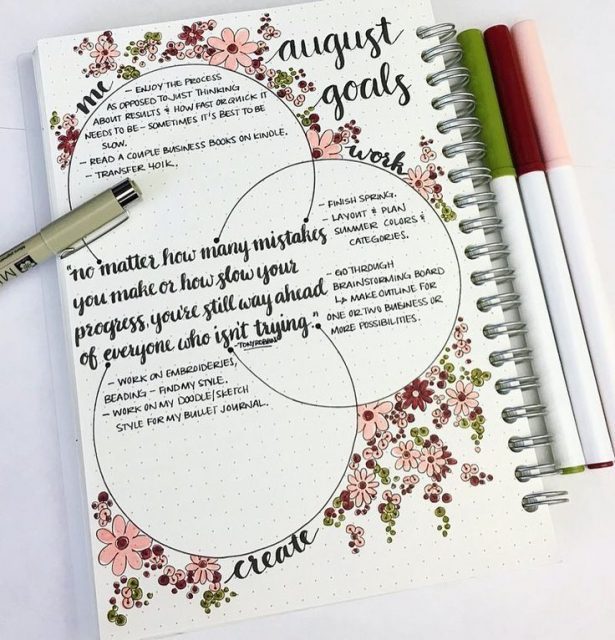 A nice easy way to make sure you always remember your goals.You clearly outline all your goals set based on their sections for example for fitness, finance, and water intake.
Source journalrella
Travel Bullet Journal idea
If you love to travel, why not try creating a list of all the places you want to visit in your next bullet journal spread. You can start with the places you want to visit first. Get inspiration from this bullet journal idea found on TheFunnyBeaver's blog post.
Bullet Journal Ideas: Cleaning schedule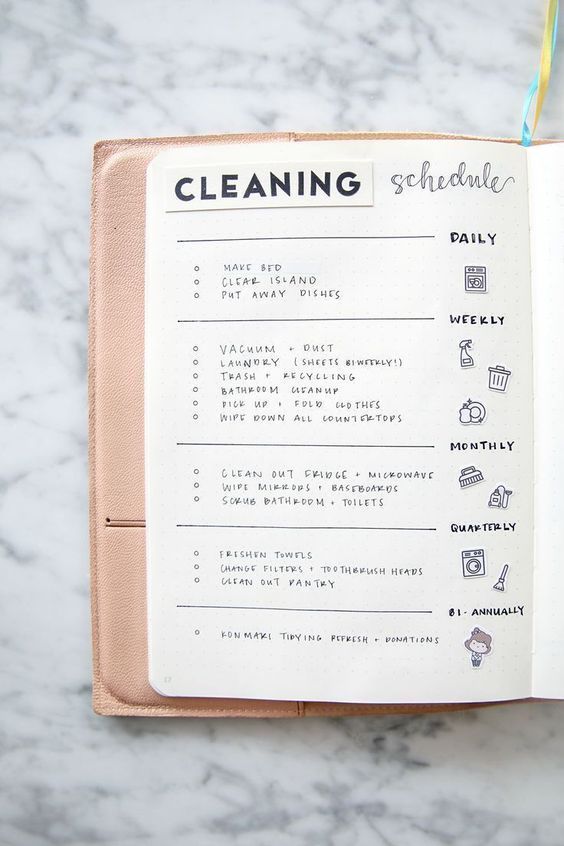 Ever watched the show friends? Doesn't this cleaning schedule look like something Monica would have? It's a perfect way to keep track of all the places you want to clean since sometimes some corners can be forgotten. It will help you set reminders to stay on track with cleaning.
Spread by MissLouie
Fitness Tracker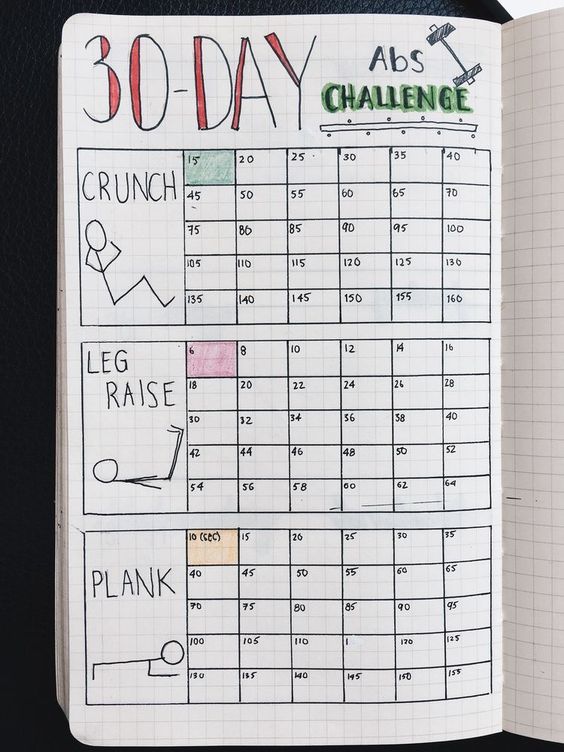 If you are into fitness then this should get you inspired to create your own fitness tracker page. It will help you stay focussed, motivated and on track with your fitness goals.
Water intake tracker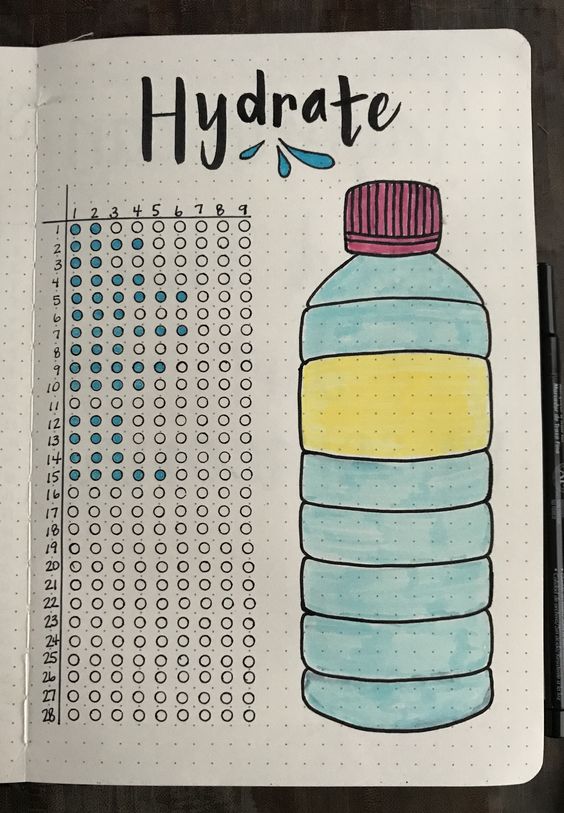 This bullet journal will help you track your daily water intake. It's so simple and easy to make. Perfect for anyone who is just giving journaling a try. It tells you how much water you take in daily routine which is an easy way to keep hydrated and healthy.
Do you often forget to record your daily water intake, this simple journal is for you.
Meal plan Idea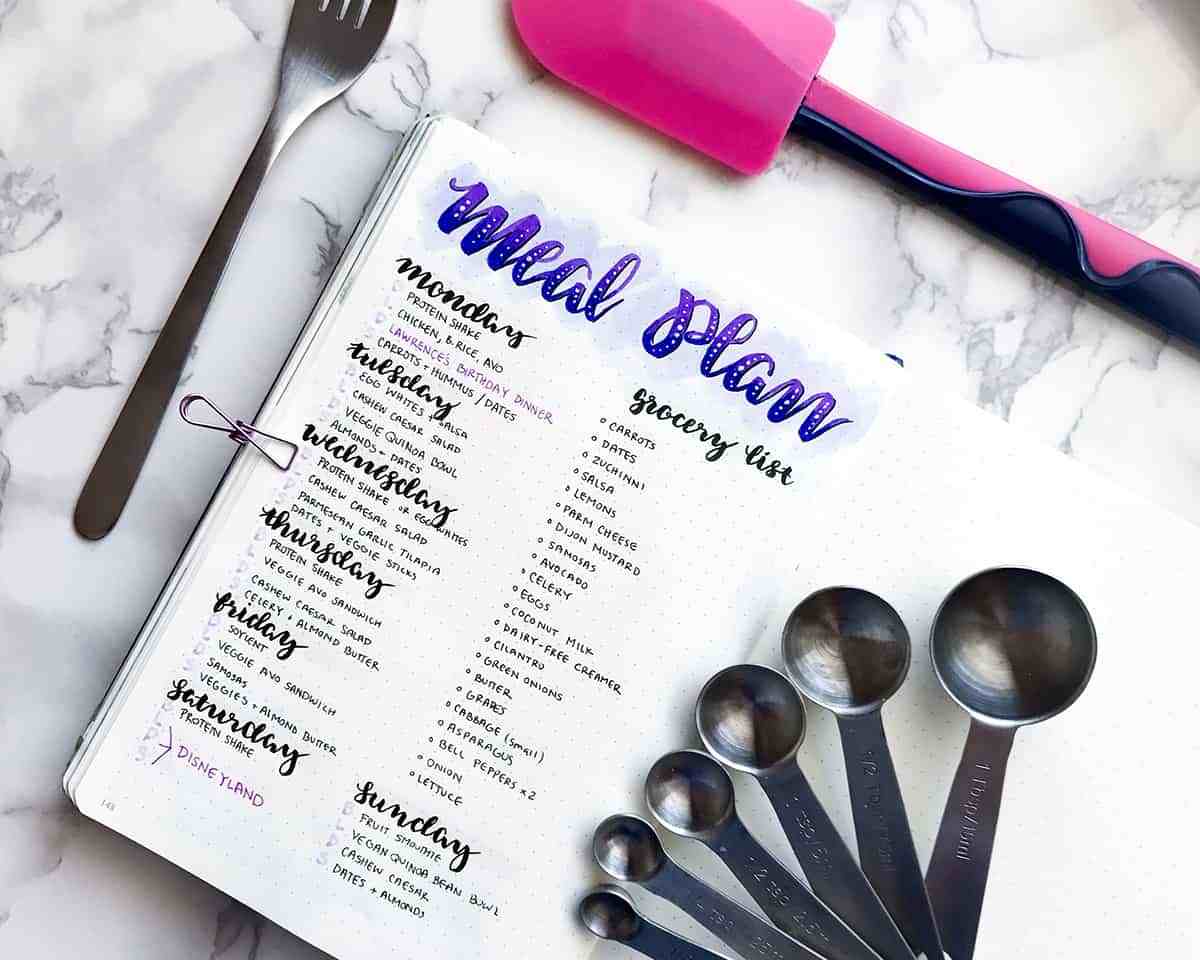 This weekly meal plan journal is a life saver. We all know how tiring and time wasting it can be trying to come up with a meal to prepare every evening.
A huge time saver. You will only need to take a few minutes to plan your meals for the entire week. The grocery list helps to ensure that you have everything ready to go to avoid last minute runs to the store.
Source Little Coffee Box
Important dates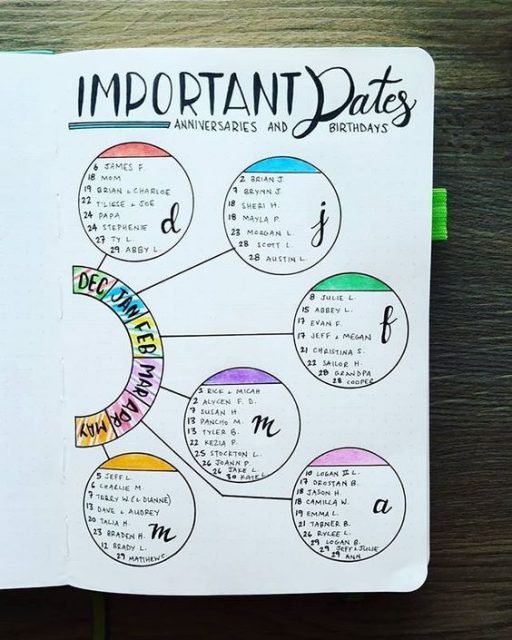 This gives you a perfect way to keep track of all the important dates in your life. Never forget a birthday, wedding anniversary or a party again. You don't have to rely on social media for your family members and friends birthday reminders now.
Source my_blue_sky_design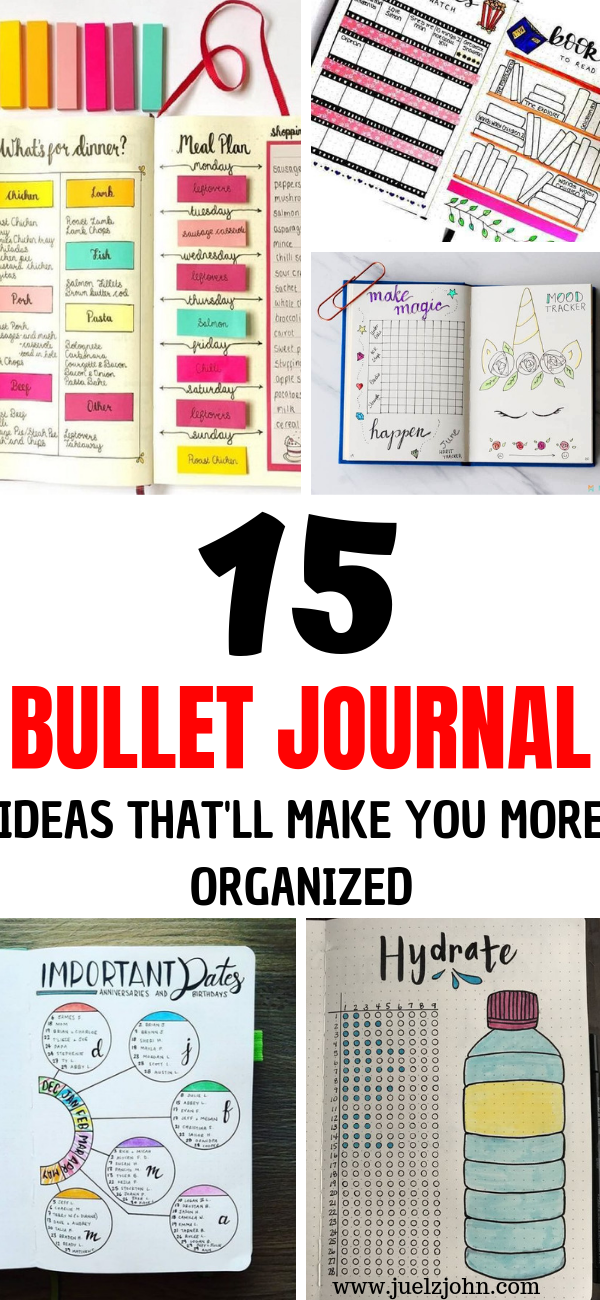 I love bullet journals because they allow you to track things and set goals in one place. You can track your progress, see trends, and make changes. For me I have become more organized and I nowdays finish the tasks in my to do lists.
These are just a few bullet journal ideas that I hope they have inspired you and give you a better idea on how to start one. They will keep you motivated, organized or even to nurture your life. Bullet journals work so perfectly because they allow you to focus on what matters in your life.