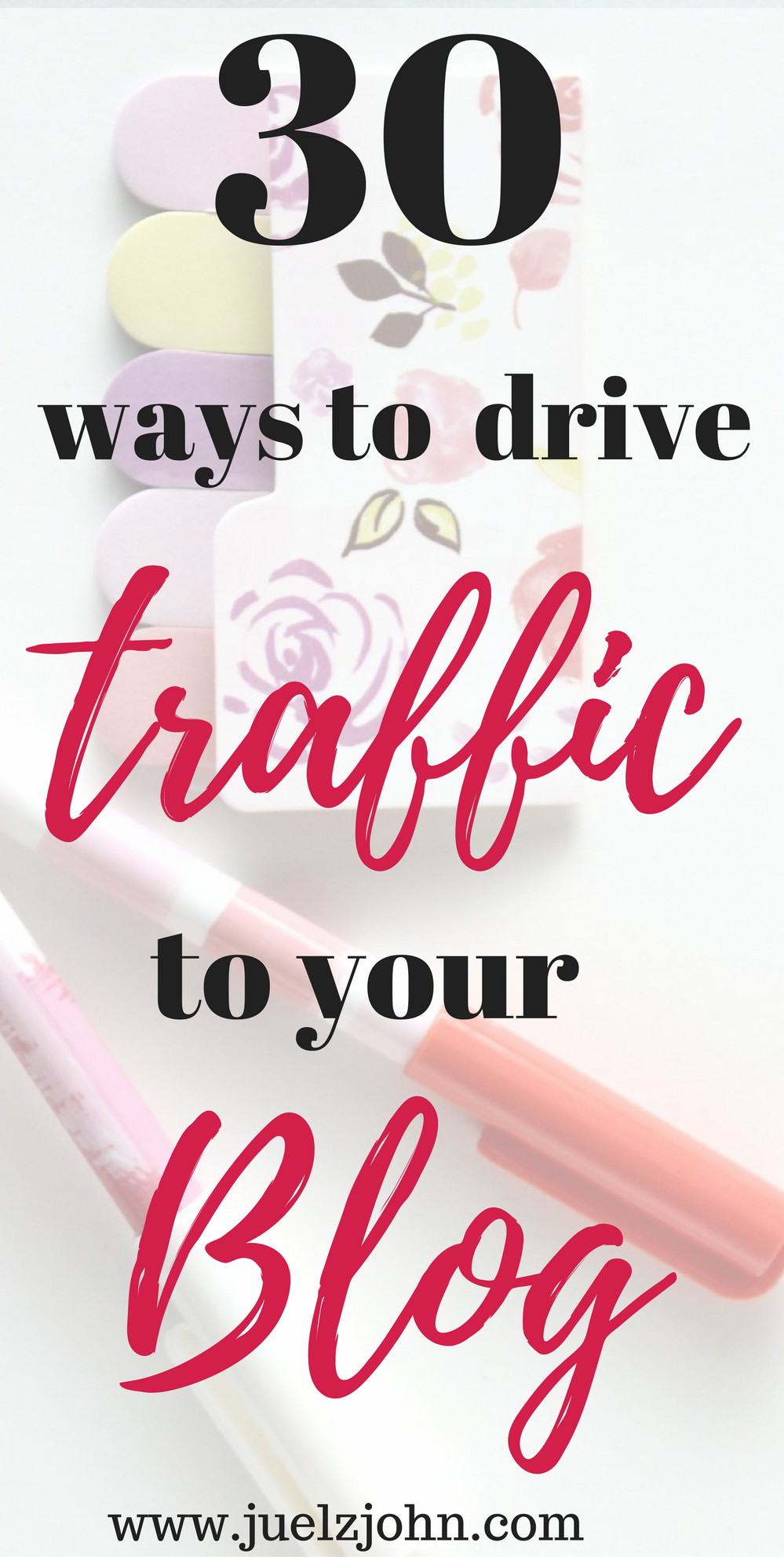 Most people think that blogging is an easy job. All we do is take pretty pictures and come up with a post, but that is just a small part of it. One of the biggest mistakes that bloggers make is they create good content publish it and cross their figures that people will come across it magically. Of course, that doesn't happen. Coming up with a post is just one step and what happens after you publish the post is the most important thing. Blog post promotion. Without that no one will know that you have a new post up expect you. You have to let your audience know. Before coming up with a post you should have a strategy of how you instead to cross- promote it. Below are ways to drive traffic to your blog.
(This post contains affliate links see disclaimer for more details)
---
If you haven't started a blog yet,check out my step by step tutorial guide.Where i show you  how to start a successful blog in less than 30 minutes.
How to start a profitable blog in less than 30 minutes
---
1. Understand SEO basics
Well if you are new to SEO it might sound like a big complicated thing but it's not. Having your posts SEO ready is the easiest way to drive traffic to your blog. The simpler way to do it is to install Yoast plugin.
Yoast will show you how to improve your SEO.Yoast will show you how to improve your SEO.
Some things to consider are: write longer posts 1000+, Links your posts to older ones, Proper use of keywords that is in your title, pictures and the body of the post.
SEO will help your posts rank higher in search engine which means more traffic. Imagine one of your posts ranking on page 1 of Google?
You can read this on my detailed post on SEO tips which includes everything you need to know about SEO.
Related post: The ultimate guide to SEO your blog post
2.Write quality content
This actually the first step before you even start cross-promotion. Killer content is key. People share valuable content. Write longer posts which are more than 1000+ words as Google tends to favor longer posts.
Focus more on evergreen posts which means they will still be valuable many months down the line. The best way is to find a problem your readers are going through then write a post on how to solve it.
Do a thorough research in your niche then write a good post.Make it scannable, to do so you can use numbers or even bullets.
My post on how to write a killer blog post that will attract readers will help you on that.
Related post: How to write a good blog post that will attract readers attention.
Make sure you proofread your post so as to correct any grammatical errors.Grammarly is a perfect for that and it's free.
Related post: Grammarly Review a free grammar tool
3.Utilize your email list
One of the main reasons you should grow your email list is because it will help you drive traffic to your blog. It is the best way to communicate with your readers.
Your email subscribers should be the first to know when you have a new post because they are your loyal readers.
You can send out an email to your list when you have a new post or even when you have updated an old post.
Make sure the post is of value to them. If you post several times a week you can do like one email and include a roundup of the posts instead of filling their mailbox.
4. Share icons
Make sure in your blog you have share icons. You can place them in different places such as on the side of your blog, on top or bottom of your blog post.
Most of the websites come with sharing buttons but you can also install other share buttons like Sumo, share this, Social Warfare, and Shareaholic.
Get  the full list of 30+ ways to drive traffic to your blog right straight into your inbox
5.Make use of Google+
Google loves its own after all google+ is a Google's site.Make sure you have included your blog URL under the bio section.
Google +has communities which are kinda similar to Facebook groups. Join as many as you can. Post consistently in them and use appealing pictures.
Also, remember to post on your own profile will help the people in your circle to see your post. I have been using it and I love the response I get from there.
6. Pinterest is a must
Pinterest works wonders for most bloggers. The key is to pin not only your own content but also others. Make sure that in every post you have at least 2 pinnable images which should be vertical.
You can use scheduling tools such as tailwind which will help you to pin more and increase your visibility. Be consistent with your pinning.
Join Pinterest group boards and as many group boards as you can and pin as much as you can.
7. Interacting with your followers
Doing this will help you to build better relationships with them and every time you have a new post they will be back to read it.
Reply to any comments left on your post. You can turn on email notification so that every time you have a new comment you will be notified.
You can engage with them on your social media platforms such as Facebook and Twitter.
8. Use the appropriate hashtags
Using the right hashtags will help your content to be found more easily. Hashtag especially on your social media platforms that is Twitter, Instagram and google+ is very important.
Hashtags will help you to connect with other influencers in your field and also grow your own community and followers.
9. Come up with eye-catching headline
Spend some time and craft a clickable title.A good title should evolve emotions and draw the reader's curiosity. Make sure that your blog post title catches people's attention.
CoSchedule Headline Analyzer is a free tool that will help you to draft awesome headlines. The tool also scores your headlines and shows you how to improve them.
Put yourself in your readers' shoes and ask yourself as a reader would I click on that title to read that post. You need to give your readers a reason to click on your post.
10.Blog commenting
This is one of the easiest ways to drive traffic to your site. The important thing is to leave a meaningful comment on other relevant blogs.
Respond to questions asked and if you have a link to back up your comment you can leave it. Always respond in a genuine way.
Avoid comments like this is a  great post, I love this post try and give a little input. You can find similar blogs in your niche on facebook groups
Upload your picture on gravatar to make sure your picture will appear against your comments. It's always nice when people your face.
11. Guest posting
If you have already have blogger friends you can ask them if you can guest post on their blogs.This is a perfect way to bring exposure to your blog.
You can start by interacting with other bloggers on Facebook and when you have to build a good relationship with them you can request them to guest post on their blog.
You can enter your email to receive the full list on different ways to drive traffic to your blog
12.Use  Facebook as a way to drive traffic to your blog.
With any social media platform, you need to engage with your audience. When it comes to Facebook I recommend posting at least 3 times a day.
Another thing you can do on Facebook is to join as many groups as you can handle.
Facebook groups are everything. How I love groups. Facebook groups are a nice way to interact with other bloggers.
The groups will help you to learn and share with other bloggers. Be active ask questions and answer the questions that you can. Let people know you exist.
Avoid spamming the group with your blog URL and make sure you observe the group guidelines.
In most of the groups, they have share threads/ promo days /favour threads /pin threads/click through where you can post a link that you want to drive traffic to.
What I love most is the pin threads and the share threads. Those two will bring more eyeballs to your post. Interact with fellow bloggers and build meaningful relationships with them.
You can also share a link to your blog to your personal account and add a link to your website on your bio.
30 ways to drive traffic to your blog are a bit more to handle at once.You can try out some of the ways and see what works for you.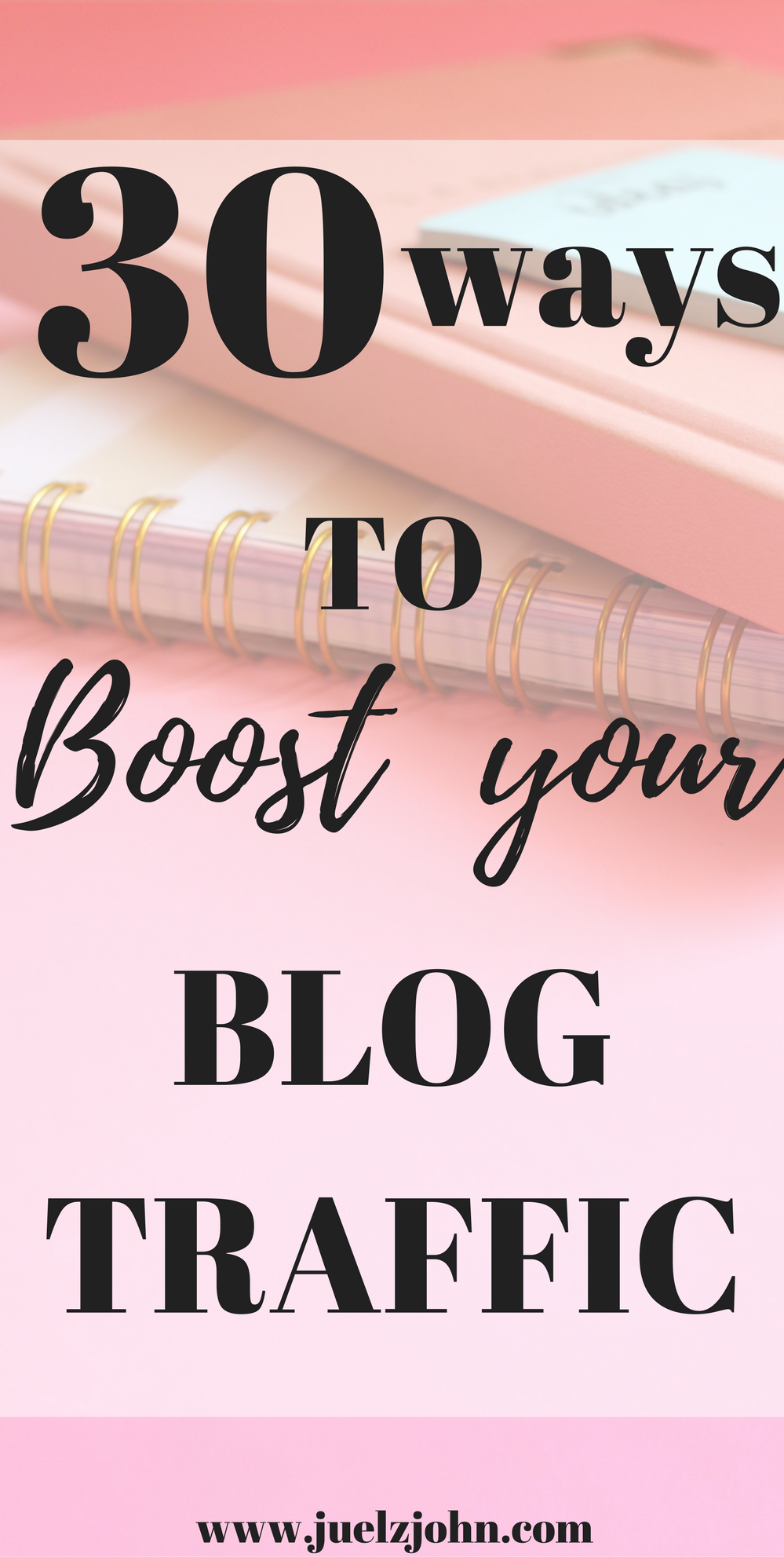 What are your favourite ways to drive traffic to your blog?
Mine is Pinterest and Facebook comes in second.
Feel free to let me know in the comments below.
You might also like:
7 Ways to stay motivated as a blogger
Mistakes new bloggers make and how to solve them
Secrets to being a successful blogger.
How to write an epic about me page
Save
Save
Save
Save