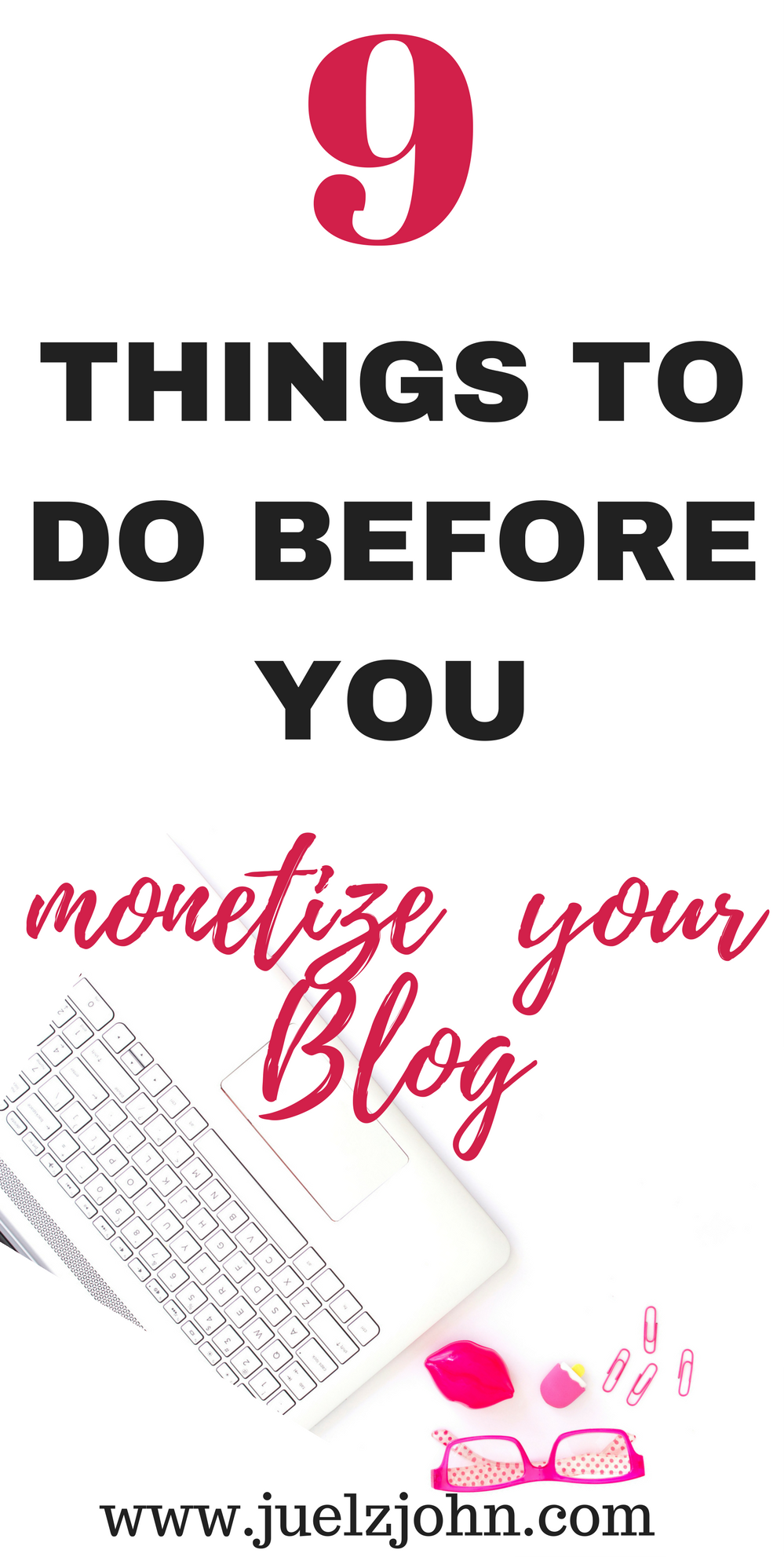 One of the most searched questions on the internet is how do bloggers make money?As a blogger before you start thinking of different ways to monetize your blog , you need  to prepare your blog.
Every blogger is different. Some will begin to earn some money from their blog immediately, others
six months some two years down the line. So don't compare yourself with others.
---
If you haven't started a blog yet,check out my step by step tutorial guide.Where i show you  how to start a successful blog in less than 30 minutes.
How to start a profitable blog in less than 30 minutes
---
A QUICK OVERVIEW ON 9 THINGS TO DO BEFORE YOUR MONETIZE  YOUR BLOG
1.Self-hosting
2.Blog design
3.Quality posts
4.Good quality pictures
5.Relevant pages
6.Social media
7.Invest  in your blog
8.Traffic
9.Social media
1.Self-hosting
Before I launched my blog, I did all sort of research. I read other blogs and observed what other bloggers were doing.
One thing in common with all the successful blog is that they are self-hosted.
One of the biggest mistake that bloggers make is not self-hosting their blogs. If you want to be considered serious in the blogging world, you MUST be self-hosted.
It's honestly hard to monetize a blog that is not self-hosted . Your blog can just disappear like that without any warning and retrieving all the data you had will be a big headache.
To avoid such problems why not do things the right way.
My blog is currently hosted by Bluehost, and so far I have no complains about them. Bluehost provide fantastic services, and so is their customer service.
Relate post:10 secrets to being a successful blogger
2.Blog design
Your blog needs to be appealing which means you need to get rid of all the clutter. It should be inviting.
Speaking of a personal experience, blog design and photography is what attracts me first to a blog and then content.
When companies approach you, your blog design is the first thing they see so make sure it's very presentable and easily accessible. It needs to look professional.
Clear out your sidebar and your footer. Having too many unnecessarily banners will even slow your blog. I find it super annoying when an on a website and it's taking forever to load. Clutter will scare away the companies.
Your blog should be mobile friendly since most people check blogs through smartphones. You need to be to be consistent with your theme and layout not changing it every other day.
Make sure your blog is loading fast, you can do this by avoid using heavy and large images as they always tend to slow the blog.

Stick to 2/3 warm colors for your blog to have nice flow.
3.Quality posts
This is very important before you start tomonetize your blog.Your posting need to be often and consistent.
Posting once in three months will not cut it. Create an editorial calendar that will help to keep you in check. The more you write, the more you become a better writer, so writing often is a big plus.
Spend time researching the topic you want to write about, not just put some words together. Make sure your post is of value to your audience.
Focus more on creating evergreen content that will be relevant months after months.
When companies approach you, they want proof that you are capable of producing high-quality content so let your work speak for itself.
I always try to make sure that my blog posts are more than 1000 words because longer post does very well on google.
Related post:How to write a good post that will attract readers attention

Before you hit publish on any post, proofread it. We are all human, and we are bound to make silly mistakes such as spellings, punctuation.
You can quickly proofread your article by passing it through Grammarly which is a free grammar tool.
Check out my review on grammarly and learn more about it.
Related post:Grammarly review an online  free grammar tool
4.Good quality pictures
Having good pictures on your blog is a must. Good photos will attract new audience to your blog.
Pictures alone can do the talking for you. We are in the visual era, so high-quality pictures are essential. I understand you might not own a camera or even know where to start when it comes to photography I was once there.
You can hire a camera or get a good photographer and also Invest in editing apps.
Some of the apps are free, so if you are a beginner, you can first practice with the free apps and also check YouTube for tutorials. I love YouTube you can learn so much and almost everything.
I love using Photoshop and canvas to edit my pictures, especially for my Pinterest graphics. Other editing apps you can check out are lightroom and pic monkey
You can also use stock images which I love. They are super easy to edit.Make sure that your pictures are stand out.
One of the best places you can get stock images is ivory mix
5.Relevant pages
Before you even start brainstorming on different ways to monetize your blog you need to work on some crucial pages.
The important pages will help the brand and companies to get to know you better. They include:
This entails merely the different ways company and brands can work with you. Maybe through sponsored posts, banners. Mentions, giveaways and so on.
Write an epic about page. It's no brainer that before a company approaches you, they will first want to know a little about you.
So make sure your about page is detailed and of course updated. Show your personality and your passion too.
Some of the things you can include are blog description, your bio, contact and social media links,
Blog description. You can tell write when and why you started blogging, what your blog is all about,
Bio. You should include at least one picture. People want to see who the face behind your blog is.
Contact.This could be a contact form or just an email.
Related post: How to write an epic about me page.
6.Monetize your blog:Social media
The sixth thing to do before to you monetize your blog is to work on your social media accounts. Some companies will want to know how many followers you have on your social media. Sometimes having a large following is a bonus.
Make sure you often post on your social media platforms and engage with your followers too.  You can start building your social media platforms way before you launch blog .
Always try to make sure what you post on your social media is in line with your website and avoid a lot of negative posts as they scare people away.
Social media is an excellent way to drive traffic to your blog post too when you have a new blog post you can share it with your audience on there.
If you don't have a big following.don't over stress about it. We all start from somewhere, and blogging is a journey no one expects you to have everything all together.
Find out which social media platform your audience mostly hangs out in then focus on it first.
7.Before you monetize your blog Invest in it.
Some bloggers are so afraid to invest in their blogs. But sometimes to make money, you need to spend money. I tend to think we invest more in things we care about.
Therefore if you are serious about taking your blog to the next level, you shouldn't be afraid to invest in your blog.
For instance, if you are looking for ways to boost your blog traffic there are many ebooks out there to guide you.
If you want to grow your Pinterest account and you don't have the time to do so you can hire a VA.
8.Traffic
Most companies out there will ask to know what your pageviews look like, where most of your audience is from.
So it is very important to spend some time growing your traffic. If you have been writing quality posts driving traffic to your blog shouldn't be that hard.
If you want to make a decent amount of money through blogging, you will have to put more time in boosting your traffic.
Pinterest and Facebook groups are the best places for you to start. Join as many Pinterest groups as you can and pin your content on them.
You may not have many followers but if a group board has more than 10,000 followers that is a win because more people will get to see your pins.
On Facebook be active and participate in groups. Take advantage of promo days and other threads.
Related post:30 ways to drive traffic to your blog

9.Social share buttons
Share buttons are super important to any blog. They make it easy for your readers to share your content. There are so many plugins you can use for that; I use Shareaholic.
Something else you can do is to have a pin it icon on your images. This is super effective; it allows your readers to pin directly from your blog to Pinterest.
Phew such a long article but i hope you found this tips on things to do before you monetize your blog helpful.
You might also like:
Mistakes new bloggers and how to solve them
The ultimate guide to SEO your blog post
7 ways to stay motivated as a blogger
What do you wish you had worked on before you started monetizing your blog?
Let me know in the comments below.


S
Save
Save