The holiday season is almost here, in just a few weeks we will be looking for the best keto thanksgiving recipes. Sticking to a diet during holidays can be challenging because there is temptation all over. With all the good food being passed around family gathering the temptations are very high.
It's really hard to say no to family and friends when they bring their desserts and salads and insist you have to try them. No one wants to offend great aunt by not having a bite of their delicious sauce right?
Thanksgiving is one of the most wonderful holidays which brings family and friends together to enjoy a meal and create wonderful memories. How about you give them a wide variety of keto thanksgiving food to choose from. These Thanksgiving recipes are so delicious and most of them taste like the real ones. If you don't tell your non-keto family and friends, most won't know the difference. Even the picky eaters will enjoy them.
From savory side dishes, main dishes, appetizers, sauces, soups and desserts they is so much to choose from. Just because it's Thanksgiving, it doesn't mean you have to fall off the wagon. You can still enjoy the delicious comfort food in the low carb version.
Pumpkin Cheesecake Cupcakes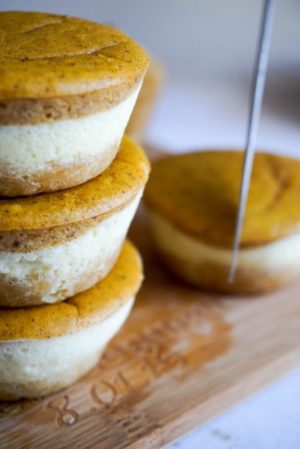 Feeling bad you won't get to enjoy the traditional pumpkin pie on Thanksgiving? These delicious pumpkin cheesecake cupcakes are your solution. They are best replacement as the traditional pumpkin pies are loaded with carbs.
They look and taste amazing. Everyone will love them. They are so easy to replicate but make sure pop these in them in the fridge for 2-3 hours to allow them to chill.
I love the fact that this chocolate mouse tart is no bake meaning you will actually get to hang out with people because you won't be tucked away in the kitchen trying to get the dessert ready. This desert is creamy and so dreamy and it tastes so heavenly.
It takes only 30 minutes and the best part is that you can make it a few hours before the guests arrive and it gives you enough time to allow it to set. Super easy, no bake tart with a chocolate crust, chocolate mousse filling, a whipped cream topping and shave a little dark chocolate.
Each serving has 3.91 g net carbs.
This is going to be the best sugar free pumpkin pie you have ever had on Thanksgiving. The best part is that it tastes like the real thing so the whole family will enjoy it. The keto pumpkin pie filling has only five ingredients which makes it very easy to make.
To make sure the crust isn't soggy when adding your filling make sure you bake it first and also cover the crust edges with a foil to prevent them from burning. Make sure you don't over bake it as that causes cracks and affects the texture.
Each serving has 4g net carbs.
This Thanksgiving you could try something else apart from turkey. How about this delicious pork tenderloin? The pork is wrapped with cream cheese, spinach, onion, and garlic. Even the non keto family and friend will enjoy and love it.
The vegetable saute is optional but it compliments the dish so well, don't omit it. It tastes amazing and it creates an acidic, vibrant, and colorful side dish.
This sweet potato casserole recipe is perfect for side dish. So easy to make and super delicious, paleo and whole30. A healthy potato casserole with pecan crust is the side dish is all you need this Thanksgiving. You can be sure everyone will gobble it down so fast.
Keto Thanksgiving Recipes: Mashed Cauliflower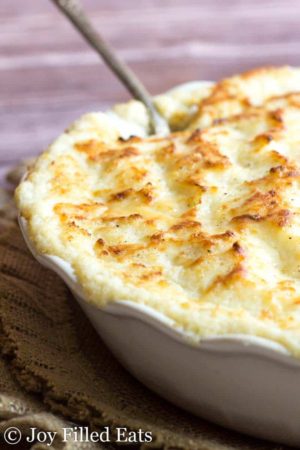 This is one of my favorite keto thanksgiving recipes because not only does it taste amazing but you can make it a day before and just reheat it. Which means you will have a stress free Thanksgiving. The mashed cauliflower is made with Cream Cheese and Asiago. So delicious and looks so good as well.
If there any leftovers, they will freeze so perfectly although I hardly doubt there will be any.
Full recipe Joy filled eats
Skillet Roasted Bacon Brussels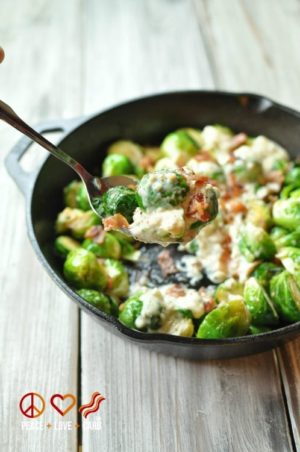 How good does these Brussels sprouts look? Roasted bacon Brussels sprouts with garlic Parmesan cream cheese. Cooked to perfection. They are so tasty and they have a wonderful crisp-tender texture with a subtle sweetness. Gluten free, paleo and perfect thanksgiving side dish.
Source Peace Love and Low carb
Low Carb Green Bean Casserole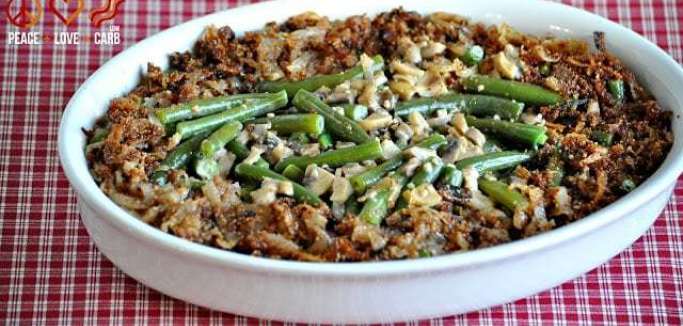 This is a perfect way to enjoy the classic Thanksgiving classic dish while still been on a diet. This dish is a great holiday classic but can also be enjoyed all year-round. Once you try it, you will forget about the buying canned cream of mushroom soup.
Source Peace love and Low Carb
This cheesy keto skillet bread makes for the best Thanksgiving stuffing idea. It has a perfect crisp crust of cheddar cheese and its great to serve with soups and stews. It's easy to make, savoury and everyone will absolutely love it.
To have this keto bread recipe for Thanksgiving stuffing the trick is to dry the bread out very well in the oven the day before. Then proceed with the usual stuffing ingredients and bake.
Great as Thanksgiving appetizers. The roasted Brussels sprouts are wrapped with crispy bacon slices and dipped in a balsamic vinegar and mayonnaise sauce. Finger licking delicious. They are cooked to perfection. The Brussels are oven roasted until very tender, and the bacon is so crispy.
Everyone will be asking for the recipe after you serve them. Extra delicious and it has only 2.5 g net carbs per serving.
Avocados are the best way to have fats in your keto diet. So we can't have keto thanksgiving recipes and miss one that have avocados. These shrimp appetizers are mouthwatering good and so simple to put together. They have plump juicy cajun shrimp over creamy avocado on a crisp slice of cucumber. The squeeze of fresh lime juice adds amazing flavors.
Everyone will enjoy these shrimps. They are gluten free, grain free and paleo.
Keto Thanksgiving Recipes: Cranberry Sauce
You will only need 4 ingredient to made this cranberry sauce. It's made with fresh cranberries and it's sugar free. So easy to make, it takes only ten minutes. If you are used to making the usual cranberry sauce there is no much difference with making this low carb version.
It's also low carb, paleo, and gluten-free. If you want to make a big batch, use powdered sweetener to make sure the sauce doesn't become crunchy.
You will love this turkey breast recipe. The combination of the garlic, butter and fresh herbs is amazing and make the turkey breast so flavorful. So tender and moist.
Looking for a keto dessert that will blow everyone's mind? This cranberry cherry rum is it. Doesn't it look amazing. Comes together in a few minutes, so tasty and only contains just a few ingredients. It's going to be a big hit this Thanksgiving holiday.
It's a sweet but slightly tangy treat. The the combination of cranberry, cherry, rum and whipped cream is unbeatable.
This garlic butternut bisque soup is perfect served as a Thanksgiving appetizer. It's thick, creamy, luscious and decadent. The secret to this bisque over the top amazing is roasting the garlic. It adds an incredible sweetness.
I hope you have found some delicious and easy keto thanksgiving recipes for you to try this year. These keto recipes are not only perfect for Thanksgiving but you can enjoy them all year round.