Happy New Year. I hope you had a wonderful holiday season. It's time for a fresh start. There is no better time to start bullet journaling than in January. With new year comes new vibes which in this case means new beautiful themes. These beautiful January bullet journal cover spreads will help you start the year on the right now and with a bang.
The best part for me about journaling is changing up my monthly cover spread. Doing that instantly boosts my creativity, sets me in the right mood for that month, and coming up with my overall theme becomes easy.
Finding these January bullet journal spreads was super fun. Some of them are beyond what we can do with our bujos, but that shouldn't discourage you. Let them inspire you. You can easily put your twist on any of these bujo spreads.
If you are just getting started with bullet journaling, I highly recommend you checking out this post on the ultimate bullet journal guide for beginners.
---
Below are a few supplies I recommend for bullet journaling. Quality supplies are key when trying to create these December cover spreads. They make it easy and stress-free.
(This post may contain affiliate links. Please read my full disclaimer for more information. As an Amazon Associate I earn from qualifying purchases)
A notebook.
I highly recommend this notebook. It's good quality and has raving reviews for a fraction of the cost. It equally good compared to other pricer bujo notebooks in the market. You don't have to worry about bleeding through pages which means you can be more creative in your artwork and it's super affordable.
It is a standard bullet journal notebook that comes in so many colors such as black, red, yellow, maroon, green and sky blue. It's ink proof paper and acid-free, has stickers for labeling and archiving, opens flat so you can easily write and draw at all angles, has 249 numbered pages and has blank table of content which means you can easily work on it.


Amazing markers.
Great markers are perfect for color-coding and decorating your bullet journal.
They are perfect for adding borders, textures and for creating beautiful watercolor pattern. They make it easy to divide different events such as daily task or your daily goals. No residue meaning the tape won't damage your surfaces.
This list shouldn't intimidate you. The only thing you need to get started is a notebook and a pen but with the other supplies, it makes achieving great results for example some of these January bullet journal cover spreads will be way easier to recreate. The supplies will save you time and will make your covers and layouts beautiful.
More bullet journal ideas to inspire you this January
22 Inspiring January bullet journal ideas for 2021
January bullet journal cover spreads 2021
Galaxy themed cover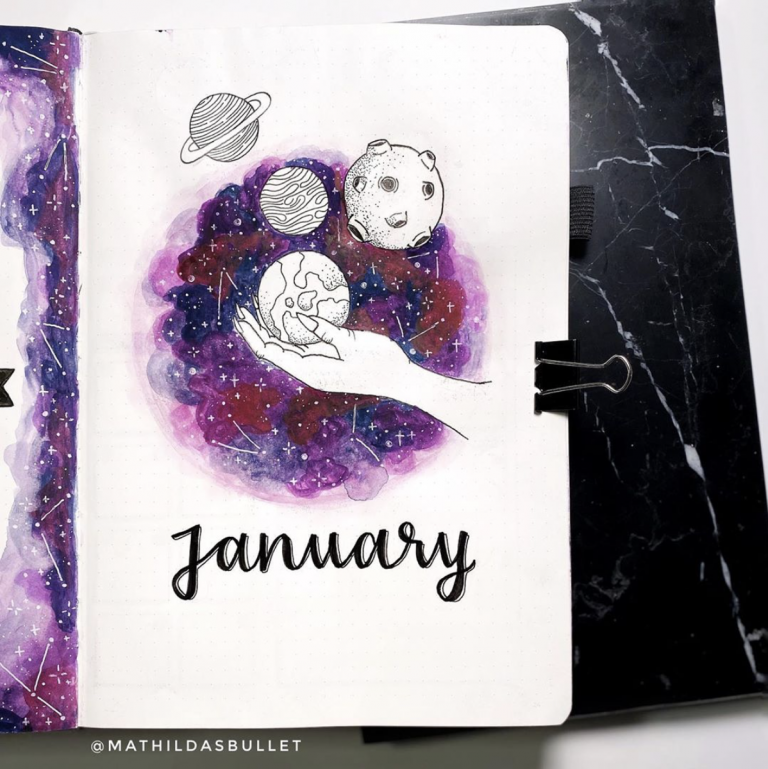 Source mathildas bullet
Galaxy backgrounds are always timeless. You will never go wrong with galaxy cover pages.
Firework themed cover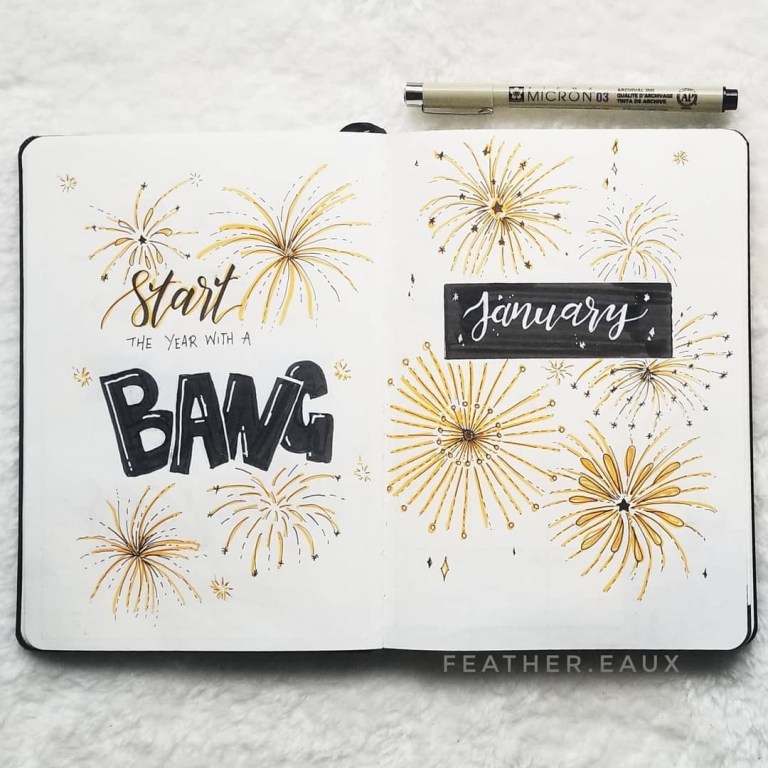 Strat the year with a big bang. A firework themed cover that is so spectacular and instantly adds that cheer vibe to your month. I love how celebratory this spread looks. Source feather.eaux
TERRARIUM PLANTS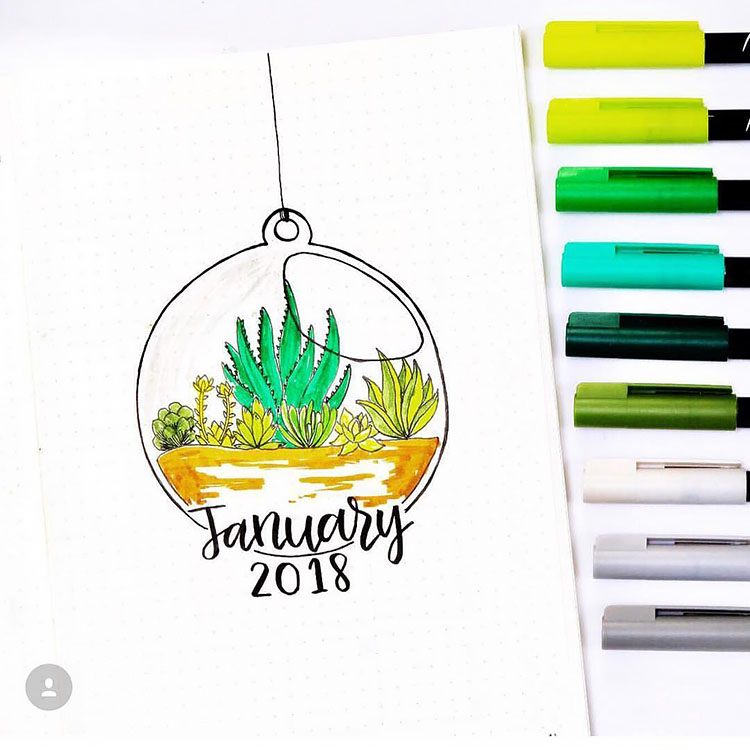 This bujo spread is so spectacular. It may be for 2018 but you can easily adjust the date to the current year. How beautiful are the plants growing inside the terrarium? Simple yet so unique. You can change the plants to your preferred ones. Source theartofbujo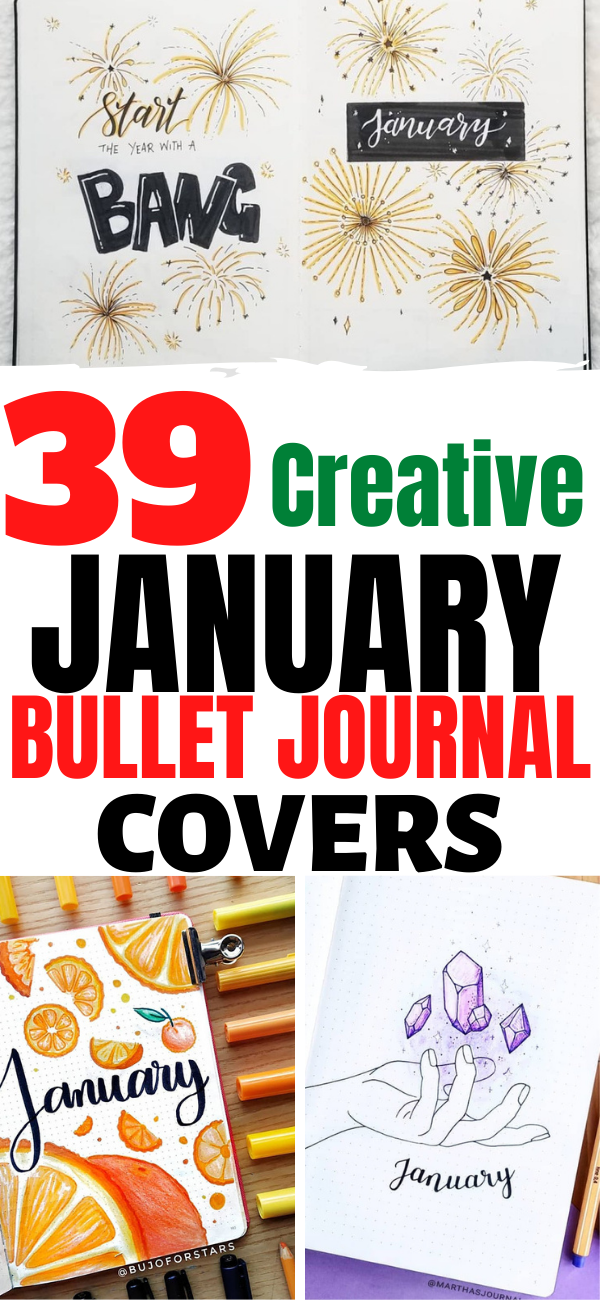 January bullet journal cover spreads: Snowflake inspired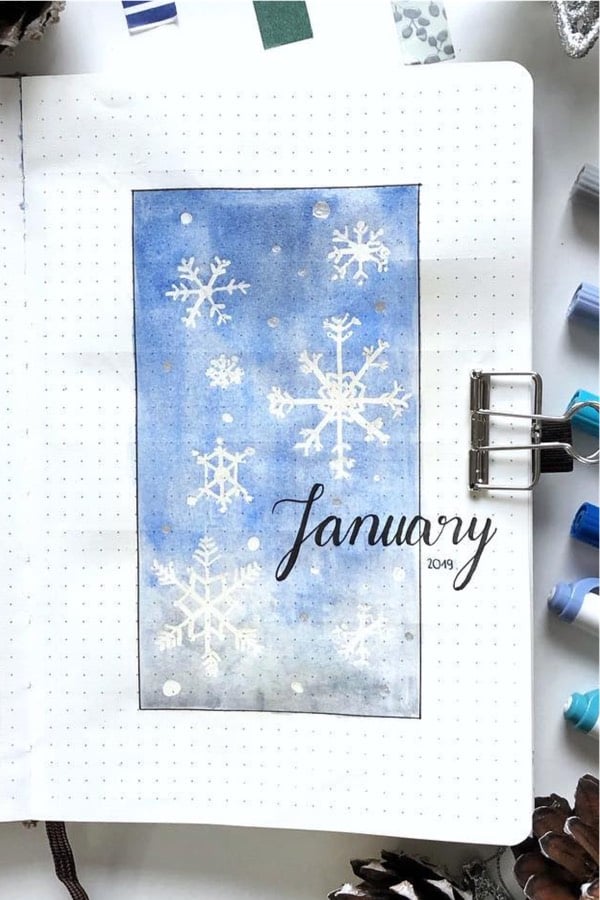 Snowflakes are big during the holidays and winter months. The light blue snowy background is beautiful and perfect as it makes this January cover spread so elegant. I love how she keeps the cursive header on the right making it so unique. Source Enya Nolan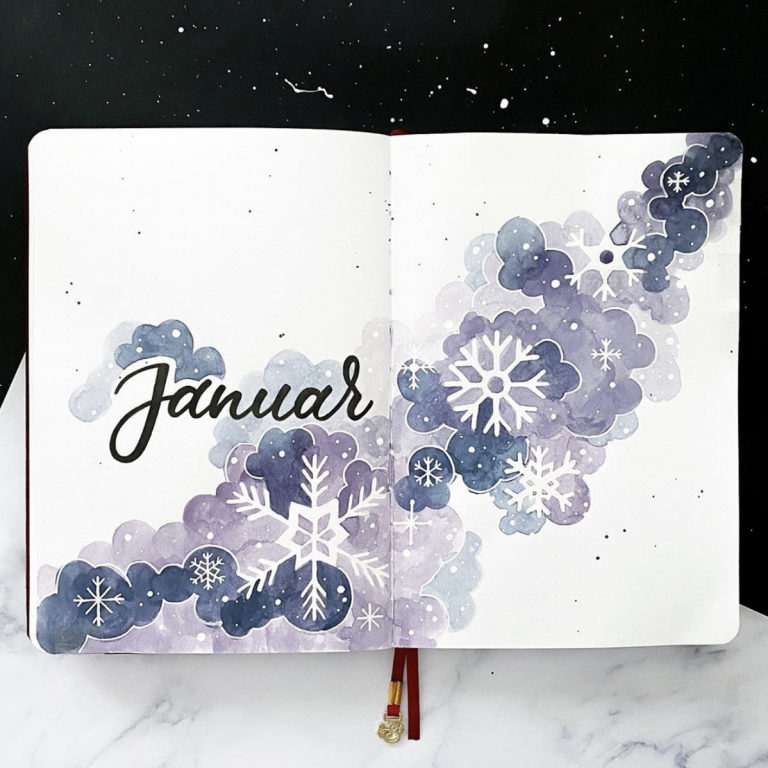 Source BUJOTRULLA
Dainty January cover spread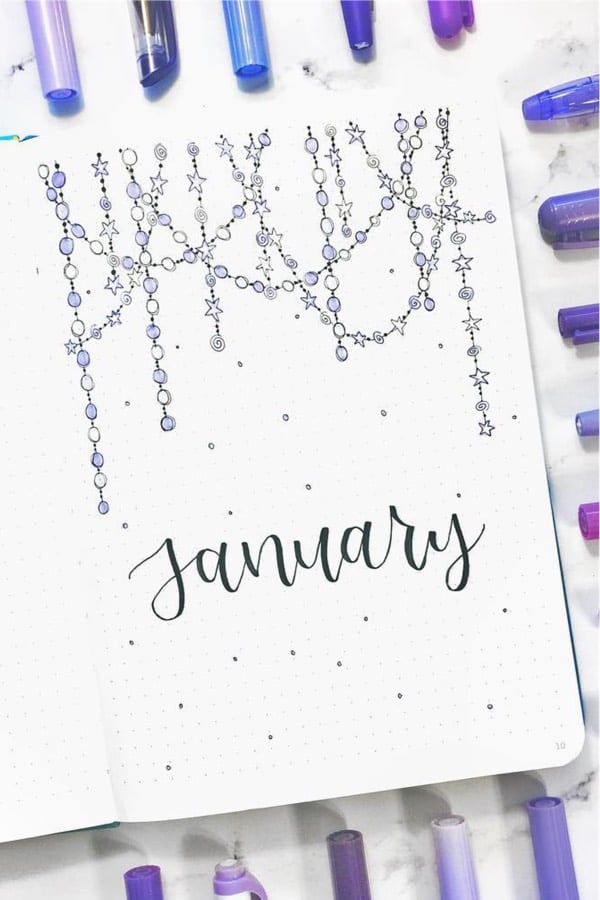 Am obsessing over this cover right now. So elegant and dainty. The purple theme going on is spectacular. The hanging light and the stars are great and you can have fun by making them different colors. Source Veronica
Hello January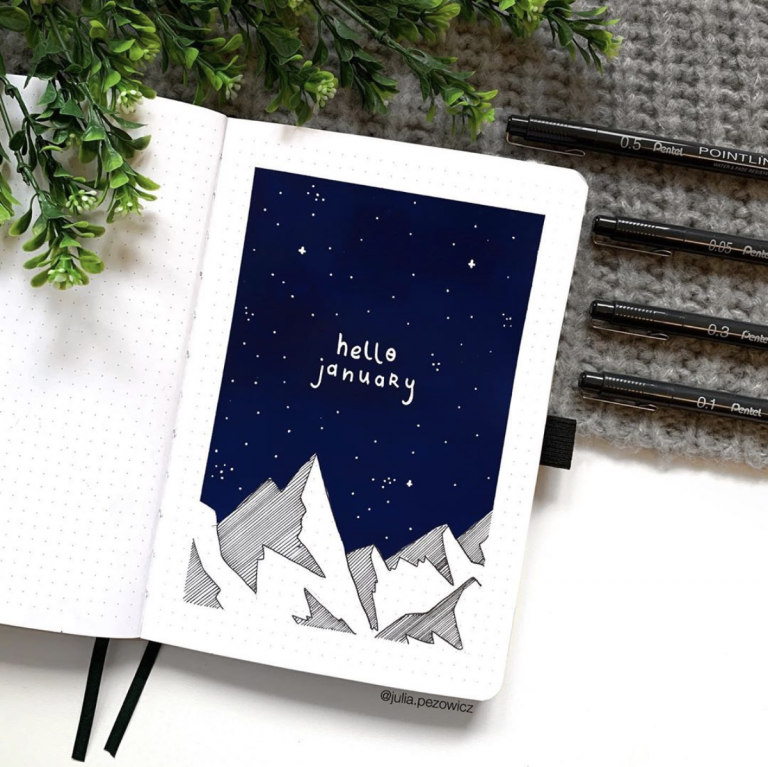 Source JULIA.PEZOWICZ
If you are looking for a unique creative cover, you found your match. The use of blue is genius and it makes the stars pop even more.
CONSTELLATION JANUARY COVER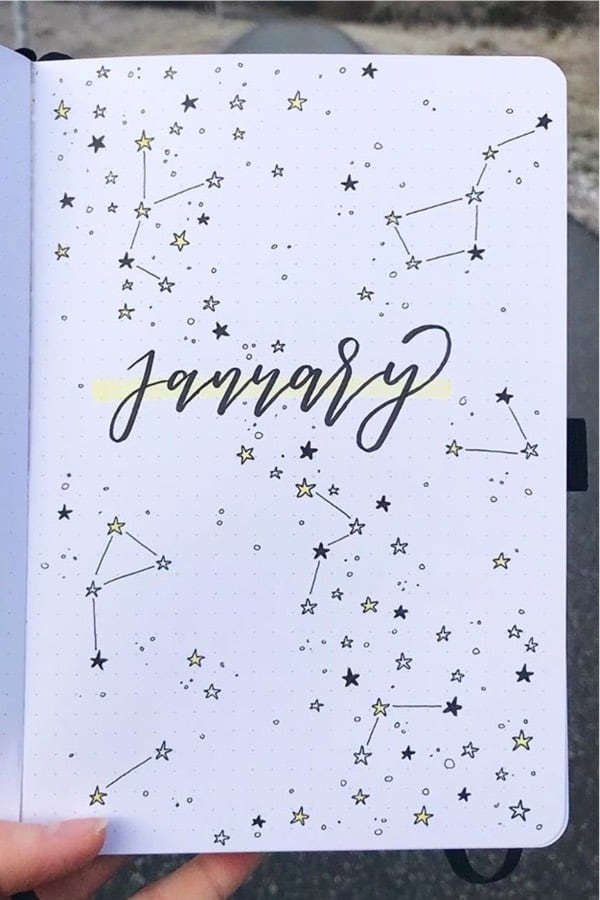 If you are a fan of galaxy themed covers this one is for you. So classic and sophisticated. Source Bullet with E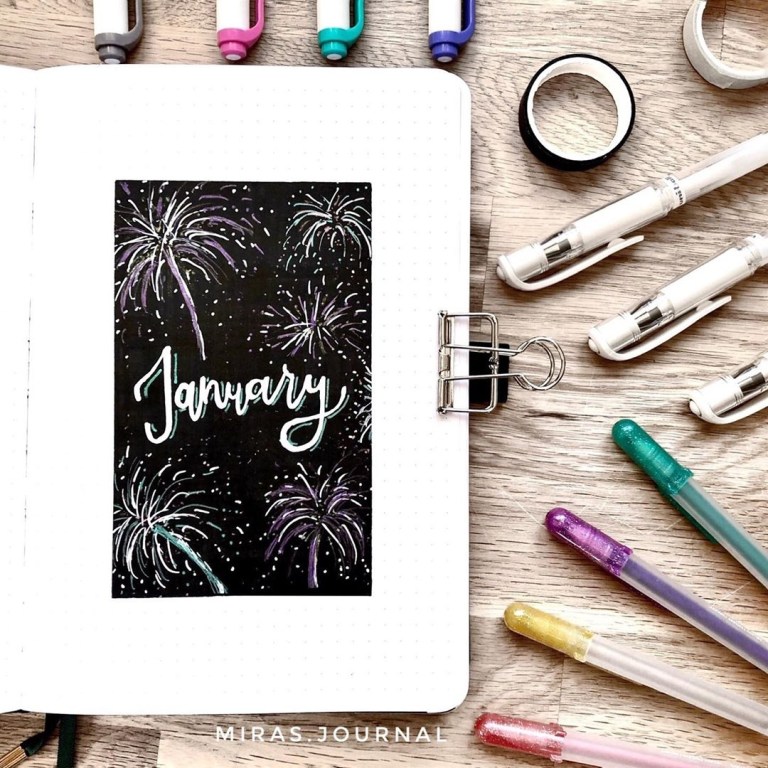 So beautiful. A great way to make the firework pop is to use a dark background and to have them in bright colors like yellows and white. Source miras.journal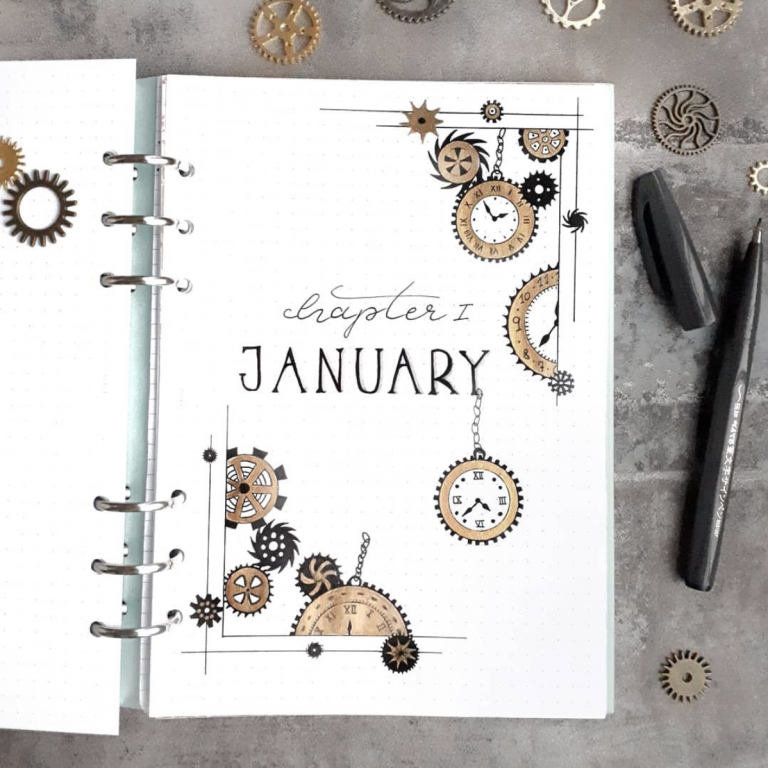 Source SERAS.BULLET.JOURNAL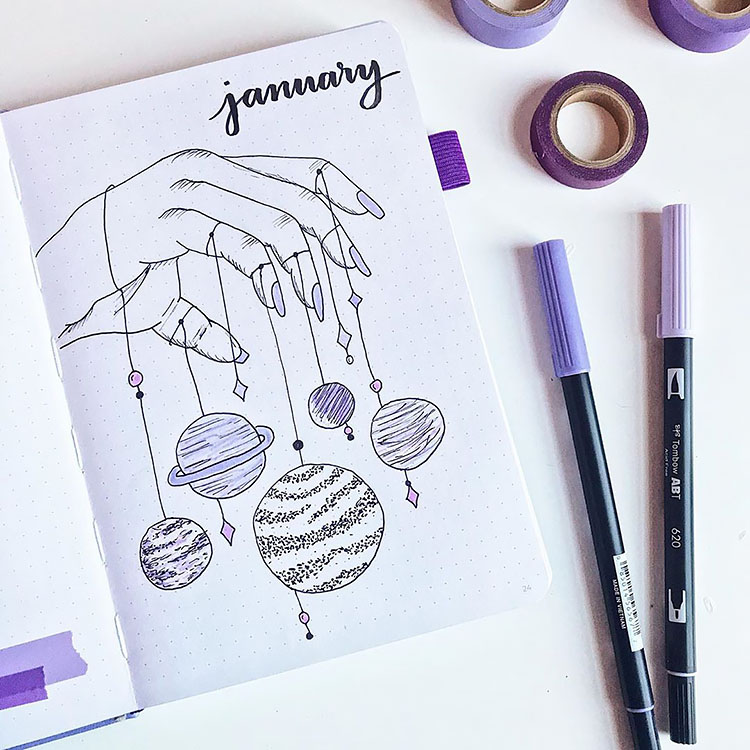 Wow, lost for words. The hand with dangling ornaments is beyond beautiful. Credit: naomi.journals
January winter cover spread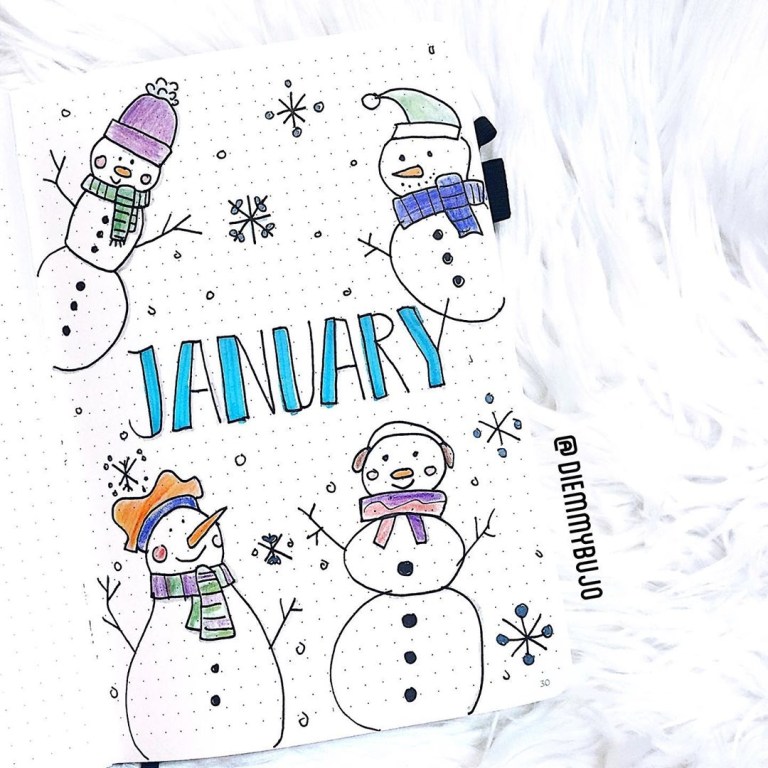 Wow, how beautiful is this January cover spread. The snowman doodles are so stunning and super easy to recreate. You can have some fun by using different colors on the scarves. The combination of the snowflakes and the snowman adds that winter aesthetics so perfectly. Source diemmybujo
Cheers to the new year vibes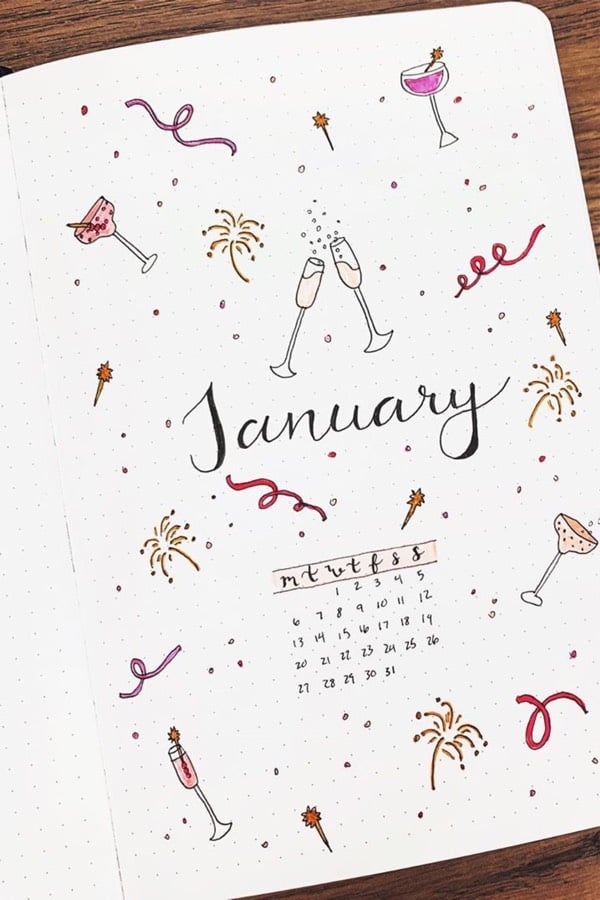 No better way to usher the new year in than with a glass of wine. The miniature calendar is so spectacular. Confetti and champagne is a perfect combination for your bujo. Source Annie Zhang
Succulent inspired cover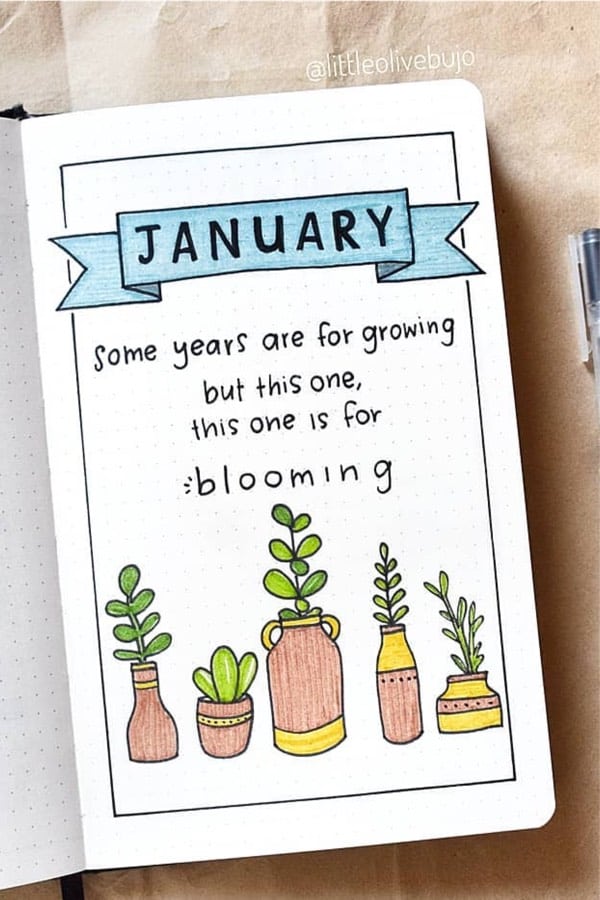 It's time to bloom. After 2020 we all need some fresh vibes and lots of energy coming through to 2021. I love this quote
"Some years are for growing, but this, this one is for blooming", it's awesome. It's time for a fresh start. Source Olive Bujo
Winter vibes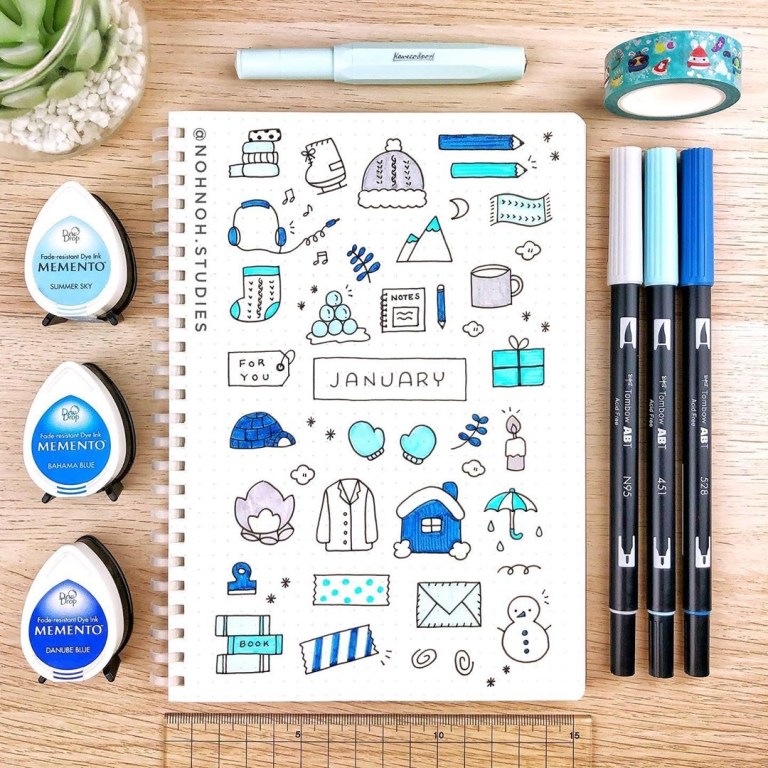 I love how the colors are popping. The blues are phenomenal and the best part is that for the January lettering you can use different colors as you recreate this cover. January is all about winter vibes, the coats, beanies, umbrellas, snowman and so on. You can have as many or as few winter doodles as you want. Source nohoh.studies
January bullet journal fireworks theme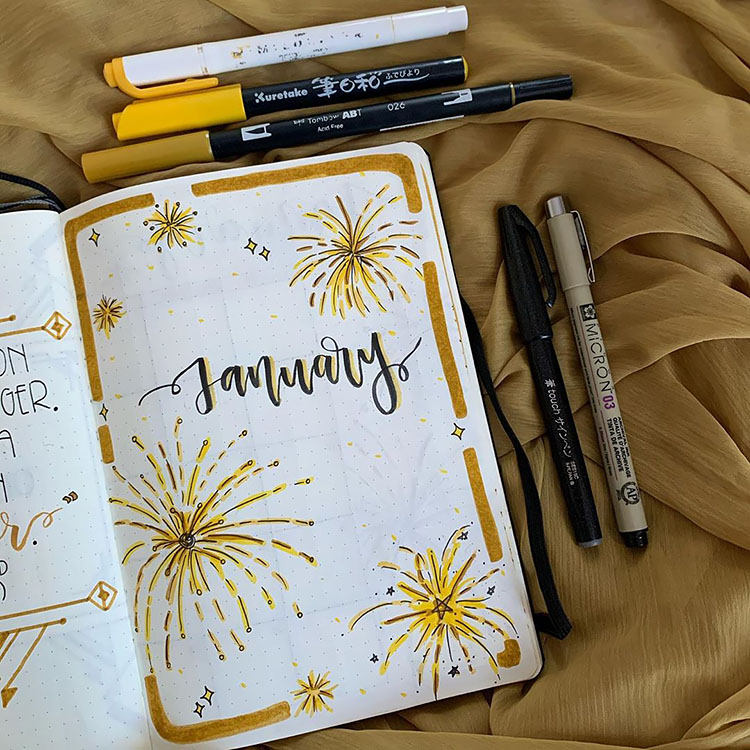 Credit: bujobyprav
So vibrant and celebratory.
Bird themed January cover theme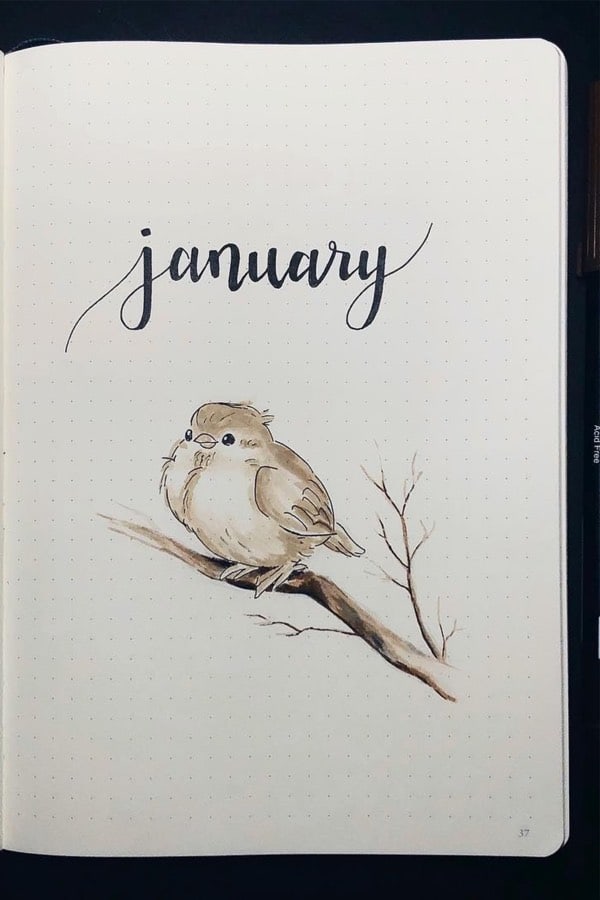 This bird theme cover from Sophia is so beautiful and elegant. The bird is so cute.
LANTERN MONTHLY COVER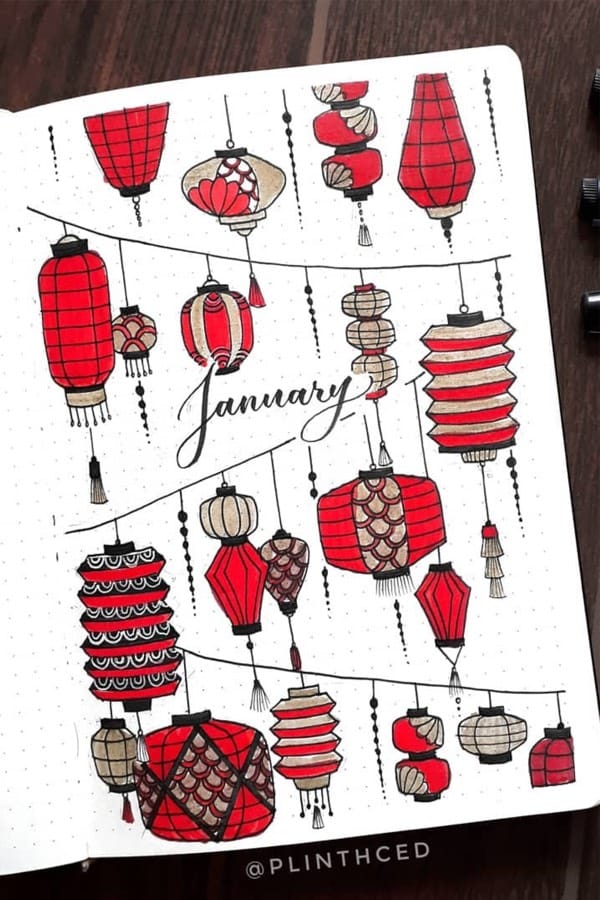 I love bujos with vibrant colors because they brighten the whole month's mood. The red lanterns and the decorations are so beautiful, am sure you will love them.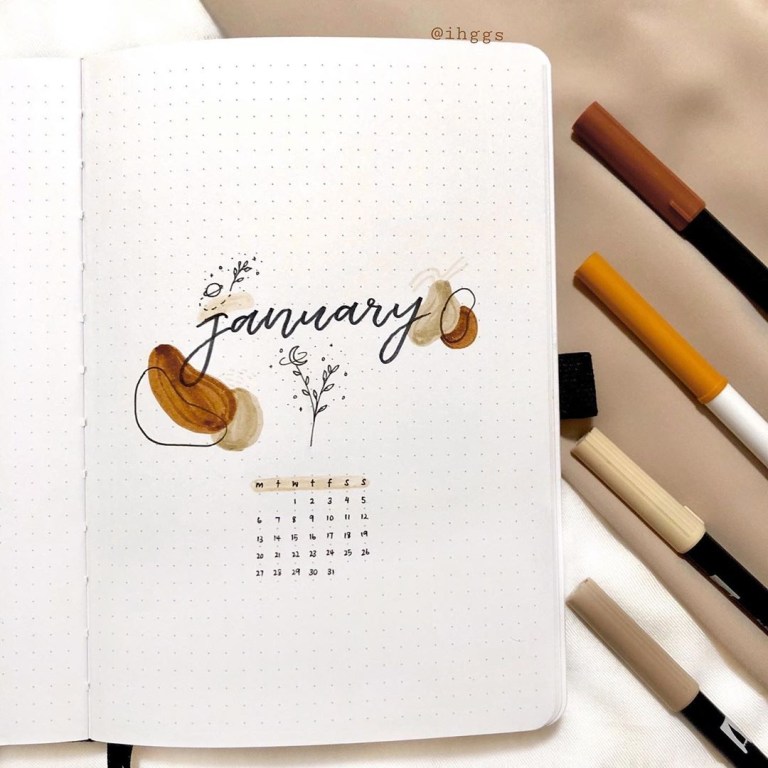 So dainty. I love how simple the January lettering is and the addition of the mini calendar is awesome. All the little details are so unique and they make this cover chic, sophisticated and unique. Source ihggs
January bullet journal cover spreads: Floral theme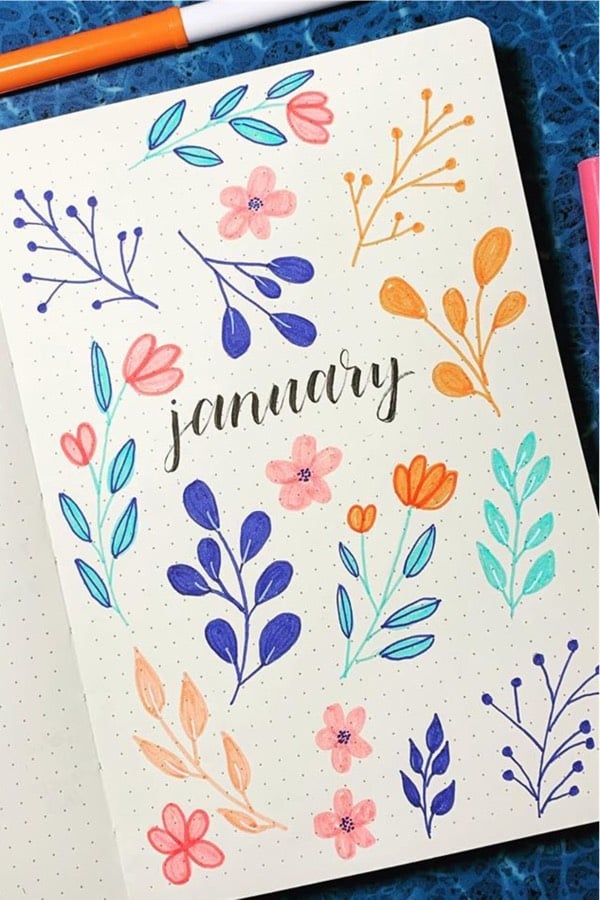 Who don't like the vibe that flowers bring? So much joy and happiness. We can all agree that this bujo take flower coloring to a whole new level. You can change up the colors to your preferred ones. Vibrant colors makes your bujo pop. There is no better way to add cheer than with these vibrant cover idea. Source Amandas Recreations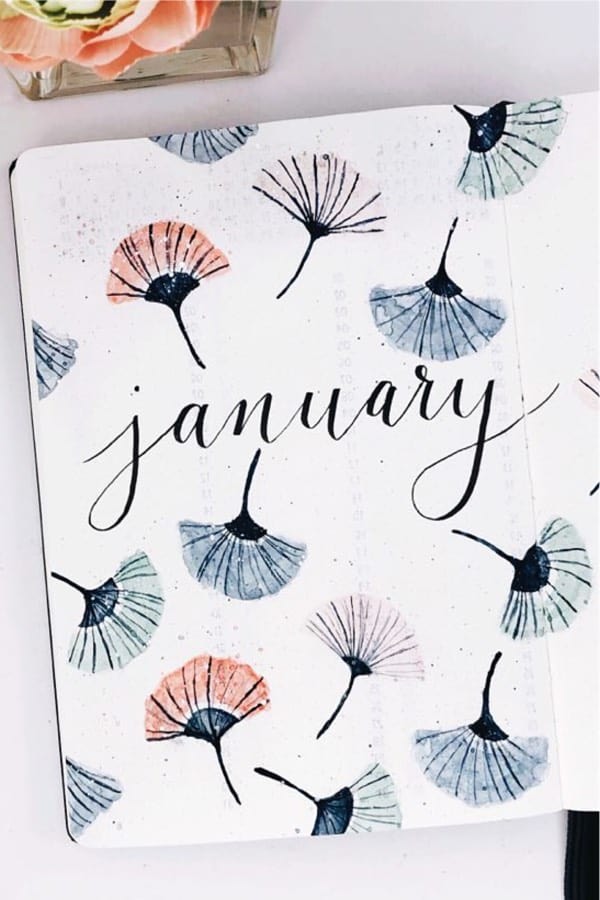 Another colorful cover idea to inspire you. Source Coffee & Sarcasm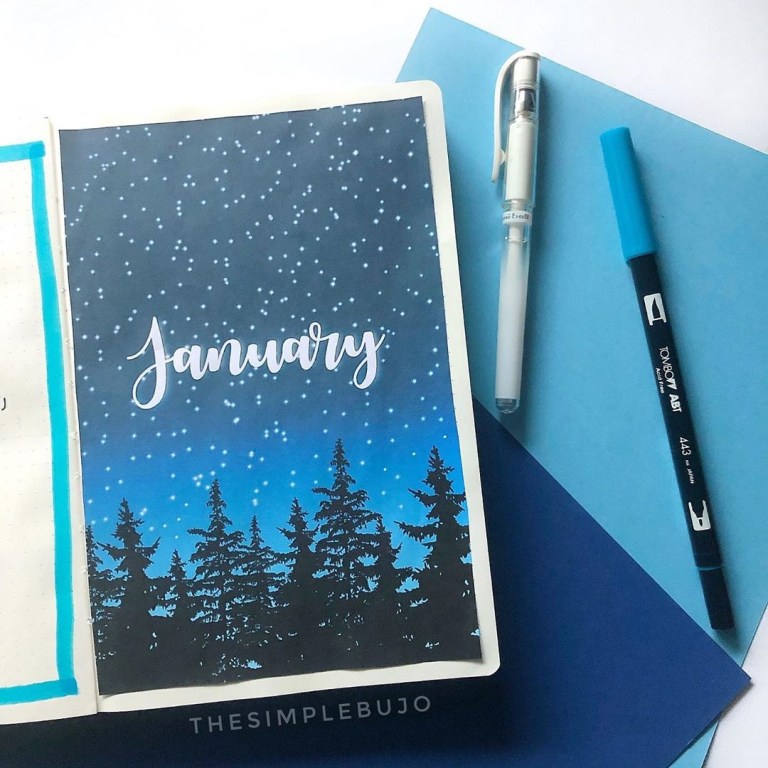 If you are new to watercolors cover pages, this is the best time to practice. This January cover page idea shouldn't scare you, there are so many tutorials on YouTube that can help you get started. Always have in mind that it doesn't have to be perfect. Source thesimplebujo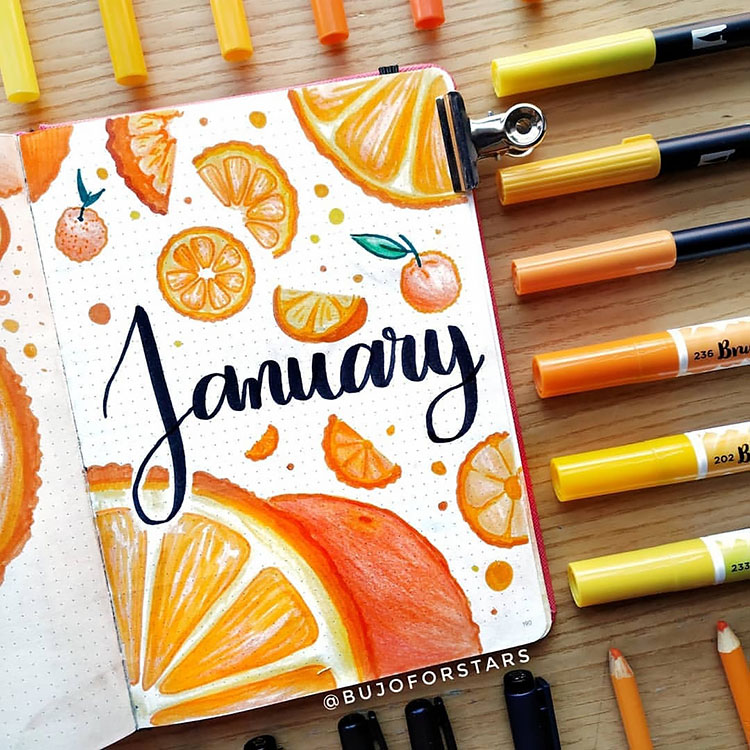 Credit: @bujoforstars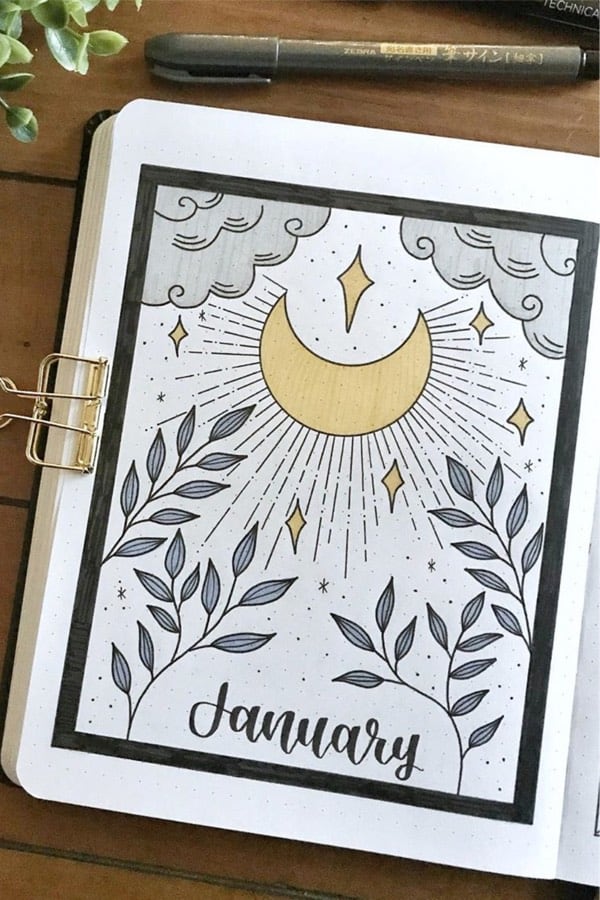 This bujo cover spread looks like something you can see in an art gallery. Very exquisite. I love how detailed it is, the moon, starts and the leaves are simply divine. Source Andrea on Instagram
Classic January cover spread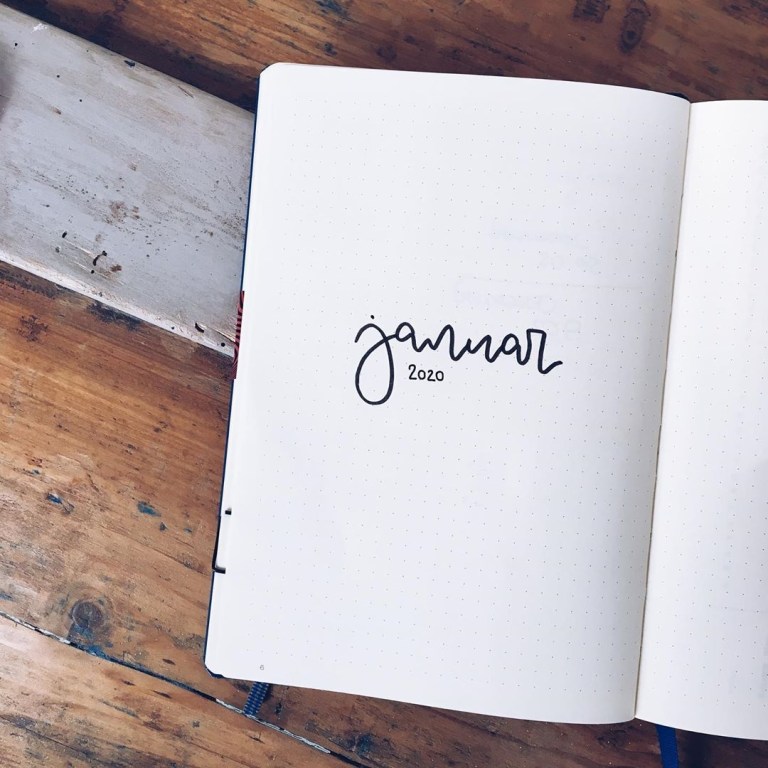 So simple and classic. To recreate this you don't need to be so artistic. The lettering is so beautiful and unique. Source bu.journal.love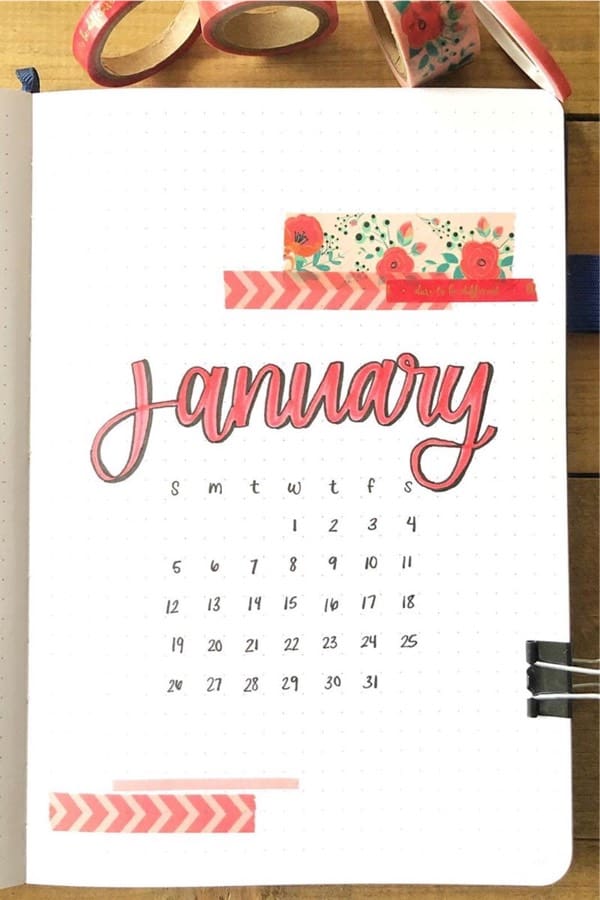 I love the addition of the calendar on this cover spread which makes it so unique. The washi tape adds to the uniqueness to the cover. Source Julia journal
Floral wreath January cover

Credit: @byclairee
Super clean, sophisticated and so classic. Floral wreaths are always a great idea to add to your cover spread. You can have so much fun with different colors.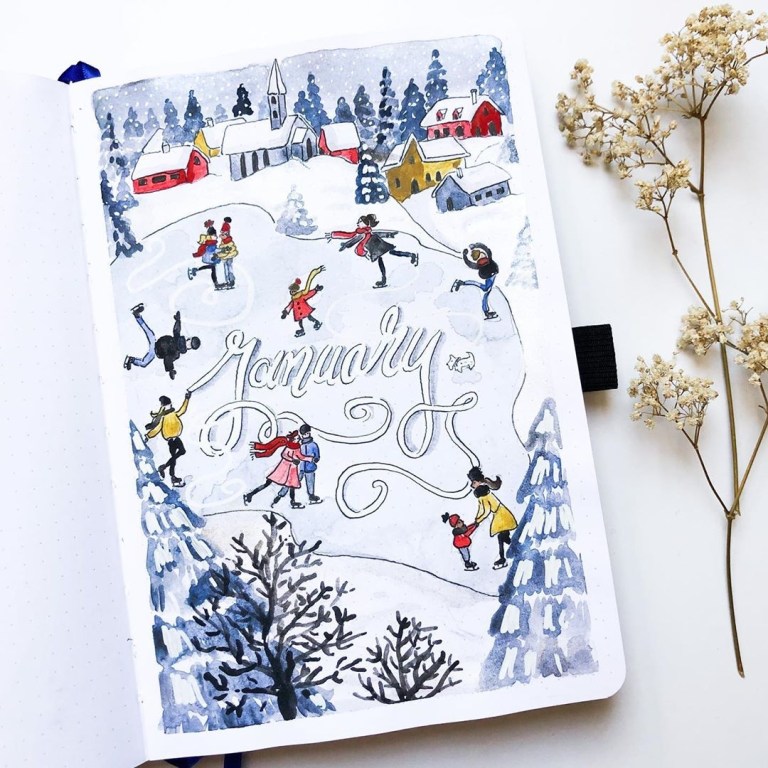 One of the best January bullet journal cover spread. Doesn't it make you excited for the new year? This one goes to show that there is no limitation to what you can create. Source constancechel
Light bulb January cover spread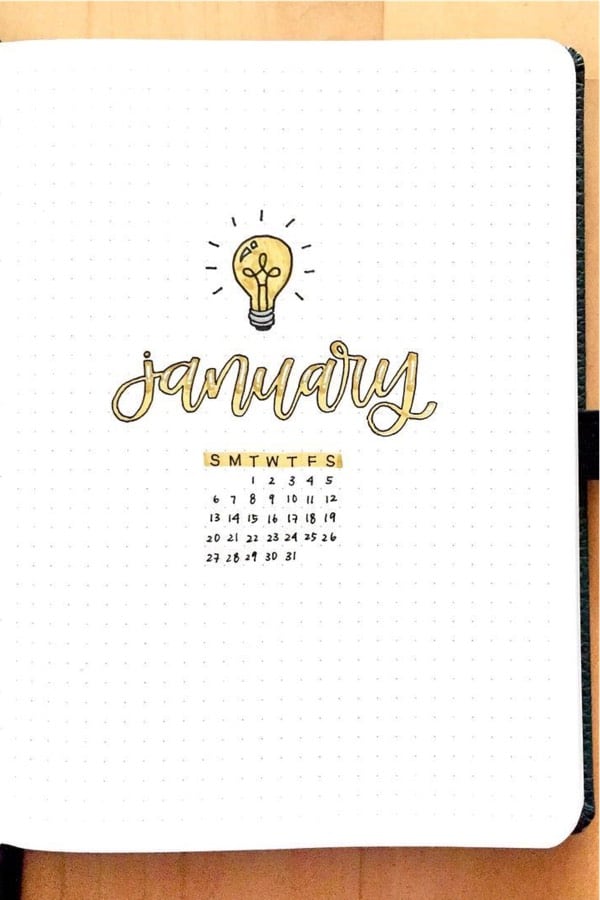 Start off the year with some light shinning your way. New year. New mindset. New you. Source Kelly
Hello January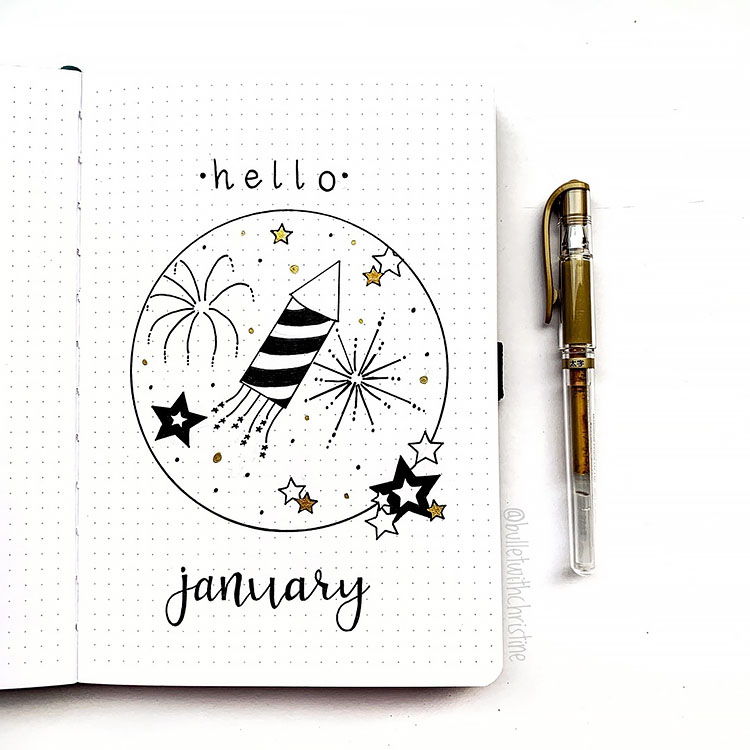 Hello January and happy 2020. Am obsessed with this January cover idea, it's so beautiful, classic and chic. All the details are so beautiful and unique. Credit: bulletwithchristine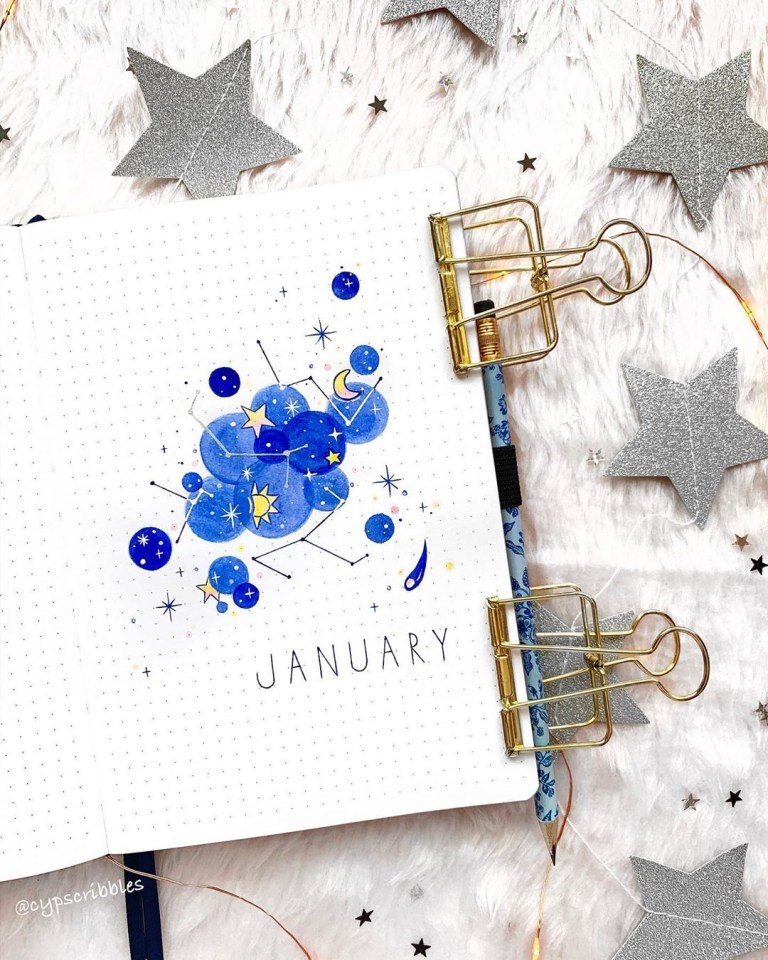 Looking to include some constellations to your January cover page then this idea is for you. It's so magical. Source cypscribbles
Yellow vibes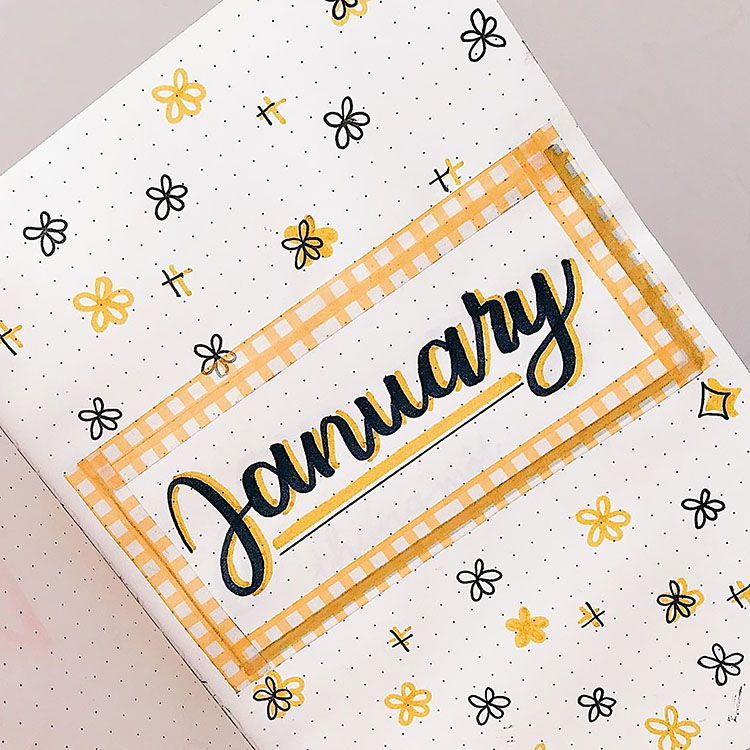 Vibrant colors always brighten the whole mood. The hand drawn flowers, crosses and diamonds are so beautiful and I love the combination of the yellow and the black which improves the overall design. Source fuostation
January bullet journal cover spreads: Minimalistic
Am obsessing with this cover. Anyone can recreate it. You don't need to be so artistic to achieve this. The Cursive lettering and a cute balloon are so beautiful and they make this cover so chic. Source Jeanne
Everything about this cover spread is beautiful. The different patterns and shapes make it even more unique. You can have fun with the colors which will make your cover page pop. Source mochimoonstudio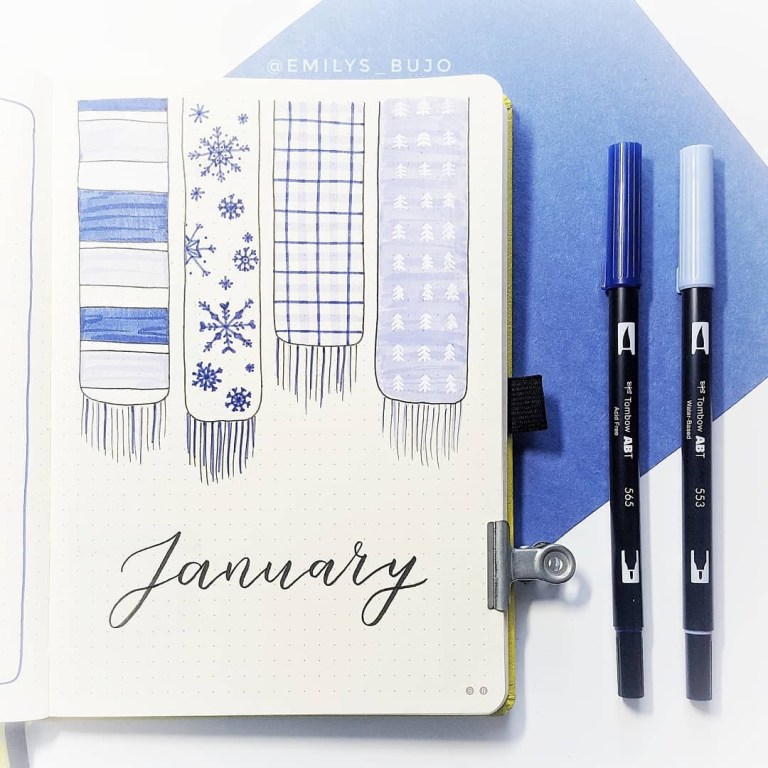 This January cover spread is so beautiful. The scarves screams winter and the different patterns and details makes this spread so unique. Source emilys_bujo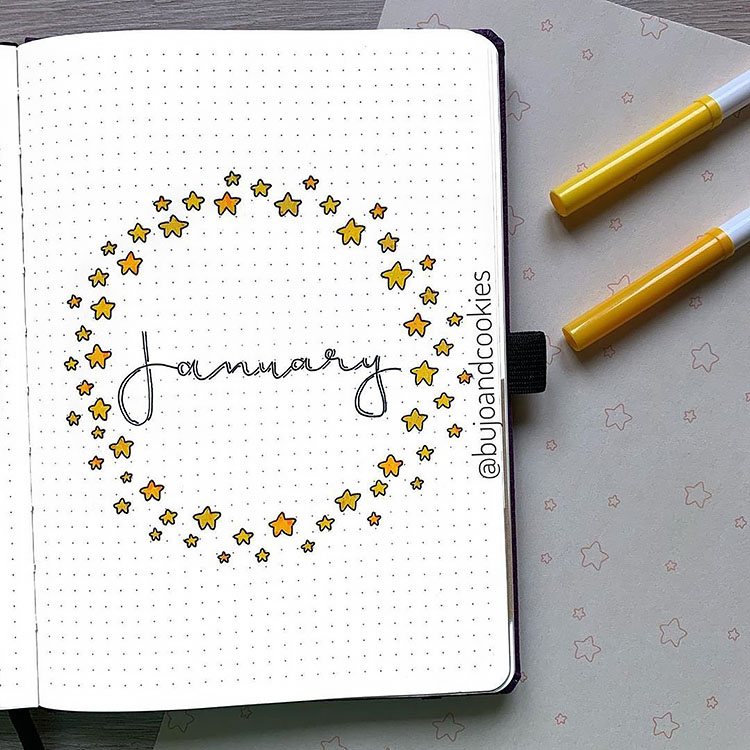 Credit: @bujoandcookies
Bees and Honeycomb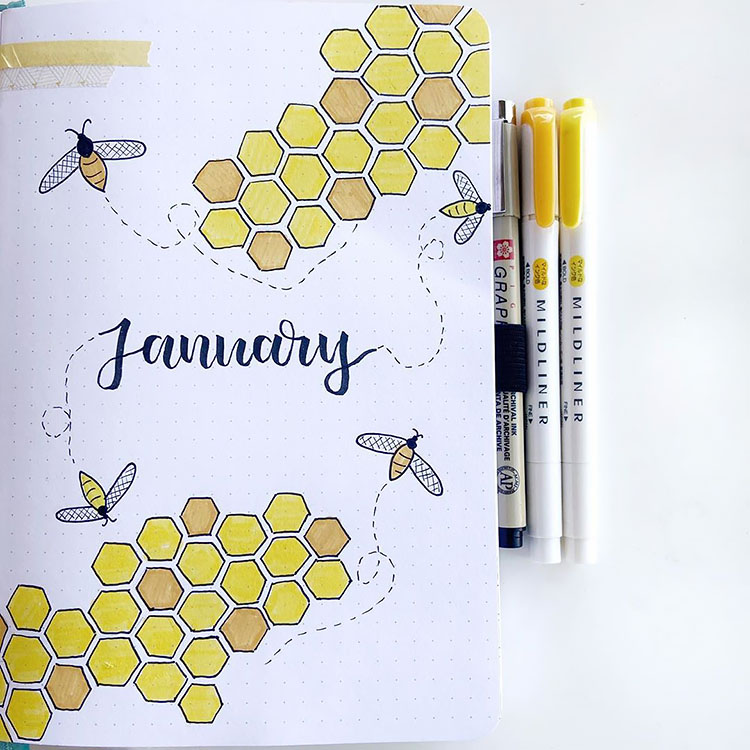 This design never goes out of style. You can use it for most of the months by simply changing the month. The washi tape on the corner adds some extra vibe to the design. If you are a fan of bees, then this cover ideas is for you. Source journaling.jenna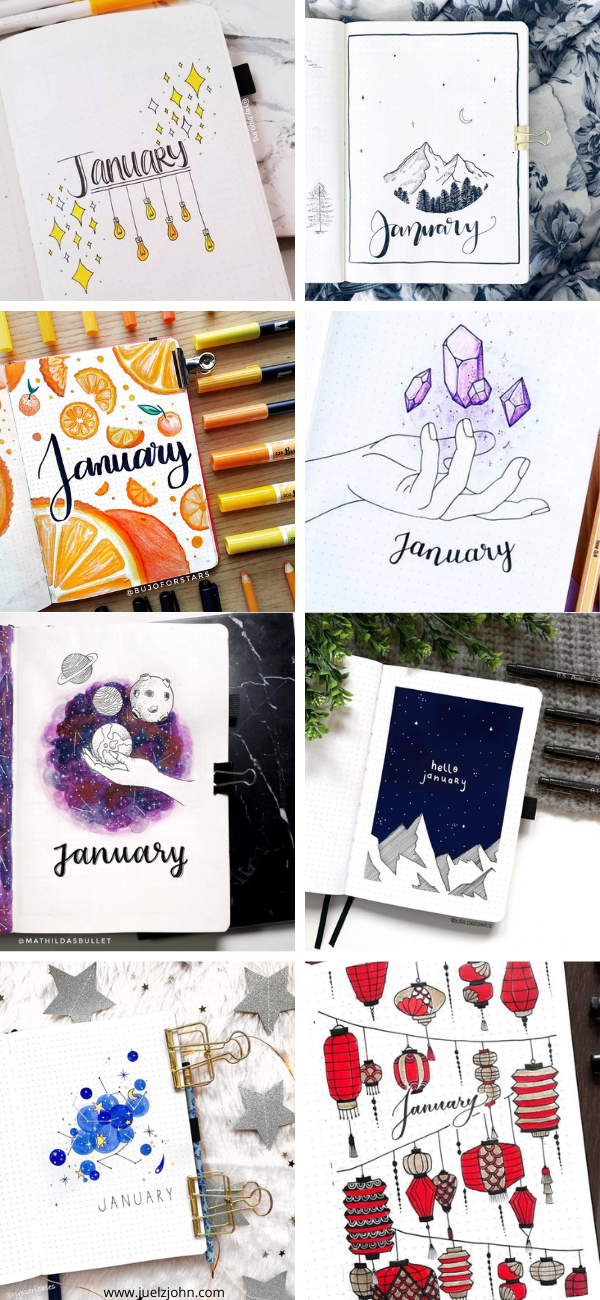 There you have it, amazing and beautiful 39 January bullet journal cover spreads to inspire you. So many designs and styles for you to choose from. Covers such as winter-inspired, constellation vibes, minimalist styles, and so on. I hope you found one that is going to recreate.
HAPPY 2021