These low carb dinner recipes will change your life. Making dinner on busy weeknights will be a bliss. It's a perfect way for you to cut carbs and still enjoy mouth-watering delicious dinners.
There is a big misconception that low carb dinners are tasteless, in reality, you can still have your cake and eat it. These easy dinners are so good, your non-low carb family and friends won't tell the difference. The best part is that you will be able to stick to a healthy eating plan resulting in weight loss.
Most of these delicious low carb dinner recipes will be ready in 30 minutes or less. Not all low carb dinners have to keep you in the kitchen for hours. If you are looking for easy quick dinners, you are in for a treat. Sometimes it can become a habit eating the same things like chicken, salmon, and turkey over and over again, you will find a wide range of low carb dinner recipes to choose from here. From zucchini boats, creamy garlic butter chicken to pork bites.
Garlic Butter Pork Bites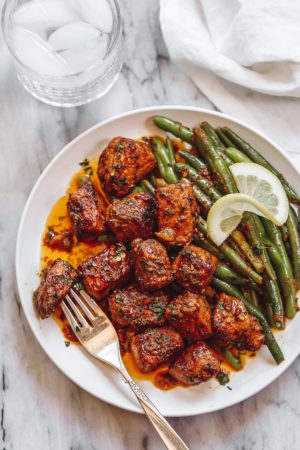 Garlic butter pork bites recipe with lemon green beans that the whole family will enjoy. This dish is so flavorful and extremely easy to throw together. The pork bites are so tender with crispy edges which are cooked to perfection. It's gluten free and low carb. Once you try this low carb dinner it will be in your weekly rotation.
Source Eatwell
Creamy Garlic Butter Chicken recipe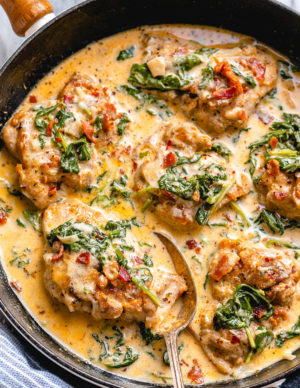 Packed with amazing flavors, so creamy, rich, hearty and everyone will love it. The sauteed garlic, bacon, and Parmesan bring out all the flavors. The best part about low carb meals is that you don't sacrifice on creamy sauces.
This meal is perfect for those busy weeknight when you don't have so much time to be in the kitchen. It's simple, fast and delicious.
Source Eatwell
Garlic Butter Salmon With Lemon Asparagus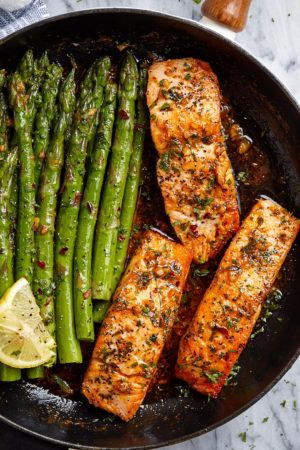 Everyone will be asking for seconds because it's packed with a lot of flavors. Such a tasty, healthy, simple and quick to cook dish. The salmon fillets are pan-seared to flaky perfection and tossed in a delicious lemon garlic butter sauce with asparagus. If you aren't in the keto or paleo diet you can serve with mashed potatoes.
Full recipe Eatwell101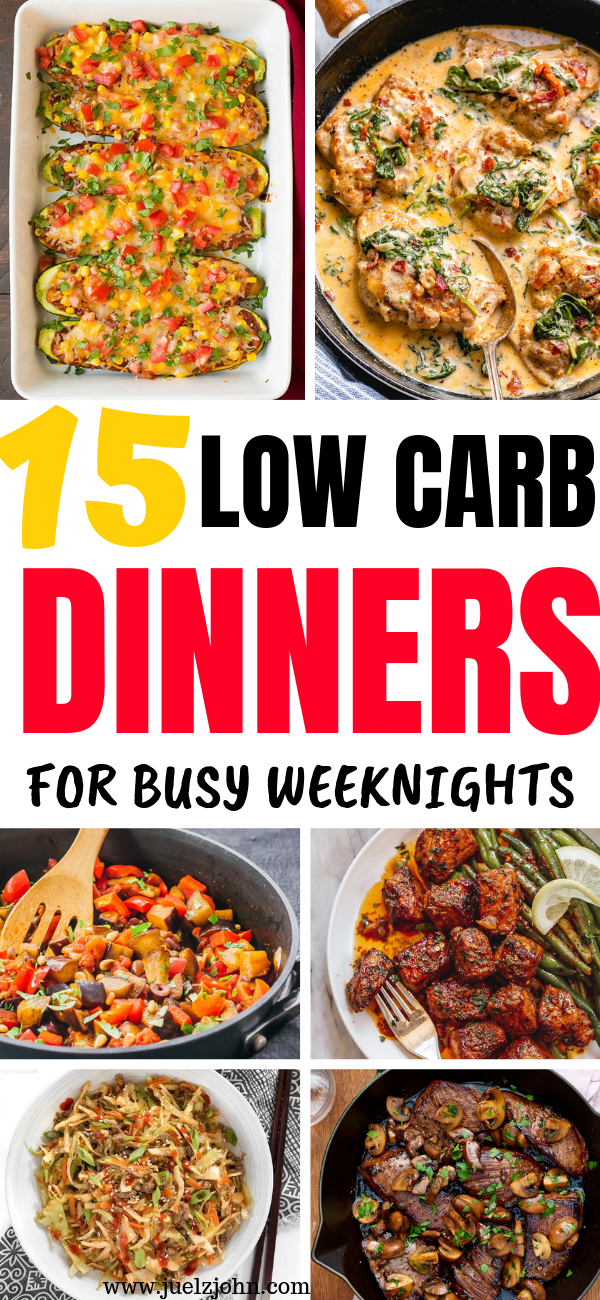 One Pan Healthy Italian Sausage and veggies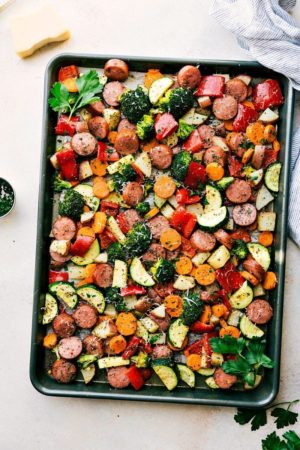 Look at how colorful this is? This meal is perfect for meal planning as well. Delicious Italian-seasoned veggies and sausage all made in one pan. Even the little picky eaters will totally enjoy this dinner. So quick and easy to prep and you can easily customize this dish by adding in your favorite veggies or substituting with your preferred sausage.
Full recipe Chelsea's messy Apron
Italian Herb Bruschetta Chicken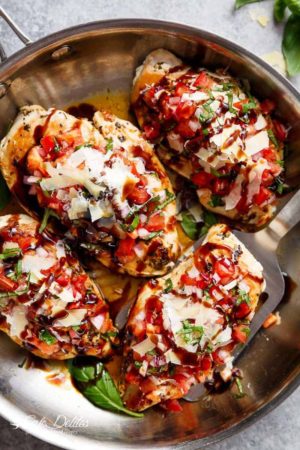 The chicken is rubbed with minced garlic and seasoned with Italian herbs. If you are looking for a light quick dinner, this is it. For extra flavor drizzled some balsamic glaze. You will be tempted to make this everyday because the chicken is so good. Perfect for lunch and salad as well.
Full recipe Cafe delites
Crispy Parmesan Garlic Chicken with Zucchini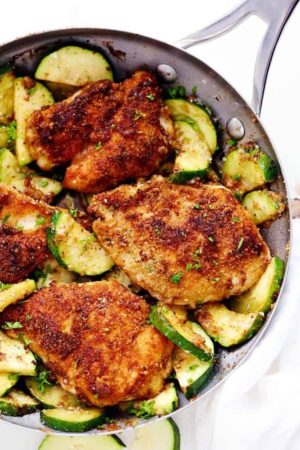 The chicken is so inviting. It will slowly become a favorite. The chicken is so tender and it's breaded with an Parmesan garlic crust and the zucchini is sautéed in a delicious buttery Parmesan garlic. So flavorful. The chicken and the garlic combination is just perfect. It only take 30 minutes.
This meal proves that zucchini is just as good sliced as it is spiralized. So if own a spiralizer you can still enjoy zucchini recipes.
Full recipe The Recipe Critic
Chicken Enchilada Zucchini Boats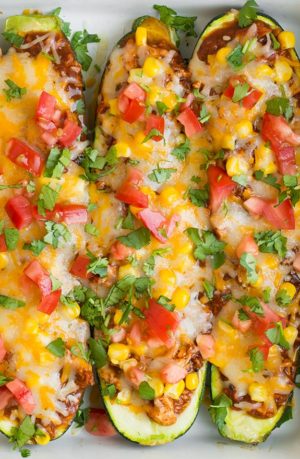 These zucchini boats are perfect for anyone in the low carb diet. You swap the classic tortilla wrapped enchiladas with hallowed out zucchini boats instead. Make sure you get wide zucchini so that you can be able to load them with so much filling.
Full recipe Cooking classy
Shrimp and Sausage Paleo Skillet Meal Prep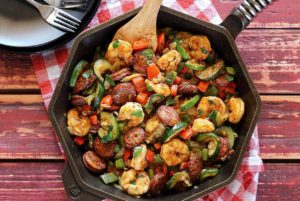 This low carb dinner idea is loaded with wholesome nutritious ingredients that makes it so delicious. Super easy and quick to make, it takes 20 minutes only. The recipe is super versatile and it allows you to change up the veggies any way you want.
Spicy, sweet and savory all in one bite. A low carb dinner that is full of flavors and textures perfect for spicing up your weeknight meals.
Source Paleo Newbie
Prosciutto Wrapped Cod with Lemon Caper Spinach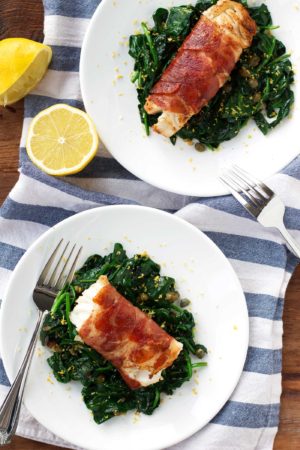 I want some of this. It looks and tastes amazing. Impressive right? So simple to make and it takes about 20 minutes to make. The combination of the prosciutto, capers, lemon, and light, buttery cod fillets is so good. Every bite bursts with flavor. A perfect light dinner option.
The prosciutto has a nice crispy exterior and a light, flaky interior which makes this dinner even more delicious. Super healthy which makes it's paleo, low carb, keto, Whole30, gluten free, and dairy free.
Source Kit's Coastal
Beef and Cabbage Stir Fry
This beef and cabbage stir fry give you the best way for you to add vegetables into your diet. It's so addictive, you will end up making it more than once a week. It's crunch, salty, and filling. This is one of the easiest low carb dinner recipes and one that is budget friendly.
You can use it as a filling for egg rolls or as a main dish as well. This dish is so tasty you can be sure it's going to be a bit hit.
Full recipe Budget Bytes
Low Carb Dinner Recipes: Meatballs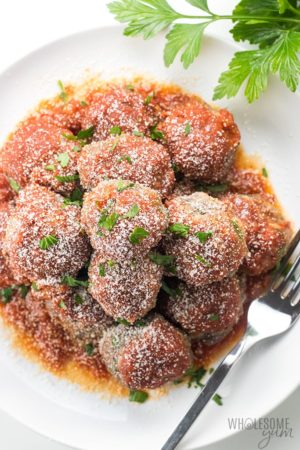 These meatballs are gluten free, nut free and they are perfect as appetizers as well. You won't be able to tell the difference from the regular ones because they taste like the real thing. To have the meatballs juicy and tender you need to soak the ingredients first in your preferred milk or heavy cream which helps to improve the texture.
They refrigerate so well, which makes this recipe perfect for meal planning. Also means you can make them ahead.
Full recipe Wholesome Yum
Eggplant Caponata Skillet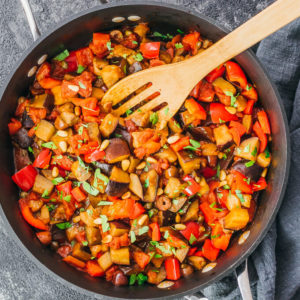 Another low carb dinner recipe that is delicious and versatile dish with tomatoes, peppers, olives, and pine nuts. You can make it your own by adding your favorite ingredients. It can be enjoyed as an appetizer, side dish, main entree, hot or cold.
It's vegan friendly.
Source Savory tooth
Low carb dinner recipes: Pizza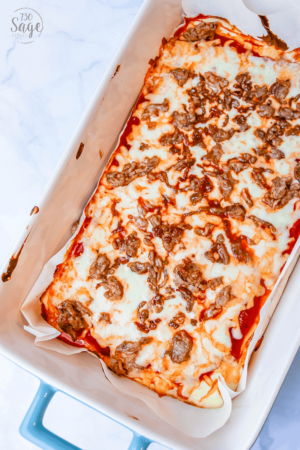 Whoever said low carb dinners are boring hadn't tried out this pizza. It's perfect for Atkins, low carb, keto & anyone looking to reduce their carb intake. To top up the flavor you can add some fresh chopped basil on top or grated Parmesan.
Since the crust is not as crispy as the traditional pizza make sure you cook it until the top is golden brown and let it cool the full 10 minutes before adding the toppings.
Full recipe 730 Sage Street
Pizza Supreme On Cauliflower Crust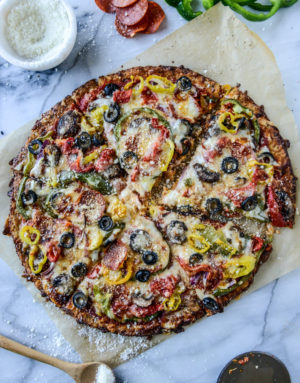 This pizza swaps the usual doughy crust for a low-carb version made out of cauliflower so you can get your pizza fix without loading up on carbs. Cauliflower is versatile low carb vegetable, that you can't afford to miss and the best thing is that there is so much room to be creative.
There is lots of cheese in the crust and cheese on the pizza, for all the cheese lovers will fall in love with it. This dinner idea is super delicious and it has semi-crispy like traditional pizza crust that everyone will love.
Source How Sweet Eats
Buffalo Cauliflower Lettuce Wraps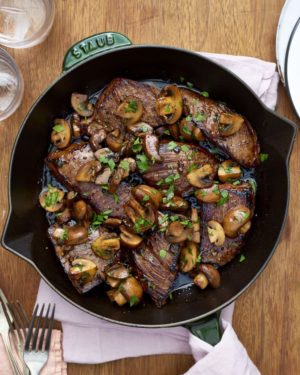 These lettuce wraps are super satisfying and crowd pleasing. Perfect as a fun appetizer or game-day snack. Everyone will fall in love with these lettuce wraps because they are crunchy, spicy, salty, sour, and creamy.
Full recipe Kitchn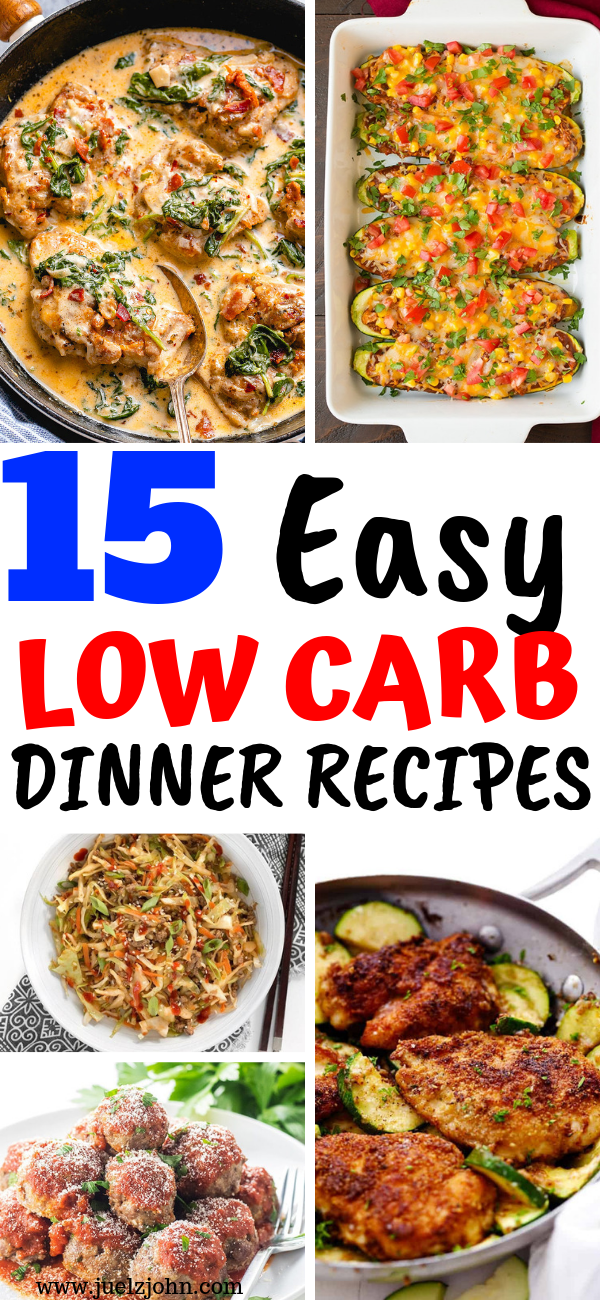 There you have it amazing low carb dinner recipes that are so simple and quick to make. Everyone can whip them together in a hurry. Most of them you can make ahead of time or cook in batches for them to last long.
You might also like:
17 Easy low carb recipes you must try ( Super delicious & perfect for weightloss)
Best low carb keto soup recipes that'll make your mouth water
15 Easy vegan recipes you can make on a tight budget