These easy low carb recipes will make your life easier. They are easy to make, quick, delicious, nutritious, and perfect for weight loss. If you are looking for low carb meals you are in the right place. You will absolutely love them. They are so good, you won't even miss the carb-loaded meals like pasta.
Low carb recipes are well known for being effective when it comes to weight loss. Unlike other diets, low carb diet has shown amazing results. What I like most is that they don't have to be expensive, this list will prove that. You can minimize the course by buying vegetables that are in stock, buying meat when it on clearance or sale and sticking to affordable low carb foods like eggs, chicken, cabbage and ground beef.
17 easy low carb recipes that will help you with your weekly meal prep plan. You will get different options from breakfast, lunch, to low carb dinners. It will be easy for you to stick to your diet. Eating low carb meals doesn't mean you stop eating the things you are used to, you simply cook them differently or find a better substitute. For example, instead of French fries, you can have zucchini fries.
(This post may contain affiliate links. Please read my full disclaimer for more information. As an Amazon Associate I earn from qualifying purchases)
This post offers you 17 super tasty easy low carb recipes but if you still want to explore more options I highly recommend this Low Carb Weekly Meal Plans which will provide you with more easy and delicious low carb recipes, shopping lists, all macros calculated right straight into your inbox. Start a free trial here.
One Pan Healthy Italian Sausage & Veggies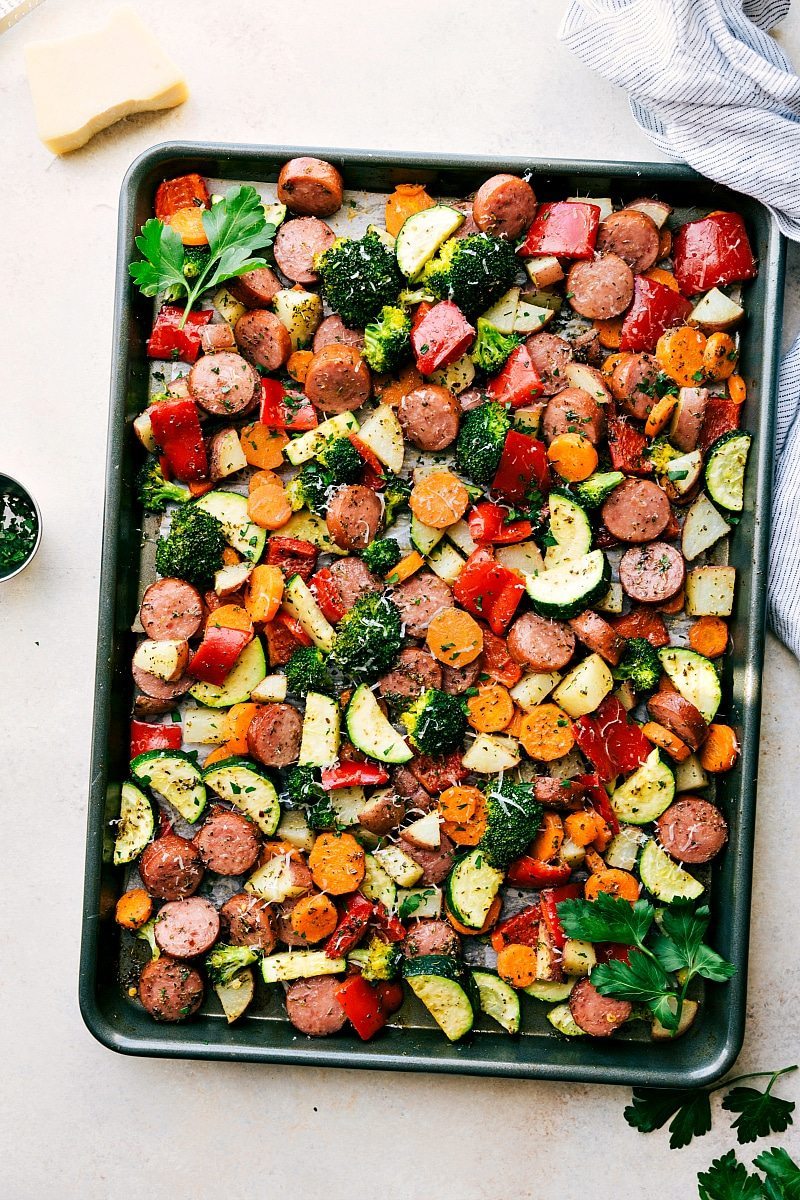 This dish is so easy and quick to make and veggie prep is fast as well. Packed with ton of flavors and you can customize it to your liking by adding your favourite veggies and sausage. For instance, if you can't find Italian sausage you can use regular turkey sausage and it will still be delicious.
The secret to roasting the veggies properly is using a large sheet pan, which makes sure that they aren't overlapping or jammed. That affects the taste and the texture of the dish. This 15 by 21 Inch non-stick mega sheet pan is perfect if you need one.
Full recipe Chelsea's messy apron
Easy Balsamic Glazed Steak Tips & Mushrooms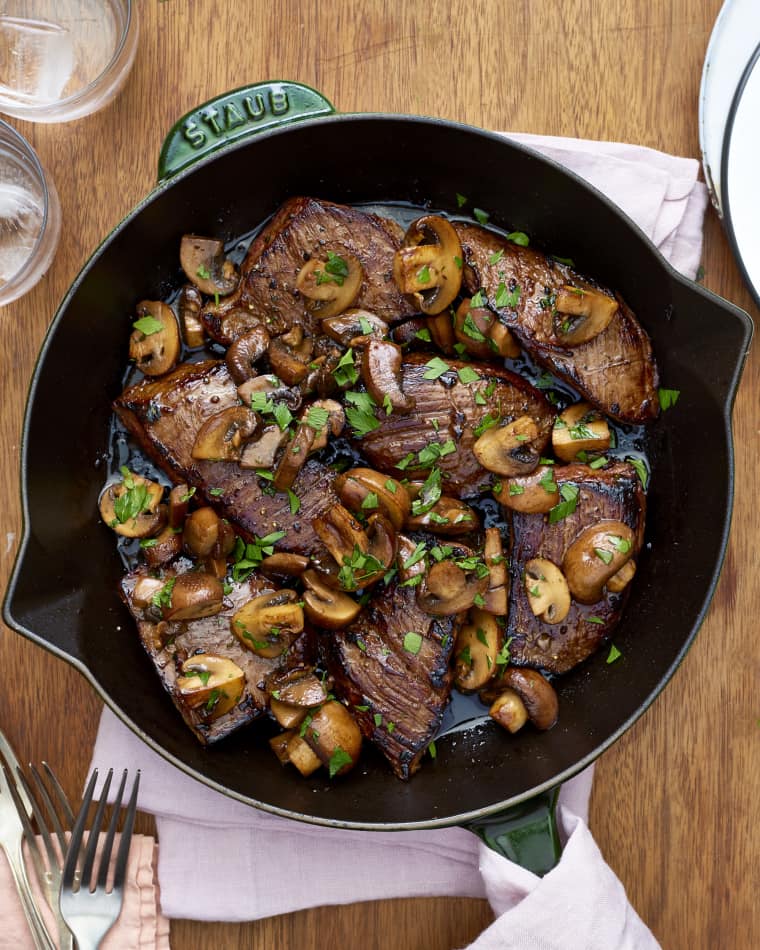 This glazed steak tips and mushroom meal is so tasty and juicy. Make sure you brown the meat. A tip is to crowd the pan which ensures that the marinade doesn't drip off into the bottom of the pan and burn.
You can serve it with mashed cauliflower.
Full recipe Kitchn
Italian Herbs Bruschetta Chicken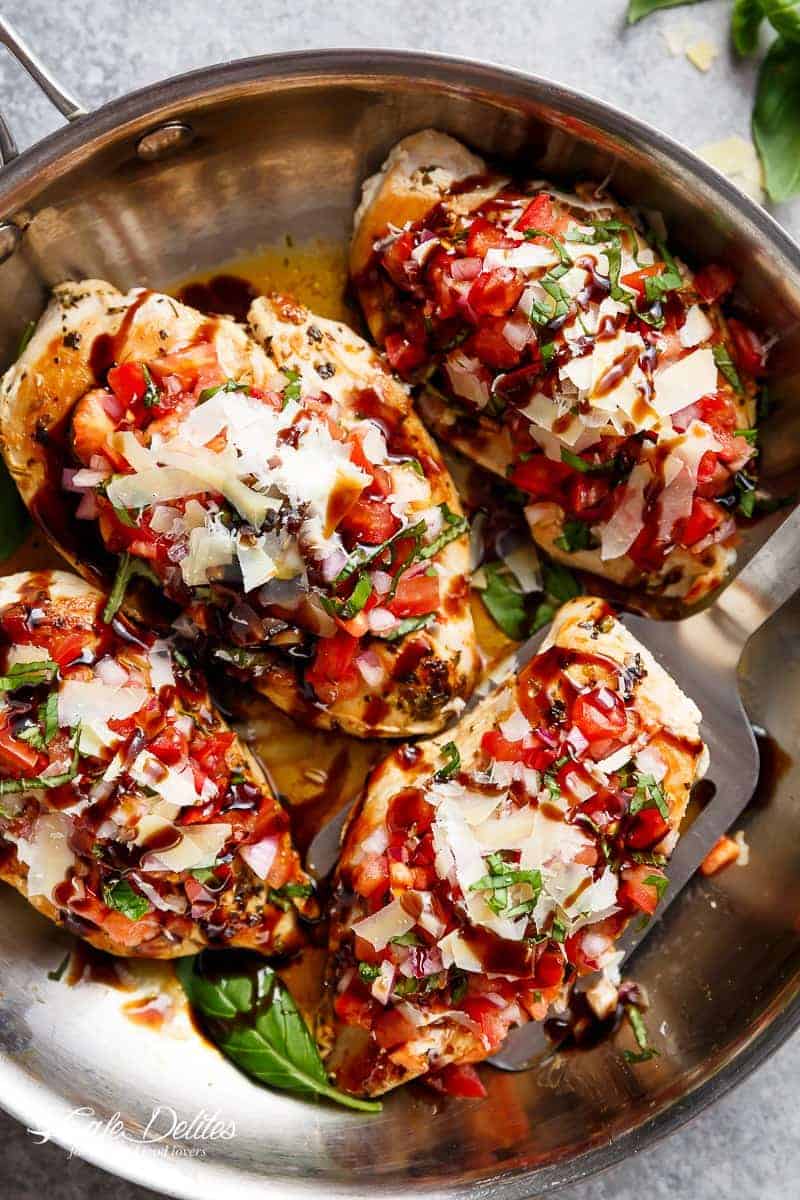 This chicken is delicious, fresh, flavorable, light and extremely easy to make. Perfect for a weeknight dinner or even lunch and enjoy it salad. If you will be running short of time, you can prep the bruschetta toppings the night before which actually allows the flavors to blend and marinate. You can cook your chicken the day before as well.
You can serve it with steamed broccoli and cauliflower.
Full recipes Cafe Delites
Low Carb Keto Pancakes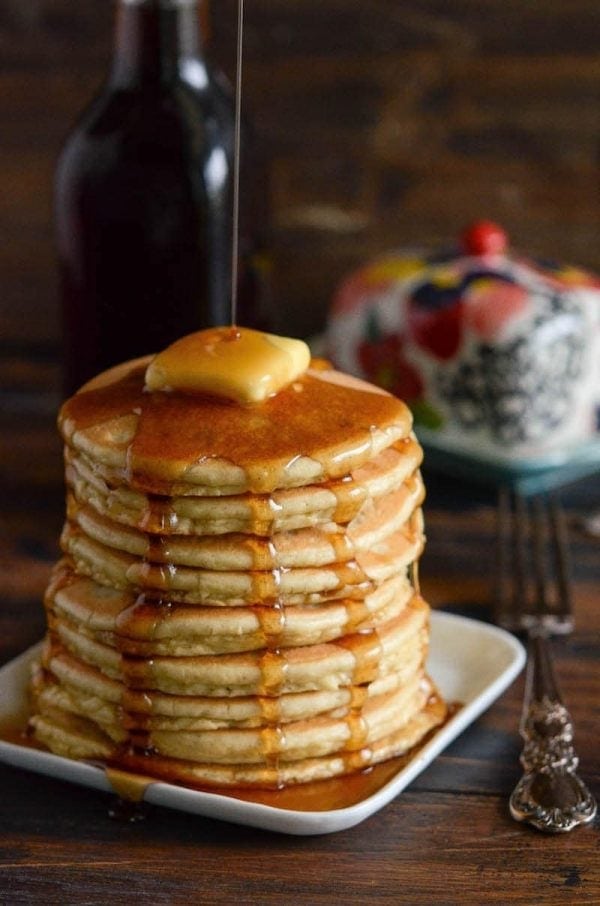 These low carb pancakes will leave you speechless. They tastes heavenly and you won't notice any difference from the real version. They have only 4g net carbs per serving and they are made with almond flour and cream cheese.
They are so fluffy, light, gluten free and delicious. You can top with butter and syrup.
Full recipe The Novice Chef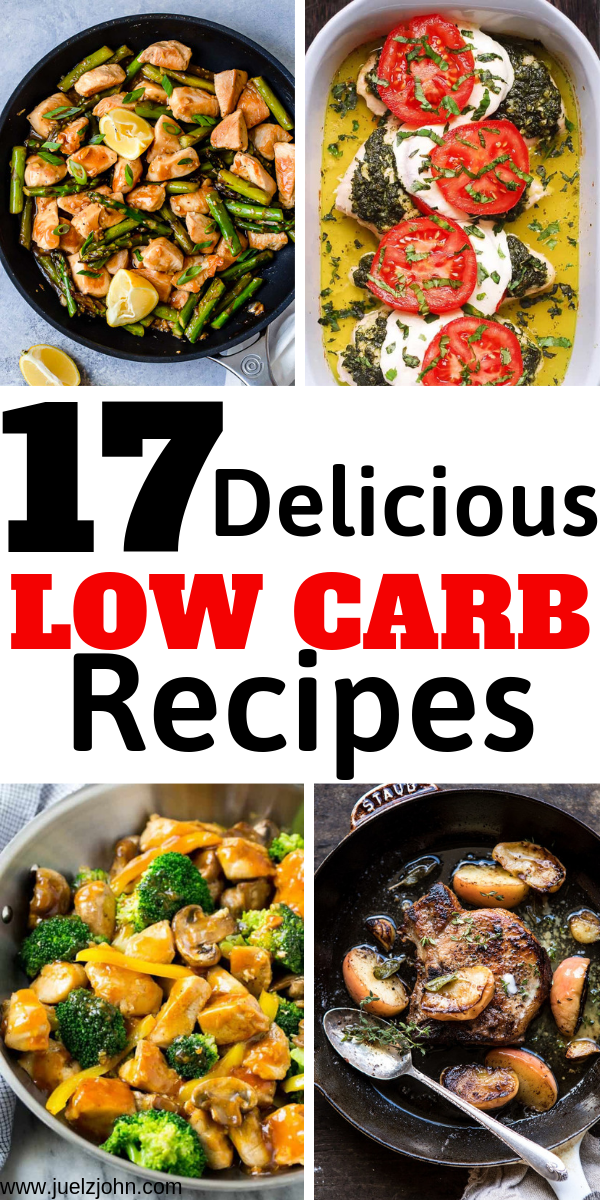 Interested in more low carb recipes?
Best low carb keto soup recipes that'll make your mouth water
Easy keto dinner recipes: 15 Low carb meals that will help you stay in ketosis
15 Delicious low carb dinner recipes that'll have you salivating
One Pan Lemon Garlic Baked Salmon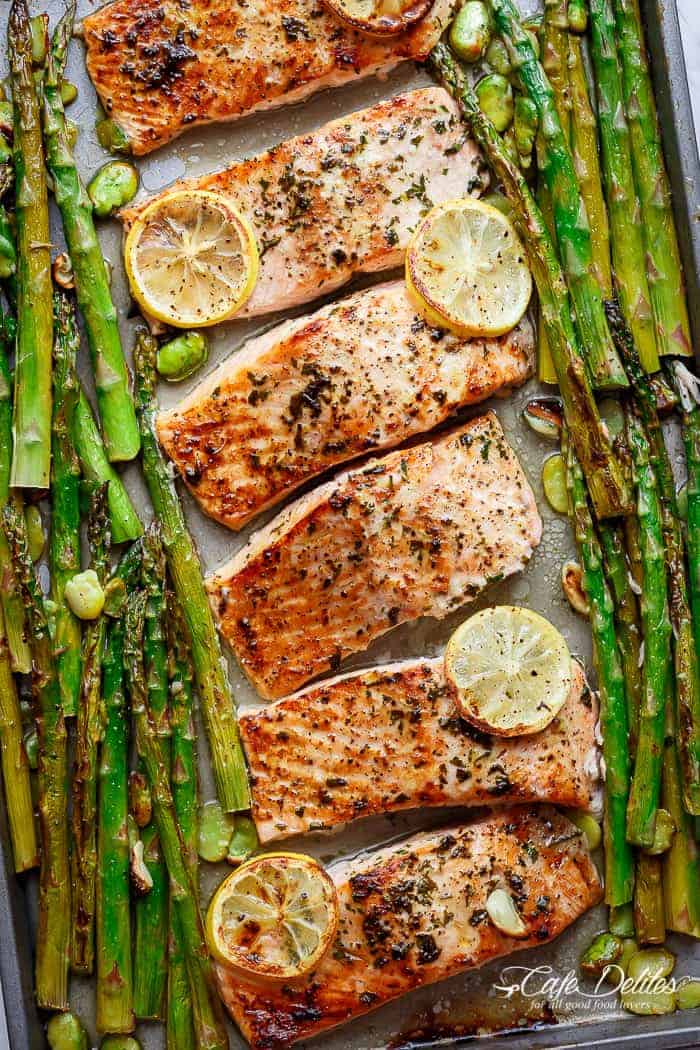 Am obsessed with this meal option. My favourite in this round up of easy low carb recipes. Full of flavour and it's easy and fast to make. You only need 10 mins. The combination of lemon, garlic and parsely makes the salmon so tasty.
Full recipe Cafe Delites
Basil Pesto Tomato Mozzarella Chicken Bake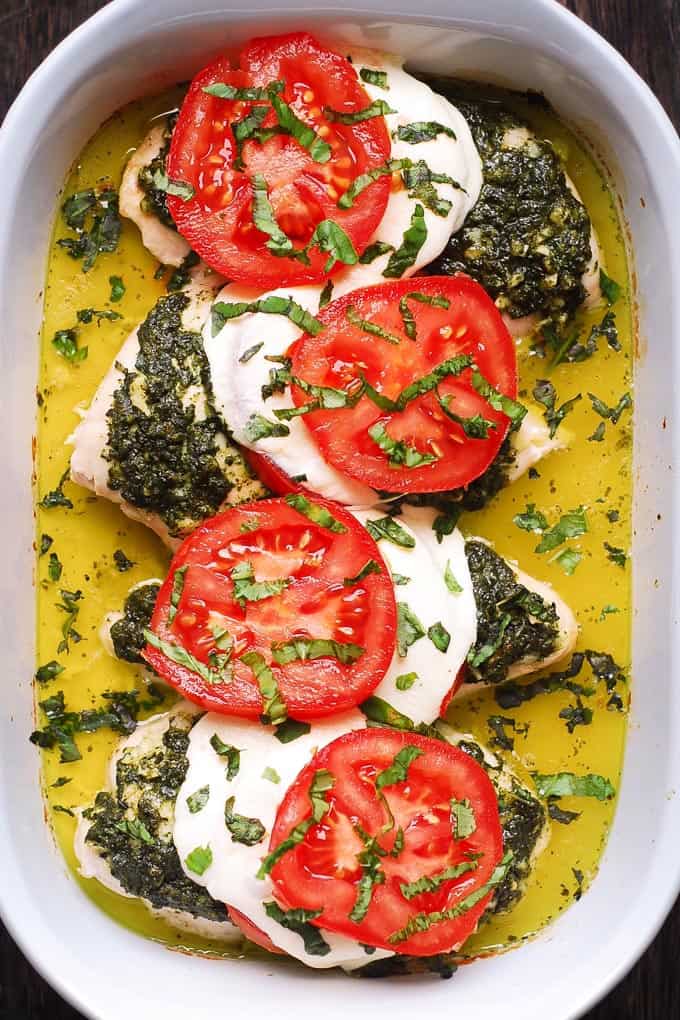 This meal is super easy to make. All you have to do is to pile all the ingredients on top of the baking dish into one baking dish and bake everything in an oven. It can be served over roasted potates, green beans, roasted aspragus, rice or pasta.
This dish is gluten free, delicious, refreshing and perfect for spring and summer as well.
Full recipe Julia's Album
Easy Low Carb Recipes: Garlic Chicken Stir Fry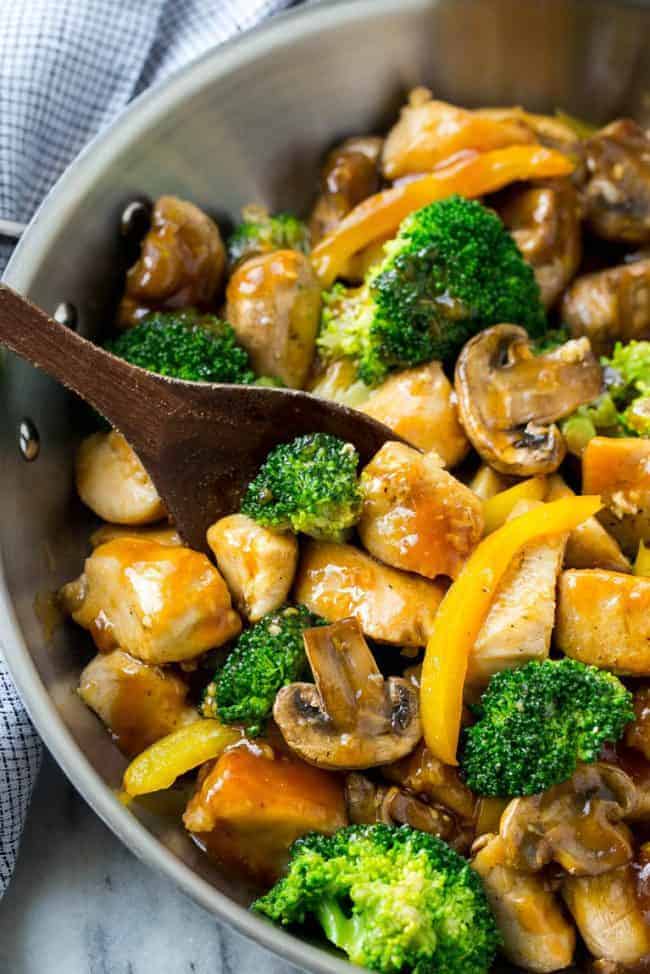 This is definetly better than the take out. It's healthier, cost friendly, quick and an easy dinner option. If you are a big fan of garlic, this will slowly become a favorite meal. It's so colourful and inviting. Nothing can beat the combination of chicken breast, broccoli, mushroom and yellow bell pepper.
It can be served with rice.
Full recipe The Recipe Critic
Chicken and Asparagus Lemon Stir Fry
This chicken and asparagus stir fly is perfect as a quick weeknight dinner. It's so fresh and tasty. It's made with lean chicken breast, asparagus, fresh lemon, ginger and garlic. Once you try it, it will be your go to dinner option.
You can tweak the recipe a little by adding your favourite veggies or even trying the ones in season. It's perfect over brown rice and cauliflower.
Full recipe Skinnytaste
Chicken Enchilada Zucchini Boats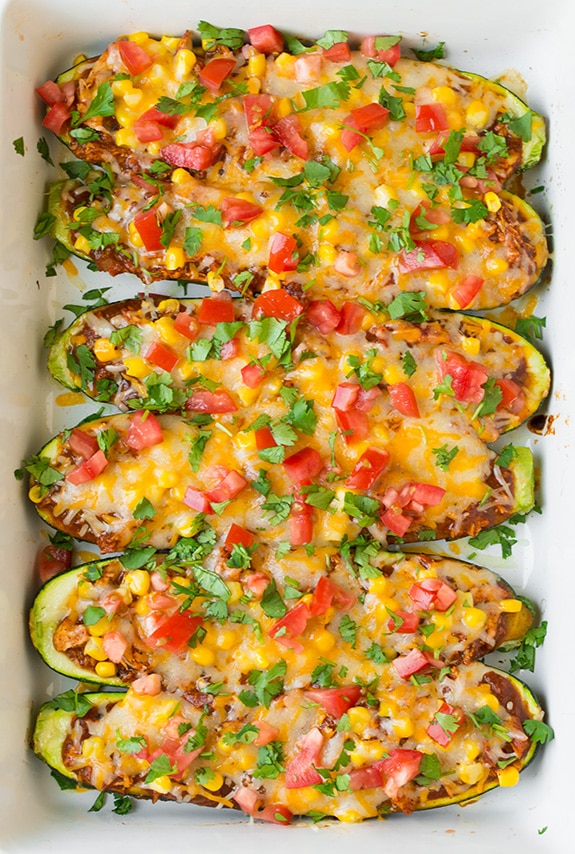 You will absolutely love these chicken enchilada zucchini boats. The secret is picking a wide zucchini which can hold a amount of filling. This meal is super filling and it's perfect for an easy weeknight dinner.
Recipe Cooking Classy
Easy Broccoli Cheese Soup Recipe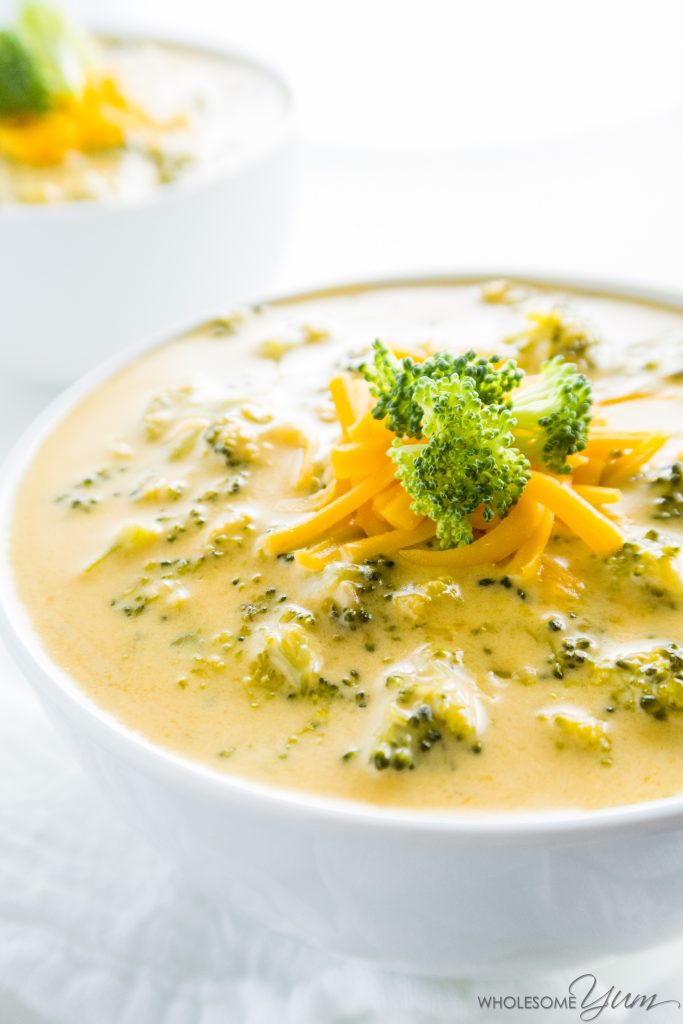 All you need to make this broccoli cheese soup is 5 ingredients and 20 minutes. The soup is healthy, gluten free, extremely cheese you will absolutely love it. You can easily customize it by adding your favorite spices and veggies such as bell peppers and onions.
Full recipe Wholesome Yum
Apple Butter and Sage Pork Chops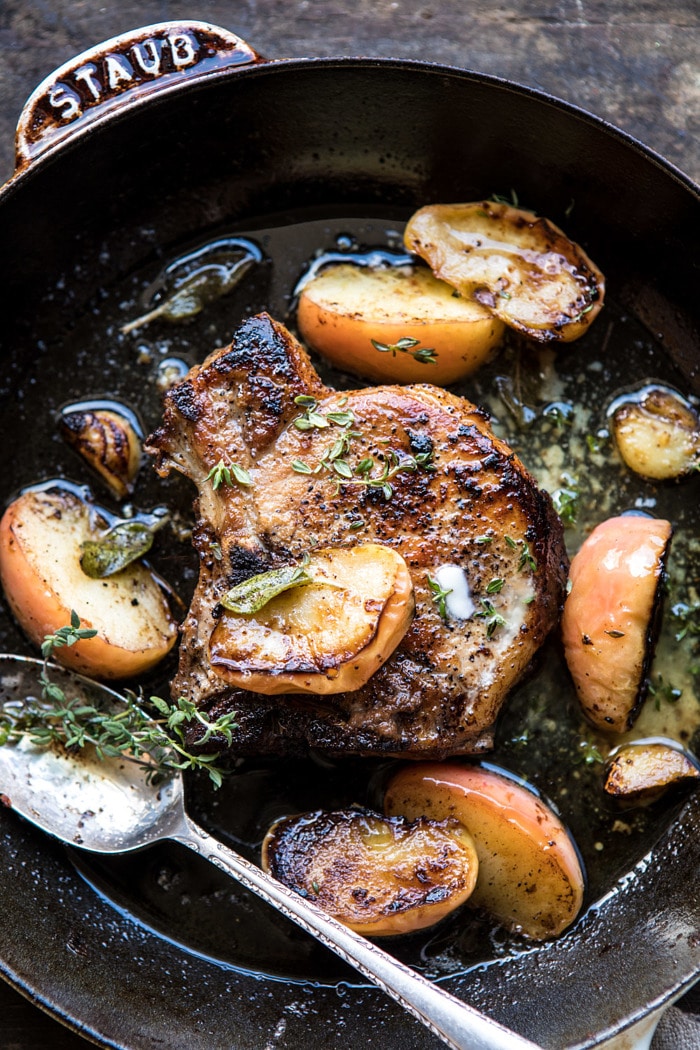 I love pork. Another favourite easy low carb recipe. Very quick to make you only need 30 minutes. You can serve it alongside creamy polenta, rice and quinoa.
Full recipe Half Baked Harvest
Pizza Stuffed Portobello Mushrooms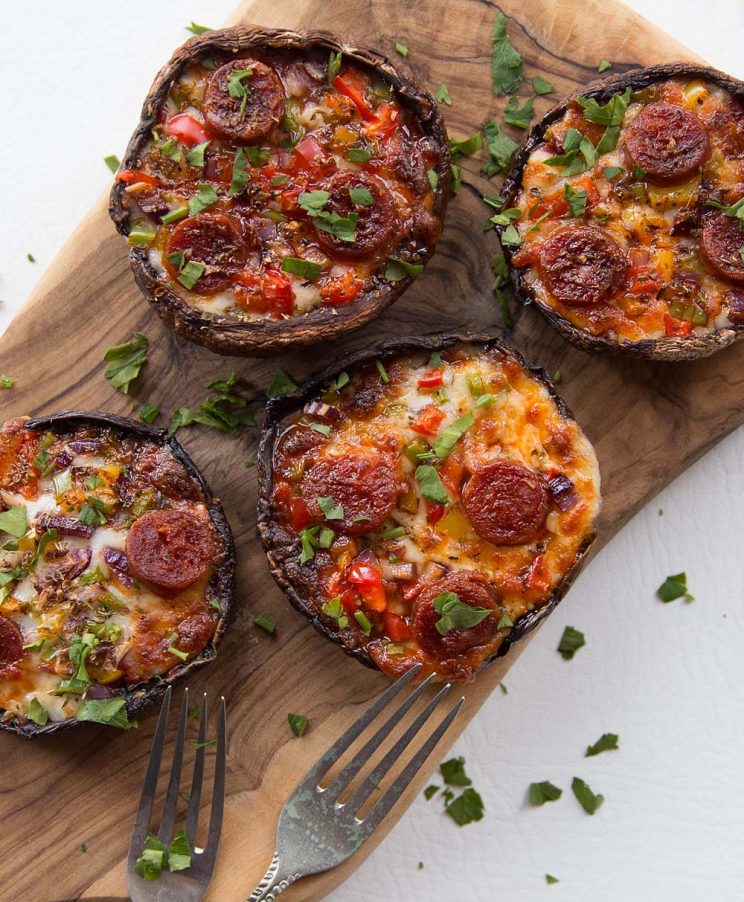 Who doesn't love pizza? You will love this version even more. To make this a healthier and a low carb pizza you simply exchange the pizza dough for portobello mushrooms. Super filling, scrumptious and easy to make as well.
You can use a wide variety of toppings such as cheddar, mixed pepper,onions and chorizo.
Full recipe here
Easy Low Carb Recipes: Baked Zucchini Fries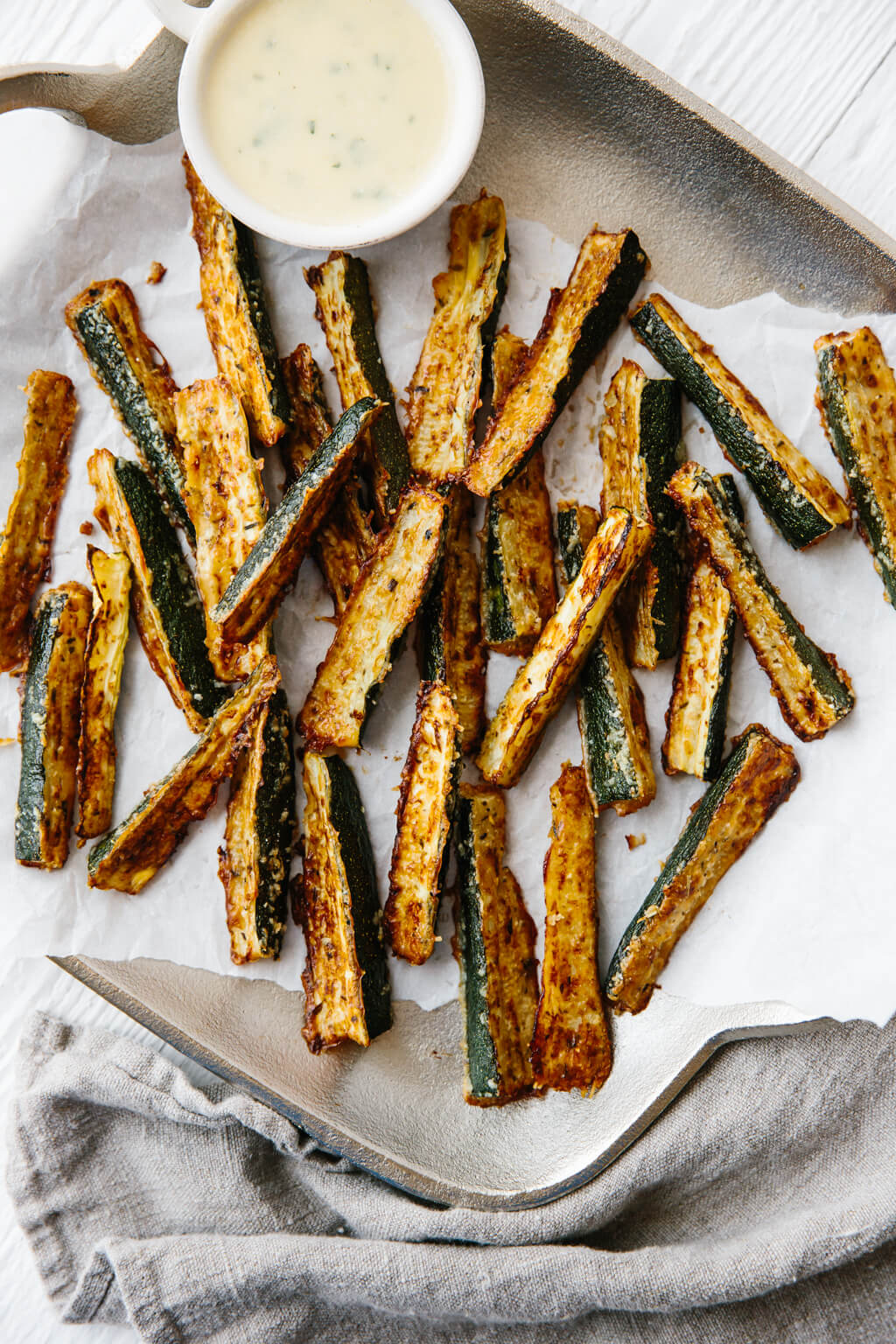 Do you miss eating french fries? Here is the best substitute Baked zucchini fries so cheesy, flavourful with freshly grated Parmesan cheese and an Italian spice blend. You will definetly love them.
Zucchini is a versatile vegetable especially if you are on low carb diet. There are so many meal ideas you can make using them. Simply because they are tasty and healthy.
These Zucchini fries are super easy to make, keto friendly and gluten free as well.
Full recipe Down shiftology
Cauliflower Casserole With Sour Cream And Bacon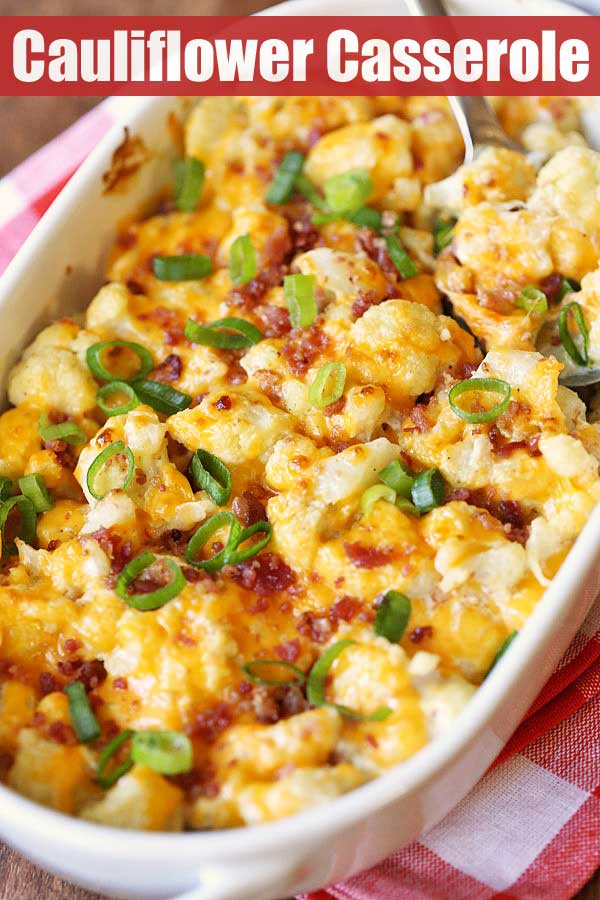 This cauliflower casserole is rich, tasty and it's made with sour cream, shredded cheddar and crumbled bacon. Cauliflower is another versatile healthy vegetable. You can store the left overs for about 3 days which warm perfectly and still taste delicious.
This meal is great as an easy dinner option.
Full recipe Healthy recipes
Low Carb Broccoli Cheese Soup

This broccoli soup is so delicious, it will slowly become your favorite once you try it. Healthy, rich and creamy.
Full recipe Instrupix
Keto Meatballs Recipe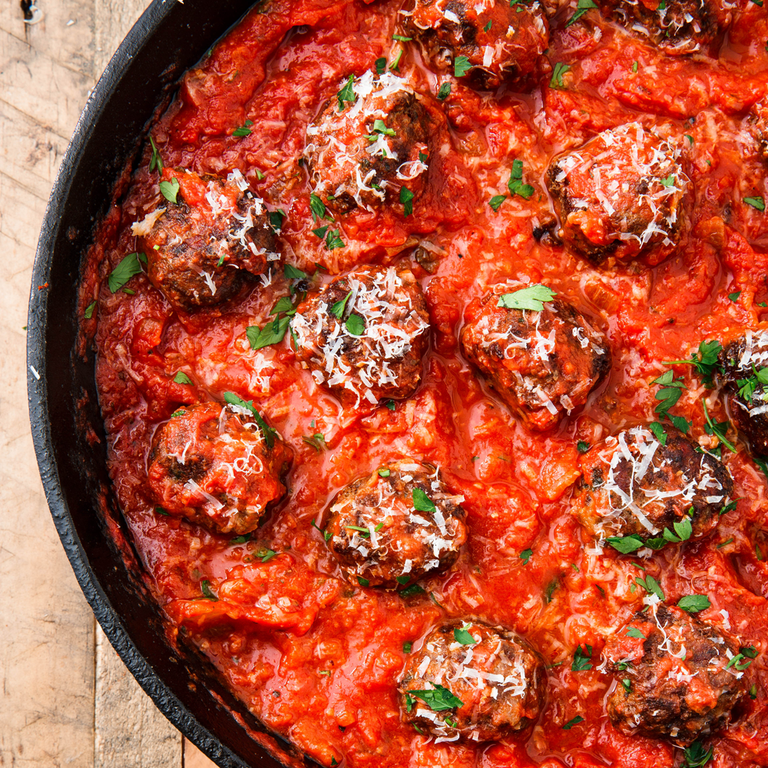 Just from the picture, this dish is so inviting. The cheese holds the meetball together so you don't need any flour. This meal is perfect for as a weeknight dinner.
Full recipe Delish
Easy Low Carb Recipes: Bacon Lettuce Cups Recipe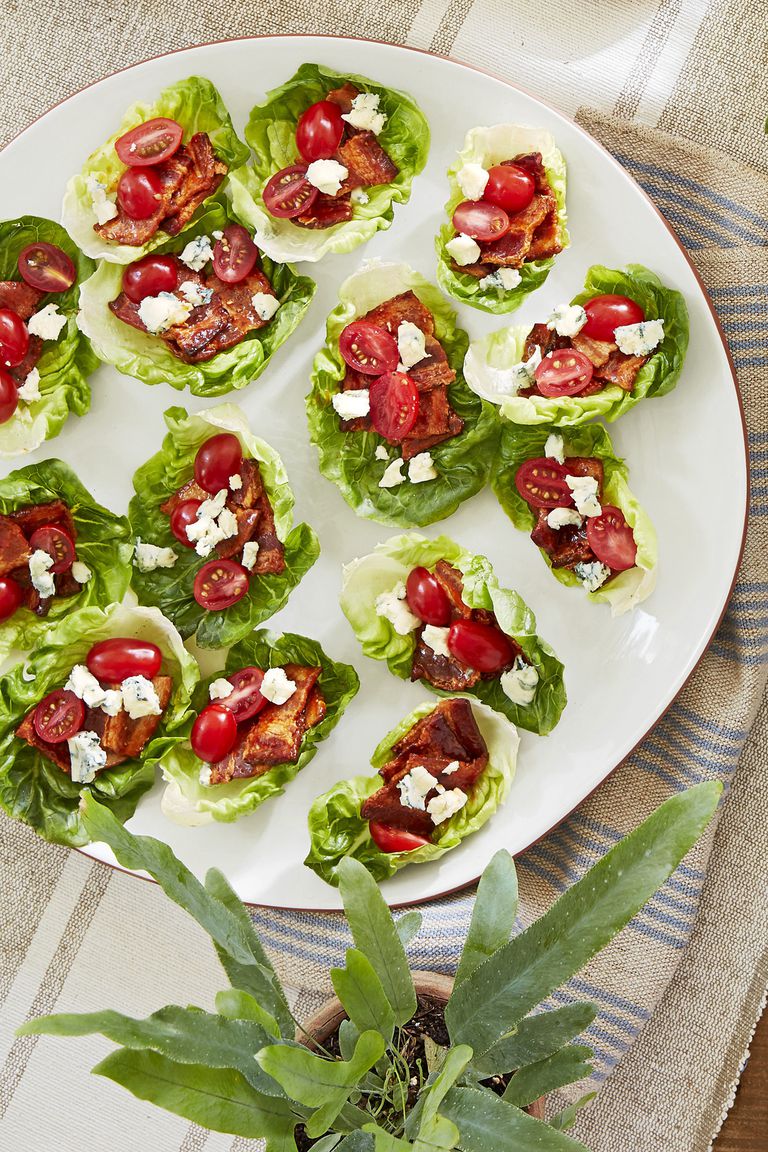 Easy, delicious and fast low carb appetizer.
Full recipe Country Living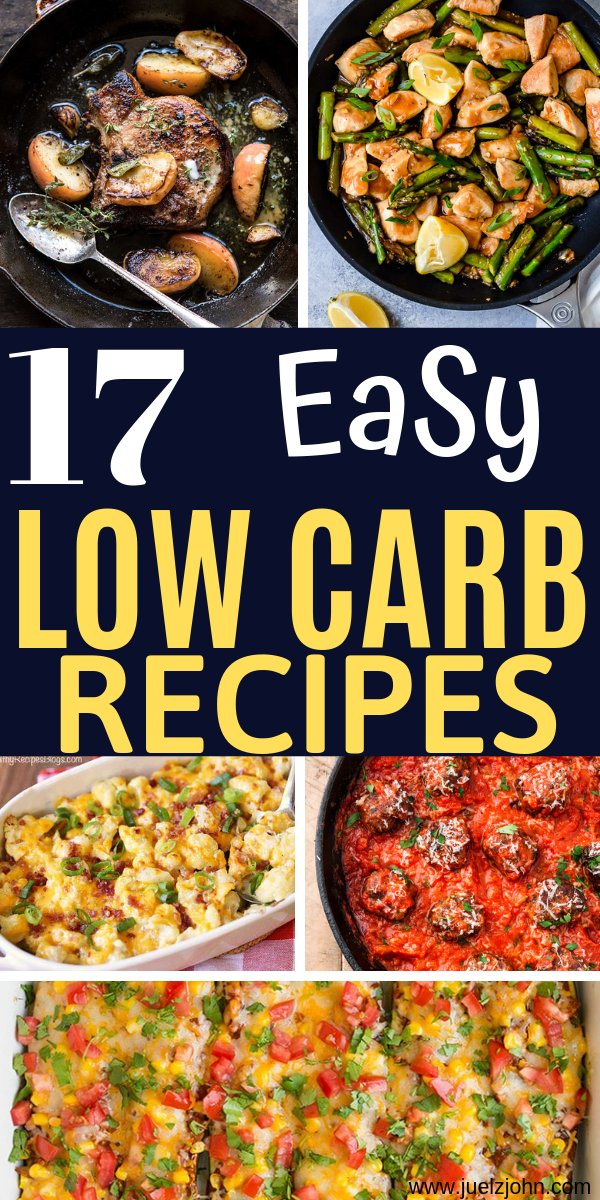 Hope you enjoyed these easy low carb recipes. If you have always thought that low carb recipes are boring and bland I hope you are now converted. If you always have a busy schedule, they will be a lifesaver.