Are you looking for the best frugal living tips to adopt in your lifestyle? Well, you are in the right place. Frugal living is a great way to save money which will make it easy to accomplish your financial goals.
Leading a frugal lifestyle doesn't mean being cheap or leading a miserable life. It's saving, prioritizing and spending money on what is important to you. Carefully using your money so that you can afford what you love while ensuring that you are getting the most out of each dollar you spend. It's very possible to be frugal without being cheap. Have you been wanting to start leading a frugal lifestyle but don't know where to start? I got you covered.
Here is a list of frugal living tips to help you simplify your life, live a more intentional life, spend your money in a more smart way and most importantly be happy. Happy because you have no or fewer debts weighing on your shoulders.
17 Amazing and easy frugal living tips to help you cut costs and still live a fully intentional life within your means on a low income. If you have always wondered how you can be frugal, this is the best place to start as you will learn how to take control of your finances regardless of how big and small your income is.
Whether your goal is to simply save more money, build an emergency fund, pay off debts like mortgage, these frugal living tips will help you reach your goal. It's time to get your budget under control and stop overspending.
This post may contain affiliate links. Please read my full disclaimer for more information
Cook your own food.
I know most of us love eating out now and then but one way to a frugal lifestyle is cutting out restaurant meals as much as you can. Eating out adds up. I challenge you to spend a few minutes and calculate how much money you are spending eating out you will be shocked.
Restaurant food costs a fortune. You can save a lot just from scaling back maybe to a few times a month. Sometimes it can be so tiring and stressful cooking every day after work that's where meal planning comes in. Meal planning helps you to plan your week's meal making sure you never run out of food.
I highly recommend and love $5 meal plan which is a program that sends you delicious and inexpensive meal plans for only $5 a month. It takes away all the guessing and stress. It's perfect for anyone who wants to save money and time. You will get one week's meal prep recipes and a curated shopping list. For just $5 a month they will send you weekly meal plans, costing less than $2 per person. They also offer special plans in case you are on any diet.
The shopping list comes in handy because it helps to know exactly what you want as you go to the grocery which means you won't be impulse buying. Without a list sometimes we buy things which end up going into waste.
Sign up for $5 meal plan and get super cheap meal-prep recipes sent straight to your inbox every Friday.
Frugal living tips: Buy used
I love thrift shopping because I always get hidden treasures. Items that no one would ever believe they are thrifted. All you need is a bit of time and patience and you will get a good bargain. You might even be surprised the quality is way better than that of new items. Just because something is second hand it doesn't mean it's not good.
Next time you want to buy furniture, clothing items, pretty much anything check out your local thrift store first. There is so much goodness that can come from consignment stores, Thred up, Poshmark, Craigslist and more.
Start a side hustle
Nowadays there are so many legitimate side hustle ideas you can start and work on from the comfort of your home. Side hustles are awesome because you get to make extra which means the potential of saving more money is high.
My favorite side hustle and the one I recommend most is Blogging. Blogging has changed so many people's lives including mine.
Awhile back I was looking for a side hustle idea that would help me to work from home and make extra money, after months of searching and experimenting I read this income report that completely sold me to giving it a go. What I love most about blogging is the ability to earn passive income, flexibility, and freedom. If you want to try out blogging check out my detailed step by step guide on how to start a profitable blog. I highly recommend starting a blog with Bluehost. I have been hosting my website with Bluehost for more than a year and I have never had any issues with them. Bluehost has 24/7 support, a money-back guarantee, and makes it as easy as possible to start a blog. Starting a profitable blog has never been this easy.
Below are more side hustle ideas you can check out. All has the potential to make you extra money.
36 creative ways to make money online from home with no prior experience
28 real side hustles perfect for stay at home moms
11 legitimate fun ways college students can make extra money
The one side hustle that will make you $1000 per month
Buy in bulk and go generic
Another frugal living tip is to buy things in bulk. Simply because it's cheaper and you end up saving a ton of money. You might end up spending a bit more upfront but in the long run, you are doing yourself a favor. Buying staple items in family-sized packets is economical. Things like rice and pasta. Keep an eye out for when your favorite products go on sale and stock up on them.
It's important to always counter check because buying in bulk does not always mean that you are saving money. Always compare the prices by the unit to make sure you are actually saving money.
You might be used to buying a certain brand just for no good reason but if you want to save extra money, try buying store brand or generic items such as detergents, pasta, toothpaste and cleaning products. You will realize that you won't be comprising on the quality because they are equally good.
Take advantage of the online reward program
I always find this trick genius and if you want to lead a frugal lifestyle you need to be doing this. Some websites award you points or money which you can redeem for gift cards while others offer a rebate on purchases you make. This trick will help you spend less and save more. You can try out Rakuten ( more on this below), JoinPiggy and unique reward. Another good thing about using these websites or apps is that when you sign up you get like $5 and then you get discounts and coupons.
Have a realistic budget
So many people are living above their means without knowing. If you want to be able to save money you have to be real and true to yourself. You need to create a budget that will work well for you. Going through your numbers might not be one of the most interesting things to do but will help you immensely. You will be more aware of where every dollar is going which will make it easy for you to know which expenses you can adjust and the ones you can't.
It might shock you to see how much you can be able to cut out once you make a budget and stick to it. It makes it easy to figure out what you need to cut back on. For example, you might decide to do away with cable Tv.
A realistic budget will help you to track your money reducing any unnecessary expenses you might have before. We all know how stressful it can be living paycheck to paycheck. A budget will help you to stop overspending and to finally have control over your finances.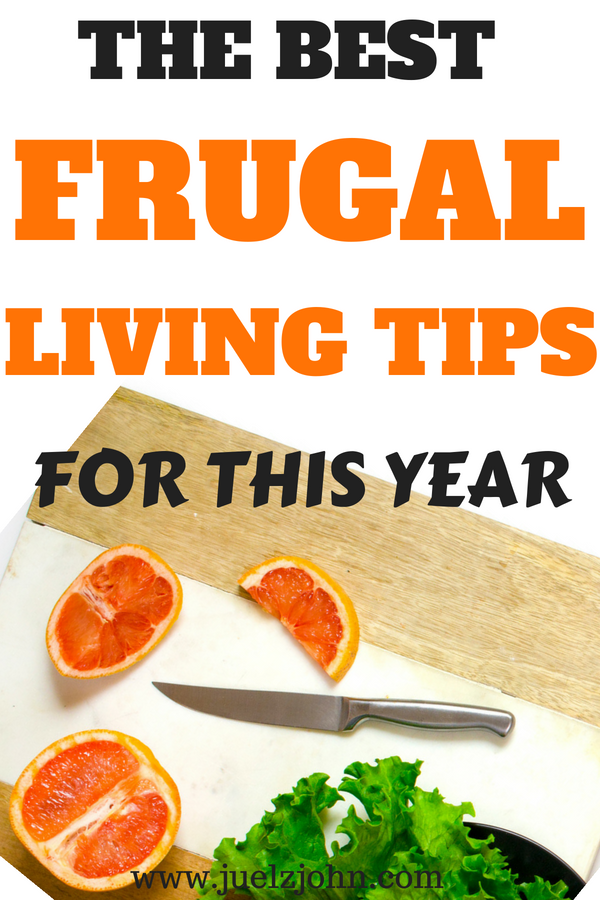 Frugal Living Tips: Know Your Priorities
You need to ask yourself questions like why do I want to save some money? Are you saving toward your retirement? Is it for a debt payment? Knowing the reason behind will make you more motivated. Have that goal in mind and work towards it. You will be able to direct your money to what really matters.
With time you will notice that adding some of these frugal living tips into your lifestyle will be easy and automatic.You need to ask yourself questions like why do I want to save some money? Are you saving toward your retirement? Is it for a debt payment?
The idea behind living a frugal lifestyle is not just to stack money away and never spend it. It's all about saving money and using it to accomplish our goals. Having your goals written every week or month will help you go a mile further. For example, you might want to save $500 this month, knowing that will make you spend mindfully because you will be able to track the process.
Changing your mindset is extremely important when it comes to figuring your priorities. It's the best time to think about wants versus needs. What society terms important might not be important to you. Just because somebody somewhere thinks to own 30 handbags is of value to them it doesn't have to be the same case for you.
Cut Down On What You Can
After an honest analysis of your income, you will be able to tell where most of your expenses fall at. Is it groceries, clothing or entertainment? Whatever it is you need to find small and creative ways of cutting down on those expenses.
Keep an eye on those small bills as they can accumulate so fast. Don't ignore them. For example, if your electricity bill is high switch to efficient LED light bulbs and switch off lights when you don't need them. Simply find out what works for you and follow it.
Related posts:
11 Smart ways to save money on your electric bill
18 Realistic and simple ways to save money on groceries
15 Smart ways to save money on utilities
Drink more water
Cutting down sodas and other soft drinks will immensely save you so much money on your grocery bill. Not only is it economical but it's healthy and environmentally friendly. Tap water is the best option but if yours isn't ideal, just get a water filter and you will be sorted. I also make sure every time when I leave the house I always have a water bottle which has helped me to stop buying bottled water and all I do now is to refill it.
Cashback with Rakuten
One of the best frugal living tips is utilizing cashback programs such as Rakuten formerly known as Ebates. It gives you the perfect opportunity to make sure that you are maximizing every dollar you are spending. Rakuten offers you the best deals, discount offers, coupon codes, and flash sales. You will never pay full price again.
If you shop online, then you can't afford to miss out on Rakuten. You can receive either a 'Big Fat Check' or PayPal payment every quarter for using promo codes and shopping the latest deals and discounts right from your phone.
Signing up to Rakuten is totally free and takes like a minute.
You just need to download the Rakuten Browser extension and every time you visit an E-Commerce site online that is eligible for cashback you will receive a notification.
Sign to Rakuten (Ebates) today and get a $10 bonus.
Take packed lunch to work
Apart from meal planning another easy to cut down on the amount of money you are spending on food is carrying packed lunch to work. You might be thinking that spending an average of $10 on lunch for a week isn't a lot but it adds up very quickly. That can add up to about $2,400 annually on lunches alone which is money that could have been put into good use. This doesn't mean you have to make a fresh meal, you can enjoy leftovers or just a sandwich. Simply pack in your lunch box as it and warm in the office the next day.
Another easy way to reduce your grocery bill is to cook in bulk which will make sure you will always have lunch and dinner ready. An instant pot, slow cooker and crockpot are perfect for bulk cooking. There are so many easy and budget-friendly recipes you can make. The best part is that you simply dump everything in the pot and it does its magic.
Utilize the 50/30/20 rule
Do you know of the 50/30/20 rule? This is where 50% of your budget goes toward needs, 30% of your budget goes toward wants, and 20% of your budget toward savings. It gives you a perfect guideline to help you become a frugal person.
Make use of Airbnb
One of the most effective frugal living tips is staying in Airbnb instead of expensive hotels. They are cost-effective and you have the choice of choosing whether you want to rent a whole house or just a room for a short stay.
What I love most about Airbnb, they allow you to have the local experience as your host can help you familiarize yourself with the area.
Travel off-season
Traveling off-season is very economical and the best part is that you don't have to deal with large crowds.
As a frugal, you need to train yourself to travel like a minimalist. Pack only what you need to avoid any extra fees at the check-in desk.
Have a saving account for emergencies or unexpected bills.
Life happens and sometimes we have those situations where we need to pay for something immediately. The last thing you want when trying to save money is to get into debt. You might need to pay hospital bills, to repair your car and so on. Having an emergency fund in place means that you don't have to panic when things go wrong.
Having a separate savings account will be a lifesaver and will save you so much stress and headache.
Cancel unexpected bills
Do you have a bill you are paying for but never use the service or the product? Maybe it's a gym membership but you never go to the gym? It's time to let go. Even though it's only a $2 monthly app fee it adds up and it's money that can go somewhere else. Get rid of those things you don't need. Unsubscribe from all the marketing emails from brands to avoid temptation. The marketing team does a great job of enticing us through weekly and monthly newsletters.
16. Pay off your credit card bill in full each month.
Having a credit card is a great way to build credit and earn rewards but if you let the balance to carry on each month without paying it off completely then you are pay interest charges on top of what you owe. That's why Dave Ramsey advises us to cut or credit cards. Credit cards can put you into heaps of debts if not used wisely.
If you know very well that you aren't responsible with a credit card just cut it and stick to using cash only. Maybe you are spending like crazy and at the end month, you can barely afford to pay the bill at the end of the month, it's time to let go. Using cash will help you save money and stay out of debt. You might not like the idea of getting rid of your credit cards, but using cash will help things into perspective on how much money you can afford to spend.
17. Always have a shopping list
I am sure you are tired of hearing this but shopping with a list is a big game-changer. Before going shopping go to your pantry and write down what you will need for that week. Make a list and stick to it. With a shopping list, you will only buy the things you need which mean there is no waste and unplanned purchases.
Never go shopping when you are hungry because you end up impulse buying and spending more money than necessary.
Which of these frugal living tips have you adopted already? If you start implementing some of them you will be able to save money super-fast because you will be less wasteful. You might not be able to implement all these 17 frugal living tips at once but you can do is start small then add more tips each month. Once you get into the swing of things, living frugal won't be a challenge anymore, it will be a lifestyle. They will change your life and help you live frugally regardless of your income.
Which of these tips are you already doing? If you start practicing some of these frugal living tips you will be able to save money super-fast because you will be less wasteful.