So many beautiful Christmas Mason jar crafts to decorate your home with for the holidays or give them out as gifts.
From snow globes to luminaries you will for sure love these Mason jar crafts and the best part is that you can make them yourself or with your kiddos. Isn't that fun? What a better way to bond with them and create wonderful memories.
With Christmas around the corner, it's time to think of all the magical decorations. It never too early to think of Christmas right? The most magical time of the year.
These Christmas Mason jar crafts will make decorating a total bliss, they are easy, super affordable and will instantly set in that festive spirit in your home.
15 Beautiful Christmas Mason Jar Crafts
1. Christmas Tree Mason Votive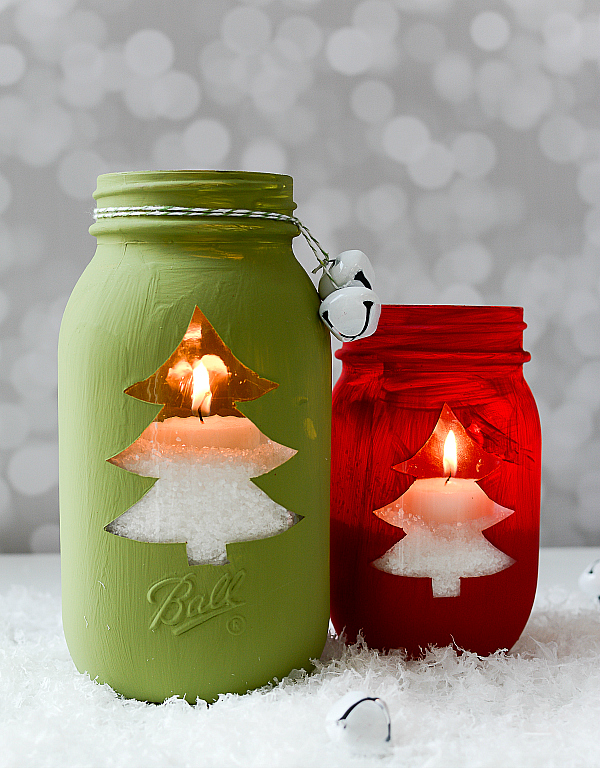 Christmas Tree Mason Jar Votive
How cute are these? Love how easy these are, something that would be fun to do with the kids right? To make these mason craft you need quart, green and red chalky paint, painter's tape, a stencil, scissors, paint brush, white jingle bells and a twine.
Take your Christmas tree shapes, place them on your mason jars and paint. After the paint has dried, remove the Christmas tree cutout, add your Epsom salts and tea lights.
2. Candy cane Mason Jars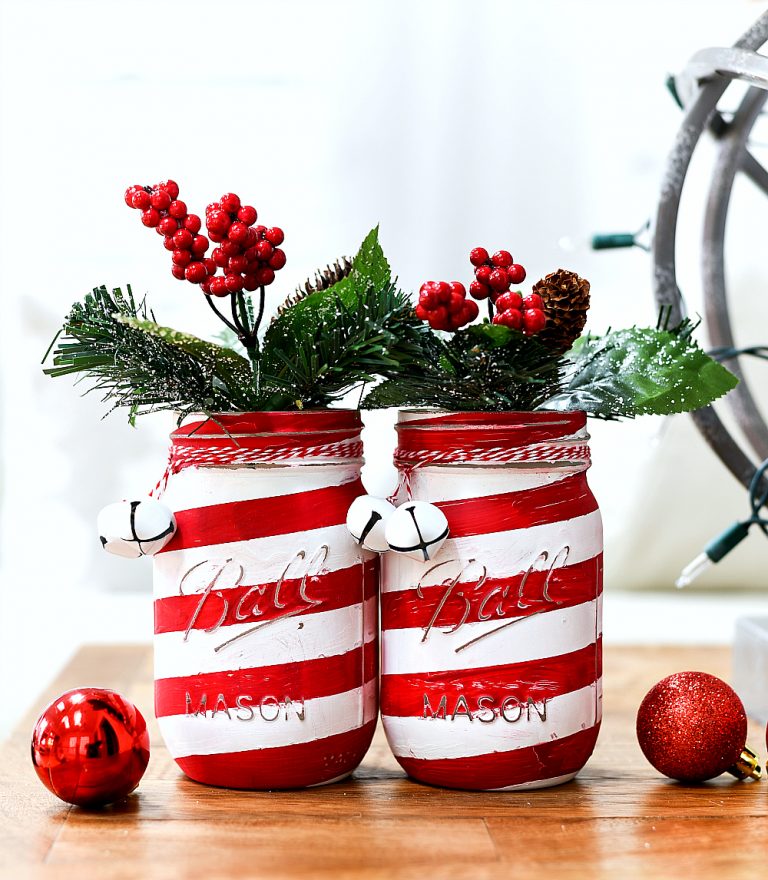 This screams it's Christmas. The colors red, white and the green on the leaves brings the whole festive mood. First you paint your jars with two coats of primer, let it dry overnight then tape off stripes using the washi tape and paint red.
After the red paint has dried overnight remove the tape, then use a sand paper to distress along the raised areas of the jar and finish with a clear coat spray sealant.
3. Snow globe mason jar craft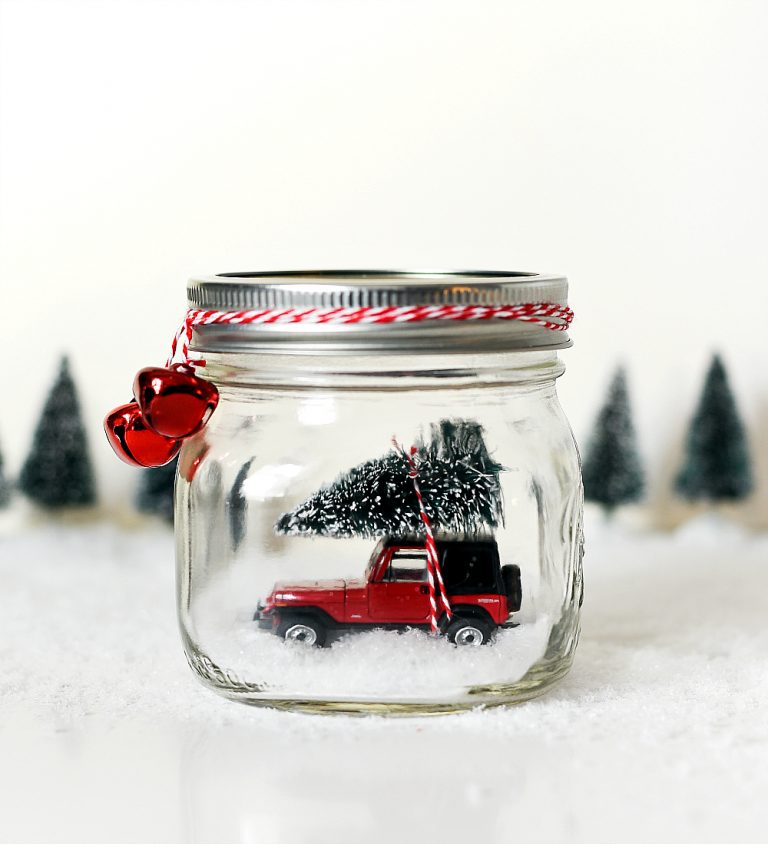 How about this as a centerpiece? An awesome way to do Christmas décor on a budget. It's so adorable. Mini Christmas trees, tiny cars, presents the best combination for Christmas.
4. Ugly Sweater Christmas Mason Jar Crafts
Ugly Christmas Sweater Mason Jars
If you are not a big fan of the ugly Christmas sweaters why not have them on your mason jars. You have to agree these Christmas mason jars are the opposite of ugly, they are so beautiful.
5. Christmas Mason Jars Luminaries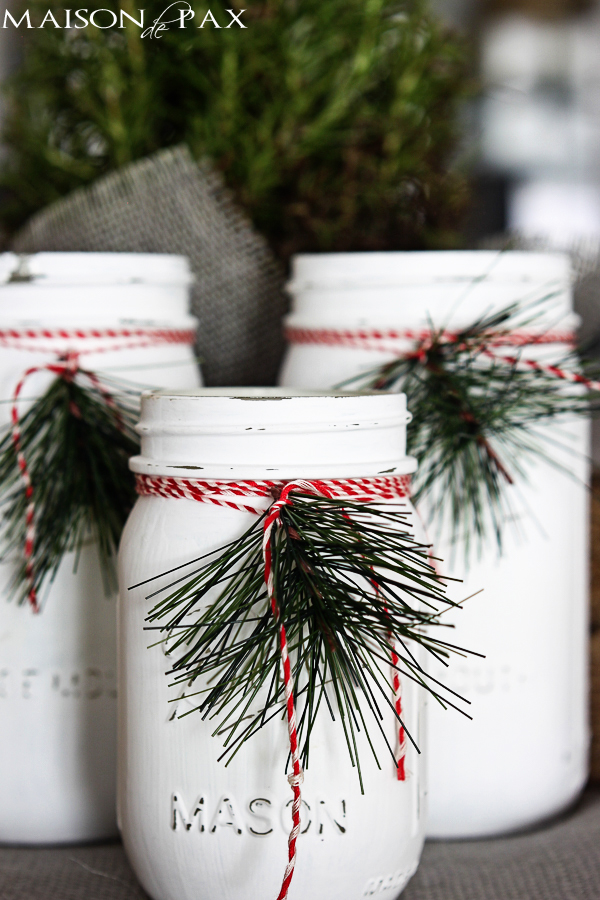 Christmas Mason Jars Luminaries
One of the easiest Christmas Mason jar crafts to recreate in this list. You need Mason jars which you paint with your preferred color, then use a sand paper to distress and finally spray with acrylic sealer which protects your work. After that add the twine, the greenery and the tea light. Simple as that.
Interested in more Christmas holiday posts?
17 DIY Beautiful Christmas wreaths you'll love
Super Easy Christmas Crafts For Kids To Make
19 Easy and delicious Christmas cookie recipes you must try
30 Festive and easy Christmas nail art designs you must try
6. Christmas Mason Jar Crafts: Snowy scene
Most children love snow globe. The idea of shaking a snow globe is so magical. This crafts perfect for the little ones, they will for sure love and obsess over them. Not only are they cute but they give also give some night light.
7. Christmas Reindeer Jars
Look at those eyes and the nose, isn't this beyond stunning. Perfect as a gift and a nice way to put homemade treats. This mason craft is so cute you can end up eating everything in it. For this you will need pipe cleaners, red poms poms and wiggle eyes. You can fill them with your preferred treats other than chocolates.
8. Snow flake Mason Jar Luminary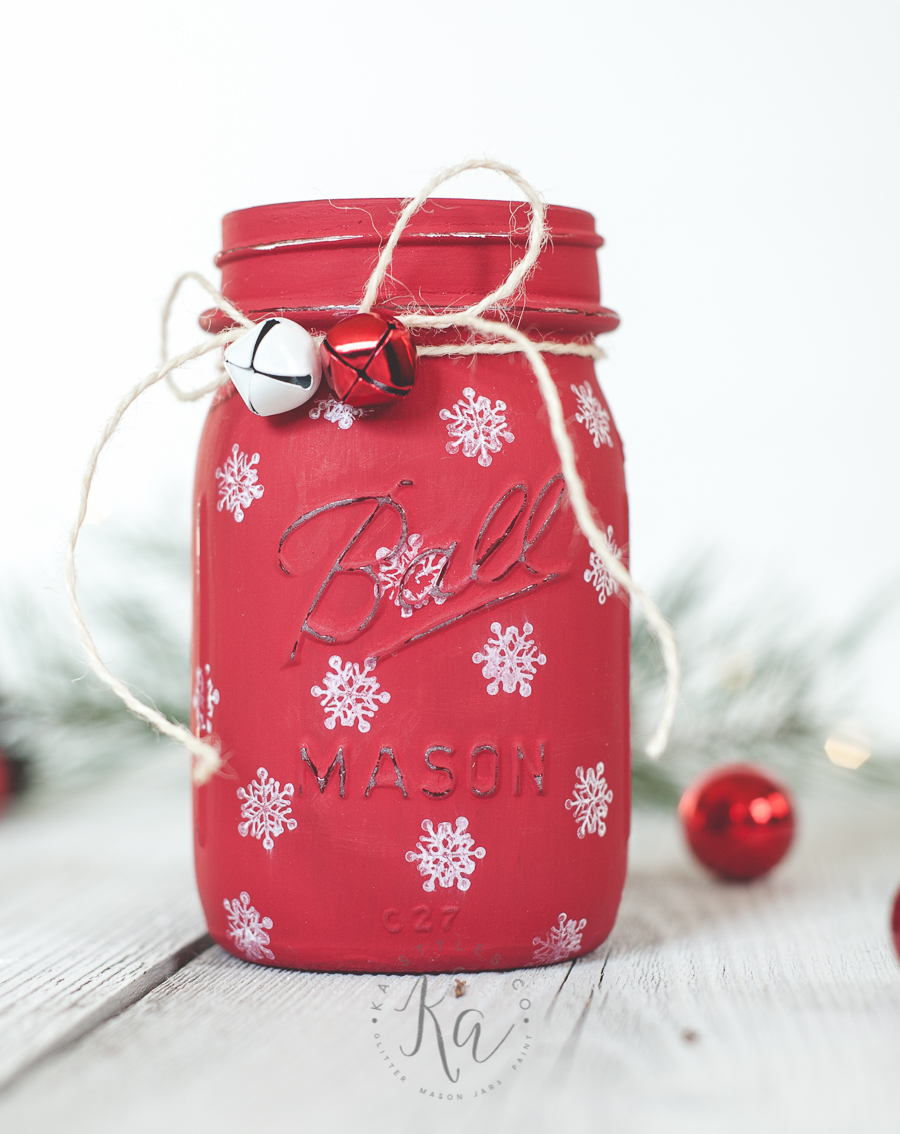 Super easy to make these snow flake mason jars. Paint the jars with red chalky paint. Do at least three coat, let each dry before reapplying.
Use a snow flake stamp to make those floral decorations then finish off with a twine and the bells. You can use it as a luminary or fill it with goodies for a gift. Perfect as a teacher's gift.
9. Snowman jars
I love the simplicity of these snowman jars, the combination of the black buttons and the red pom pom makes it stand out. To make these you need easy pipe cleaners, pom- pom ear muffs and a few buttons. Fill in with your preferred candy or any other treats.

10.Peppermint Mason Jar Candles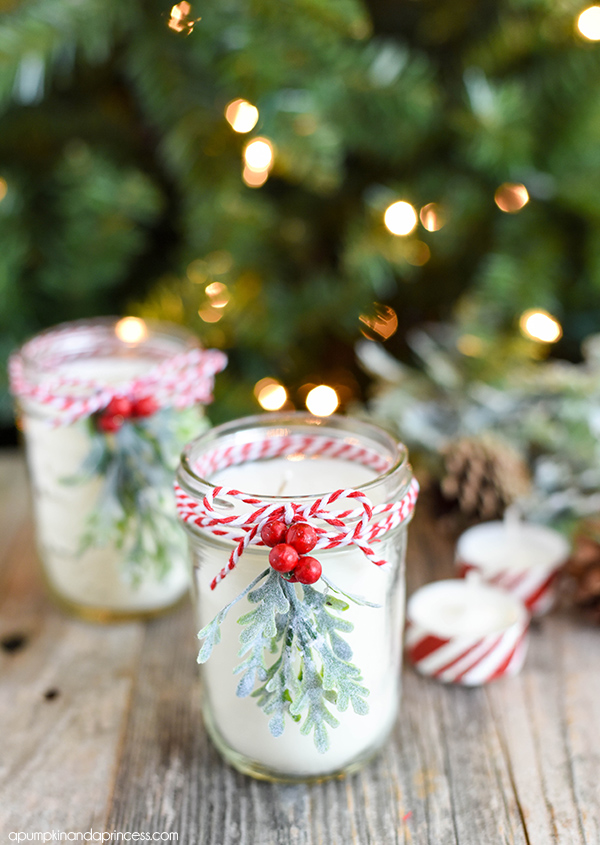 DIY Peppermint Mason Jar Candles
Looking for a last minute Christmas gift idea for your neighbors, friends and family for this holiday season? This could be it, they make the perfect gifts and you can also use them in your house for a little warmth or for decorative purposes.
Making these Mason jar candles isn't that complicated as it looks, all you need is to first glue a candle wick in the center of the jar, then melt the candle flax and add a few drops of peppermint oil. After that pour it into the jar.
11. Cookie mix in a jar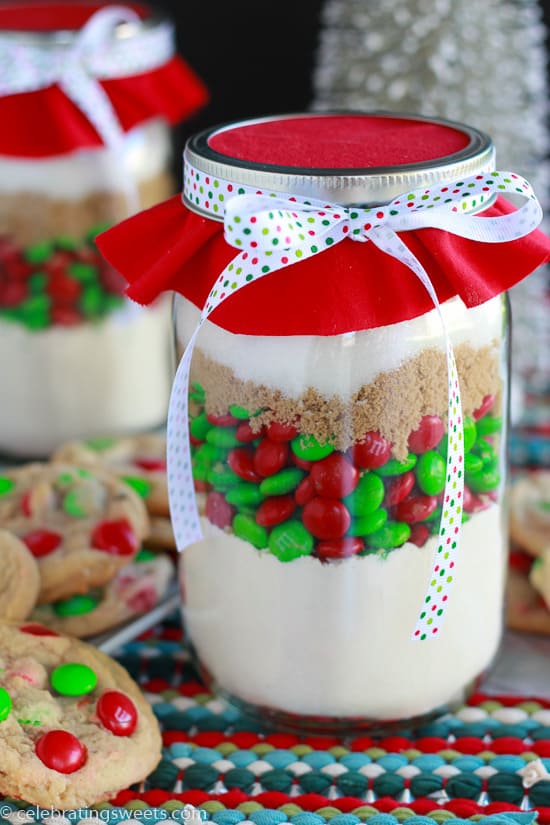 I love how fun and festive this look. The ribbon makes this craft so cute. This is a perfect idea, putting all the ingredient in the jar and all one has to do is to wet them and bake. Who doesn't love freshly baked cookies. Be sure to check it out to see how you can make the cookies.
12. Snowman Mason Jar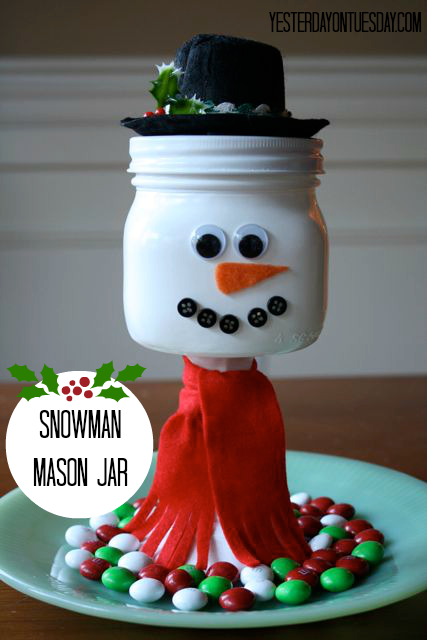 This is one that the kids will enjoy making. It's fun, easy and budget friendly. Those googly eyes are so pretty. You can fill it with candy but I love it more as a Christmas home decor.
13. Joy in a jar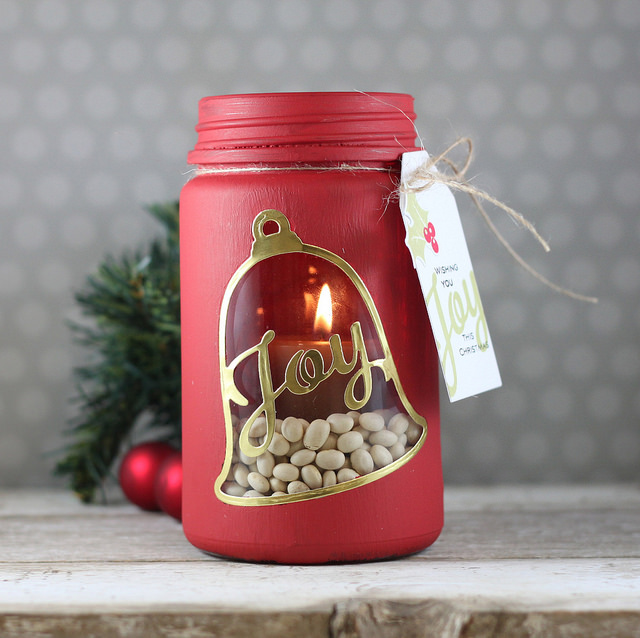 How fabulous is this? Simply what Christmas stands for, pure joy. I love the simplicity of this Christmas Mason jar craft. Stick the bell label on the front side of the jar and paint it using red acrylic paint. Depending on whether you want this as gift you can make the tag and write a sweet message on it. Lastly add the beans and the candle inside.
14. Gold glittered jars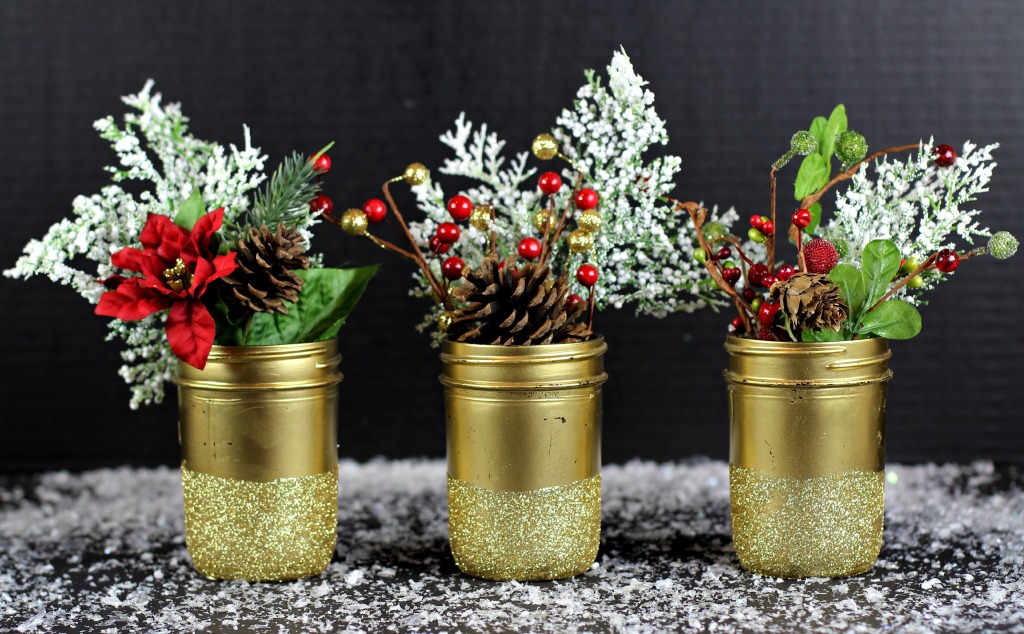 What is Christmas without some glitter? Beautiful and super easy to make. Spray your mason jars with gold metallic spray paint, pour and spread a heavy amount of glitter on a paper plate, apply mod podge one side of the jar and immediately roll in the glitter. Let it dry and repeat the process.
15. Candy cane mason jar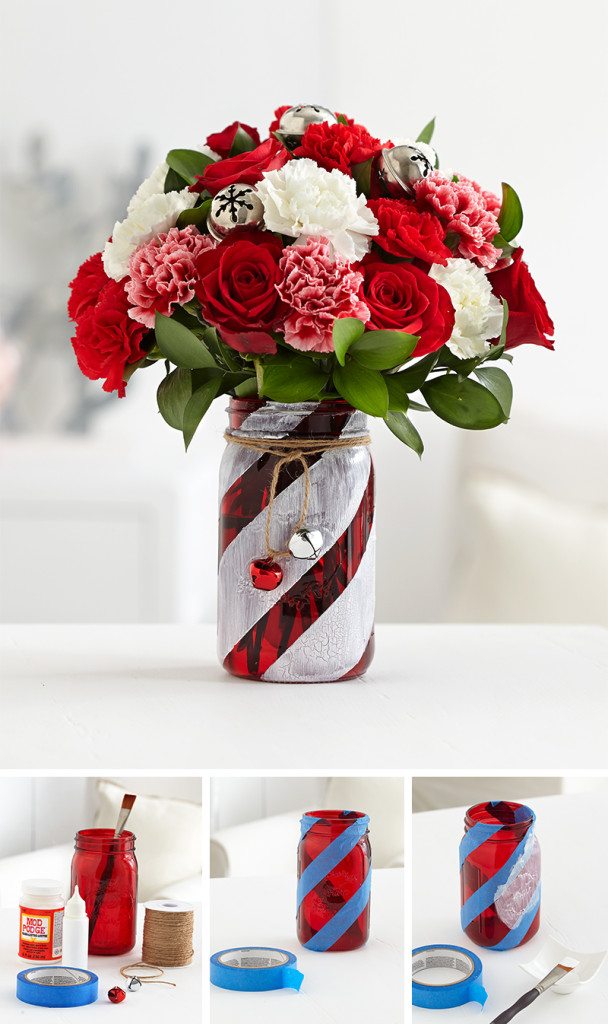 Perfect as a table centerpiece. It's so fabulous, don't you think?
Imagine receiving one of these Christmas Mason jar crafts as a gift. Handmade gifts are the best because it shows that some thought went into the making process. It makes one feel more special.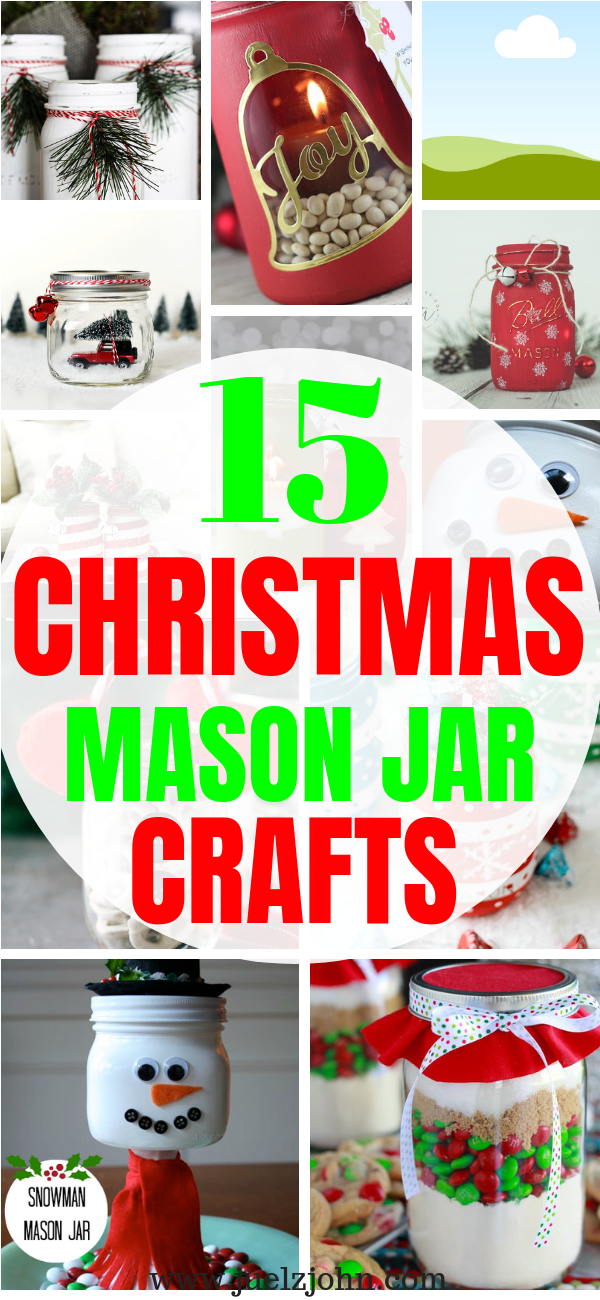 Which of these Mason jar crafts is your favorite? Let me know in the comments section below.