Healthy meal prep ideas you can cook for a week under 30 minutes which are a great way to simplify your life.
If you want to eat healthy, meal prepping is a must. Meal prepping allow you to have healthy meals at hand throughout the week. Life gets busy and even though you plan on preparing several quick easy meals throughout the week it might be impossible. To achieve that you will need to plan hence the need to meal prep. Meal prepping is simply setting aside one day preferably on Sunday to prepare most or all of your meals for the week.
These healthy easy meal prep ideas are a lifesaver. Makes it easy for you to stick to a healthy diet, save time and money. With your meals ready you won't be tempted to place a last-minute take out order. Most of these meals are ready in less than 30 minutes and you don't have to spend hours in the kitchen every day wondering what to cook and later on doing the actual cooking.
Meal prepping also helps you to reduce waste as you are making only the food you need and you get to maximize what you have. You only buy the ingredients that you need meaning you are also saving money on the grocery bill.
Since you will be eating healthier meals you will be able to lose weight. Meal prepping also means portion control. Which also keeps you to keep away from unwanted fats and processed sugar.
How to get started with meal prep.
Most people prefer to do their meal prepping on the weekend. You can set aside one or two days of the week to prep your meals in advance. The key to successful meal planning is to have a plan.
1st step
First you need to decide on the meals you want to eat for the week. List down all ingredients you need for the meals. Here is where you save money. Buy the right portions to avoid any unnecessary wastage. Especially if it's fresh ingredients that can't last for another week without going bad. Make sure you also plan for beverages.
A shopping list and a meal plan is the key to successful meal prepping. Keep it simple. Start with recipes like 2 or 3 per week. Especially if you are just starting, take things slow. A lot of recipes might overwhelm you and it also takes a lot of time to cook different meals. Avoid prepping too much food, limit yourself to 3 to 4 days.
2nd step
After you have everything ready, it's time to get to the fun part. Cooking. Once you are done with cooking put the food into the meal prep container. Make sure you separate stew from normal food to prevent sogginess. For instance you separate things like bread from sauces.
To make it easy you can multi-task. For instance you can bake chicken and cook veggies on the side. With must-have kitchen appliances like an instant pot. Multi-tasking will help you get things done so much faster.
You cook food in bulk and you need to freeze it you will a few things such as freezer tape, plastic wrap, Ziploc bags, and permanent markers which will help with labeling and portioning your food. Most of these items you might already have them in the house.
(This post may contain affiliate links. Please read my full disclaimer for more information. As an Amazon Associate I earn from qualifying purchases)
Does meal prep sound too much for you?
Meal prepping can be overwhelming especially if you a beginner. The $5 meal plan by Erin is a great place to start as it takes away all the guesswork and provides you with a grocery shopping list.
$5 meal plan is a great place to start. It's a budget-friendly service that makes meal planning possible. It enables you to get a fresh meal plan delivered straight to your inbox. You will get cheap meal-prep recipes sent straight to your inbox every Friday for one week, curated shopping list and every meal is made to cost no more than $2/person.
For $5 a month, they will send a meal plan where every meal will cost $2 per person and sometimes even less. No need to get stressed in the evenings trying to figure out what to make for dinner now. It's takes the guesswork out. Super easy to follow recipes and you will also get a shopping list to help you organize your grocery trip.
Try $5 Meal Plan (and get a free 14-Day Trial Period only when you sign up here!)
How long does the food remain good in the fridge?
Every food has its own shelf life. Most food can be kept in the refrigerator for about 3-4 days. If you notice that the texture of the food has changed or it smells funny don't consume.
---
These glass meal prep containers are great as they can be used in the microwave, don't catch odors and they are properly portioned into different sections which means you can separate your food.

I love mason jars. Great for meal prep as well. They are affordable, microwave safe (just remove the lid) and great for storing salads. Mason jars are great for things such as soups, chia pudding, salads and snacks in a jar. If you don't like eating your salads in a jar, just shake it well so the dressing mixes in and pour in a bowl.
---
Let's dive into these amazing meal prep ideas that are life-changing. I love the idea of doing all my cooking on a lazy Sunday and have meals ready for the whole week. Awesome, right? These ideas you can prep for breakfast, lunch, and dinner. They are great for beginners as well.
Healthy roasted chicken and veggies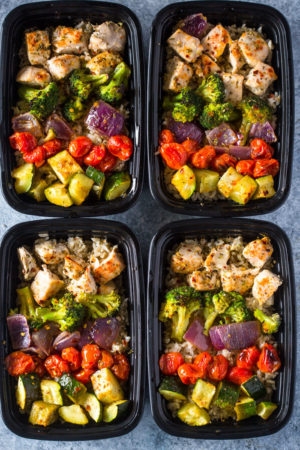 Everything about this meal is perfection. It's seasoned with olive oil and Italian spices and it's so great for lunch and dinner. This is a great way to enjoy delicious and healthy meals throughout the week.
Such an easy recipe to follow. The chicken and veggies are loaded with spices and drizzled with olive oil, then roasted in the oven for 20 minutes or until charred and tender. It's great enjoyed with brown rice or quinoa.
Source Gimmedelicious
Meal prep ideas: Fiesta chicken rice bowls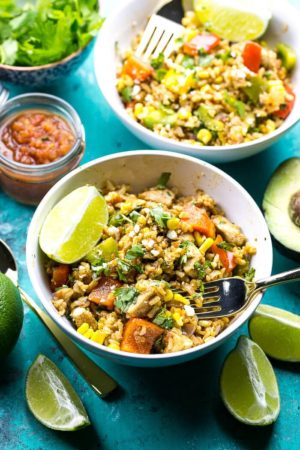 A simple and quick meal prep recipe that takes only 30 minutes to make. It's a mix of rice, chicken, salsa, corn and bell peppers. So easy to customize since you get to use any veggies you have. A great meal prep recipe as it will still be delicious 4 or 5 days later. Very minimal clean up because you can cook everything in one pan.
Source thegirlonbloor
Spiralized pad Thai chicken meal prep bowls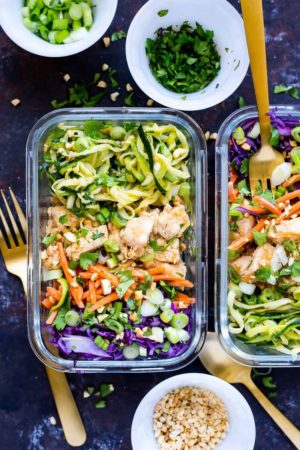 This meal prep recipe is a healthier low carb version of Thai takeout that is loaded with spiralized zucchini, matchstick carrots, red cabbage and an easy Pad Thai sauce. It's so good you will want to have it for lunch everyday. Feel free to add some rice if you want to enjoy it for dinner.
Full recipe thegirlonbloor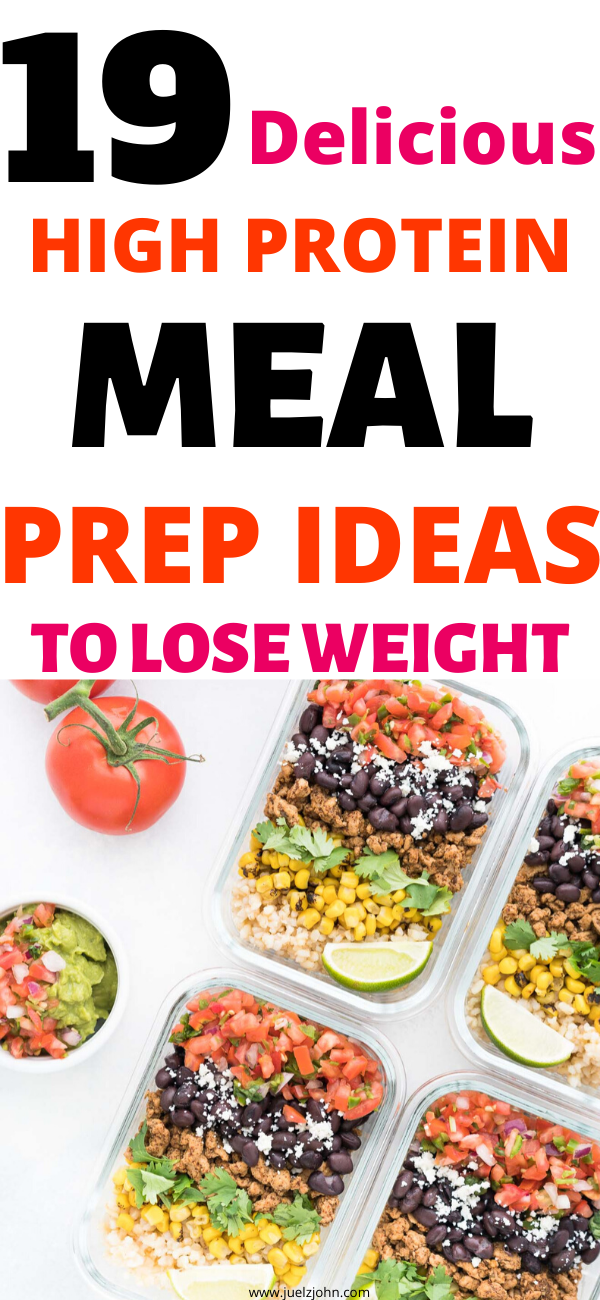 Greek chickpea salad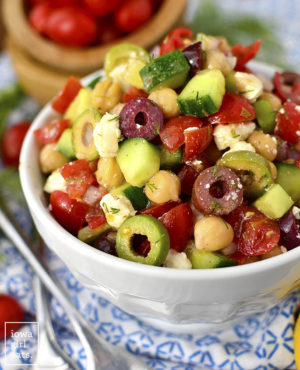 Perfect lunch on the go idea that is filling, tart, tangy, crunchy and super fresh. It's made up of fresh tomatoes, cucumber, red onion, feta cheese, and olives, tossed in a puckery Lemon-Oregano Dressing. Great as side dish to serve with for any dinner. Everyone will love it because it's super easy to make and extra delicious.
Source iowagirleats
Overnight chia seed pudding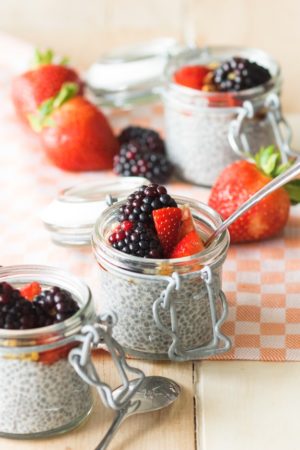 A healthy breakfast idea that will keep you full until lunch time and prevents you from aimless snacking. Super easy and quick to make. You simply mix before bed, pop them in the fridge and the next morning you will have a delicious breakfast waiting for you. Comes together in under 10 minutes and you only need two ingredients.
In the morning, add your favorite topping. Toppings such as berries, fruits, nuts or seeds.
Source theworktop
Taco salad meal prep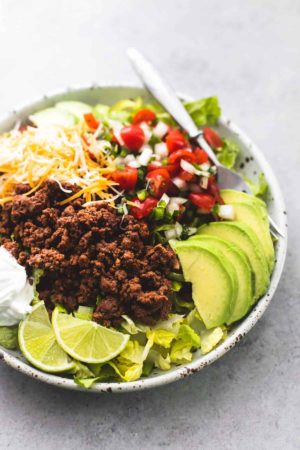 This is one of the easiest and healthiest meal prep ideas great for dinner or lunch. Made with savory seasoned ground beef, fresh lettuce, cheese, and pico, and chipotle ranch dressing. To top up the flavors you can add toppings such as sliced avocado or guacamole, crispy tortilla strips and sour cream.
Source lecremedelacrumb
Meal prep burrito bowls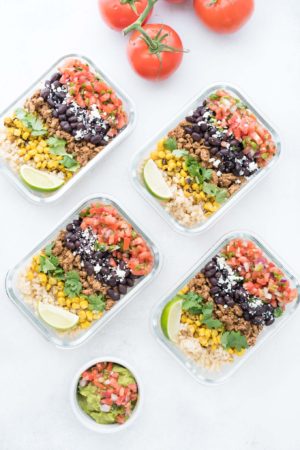 These burrito bowls are loaded with lean protein, healthy fats, and whole grains. This recipe allows you to be creative by swapping some ingredients and ingredients to make it your own.
Full recipe Freeyourfork
Meal prep ideas: Teriyaki chicken and broccoli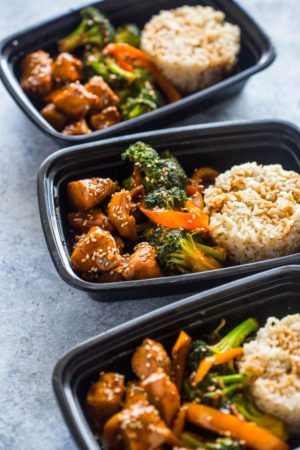 Here is a tasty healthy lunch idea for you to enjoy for the entire week. Quick teriyaki chicken and broccoli meal prep bowls. This comes together in under 20 minutes and is a perfect replacement for the take out version without all the extra calories. What I love most about this dish is that you can add your favorite veggies. It's great served with brown rice, quinoa or your favorite rice.
Source gimmedelicious
Sheet pan crispy teriyaki tofu and broccoli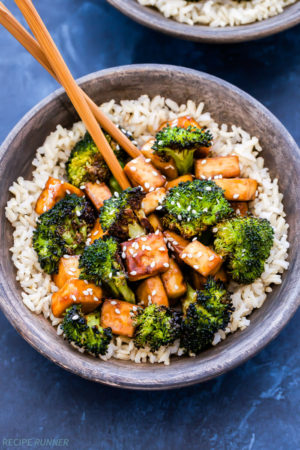 If you are on the hunt for the perfect vegan and gluten free meal prep lunch or dinner idea you have to try out this recipe. It's made to perfection and everyone will love and enjoy it. This recipe will change your mind about tofu. They are crisp, flavorful and not the least bit soggy, gluten free, vegan and it's great served over brown rice.
Source reciperunner
Vegan sweet potato Buddha bowls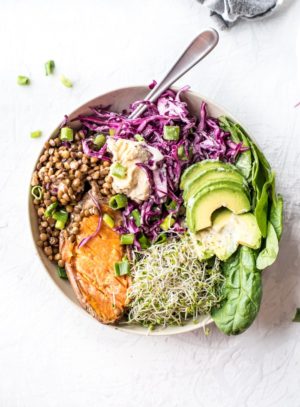 Everything about this recipe is heavenly. The combination of the sweet potatoes and avocado is amazing. These bowls will keep you full for long as they are high in protein, high in fiber, gluten free and vegan. They are made of lentils, avocado, red cabbage, sprouts, hummus, spinach, lemon tahini sauce and cilantro.
So nutritious, packed with amazing flavors, great textures and super easy to customize as need be.
Full recipe Runningonrealfood
Vegan burrito bowls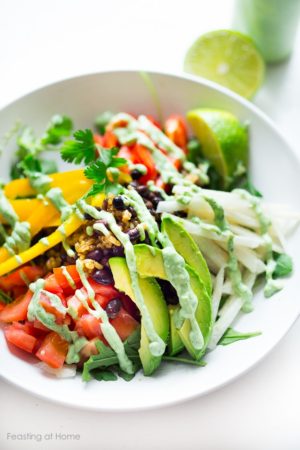 This is one of the easiest meal prep ideas in this list. It's always a big hit with everyone, satisfying, delicious and healthy. loaded up with healthy veggies, rice and beans and a flavorful Creamy Vegan Cilantro Sauce. You can also customize with the veggies you have or the one that you like.
Source feastingathome
Vegan red lentil dal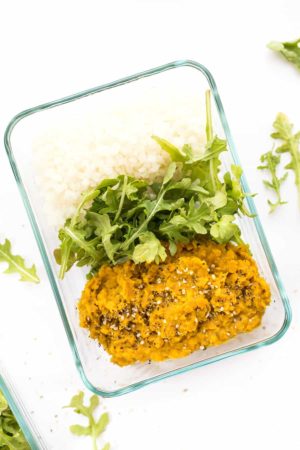 An easy meal prep idea that takes less than 20 minutes and uses just one pot which means minimal clean up to do. It's a flavorful, easy, inexpensive, plant-based meal. Great served with quinoa, cauliflower rice or flat bread.
Source Simplyquinoa
Honey sriracha glazed meatballs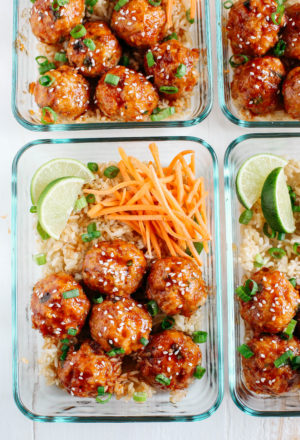 How good does these meatball look? They are sweet, spicy, full of flavor and they take less than 30 minutes to make. You can serve these delicious turkey meatballs with brown rice, quinoa or even cauliflower rice. This recipe is great as meal prep lunch ideas as it's super filling and will keep you full the rest of the day.
To add some crunchiness add some shredded carrots, top with green onions and sprinkle on a few sesame seeds.
Source eatyourselfskinny
Santa Fe low carb chicken meal prep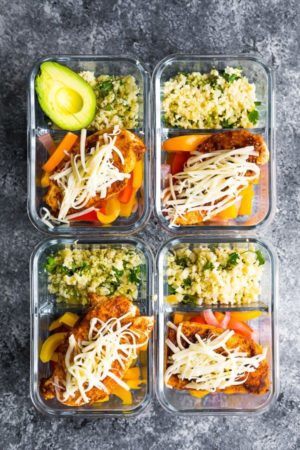 One of the easiest meal prep ideas to make. It has cilantro lime cauliflower rice and bell peppers topped with taco-seasoned chicken breast and cheese! 8 g net carbs but still fills you up. You will love and enjoy every bite of this recipe.
If you are on the low carb diet, this is great for you. It's full of wholesome, fresh ingredients that will curb any craving and leave you feeling satisfied. So flavorful.
Source sweetpeasandsaffron
Spicy chicken meal prep with rice and beans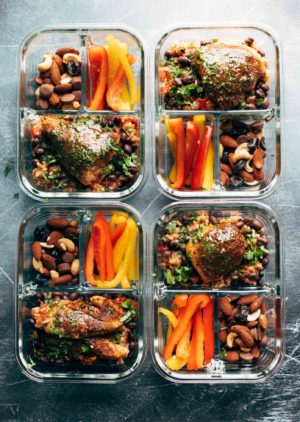 A super easy meal prep meal that is so filling and packed with proteins. If you have an instant pot , you can use it for this meal or you make make it on the stove top or in the crockpot.
Source Pinchofyum
10 Minute chickpea curry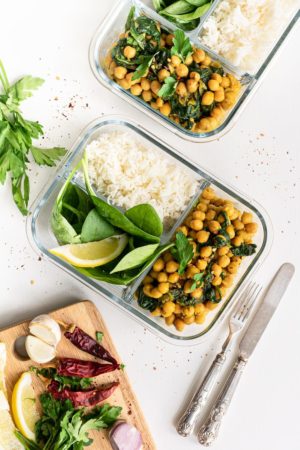 Packed with amazing flavors and comes together in only 10 minutes. A filling, rich and creamy curry that will be a big hit with everyone. Super easy to make as you simply heat some olive oil, add spices, add chopped onion and garlic, add chickpeas then spinach and you are done. It's naturally vegan, vegetarian, gluten-free, dairy-free and nut-free.
source Gathering dreams
Freezer croissant breakfast sandwich
These croissant look so good, right? They are filling, delicious and microwavable.
Source Damndelicious
Chicken salad mason jar salads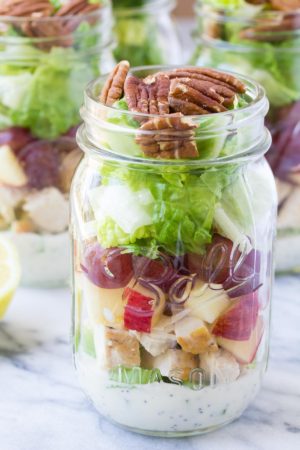 These are perfect make ahead lunch ideas that will leave you feeling full and satisfied. It's made with grapes, apple, toasted pecans, and a creamy poppy seed dressing. Great for those busy weekdays. As with most salads, you can also customize this one with your favorite ingredients.
Source kristinekitchenblog
Strawberry banana overnight oats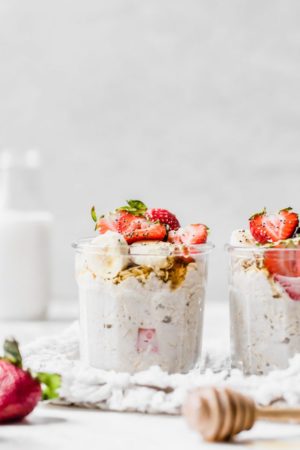 Looking for that easy, healthy meal prep breakfast idea? This overnight oats recipes will blow your mind. Easy to make, delicious and so fresh. Bananas and strawberries together are amazing. It takes only 5 minutes to make. Awesome, right? Here are 15 healthy over night oats recipes which will ensure you have breakfast ready to go at all times.
Full recipe thealmondeater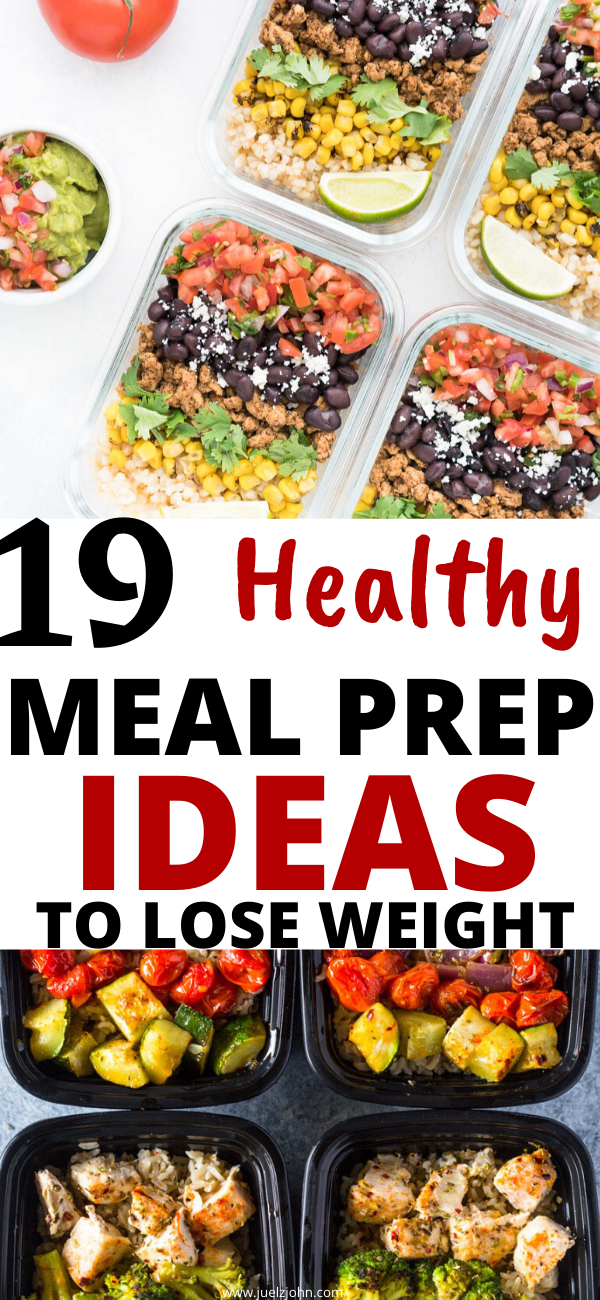 Eating healthy doesn't have to be difficult or complicated. These healthy meal prep ideas make it easy for you by giving you a wide variety of meals to choose from. Simply prep, freeze and save your meals for the week. If you are new to meal prepping, it might be a bit challenging but the more you do it the better it gets. It becomes a habit. With time you will be able to find out what works best for you. Am sure as long as the meals are delicious you won't mind having it 2- 3 times a week.
ENJOY!