Recently a friend of mine invited me to go out clubbing and I quickly responded no.
Picture this conversation
Friend: Hi Juelz? I would like to take you clubbing.
Me: NO, in fact, I remember I said a very big No
Friend: It's because you are saved right?
Me: Well…………Yes
Awkward moment………….
Me: and clubbing is not my thing, I just get bored. (That was me trying to justify why I don't go out clubbing in attempt to reduce the awkwardness.
That conversation had me asking myself, Should Christians go clubbing? Back in college, I had my clubbing experience and it was just not my thing.
I think I tried clubbing for like 5 time and every time by 11 pm I would be so sleepy wondering what time I will get back to the house.
Now I'd rather sit at home, catch up with my favorite shows or even sleep.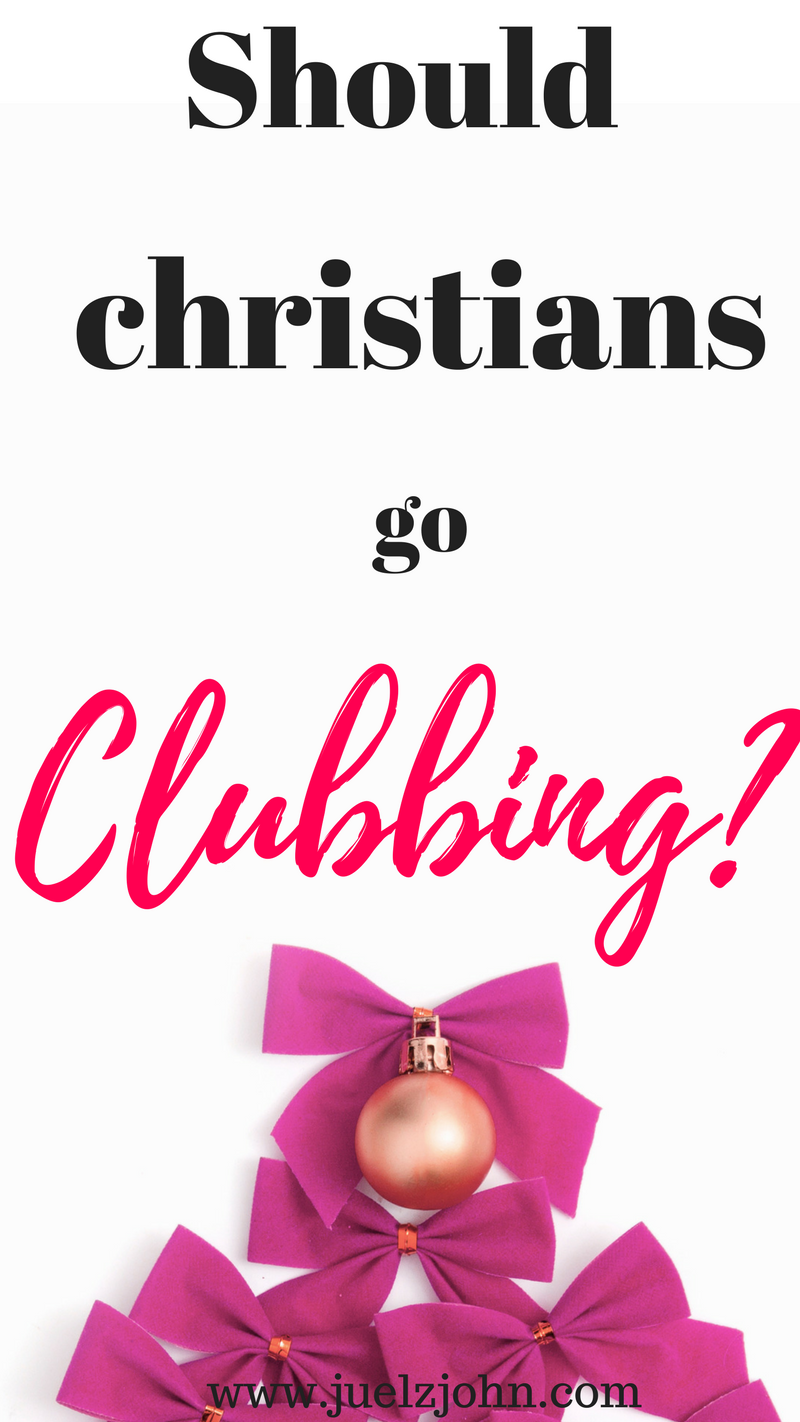 Are there Christians who go out clubbing? Yes. Do I think it's a good choice? No.
In my humble opinion, Christians should not go clubbing. Here are a few reasons why.
1.We live by example.
As Christians, we are supposed to live by examples.
How right is it if by day you are the one leading worship in your church or even ushering people in and at night you are leading people to the hottest clubs in towns?
You agree with me that's far from living by example.
Matthew 5:16 "In the same way, let your light shine before men, that they may see your good deeds and praise your father in heaven"
When non-believers see you clubbing and indulging in everything that the club lifestyle has to offer, your faith becomes questionable and Christ is demeaned too.
2.Clubbing lifestyle checks most of the acts of sinful nature (Galatians 5:19-21)
I love what Galatians 5:19-21 says "The acts of sinful nature are obvious: sexual immorality, impurity, and debauchery; idolatry and witchcraft; hatred, discord. Jealousy, fit of rage, selfish ambition, dissensions, factions and envy; drunkenness, orgies and the like, I warn you, as I did before, that those who live like this will not inherit the kingdom of God."
Almost all of the sins are encouraged by the clubbing lifestyle
Sexual immorality and Impurity
Clubs are full of desperate single people some who are there in search of a potential hook-up and to have a nice time.
Before you know it, you get drawn into their charm.
Have you seen the way people dress in clubs which all the intention of being seductive.
Some of the words that came up when I looked for the meaning of debauchery are excessive drinking of alcohol, indulgence in sex, drugs and crude talk.
All this need no explanation, it's basically what happens in clubs.
Remember the scriptures says that the spirit he caused to live in us envies intensely James 4:5
Hatred, discord, jealousy, rage and self-ambition
I have heard of stories where someone started a fight because the girlfriend /boyfriend dance with someone else.<Jealousy, fit of range and discord right there>
Some people are just there to score without putting into consideration the results of actions.They don't care about the consequences their actions might have.For example couple breakups<self-ambition>
What does a club scene look like?
1. Alcohol
There is all type of alcohol and in some cases even drugs which make people so drunk.We all know that when one is intoxicated their judgment is clouded.
There are so many countless stories of drinks being spiked.
2. Music
The music is extremely loud meaning you can barely hold a conversation or hear anything. It's obvious that you have no say in the music of choice.
As a Christian, I strongly believe that there is a type of music that us we shouldn't be listening to leave alone dancing to it. Music that is full of curse words.
The more you listen to songs with such lyrics, with time you will start thinking it's all alright to use them. Simply ask yourself whether that music is glorifying God in any way.
3. Too crowded.
People are always bumping into each other. The dancing floor is extremely small which forces people close together.
Most people are often dancing so provocatively.
It's where all desperate single guys and girls lands. You get all sorts of strangers approaching and wanting to dance with you.
4. Lighting
In most clubs, the lighting is very minimal or in other words low level.Which means you can barely see.
There is something about darkness, it attracts all the wrong things.
The ironic part is you can barely see clearly but everything appears to be attractive.
What is it that you are looking for in a nightclub?
To dance? Not to be labeled as the dull friend? To socialize? Some may say it's the best place to get people to minister to, but that not realistic.
How do you imagine yourself evangelizing to someone? To start with the music is too loud you can barely think straight and most people are so drunk to even comprehend anything you are saying.
There are better songs you can dance to. Most of those songs are accompanied by some dance moves that are a big NO for a Christian.
When I see some of those dance moves anywhere I have to close my eyes. My poor eyes!
If something does not glorify God then why do it.
I don't mind being labeled dull if what is considered fun is not right before the eyes of God.
Good friends are those who builds you and not lead you into temptations.
If any of my friends insisted and kept pressuring me to go clubbing then it would be the high time to re-evaluate that friendship
1st Corinthians 15:33 "Do not be misled: Bad company corrupts good character".
Come on, there are better places to socialize.
What if I don't indulge in the sinful activities?
The plain truth is our fresh is very weak and as much as we would want to believe we are in control sometimes it can be hard.
You being a Christian doesn't mean you are immune to temptation.
There is no need of putting yourself in a situation where you are tempted and you end up falling.
Even worse leading others to sin. Satan is always at work, waiting for a small opportunity to be in control.
Clubs don't offer lasting happiness all they offer is short-lived thrills.
They promise to offer pure fun and a good time but what is behind the scene is massive destruction in form of excessive alcohol, drugs, lust, lesbianism, homosexuality and much more.
Clubs aims to fulfill our fleshly desires.
Romans 12:2 "Do not conform any longer to the pattern of this world,but be transformed by renewing of your mind.Then you will be able to test and approave what God's will is-his-good,pleasing and perfect will".
Nightclubs are part of the world we shouldn't conform to.
What other alternatives do I have?
There are other things and activities you can do that are fun. For instance, in our church sometimes we have concerts where people dance the whole afternoon. Tasteful type of dancing.
You can go hiking as you socialize with your friends as opposed to clubbing.
With all that for a Christian to still go clubbing it's like digging a hole and later on jumping into it.
If you get used clubbing so often, it will eventually become a lifestyle. Next time you catch yourself debating whether to go clubbing or not ask yourself these questions.
Can I sincerely ask God to bless what am about to do?
Is God honored in the club?
Will God be proud of me?
The purpose of this post is not to condemn anyone but to help you make informed and well thought of decisions. I hope you have enjoyed this post and you can now be able to answer the question should Christians go clubbing?
I would really love to hear your opinion on this topic, do you think it's wrong for a born-again Christian to go clubbing?
You might also like: